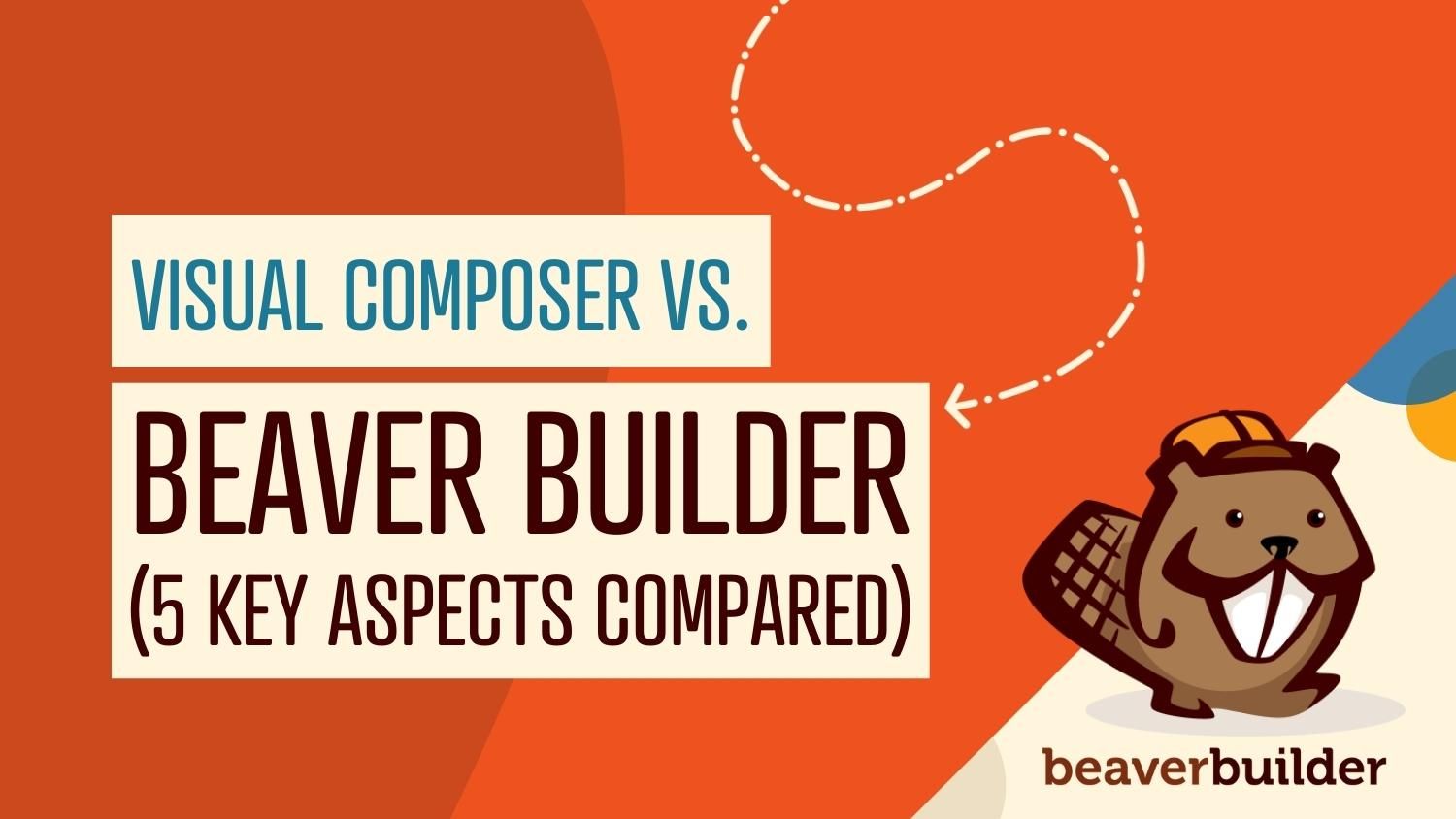 Beaver Builder vs Visual Composer: 5 Key Aspects Compared
When selecting a page builder to create a WordPress site, you'll have a lot of options. Knowing what each tool has to offer can help you make an informed decision about which one will help you build a professional website efficiently. That's why we're taking a look at two of the solutions – Beaver Builder vs Visual Composer – to help you decide which is right for you.
In this post, we will compare our own Beaver Builder plugin with Visual Composer. We will look at the differences between these two page builders in terms of features, price, ease of use, template selection, and available modules. Let's get started!
Beaver Builder: An Introduction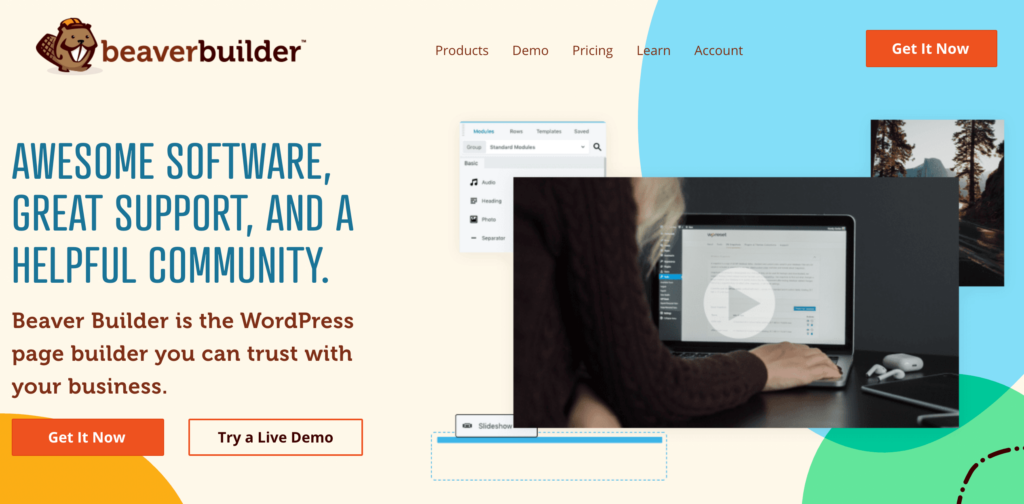 Beaver Builder is our own page builder, and is used by over one million WordPress users of all types. Its drag-and-drop editor lets you easily add elements such as images, contact forms, and maps, so you can create a unique and professional page in minutes.
One thing that makes Beaver Builder stand out from many of the alternatives is the front-end builder. This feature lets you create your site exactly how you want it to look, without having to transition between the back end and preview pages.
This plugin also provides you with the tools you'll need to build all types of websites. Using the many pre-made templates, you can create detailed pages that are tailored to your desires. Beaver Builder layouts are also fully responsive, and integrate seamlessly with many popular WordPress plugins.
Visual Composer: An Introduction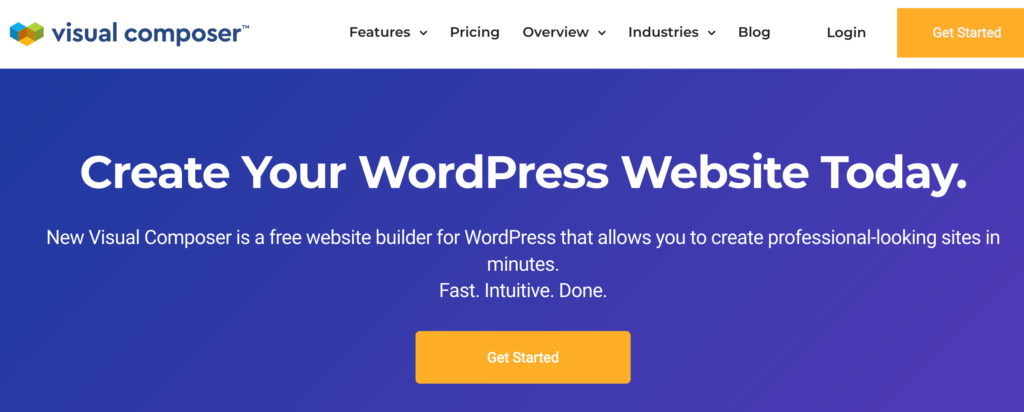 Visual Composer is a page builder that has been on the market for over a decade. This plugin is known for its flexibility and capacity to integrate smoothly with other tools, most notably WooCommerce and many popular themes.
You can use Visual Composer to create full layouts, as well as many types of pages and posts. Just like Beaver Builder, it is also compatible with custom post types, and has a mobile-friendly design.
Beaver Builder vs Visual Composer: 5 Key Aspects Compared
Now that you know a little bit about each page builder, it's time to compare them more directly in five key areas. We'll start by looking closer at what it's like to use each of these tools.
1. Ease of Use
A page builder completely changes the way you create content for your websites. You'll be using it constantly, so it's vital that this tool is easy to understand and use. With that in mind, let's discuss how Beaver Builder and Visual Composer compare when it comes to user-friendliness.
Beaver Builder
Beaver Builder has an intuitive design, and lets you create websites quickly and easily using the front-end drag-and-drop page builder. Once you've downloaded the plugin, you can launch the editor for any page or post: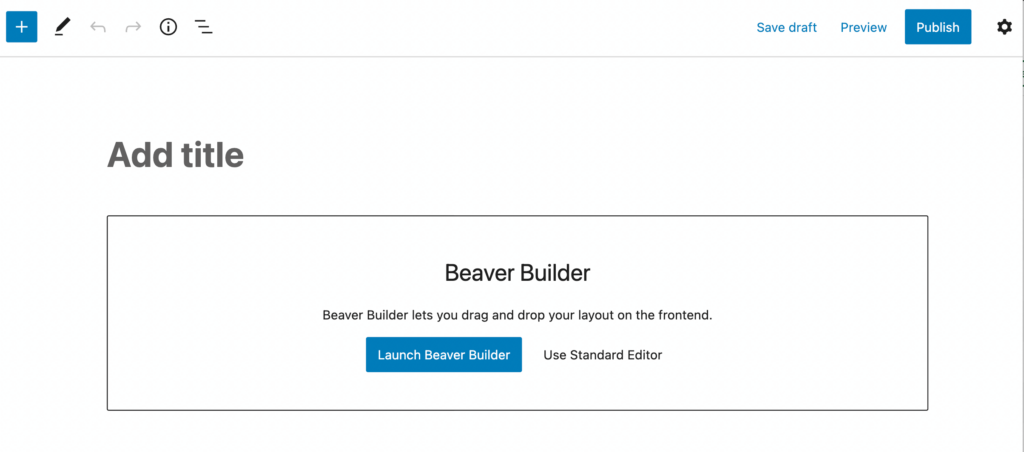 From there, you can customize your content by adding different elements. The selection of templates allows you to create home, landing, contact, and about pages in no time: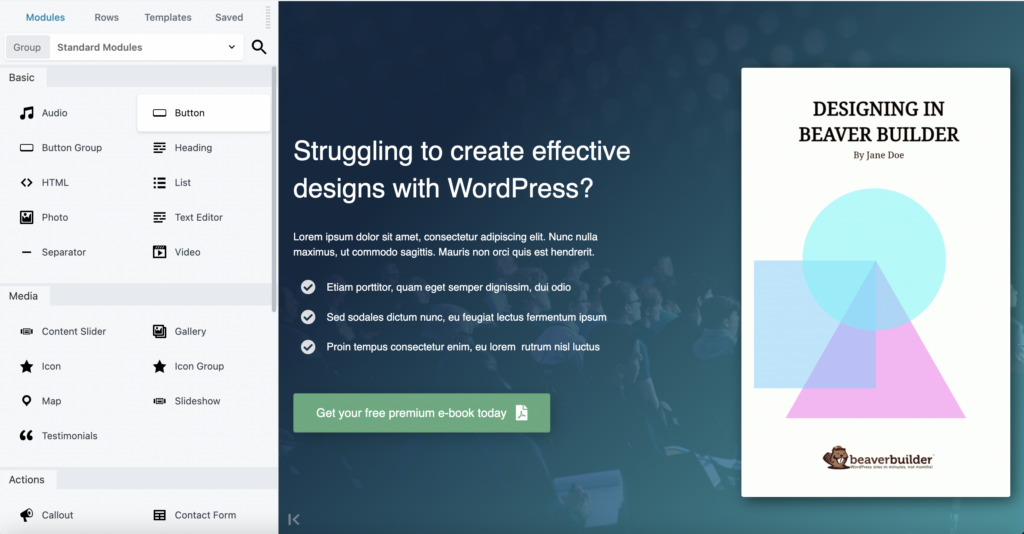 Adding elements to your page is as simple as dragging a module wherever you want it. For example, you can choose the Map module under the Media tab to add a visual indicator of where a business is located: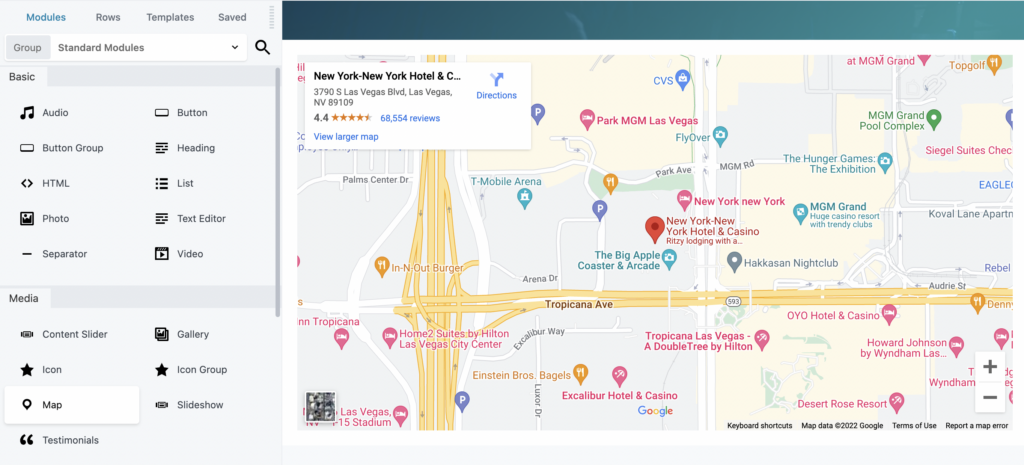 In short, it's incredibly simple to set up your website using the Beaver Builder page builder. Plus, you can also get Beaver Themer and extend this experience to other areas of your site (such as your headers and footers).
Visual Composer
The Visual Composer software lets you create on both the front and back ends of your website. After you download the plugin, you can create a page by going to Pages, and clicking on Create A New Page to launch the front-end editor: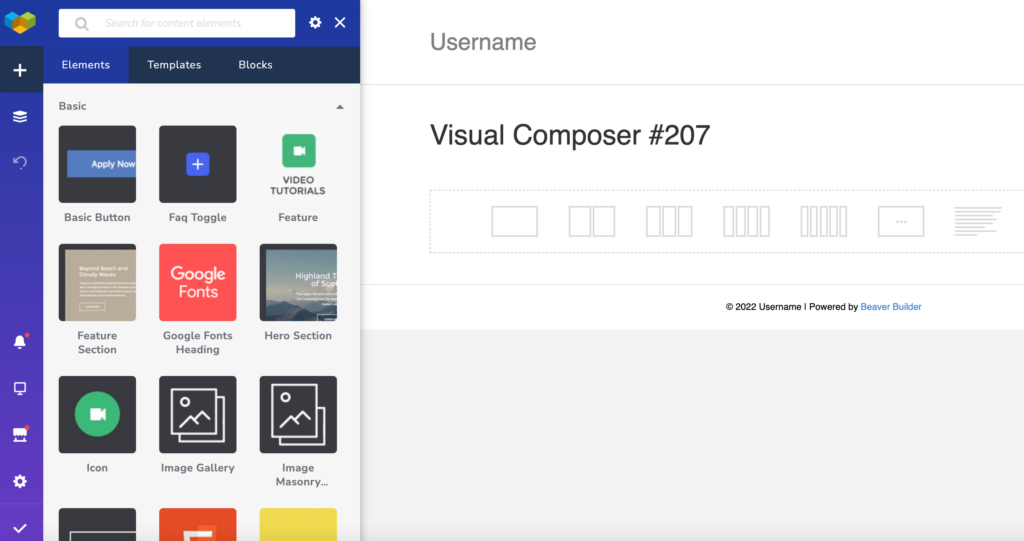 From there, you can choose what elements you'd like to add to your page. If you want to add a 'frequently asked questions' section, for example, you can choose the Faq Toggle element, and then drag and drop it onto your page: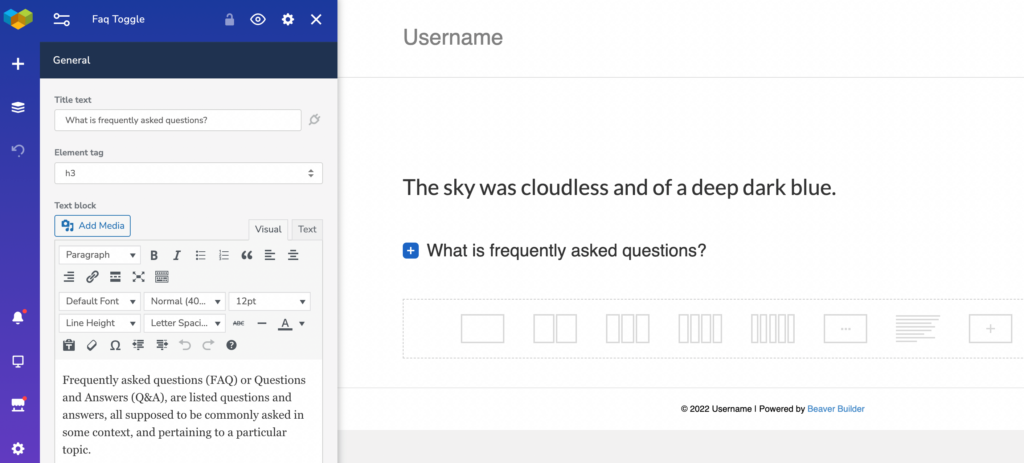 All in all, this editor has a straightforward design that allows you to create pages and posts efficiently.
Visual Composer has a clutter-free builder, but less options to choose from overall, especially in its free version. Beaver Builder has more tools that you can use to create a website, which gives you more options to tailor your site.
So while Visual Composer is good for simplicity, Beaver Builder is the best option if you want a user-friendly interface with lots of customization choices. In addition, Beaver Builder offers a more intuitive editing experience, and is quick and simple to learn.
2. Features
When it comes to design elements, Beaver Builder has numerous options. By using the drag-and-drop front end builder, you can create any type of site imaginable, including membership sites, landing pages, blogs, and ecommerce stores.
Visual Composer also has many elements that enable you to design a WordPress site fast and efficiently. It is compatible with most WordPress themes, and integrates with WooCommerce as well as many other third-party tools.
Let's take a look at some key features of both Beaver Builder and Visual Composer:
| | | |
| --- | --- | --- |
| Feature | Beaver Builder | Visual Composer |
| Custom post types | Yes | Yes |
| Integrations with WooCommerce | Yes | Yes |
| Multilingual support (TranslatePress) | Yes | Yes |
| SEO-optimized, mobile-friendly design | Yes | Yes |
| Pre-made templates | Yes | Yes |
| Unlimited sites | Yes | No |
| White labeling | Yes | No |
Overall, both Beaver Builder and Visual Composer have plenty of features that enable you to build a professional site. They each boast compatibility with key tools, drag-and-drop technology, and responsive templates. The fact that you can use Beaver Builder on an unlimited number of websites (and white label them) gives our tool an edge if you're working on multiple projects.
3. Pricing
Next, let's talk about pricing options. Beaver Builder offers a free version, Beaver Builder Lite, while the paid plugin starts at $99 per year for the Standard plan. This includes premium modules and templates, annual support, and the ability to use our tool on unlimited sites:

If you opt for the Pro tier, you'll also get the Beaver Builder theme, as well as multisite capability. Our Ultimate option at $549 per year gives you the works, with multisite network settings as well as white labeling capacity. This is ideal if you're an agency creating a large number of client websites.
Beaver Builder gives you unlimited sites, plus you can renew at 40 percent off. Our plugin offers more features for a lower price if you're a developer, designer, or agency working on a large number of client sites.
Visual Composer also has a free option, while the paid plans start at $49 a year: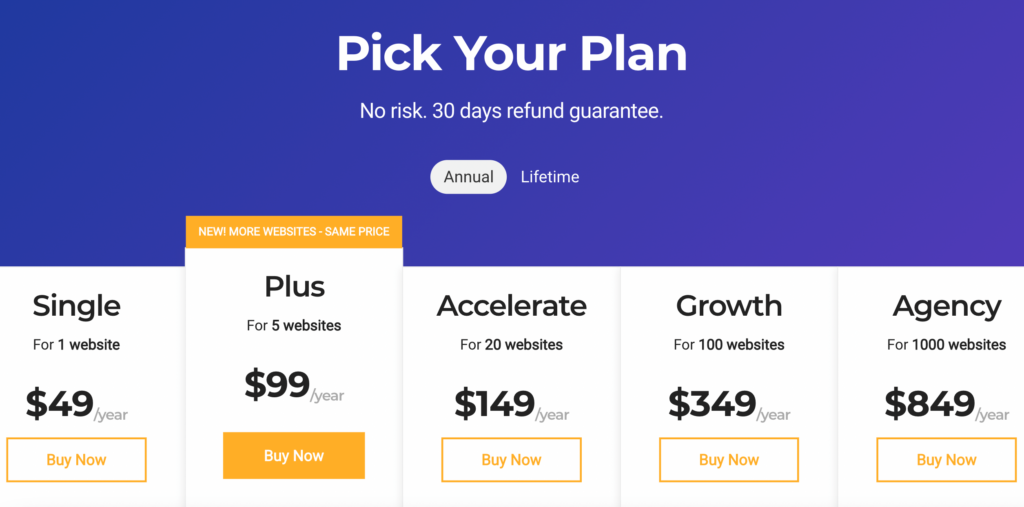 All of the premium options include the drag-and-drop builder, a selection of templates and content elements, a theme and popup builder, and support from the customer service team. The pricing is primarily based on how many websites you want to create. You can use the plugin on just one site, or up to a thousand via the Agency option (which costs $849 annually).
4. Template Selection
Beaver Builder has many unique templates to choose from. In the builder, you can select from numerous options, each of which provides a unique design for your page or post: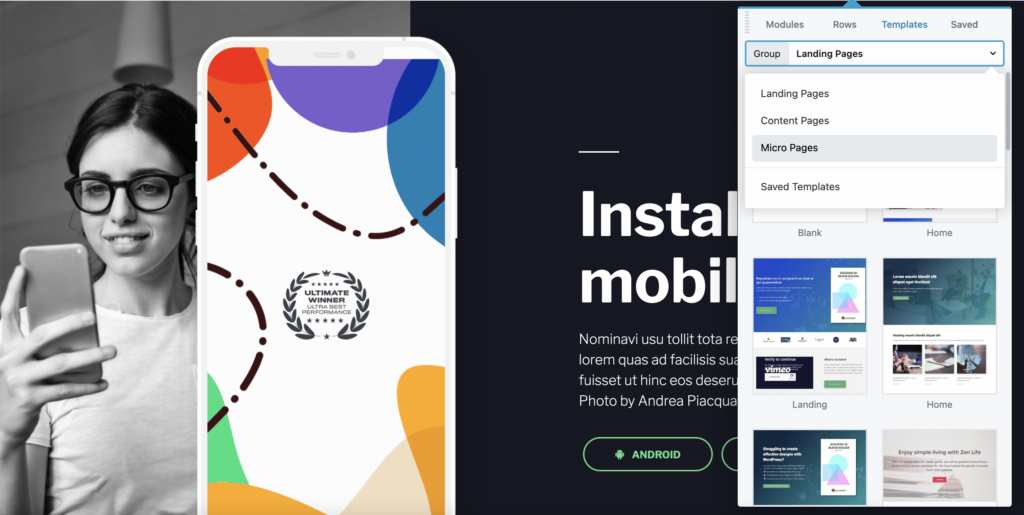 Each of our templates is professionally designed, which gives your content a cohesive look. You can create all different kinds of pages with our WordPress templates, including landing, product, and content pages.
All of these templates are responsive, which means you don't have to worry about how your website will look on a mobile device. Each template is customizable as well, and you can add or subtract elements depending on what kind of page you're looking to build: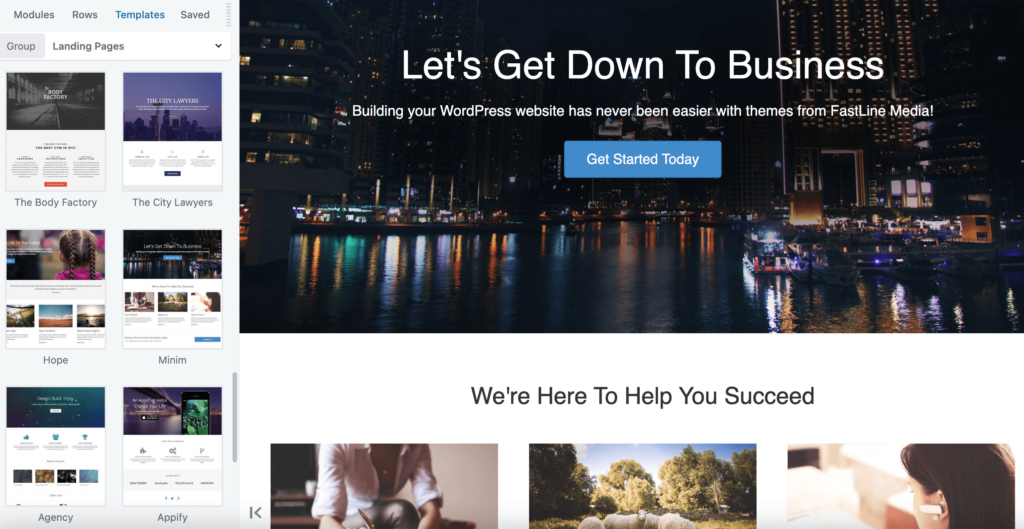 In addition, you can choose from the following prebuilt row templates to build your own custom layout:
Content
Call to Action
FAQ
Features
Heroes
Lead Generation
Pricing Tables
Profiles
Team
Testimonials
For example, here is a pre-built pricing table row template. The hard work of creating the design is done for you. All that is left to do is update it with your brand colors and content: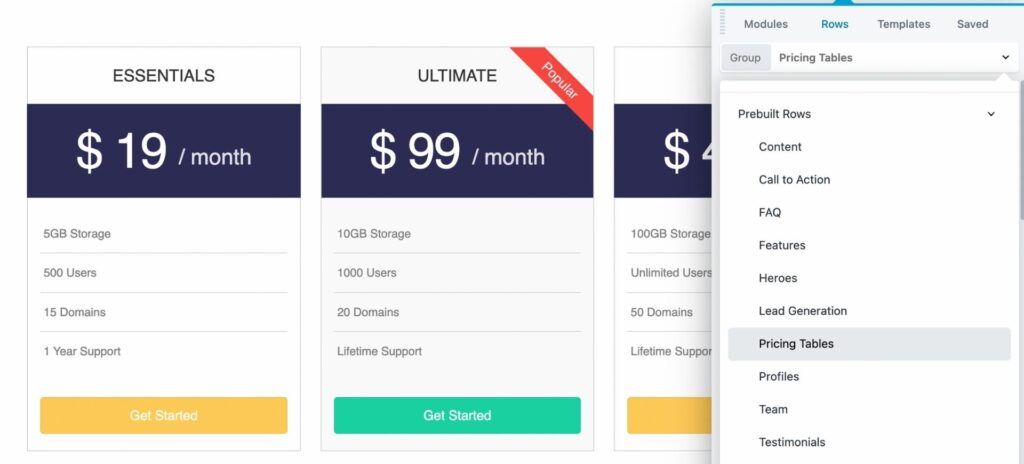 As for Visual Composer, this page builder also comes with customizable templates. There are options for a wide range of use cases, such as landing pages, portfolios, and articles. Some options are free, while others are only available with a premium account.
Ultimately, both page builders have an excellent set of options when it comes to templates. With each choice, you'll get professional and creative pages for your WordPress sites.
5. Available Modules
Last but not least, a page builder is only as useful as the elements it provides. In Beaver Builder these are called 'modules', and you have lots of options. When you launch the page builder in WordPress, you can see all of the modules that are available to you: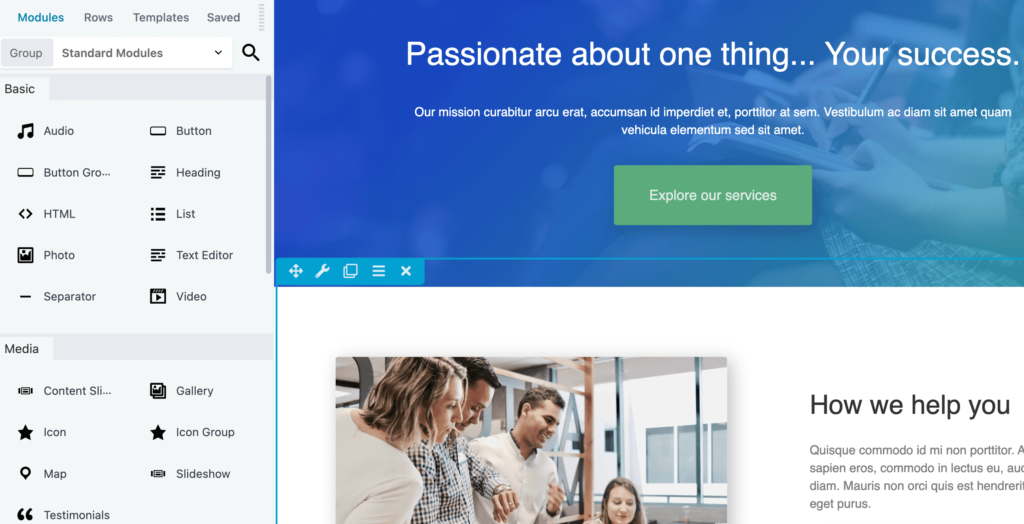 Under the Modules tab, there are numerous categories to browse, including Basic, Media, Post, and Info. For example, the Contact Form module lets you add a section where users can enter their names, email addresses, and messages to the site owner:

This kind of element allows your clients to build email lists and stay in touch with site visitors. Each module is versatile, flexible, and customizable.
Similarly, Visual Composer offers various content 'elements' to choose from. These include everything from social media feeds to audio files. One thing that stands out about Visual Composer's module section is the user-friendly icon associated with each element.
No matter which page builder you opt for, you'll get dozens of custom modules or elements. Either one can help you create full-featured pages for a wide variety of site types.
Beaver Builder vs Visual Composer: Which Should You Choose?
When it comes to WordPress page builders, both Beaver Builder and Visual Composer are worth considering. Each one has the capacity to help you create professional websites using drag-and-drop technology, along with numerous elements and templates to choose from.
In particular, Beaver Builder is excellent for agencies and web developers/designers who handle a lot of clients, since you can use the tool on limitless sites. It is WooCommerce- and WPML-compatible, to help you make ecommerce sites in any language. Our software also has a vast array of modules, templates, and elements you can leverage to create any kind of content imaginable.
Visual Composer is handy for its simple interface that helps you customize pages and posts quickly. When it comes to price, this tool is the cheaper option for a single site. That makes it a decent choice for someone with a tighter budget looking to create a smaller website. However, this plugin is less scalable, and lacks the extensibility you get with Beaver Builder (particularly through add-ons such as the Beaver Builder Theme and Beaver Themer).
Conclusion
Both Beaver Builder and Visual Composer can be useful tools for creating WordPress websites. Each expands greatly on what WordPress offers by default, letting you create highly-customized pages using drag-and-drop editors (no coding needed!).
Overall, Beaver Builder is the best option if you want the utmost in customization options and flexibility, or if you're looking for a developer-friendly page builder you can use on limitless sites. Visual Composer may be a good choice for smaller businesses and those looking to build a single website quickly.
Related Questions
What sets Beaver Builder apart from the default Block Editor in WordPress?
Beaver Builder allows you to see what your pages and posts look like in real time. This includes the theme, design, and various elements that will appear on the front end. The default WordPress Block Editor lets you add and edit the different parts of your content, but doesn't accurately display what the final product will look like. It also comes with a smaller and more basic collection of elements.
Can I add my branding to client sites I create with Beaver Builder?
You can add your own branding and links when you white label your site with Beaver Builder. This allows you to put your logo and company name on the back end, so you can maintain brand authority while clients are using the software.
Join the community
We're here for you
There's a thriving community of builders and we'd love for you to join us. Come by and show off a project, network, or ask a question.