How to White Label Your WordPress Website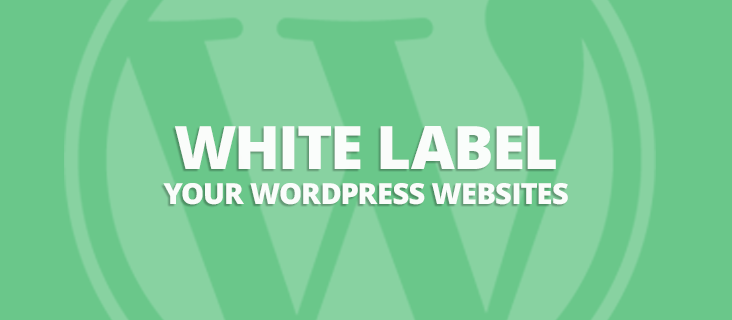 Hi all! I want to introduce my friend Kevin Muldoon today. He is a WordPress veteran and he wrote up a great post here about while labeling and the value of customizing and tuning the WordPress experience for your clients.
With our Agency package, you can replace Beaver Builder's logo and branding with your custom brand and name. Learn more from this Knowledge Base article or you can upgrade to the Agency package from your account page and start white labeling your client's sites today!
White labeling has become a common practice among website design companies and agencies.
Many people believe that white labeling a website means that you are solely adding your company's branding to a client's website. That doesn't tell you the full story.
While branding is an important part of white labeling, the true goal should be to enhance the user experience for your client. Sometimes this means simplifying the options that are available to them, other times it means adding functionality the client needs and removing functionality they do not.
In this article, I would like to explore the benefits of white labeling and show how to use the features in Beaver Builder's Agency package to start customizing WordPress for clients before the handoff.
Why White Label a Website?
Branding a client's WordPress admin area and login page with your company logo and website address is not an act of egotistical self-promotion.
By displaying your company logo in the administration area you can promote a professional image of your company, but you can also avoid a lot of confusion.
Many customers of website design companies are non-technical users who have no experience of running a website. Therefore, a client may get confused by seeing the WordPress logo displayed in the admin area.
Developers of premium WordPress themes and plugins like to add their own branding to the admin area too. With clients seeing multiple links to other companies, they may well forget who designed their website in the first place.
Branding the WordPress admin area and login page avoids any confusion and reminds clients who designed their website.
A key part of white labeling a website design is understanding the client. You need to know how they will be updating the website and how much technical experience they have in their company. You can then customize the WordPress admin area accordingly.
Consider a client who has informed you they have an experienced WordPress user on their team who will be responsible for performing WordPress updates and general WordPress maintenance and security. Apart from adding branding to the website design, no other customizations or restrictions should be required.
It is a completely different story when you are designing a website for a company who does not have any technical staff and are paying you to maintain their WordPress website. In that situation, it pays to simplify the WordPress experience and remove any advanced settings and options that could cause problems.
Or to put it more bluntly, giving non-technical users full access to a WordPress website is a recipe for disaster.
An inexperienced user may find themselves on the WordPress plugins page and deactivate a security plugin or caching plugin. They may even wander into the WordPress settings area and accidentally change the permalink structure of the website.
Save yourself a lot of problems by removing unnecessary menu items from the WordPress admin area and restricting what clients can and cannot do. The worst that can happen is the client will contact you later asking for permission to have some options restored.
Again, the key thing to remember is that every client is different. Talk to your client beforehand so that you can gauge how much white labeling should be applied to each website.
Customizing the WordPress Experience
Customizing a WordPress website can be achieved in one of two ways.
The first option is to add custom functions to the theme's functions.php file. The main advantage of doing it this way is that all of the customizations are centralized in the theme itself. This means that branding and other customizations cannot be removed without editing the theme functions.php file; which is something that a non-technical user is unlikely to do.
WordPress.org has a great tutorial on customizing the login form that shows you how you style your login page and create a custom login page. The administration screens information page also explains other areas where WordPress branding can be found.
Branding the WordPress admin area using a WordPress plugin is a much simpler solution.
There are many free WordPress plugins that allow you to customize your WordPress website. These range from basic solutions such as Custom Login Page Customizer to more advanced solutions such as White Label CMS and AG Custom Admin that allow you to completely rebrand WordPress.
There is a good selection of premium WordPress white label solutions too. This includes White Labeling for WordPress, Ultimate Branding, and Cusmin.
If you want to take branding further, you may want to consider creating your own unique admin theme for clients. There are many free and premium admin themes that you can use to brighten up the admin area. These can be used as a template for your own admin theme if you prefer.
Another thing you should consider controlling is what clients can see and what they can do. There are a number of plugins that help you restrict usage in this way.
Admin Menu Editor can be used to reorder admin menu items and hide settings pages that you do not want displayed. It also lets you hide plugins from other users.
User Role Editor enables you to specify exactly what users and user groups can and cannot do. This helps you match a user's permissions with their technical experience.
Another great WordPress plugin I recommend checking out is Admin Columns. The plugin lets you customize what admin columns are displayed on posts, pages, and custom post types. You can edit columns, remove columns, and add new columns.For a blog, you could change the posts page so that the featured image and word count for each blog post is displayed.
Of course, to improve user-friendliness and for a multitude of other reasons, many design companies are installing drag and drop page builders on websites. This allows anyone, regardless of their technical experience, to create stylish professional looking pages.
Beaver Builder allows users to create and easily edit professional-looking pages on the frontend of their website. It comes packaged with dozens of unique content modules and can be extended further with third-party WordPress widgets.
It has proved popular with companies because it supports white labeling. All references to "Page Builder" and "Beaver Builder" can be replaced with your terms. The end user will therefore never know that they are not using a custom solution designed by you.
Branding options can be found directly within the main settings area. You can rename Beaver Builder and its associated icon. The Beaver Builder Theme also allows you to change the name, description, company name, company URL, and screenshot URL.
What really sets Beaver Builder apart is just how simple it makes make the process of white labeling.
What really sets Beaver Builder apart is just how simple it makes make the process of white labeling.
Click To Tweet
Let's pretend, Google decided to purchase Beaver Builder and sell it to customers as their own product called "Google Builder". They could do this in Beaver Builder by completing two fields.
Once the branding has been modified, every reference to "Page Builder" would be replaced with "Google Builder". There would be no indication that this was not a unique product by Google.
The name of the plugin would be changed in the WordPress settings menu.
When a user opens up a blog post or page, they will see the rebranded name in the WordPress visual editor.
The rebranding continues in the drag and drop live editor.
As you can see, with all references of the original replaced with your own branding, users would have no idea that they were not using a custom solution that was created by your company.
Final Thoughts
White labeling has become common practice within the design industry. Thankfully, WordPress makes the process of white labeling a website simple.
Beaver Builder's Agency package is a great start towards white labeling the WordPress experience for your clients, and there are many more branding and white label WordPress solutions that can help brand and customize the user experience.
What solutions do you use to white label your designs?
Please let us know in the comment area below.