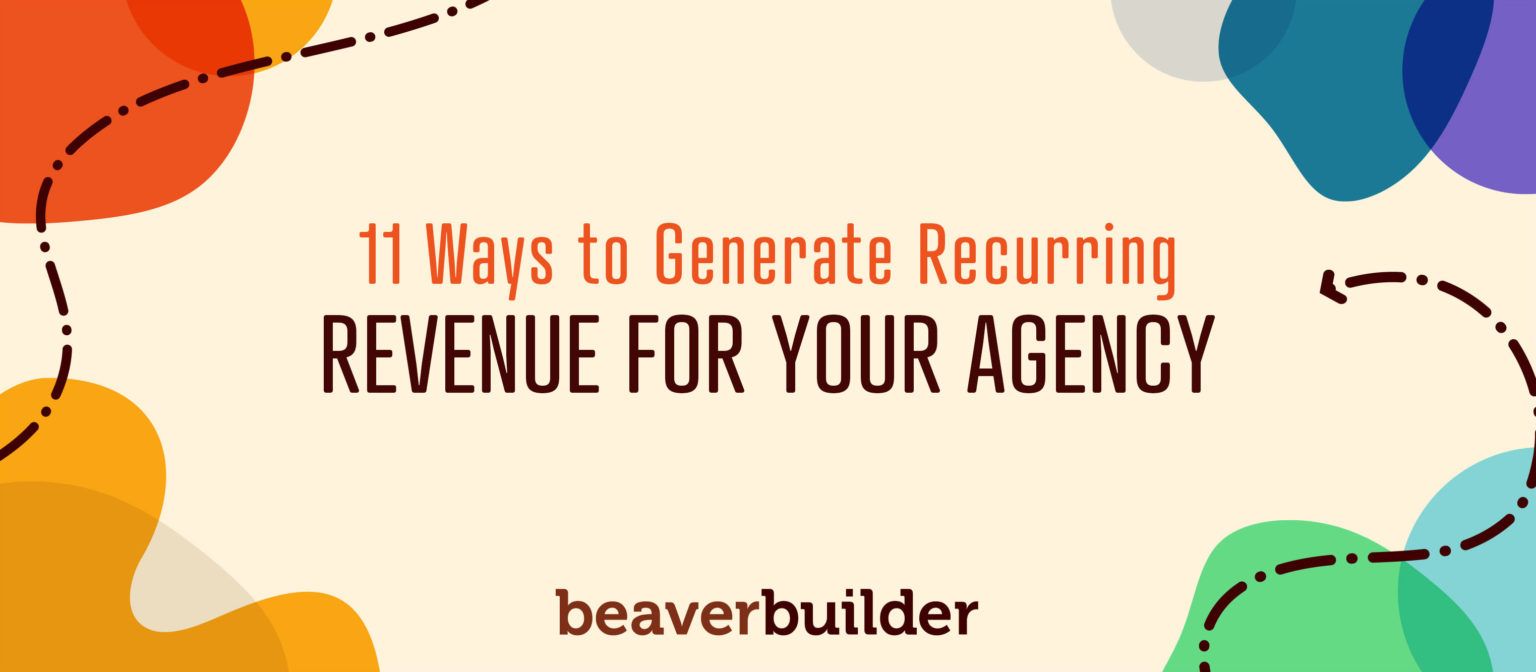 Traditionally, many web development agencies have relied on one-time projects to bring in revenue. Unfortunately, this model requires businesses to constantly be in search of new clients. That's why many WordPress businesses are turning to sources of recurring revenue to supplement or replace their other project-based services.
In this post, we'll dig into the reasons why finding sources of recurring revenue is a wise move for your WordPress agency. Then we'll share eight suggestions for potential services you can offer. Let's take a look!
We just launched 6 FREE
Beaver Builder courses
. Learn how to easily build WordPress websites with step-by-step video tutorials. Get started today.
Why Recurring Revenue Streams Are Vital to Your WordPress Development Agency
When you manage a web development agency or other WordPress business, you have more responsibilities on your plate than freelancers do. In addition to worrying about your own income, you have to pay your employees and handle expenses such as office rent and equipment costs.
While project-based services such as website design and development or app creation certainly have their benefits, one of their biggest drawbacks is the issue of client retention. One-and-done assignments don't help you generate income in the long term, forcing you to spend time and money on always sourcing more work.
For reference, studies claim that it costs as much as five times more to acquire a new customer as it does to retain one you already have. Research also suggests that higher retention rates can increase profits by between 25 and 95 percent.
In other words, providing services that generate recurring revenue instead of relying on one-time projects can help bolster your agency's success. Simultaneously, it can also help you better manage your finances, because a steadier flow of cash makes it easier to predict how you'll cover expenses.
11 Ways to Generate Recurring Revenue for Your Agency
Deciding to bring in recurring revenue doesn't mean you have to give up on development or design assignments. It's possible to increase your profits while still pursuing passion projects. Here are 11 methods to consider.
1. Offer WordPress Maintenance Packages
Managing a WordPress site brings many responsibilities running updates, creating regular backups, and monitoring site security. For this reason, many website owners choose to hire agencies to maintain their sites for them.
This makes WordPress maintenance packages a lucrative revenue stream. Fortunately, you can automate many of the related tasks with plugins and other tools. Alternatively, you can look into partnering with other website maintenance companies that provide white-label WordPress services, as advertised in this screenshot on the GoWP website: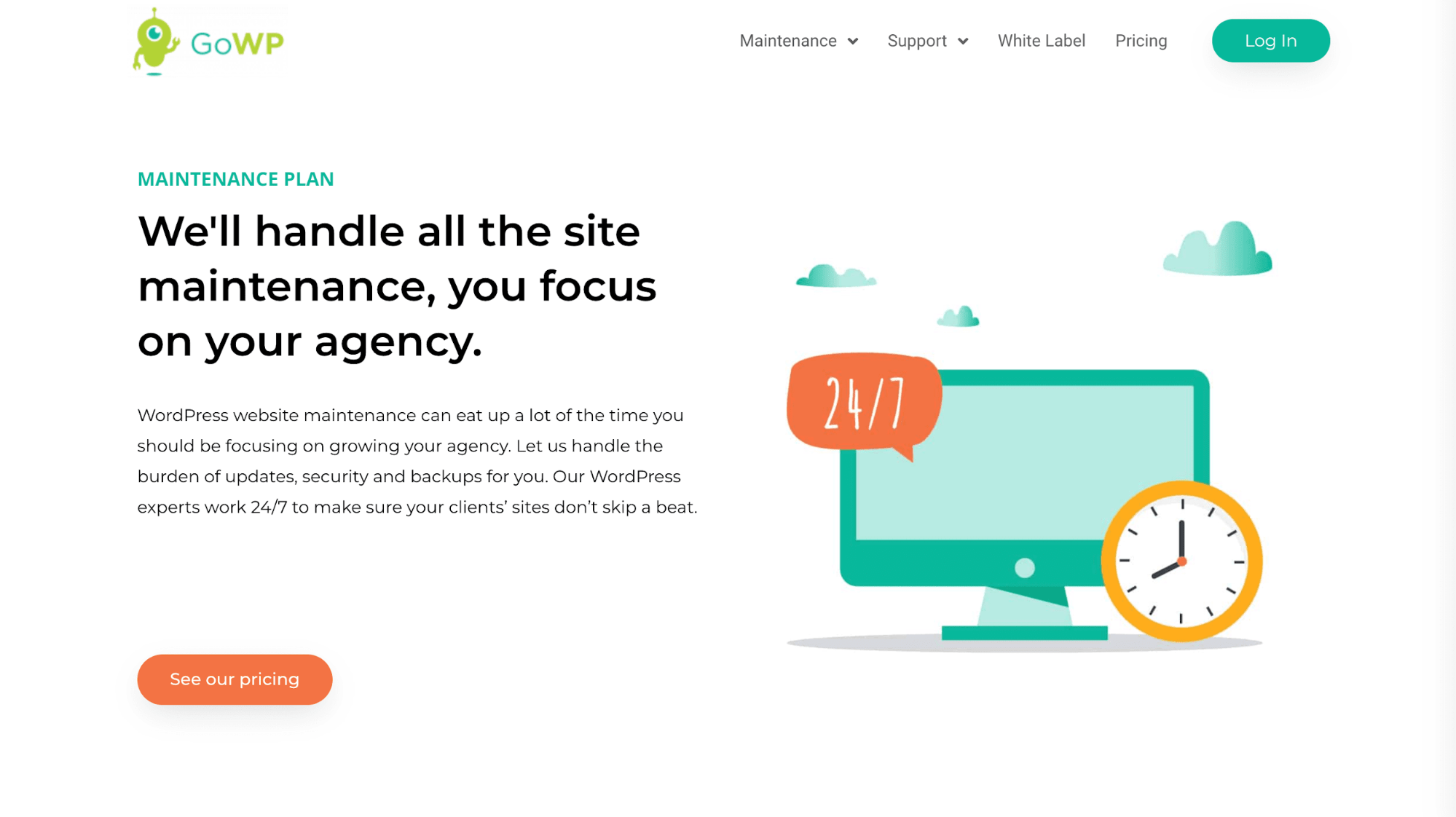 While you do the legwork to bring in clients, the maintenance company provides the actual services required.
A white-label partnership lets you brand the maintenance packages as your own. You get all the credit for the work done while ensuring that you still have time for your other responsibilities. All it takes is some careful planning for pricing to offset the cost of outsourcing.
2. Start Your Own Reseller Hosting Service
Every website needs a server, which can make hosting a reliable source of income. To get started, however, there's the matter of acquiring the right equipment. This can be a hefty investment, providing a significant barrier to entry.
If you can't afford to purchase and keep up a server for your agency, you might consider entering into a reseller hosting partnership with a provider instead. Many popular WordPress hosts offer this service, including LiquidWeb: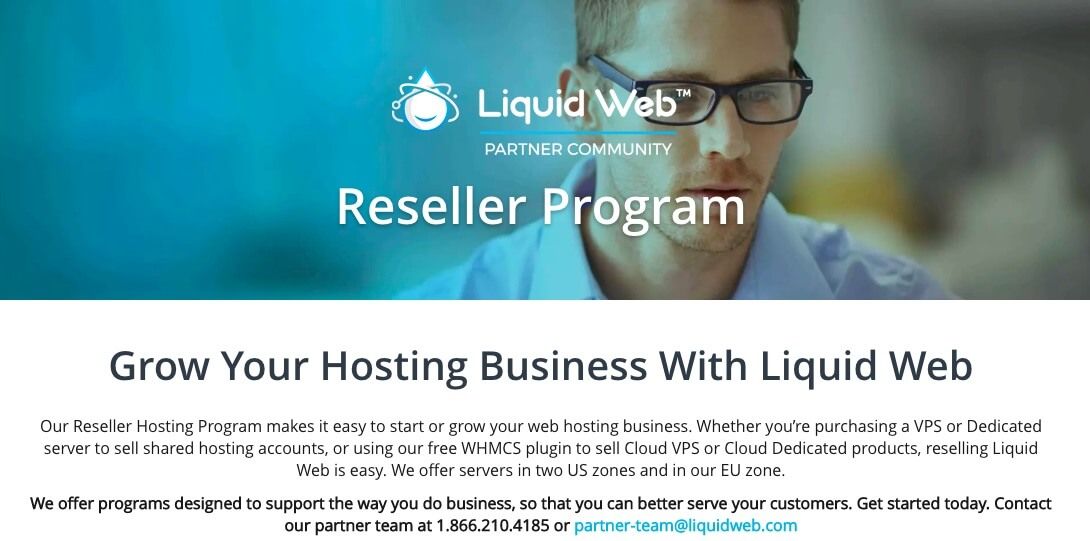 Reseller hosting involves working with a hosting provider to sell plans to clients. The host handles the server and upkeep for a monthly fee, while you keep a portion of the profits. This should leave you with plenty of time to pursue other potential revenue streams as well.
3. Provide WordPress User Support
Although WordPress provides support to users through its forums, some people appreciate having access to additional assistance. By offering to help clients troubleshoot errors, you can secure regular work for your agency.
Starting up a service like this only requires that you have a WordPress-savvy team on hand to answer any requests that come in. The biggest challenge that comes with this strategy is competing with other providers, who may offer 24/7 availability.
One solution is outsourcing the work. There are several options, such as GoWP or WP Care Market, which offers a unique process of pairing website owners with professionals. 
However, if you're determined to keep everything in-house, you might consider enlisting the help of a chatbot. Although they generally can't help clients with highly complex problems, chatbots are an easy way to automate support for common errors and technical issues.
If you can walk your clients through the solution in five steps or less, you can probably use a chatbot to deliver the same information. There are many platforms available for creating chatbots that you can add to your WordPress site, such and Drift: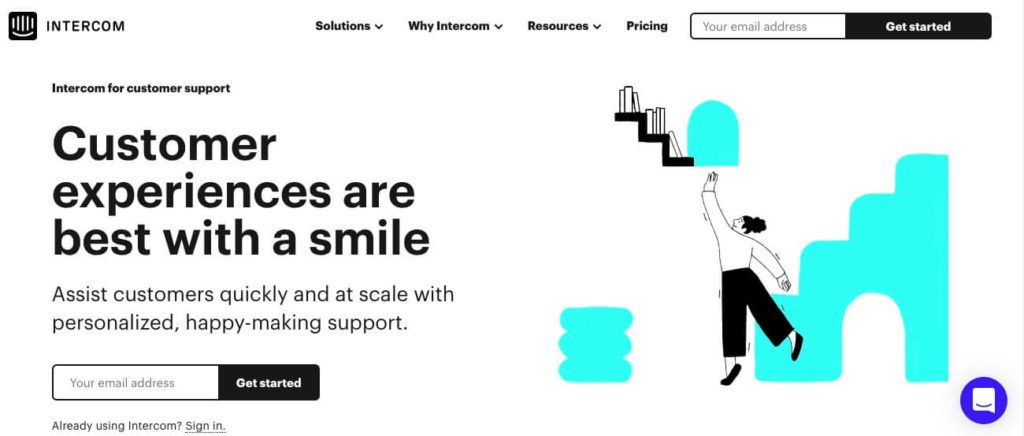 Intercom is another strong option. It can be scaled across multiple time zones and languages. Additionally, you'll have the benefit of a team inbox to increase productivity and streamline your workflows. 
4. Build and Offer Turnkey Websites
A turnkey website business combines maintenance packages and reseller hosting with custom or niche themes to quickly produce and hand over complete websites. This technique relies heavily on the Website as a Service (WaaS) model.
There's a lot of information out there regarding the setup of a turnkey website business. You can access blueprints and technical manuals from some of the most successful people in the niche: 

A WaaS option means that you can build websites based on a template for a niche audience, but instead of handing off instructions and themes, you manage the hosting, updates, and security yourself. Your client can simply 'turn the key' and use their website. They'll still be able to make customizations and manage content, but they won't have to worry about anything else.
5. Offer an Array of Graphic Design Services
The visual presentation of a website can have a lasting impact. Consequently, good graphic design can be an invaluable resource. One way to create extra revenue for your agency is to provide graphic design services. 
Whether you have a skilled designer on staff or outsource the service, your clients can benefit from this option. You can subcontract services like Deer Designer to bring a richer palette of options to the table: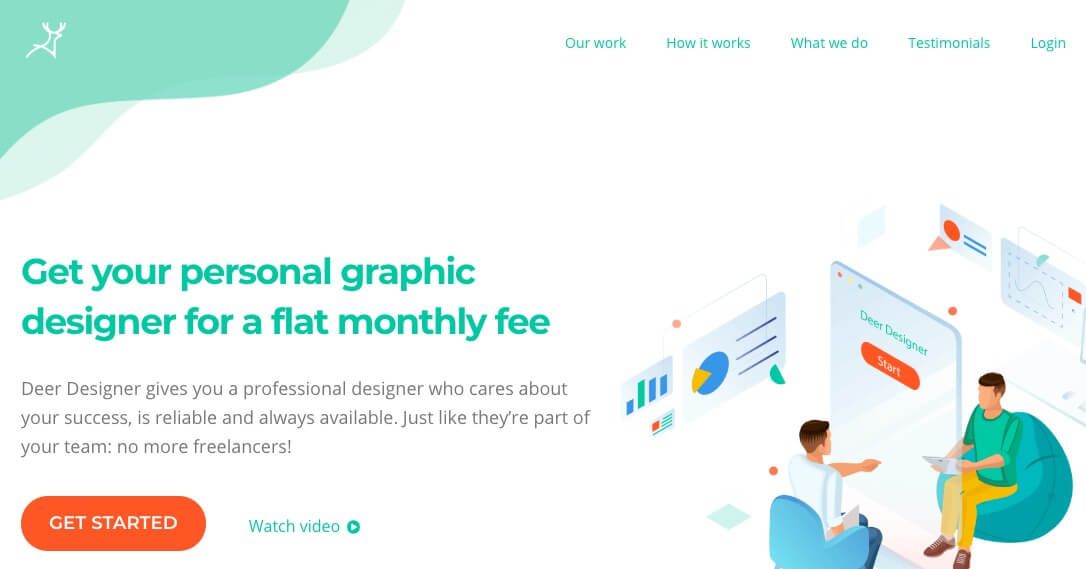 Your agency can handle all the back-and-forth with the designer, leaving your clients free to run their businesses. Delivering professional design elements to help shape your customers' visions is a key selling point for gaining more clients.
6. Hold Workshops or Offer Asynchronous Online Courses
Knowledge, experience, and expertise are marketable commodities. One way to generate revenue on your website is to offer your knowledge and expertise to clients in the form of workshops, webinars, or online classes There are many ways to package and offer short classes online.
These include standard learning management systems or plugins designed specifically for WordPress and other CMSs. For example, LearnDash is a plugin that can help you create workshops and classes for your WordPress website: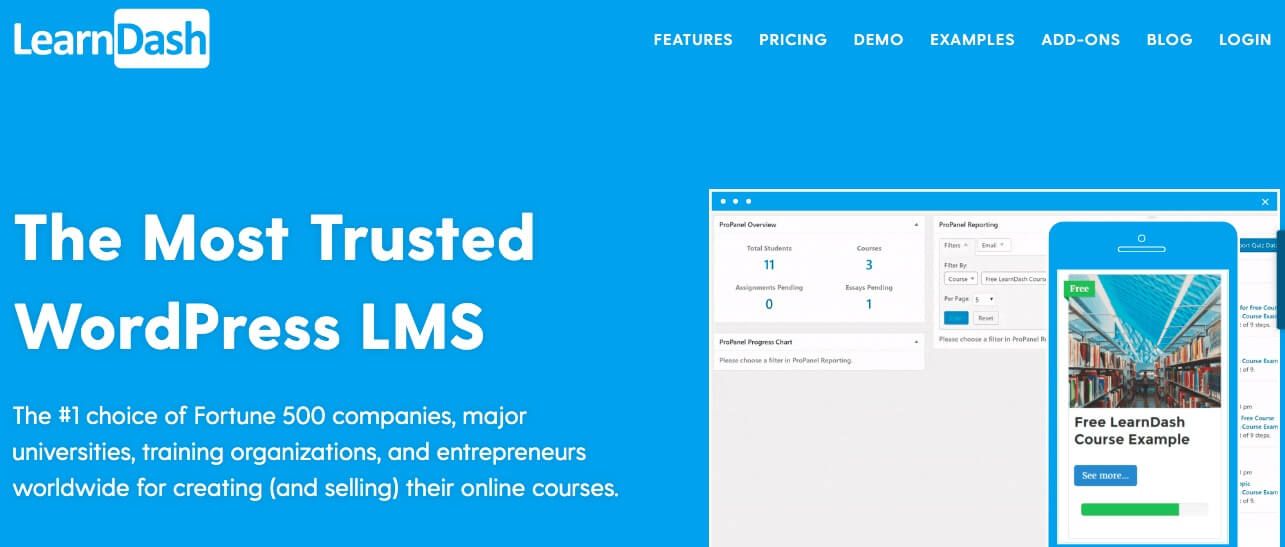 With this tool, you can create adaptive learning scenarios so clients can work through modules, or you can package an entire workshop for one price. You can also access add-ons for many popular eCommerce platforms to provide easy payment processing options. 
7. Create a Consulting Catalog Including Web Audit Services
Another avenue of service is providing a catalog of options for clients that includes web audit services. This is another case in which you can partner with a third-party service, such as My Web Audit: 

By using such services as a part of your agency offerings, you'll be able to conduct audits of client sites on everything from user experience to legal considerations. By providing detailed reports and useful training options, you can differentiate your services from other agencies. 
8. Optimize Client Sites for Search Engines
Because many factors influence a website's location on Search Engine Results Pages (SERPs), Search Engine Optimization (SEO) can become time-consuming and even overwhelming. Taking on this responsibility is a simple way to generate additional revenue.

Since optimization is an ongoing concern, you can count on SEO to provide recurring income for your business. You might consider creating tiered packages that include different services, so clients on tighter budgets won't be turned away, while those with more money to spend can invest in advanced features.
Of course, regular audits, keyword research, and other tasks will keep your team busy. Tools such as SEMrush can help streamline your duties so you still have time for other projects: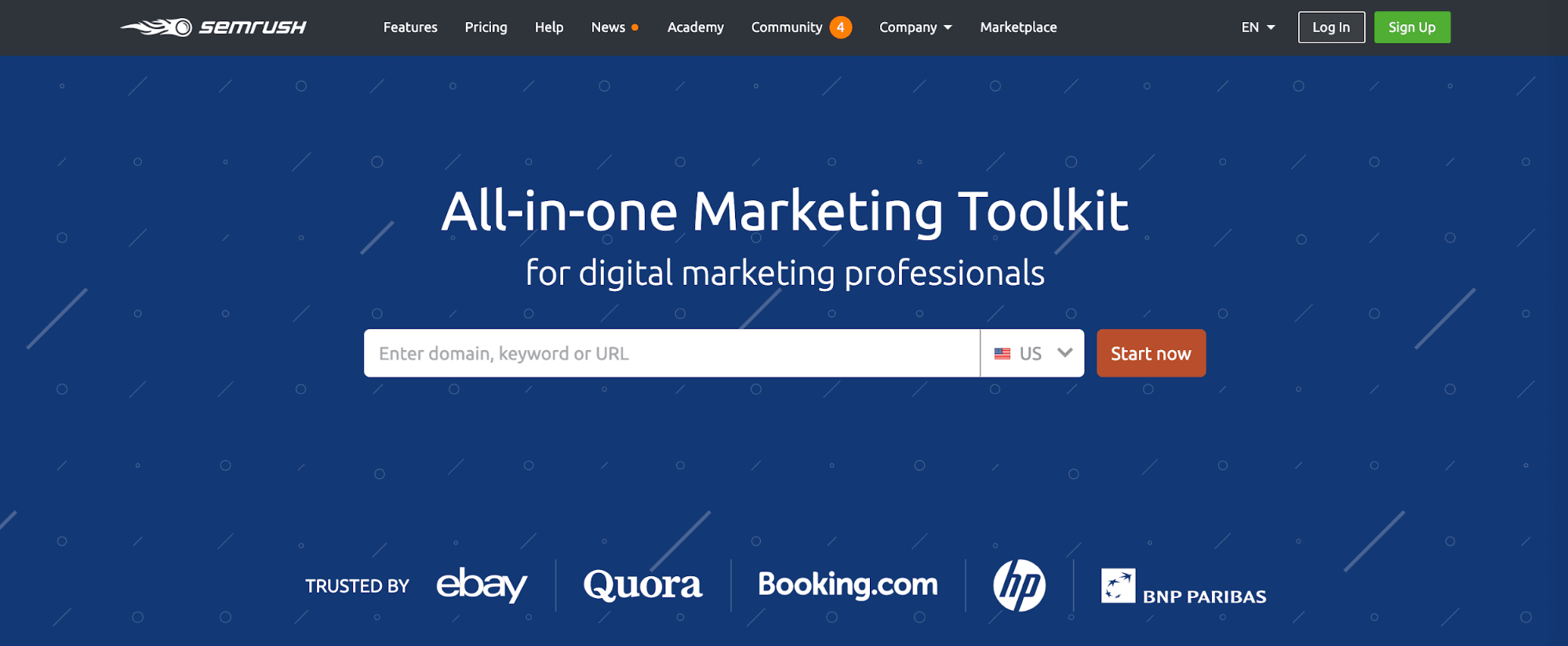 This solution's analytics tracking and analysis tools can help you stay on top of changes in your clients' site rankings and provide suggestions for improvement.
9. Manage Client Social Media Accounts
These days, social media has become a key player in many brands' marketing strategies. Accounts need a regular supply of content, as well as managers to respond to comments from followers and carry out other maintenance tasks.
Social media management is likely a consistent need for many of your clients. You may be able to outsource it to marketing agencies if your team isn't able to take this task on. However, it's also wise to look into account management platforms such as CoSchedule:

This platform helps you plan, schedule, and automate content for Facebook, Instagram, Twitter, LinkedIn, Pinterest, and Tumblr. It also includes calendars and organization features for planning overall marketing strategies, including blog posts and email newsletters. This tool is especially helpful if you also create original content for clients.
10. Create Original Content for Clients
Content benefits your clients' websites in many ways. It attracts visitors, provides key information about their products or services, promotes affiliate links, and more. Its value is not to be underestimated, and because fresh posts are in continuous need, content creation can offer a chance to lock down recurring revenue.
You can write long-form content such as blog posts and articles, craft shorter web copy or marketing emails, or even create video tutorials. The choice is up to you, and will likely depend on the skills your team possesses and the equipment you have available.
Unfortunately, this service is more difficult to outsource than the others we've mentioned and is nearly impossible to automate. You can hire freelancers to help you, but in-house content creators will likely lead to higher-quality results and happier clients.
11. Build and Sell WordPress Plugins
Many WordPress plugin developers have been moving away from one-time sale pricing models and towards Software as a Service (SaaS). This means that, instead of paying one flat fee for a particular plugin, customers can now expect to pay monthly or yearly subscriptions for ongoing updates and support.
Often, this setup also involves using tiered pricing to provide additional features to customers who are willing to pay more. Many have found this strategy to be much more profitable than a single flat rate. This screenshot shows pricing for the Jetpack plugin: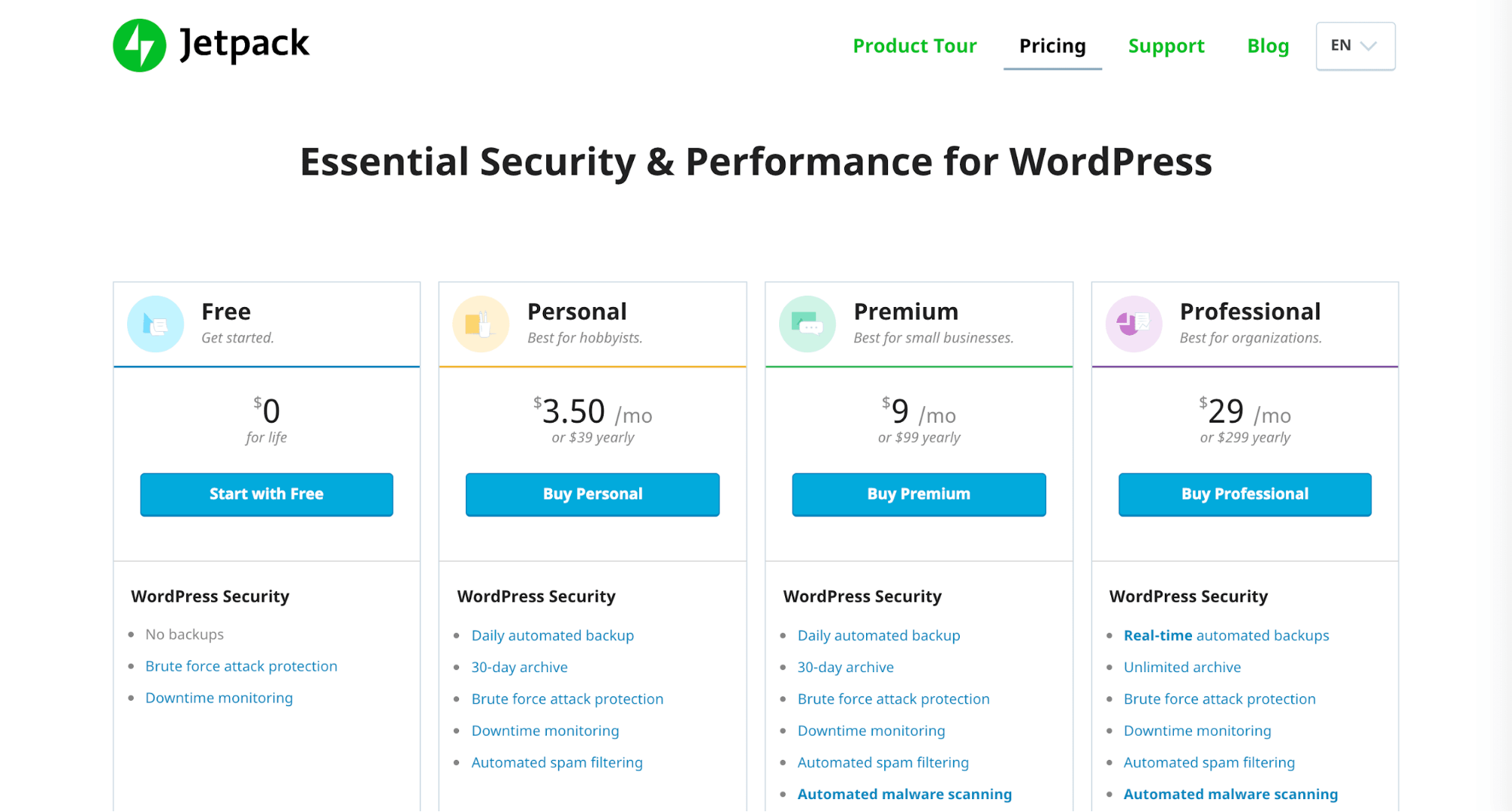 Under this model, creating WordPress plugins enables you to engage in ongoing development, while also bringing in recurring revenue.
Conclusion
When it comes to running a WordPress business, finding ways to maintain a steady stream of income is key. Instead of spending your limited time and funds tracking down your next client, it's wise to invest in generating recurring revenue for your agency.
In this post, we discussed eight different ways you might bring in more consistent income. Content creation, monetization, and social media management can be time-consuming but rewarding, while plugin development and SEO should help you pick up steady work. It's also smart to consider services you can outsource, such as reseller hosting, WordPress support, and website maintenance.
Do you have any questions about generating recurring revenue for your WordPress agency? Let us know in the comments section below!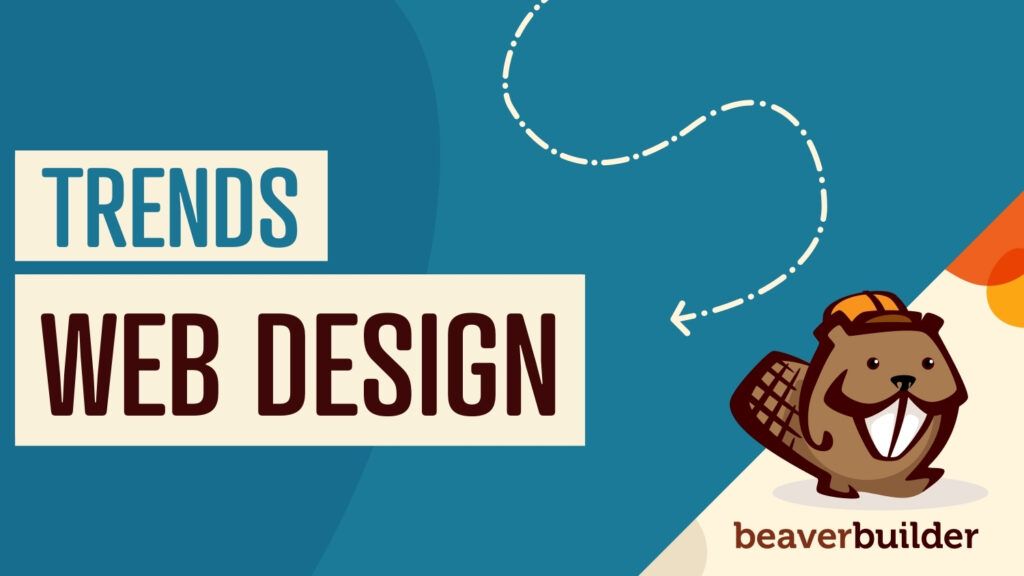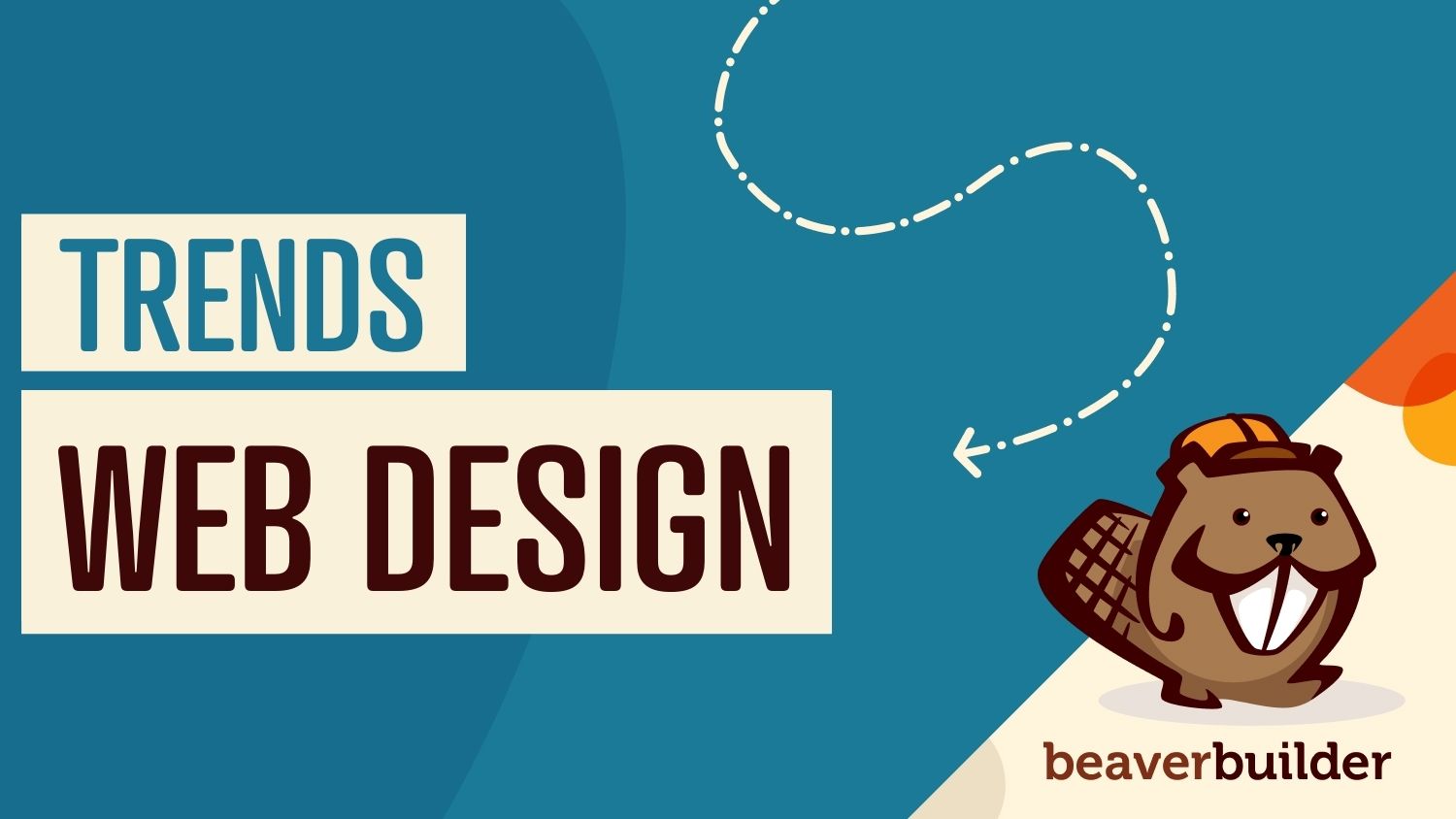 As a web designer, you want every website you create to be a great one. This is easier said than…
Join the community
We're here for you
There's a thriving community of builders and we'd love for you to join us. Come by and show off a project, network, or ask a question.
Build Your Website in Minutes, Not Months
Join Over 1 Million+ Websites Powered By Beaver Builder.