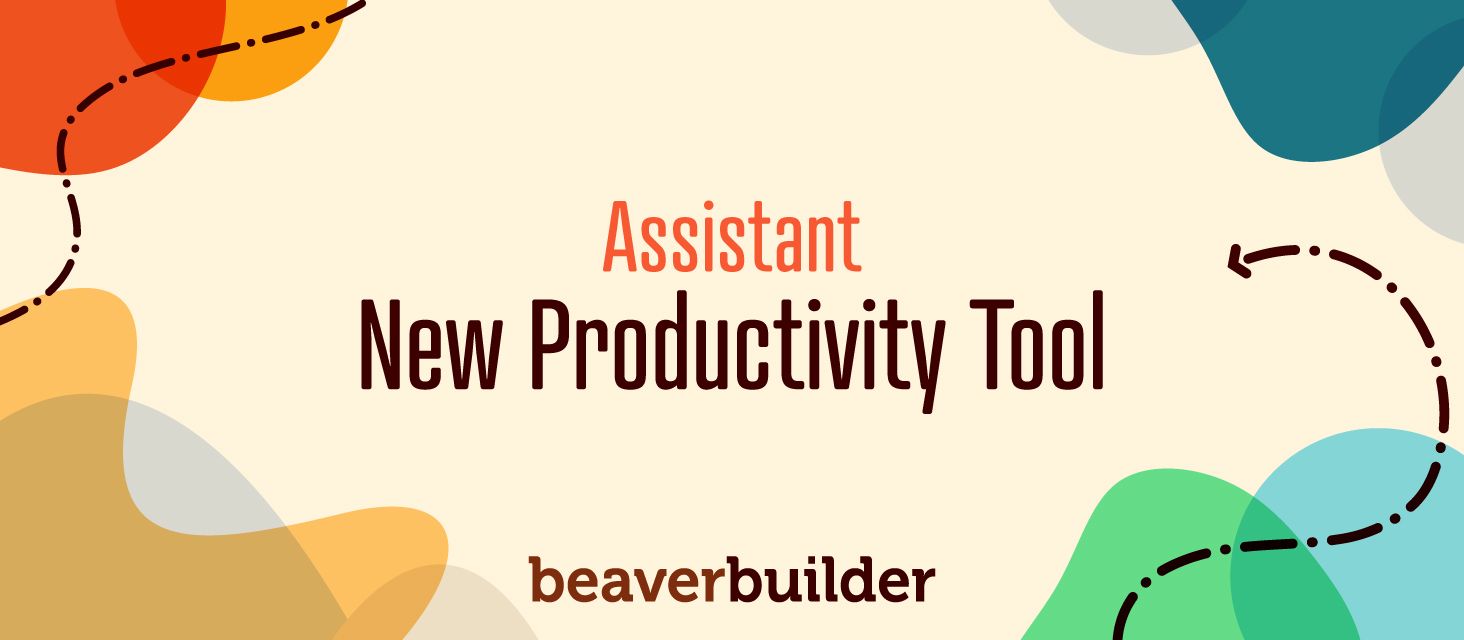 WordPress makes building a website easy, but running it day-to-day is another story. That's why we've developed a brand new plugin – Assistant.
This handy productivity tool helps you quickly accomplish all kinds of tasks on the front end of your site, such as reviewing new content and comments, uploading media, and much more.
In this post, we'll introduce you to the Assistant plugin and the many benefits it has to offer. Then we'll show you how to get started with it. Let's get right to it!
We just launched 6 FREE
Beaver Builder courses
. Including step-by-step video tutorials for Assistant Pro. Get started today.
An Introduction to Assistant
Traditionally, if you want to make changes to your WordPress site, you have to visit the back end (or admin dashboard). There you can add content, tweak settings, manage users, etc.
While the WordPress dashboard isn't difficult to navigate, it looks very different from your website.
This can lead to a lot of switching back and forth between the front and back ends of your site, making changes, and checking to see how they affect what visitors will actually see.
Some advancements have been made to better integrate the front and back-end experiences, such as the WordPress Customizer and the still relatively-new Block Editor.
However, none of these improvements do much to simplify your workflow, make it easier to find what you're looking for or reduce your reliance on the admin dashboard.
That's where Assistant comes into the picture:

Our goal with this open-source project is to provide something brand new for the WordPress community.
Rather than creating yet another version of the functionality that's already widely available, we're looking to fill in the gaps and offer website management features that are hard to find elsewhere.
In a nutshell, Assistant gives you an easy way to interact with, organize, and manage your site's content from the front end.
However, that just scratches the surface of what it can do – let's take a closer look.
4 Ways to Use Assistant to Manage Your WordPress Site
First and foremost, it's important to understand how the Assistant plugin functions. When installed, it adds a brand-new menu to the front-end view of your site.
This menu isn't available to your site's visitors – you'll need to be logged in as an administrator to see it.
By default, it will appear along the right-hand side of the screen. However, you can move and resize it to fit your preferences, or hide it entirely when needed: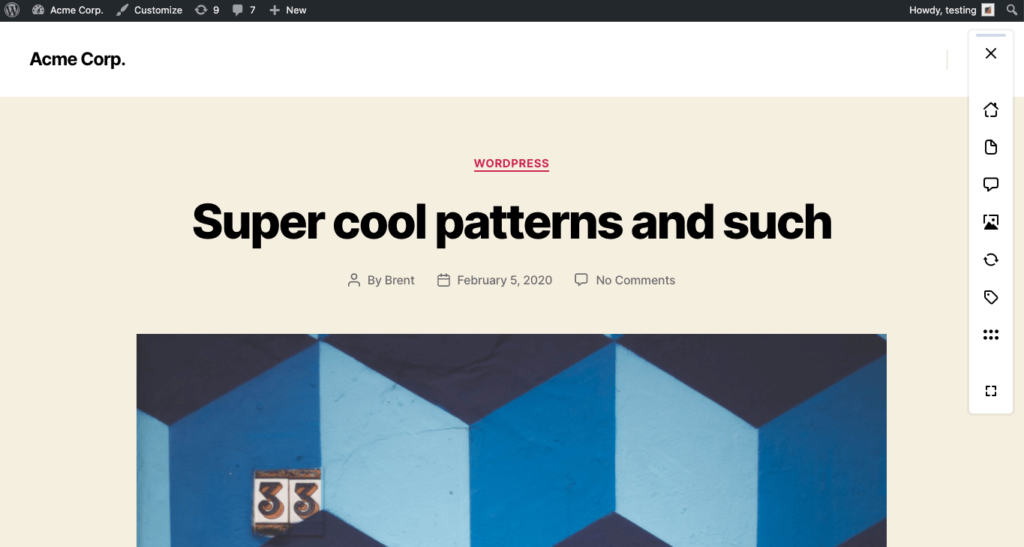 It's important to clarify that Assistant isn't designed to give you access to all dashboard features on the front end.
Instead, its streamlined interface lets you quickly find and interact with the most commonly used back-end functionality.
That way, you can use Assistant to handle your site's daily maintenance tasks, and reserve switching over to the dashboard for those times when you need to make larger-scale changes.
Assistant's menu is organized into a series of 'apps' that help you accomplish different tasks.
In the next few sections, we'll show you what these various features can do and how they can make your life easier.
1. Navigate Your Site and View Key Details Quickly
First up, let's check out Assistant's Home screen (Note: You have the ability to change between a light or dark mode)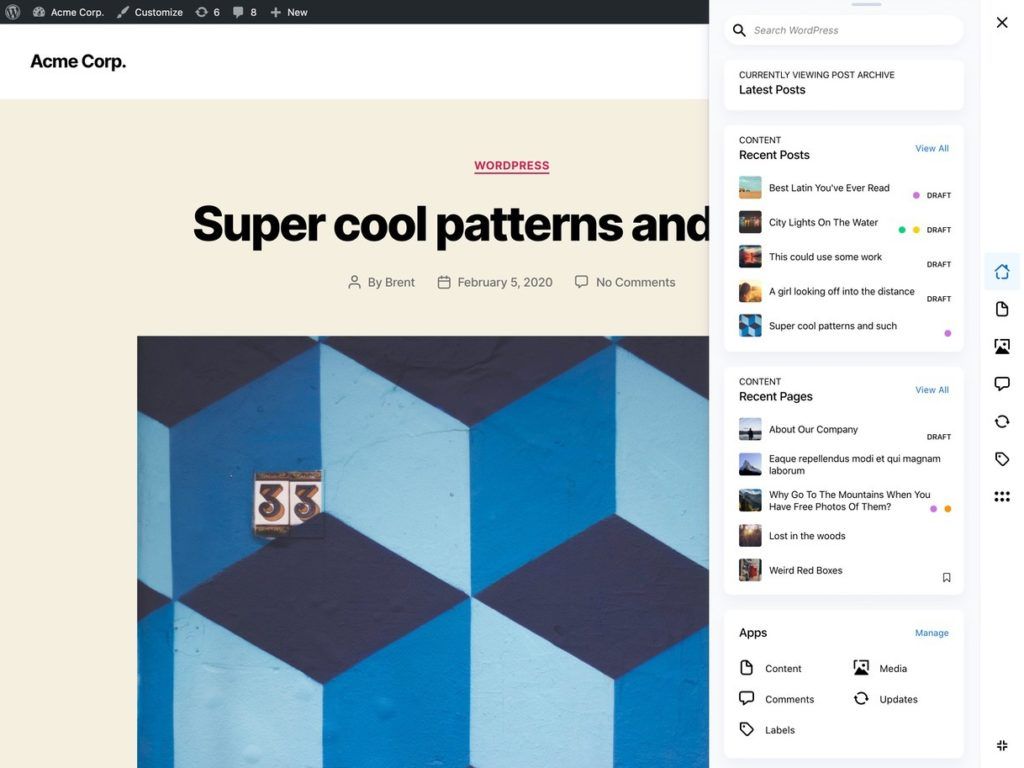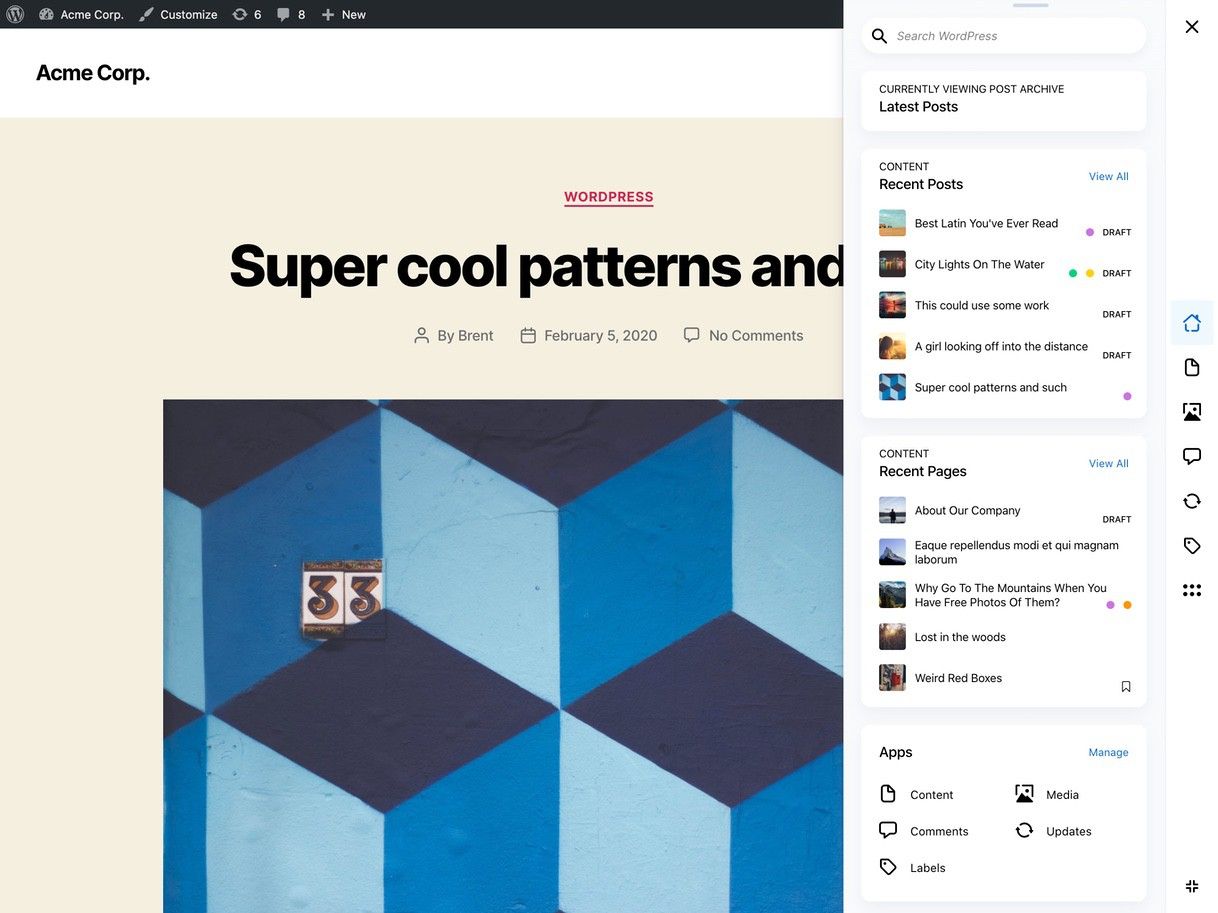 This screen provides you with some key details about your site.
At the top, you'll find a handy search bar, which will help you quickly find what you're looking for.
Next, you'll also see the name of the page or post you're currently viewing, along with quick links to access your recent posts or pages.
This means you can easily navigate to different pages on your site, and jump right into editing them.

Below that, you'll find a quick view of your Apps. This will help you navigate to various apps available to you like content, media, labels, comments, and updates.
The goal of this screen is to give you an easily-accessible overview of your site. Plus, you should find it simpler to navigate around and jump right to whatever content you'd like to work on.
2. Label and Edit Content Seamlessly
Next up, the Content app presents you with a list of your site's posts, pages, templates, and other content.
You can use the filters at the top to quickly find content based on its type, publishing status, or label (more on that option shortly).
Once you select any piece of content, you'll be taken to a secondary menu where you can view the post, edit the details, duplicate the post, mark it as a favorite, or simply delete it.
If you click the page/post or click edit details you'll see here the options will vary slightly depending on what type of content you've chosen. However, you should at least see General and Edit tabs.
In the General tab, you can view and edit the page (or whatever sort of content you're working with). You can also give it one or more 'labels'. This is an Assistant-specific feature you can use to organize your site's content and leave notes for other team members.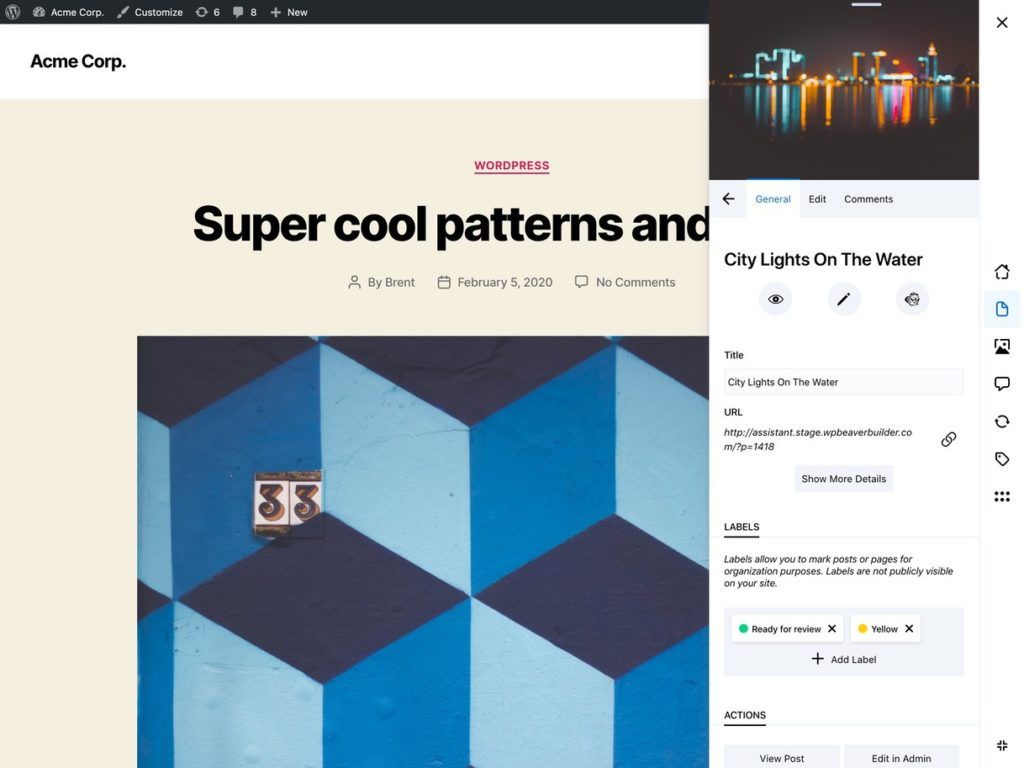 Under the Edit tab, you can change some of the page's basic information. This includes the title, slug, publishing settings, author, categories and tags, featured image, and so on.
If you're looking at a post, you'll also be able to switch over to a Comments tab to manage recent user comments.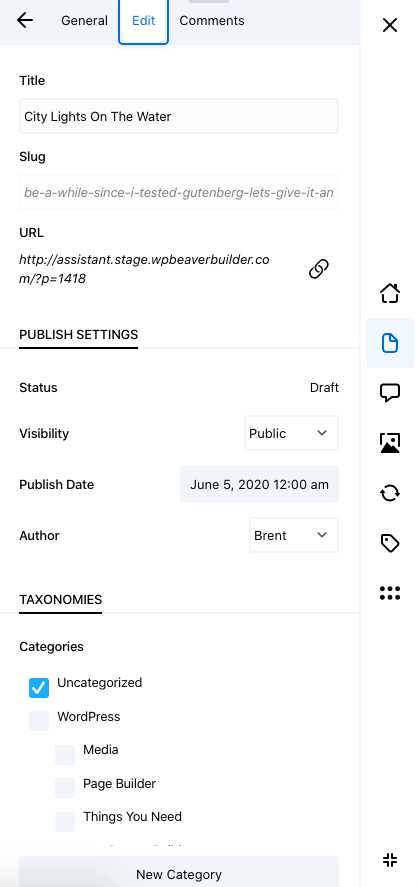 3. Manage Media, Comments, and Labels from the Front End
By this point, you're probably getting a sense of how Assistant functions. So, let's look at how you can use it to manage other types of content beyond pages and posts.
There's the Media app, for instance, which functions a lot like the Content app.
What's nice about this app is you can easily drag and drop images into your media folder without having to leave the front end of your website.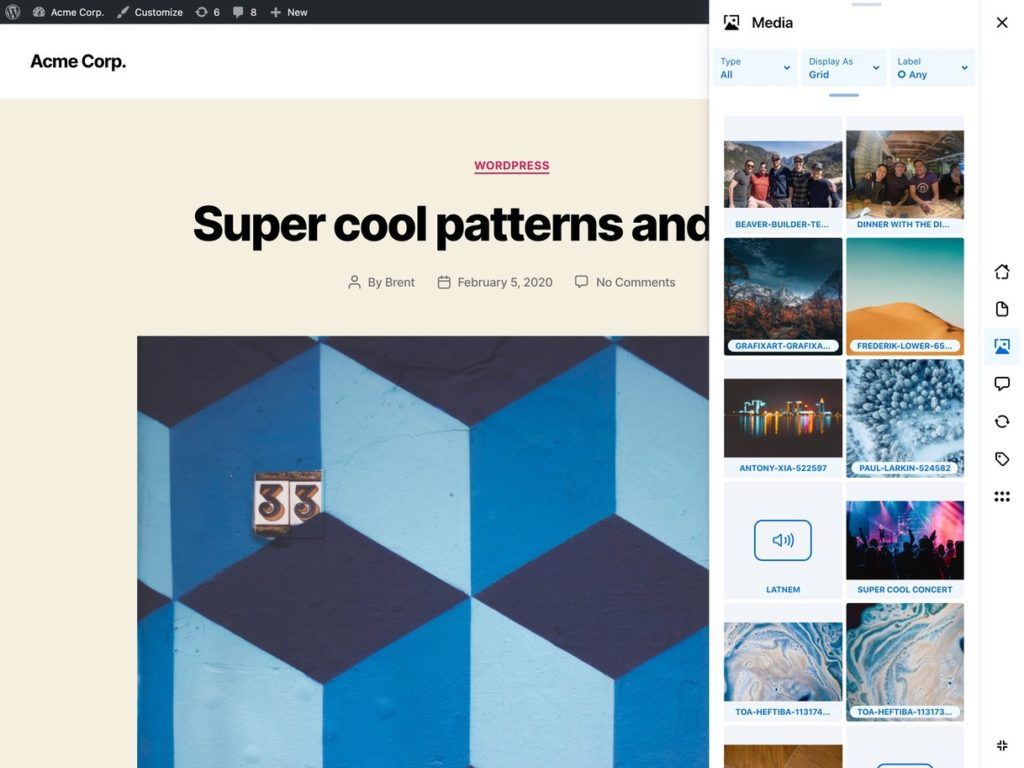 When you click on an image or other piece of media, you'll be able to see basic information about it, such as its size and file type.
You can also view any links that are associated with it, and edit its title, alt text, and description: (See example dark version below)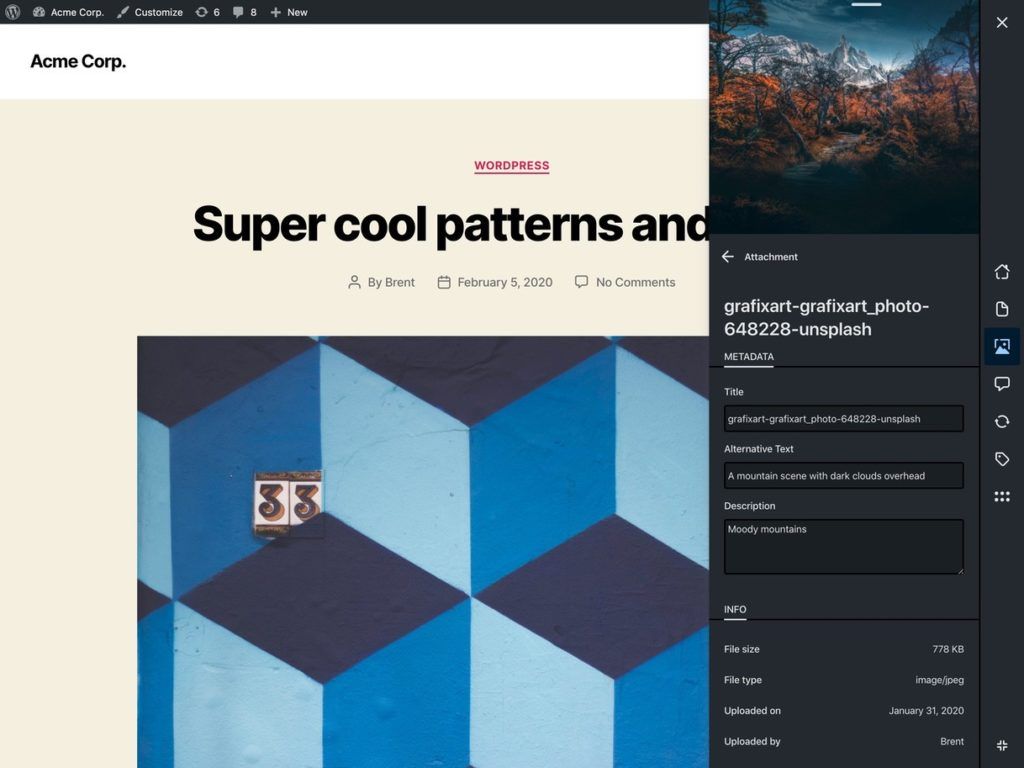 Finally, you can also label (label titles can be edited) your media files. Much like with pages and posts, this lets you organize your media in a way that suits your particular site and workflow.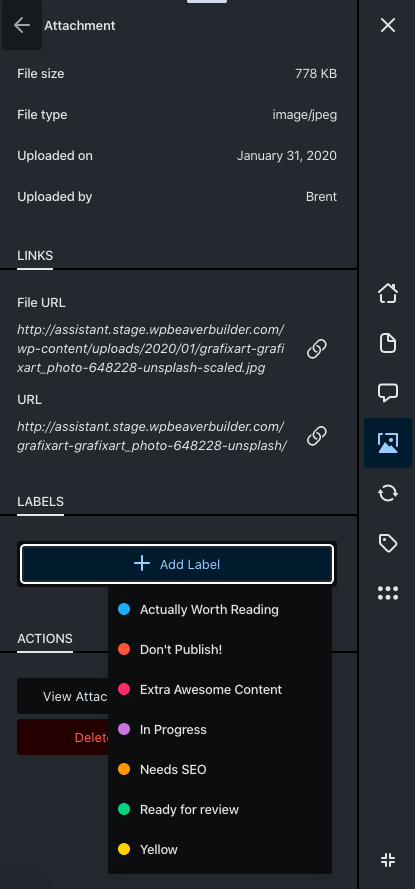 In the Comments app, you can see pending, approved, spam, and trashed comments for your whole site.
Then you can select a particular comment and quickly approve, reject, or reply to it: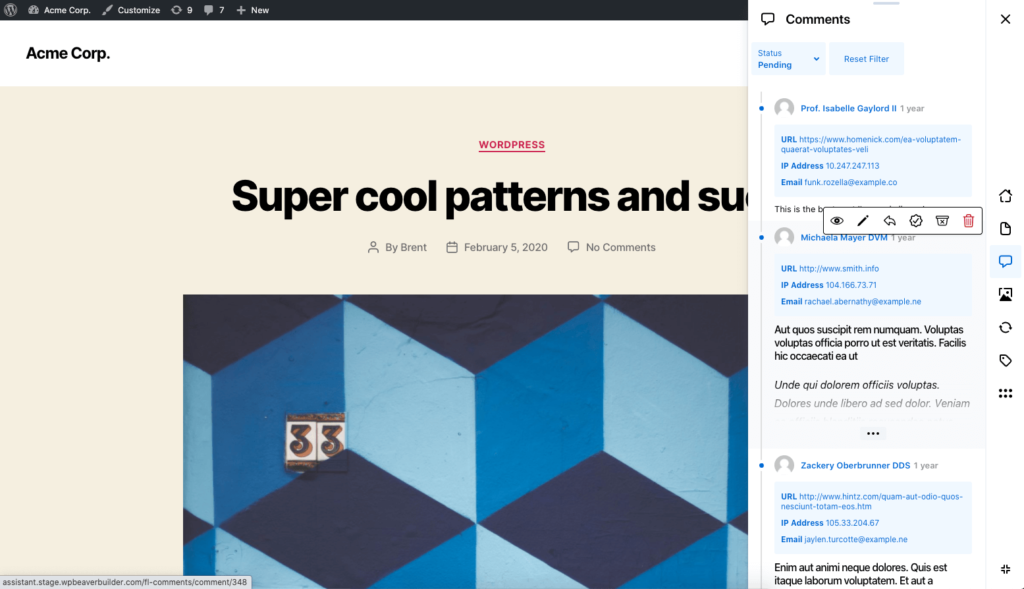 There's also a Labels app, where you can customize the labels used to organize content throughout the Assistant interface: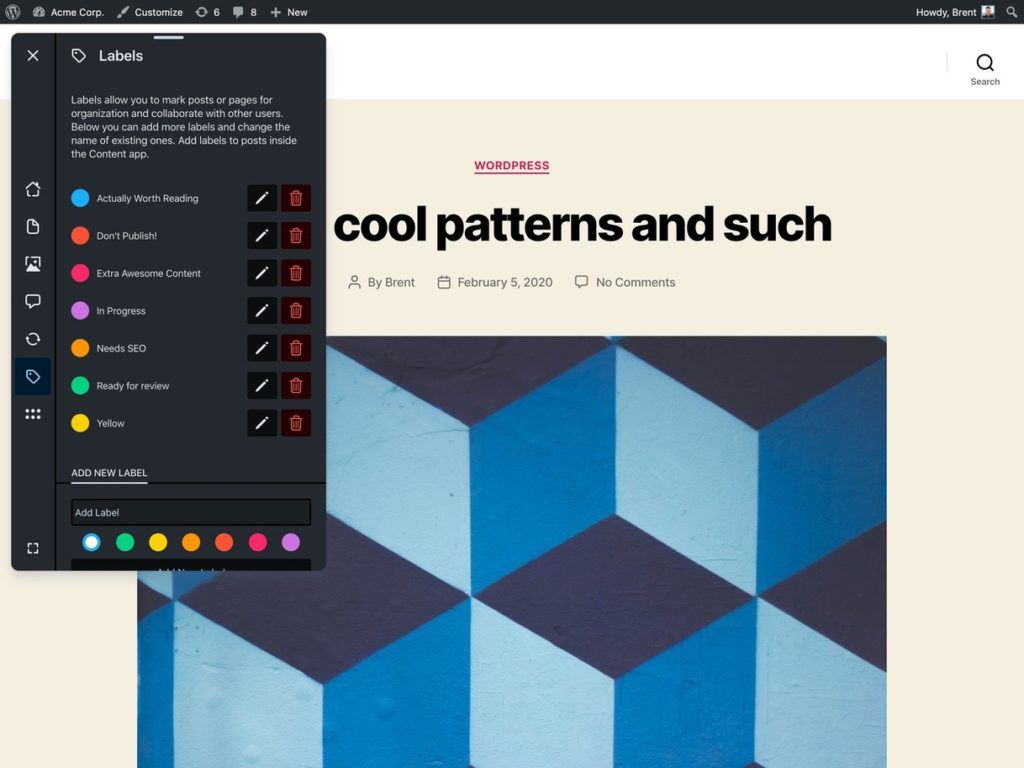 You can assign each label a custom color and text. This system offers a great deal of flexibility, and none of it will be visible to visitors – just you and other authorized logged-in users.
4. Update Key Elements of Your Site
Last but not least, you can even use Assistant to perform updates.
If you check out the Update app, you'll find a list of any plugins or themes on your site that have pending updates: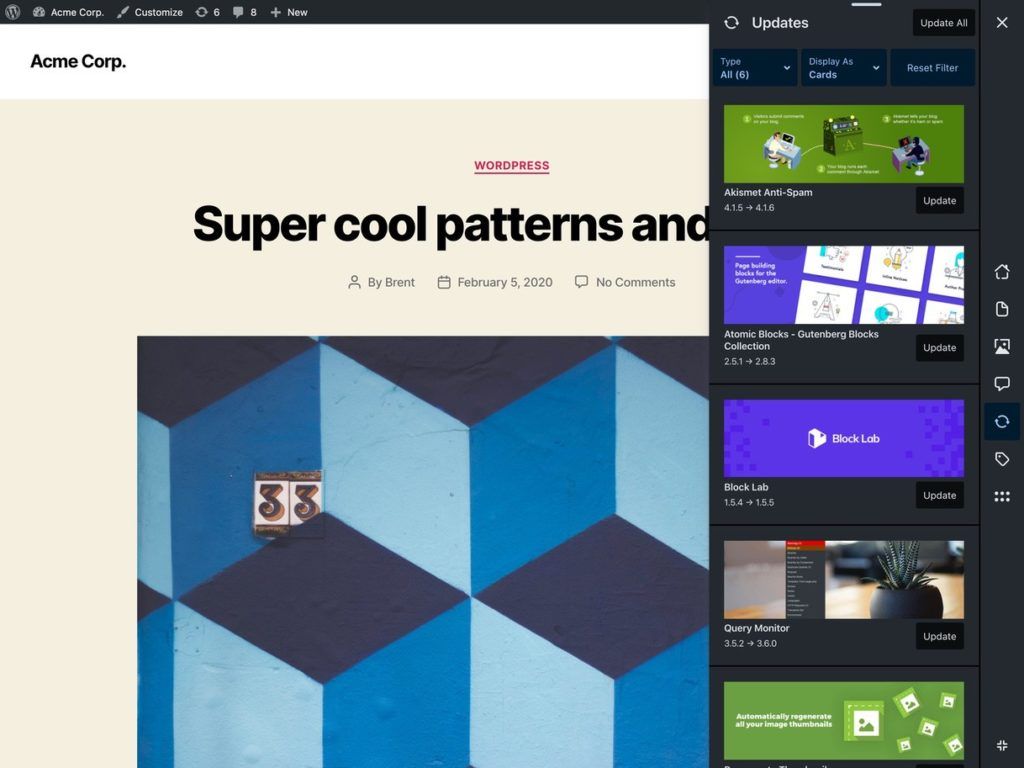 To upgrade a particular plugin or theme to its latest version, all you have to do is hit its corresponding Update button or simply click Update All at the top.
If there are multiple pending updates, you can use the filters at the top of the menu to sort through them.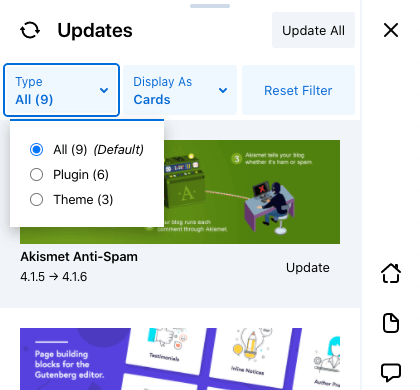 Alternatively, if you don't see anything in this app, that's good news – your plugins and themes are up to date!
However, note that core updates won't appear here. If you need to update your version of WordPress, you'll need to visit the admin dashboard to do so.
How to Get Started With the Assistant Plugin
If everything we've covered so far in this post sounds appealing to you, we'd suggest giving Assistant a try.
It's a free, open-source plugin. Just visit your dashboard and search for "Assistant – Every Day Productivity Apps" on the Plugins page to install and activate it.
It's also available for download from the Plugin Directory.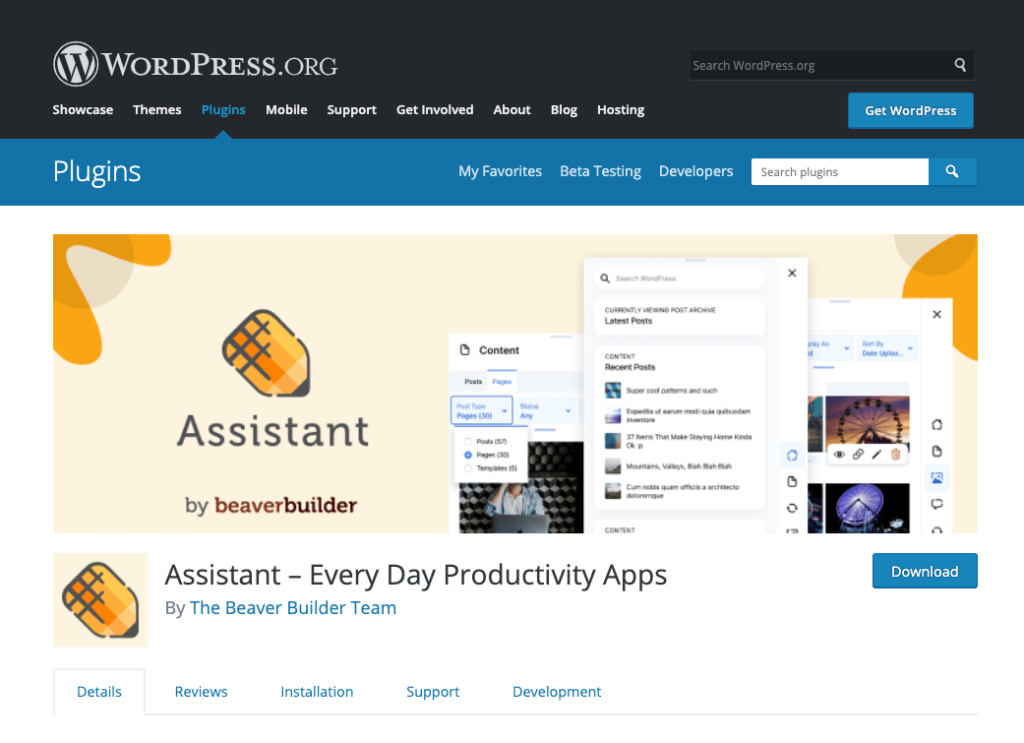 Keep in mind that we plan to continue to add more exciting features and options. We're developing it publicly so we can make sure it meets the needs of real users.
Feel free to let us know what you think about it, and what other functionality you'd like to see.
Plus, if you're a plugin developer, Assistant provides an opportunity for you to create new apps to add on to the core features we've discussed in this post.
As an open-source project, our new tool is an excellent chance for collaboration in the WordPress community.
Finally, it's worth noting that Assistant is not dependent on Beaver Builder. You can use it alongside any WordPress theme and plugins you like. Of course, if you do happen to be a Beaver Builder user, Assistant will pair up with our page builder seamlessly.
Conclusion
When we designed our Beaver Builder page-building plugin, we wanted to expand the options for WordPress users and offer them added flexibility.
Assistant is born out of the same goals. It's a brand-new way to handle daily tasks, organization, and team communication on your website.
Assistant is a free, open-source plugin that enables you to:
Navigate your site and view key details quickly.
Label and edit content seamlessly.
Manage media, comments, and labels from the front end.
Update key elements of your site.
Have you tried out our new plugin yet, and what do you think? We'd love to hear any and all feedback in the comments section below!
New Update
Our goal is to make creating WordPress websites easier and faster for you. We provide easy-access cloud storage and a variety of community-made templates, so you don't have to start from scratch for each new project. With both free and premium Beaver Builder templates available, you can quickly build and personalize your website to suit your needs.
We've designed Assistant Pro as a cloud storage solution specifically for WordPress developers like you. It helps you securely store and organize your templates, design assets, and code snippets while making team collaboration a breeze. Your team members can access and share templates effortlessly, streamlining the whole process.
Used and trusted by professionals globally, we've made sure Assistant Pro simplifies the website-building process without needing coding skills. This way, you save both time and effort, making it a win-win for everyone.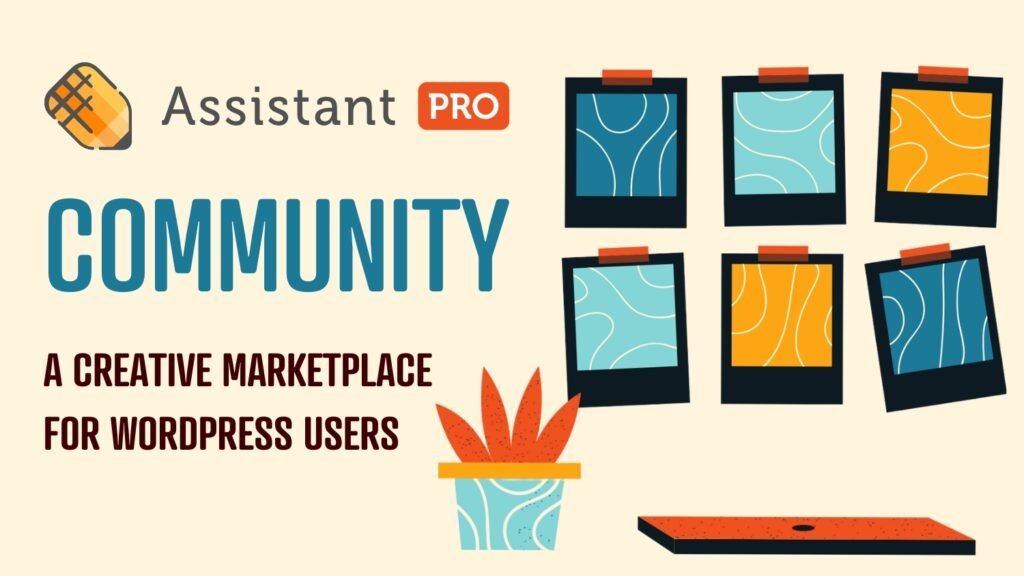 We are excited to announce the launch of our Assistant Pro Community, a brand new marketplace for WordPress users! You…
Join the community
We're here for you
There's a thriving community of builders and we'd love for you to join us. Come by and show off a project, network, or ask a question.