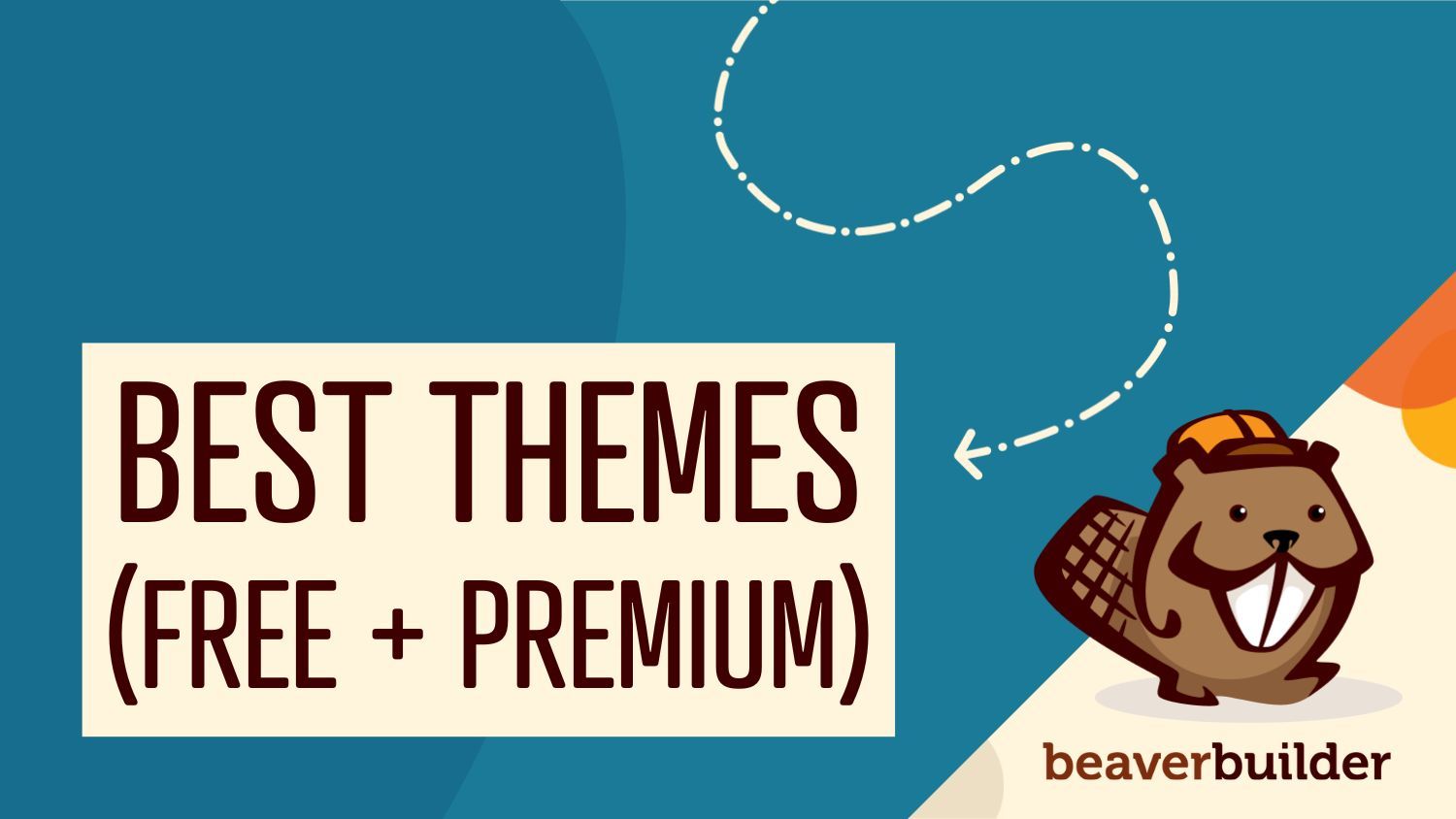 When it comes to theme options for your WordPress site, there's no lack of choices on the market. This can make finding the best Beaver Builder themes for your site challenging. Fortunately, there are numerous theme options designed explicitly for Beaver Builder or compatible with it.
In this post, we'll discuss the differences between themes and templates. Then we'll provide an overview of Beaver Builder friendly themes, including key features and prices. Let's get to work!
The Difference Between Themes and Templates
Although they may seem similar, themes and templates have particular characteristics that make them different. You'll probably use both a theme and templates on your WordPress website. So, it's essential to understand their features and use cases.
The main difference between a theme and a template is that a theme determines the design of your entire site. A template lives within that design and specifies the look and features of a single page.
Your WordPress theme is made up of CSS stylesheets, template files, JavaScript, and images. Essentially, themes allow you to customize the appearance and organization of your entire website by editing your theme files.
For example, here's one of the default WordPress themes, Twenty Twenty-Two:

You have many options when choosing your theme. These include the themes included in the official WordPress theme directory. Additionally, there are third-party and premium options.
On the other hand, a template affects the layout of a single page type on your site. It might include a layout for your blog posts, archives, or contact page. Your theme will typically have preset templates, and you can develop new ones using a page builder like Beaver Builder.
Furthermore, our Beaver Builder plugin provides many pre-made templates to allow you to easily switch up the look of the different pages on your website: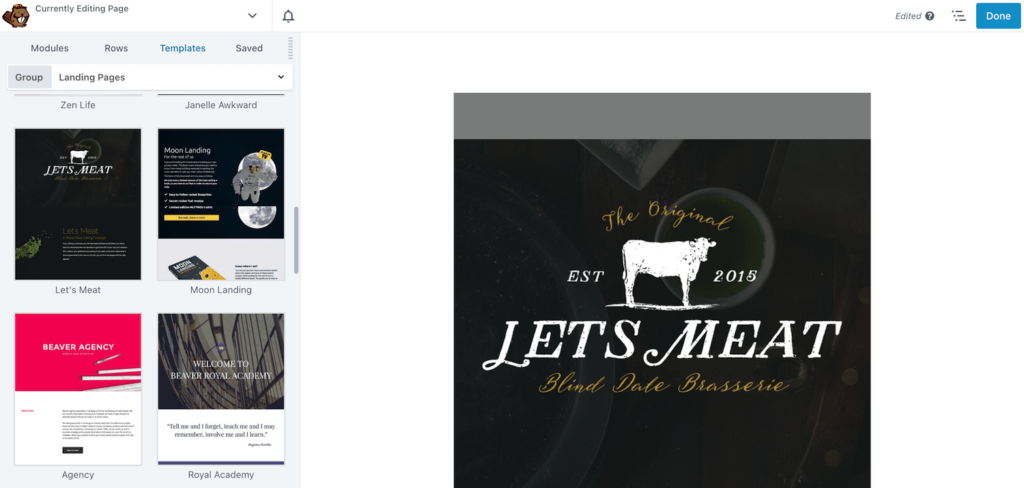 These templates give you many different options to customize your pages. Plus, you can choose between landing page templates and general page layouts. The templates are also customizable, enabling you to switch out modules to fit your website's branding.
Themes and Templates: Which One Should You Consider Using?
If you're building a website from scratch, you'll first need to choose a WordPress theme. This is the starting point of your website.
When deciding on a theme, it's best to choose one that offers maximum flexibility. It's also worth choosing a customizable theme so that you can quickly build a unique and attractive site.
For example, using our page builder tool with a minimalist theme gives you the freedom to customize the style and layout of the content area of your website: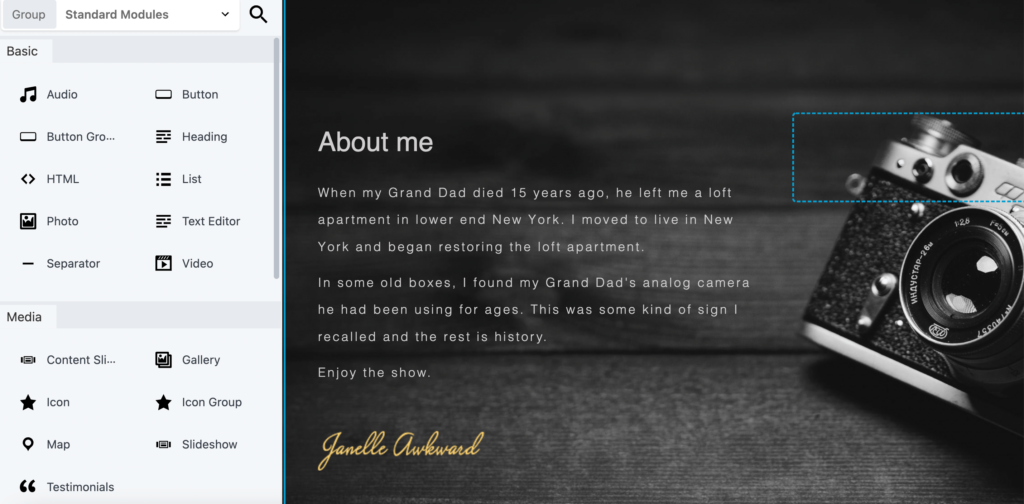 If you're not using a page builder, what your site looks like and how it's laid out will be largely determined by your site's theme.
You can change your theme at any time. However, this transition could break your site or create User Experience (UX) issues. So, we recommend choosing a suitable theme from day one.
However, if you've already created a website and want to customize or add content to it, you can skip right ahead to searching for template options.
5 Best Beaver Builder Themes (Free and Premium)
Not all themes work well with page builder plugins. If you're a Beaver Builder user, you'll naturally need a theme that is customizable using our plugin.
Otherwise, you might struggle to get your site looking how you want without dipping into custom coding. Your website might even look generic or unprofessional.
Fortunately, several free and premium Beaver Builder themes are designed specifically for our page builder plugin or are highly compatible with it. Let's take a look!
1. Beaver Builder Theme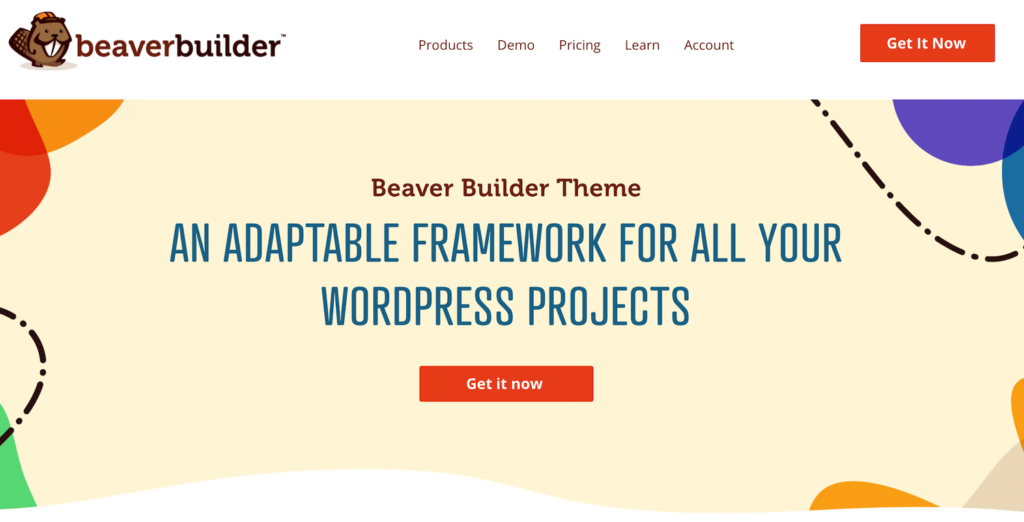 The Beaver Builder Theme is as flexible as our plugin. It's designed specifically to be flexible and customizable with our page builder so that you can create a truly unique WordPress site.
Our theme leverages the Bootstrap framework as its CSS base. This gives you access to a reliable framework optimized for speed and performance.
In addition, the Beaver Builder Theme is lightweight and easily adjustable, with developer-friendly features for more complex customizations. You can also use the Beaver Builder Theme on numerous websites, and the codeless web control means you can preview any changes you make to your site before you publish them.
Key features:
Compatibility with WooCommerce
Different options for header and footer layouts
Search Engine Optimization (SEO) features
Lightweight framework
Fully compatible with the Beaver Builder page builder
CSS framework built within the Bootstrap framework
Pricing: The Beaver Builder Theme costs $199 per year, including access to our page builder plugin, customer support, and premium templates.
2. Astra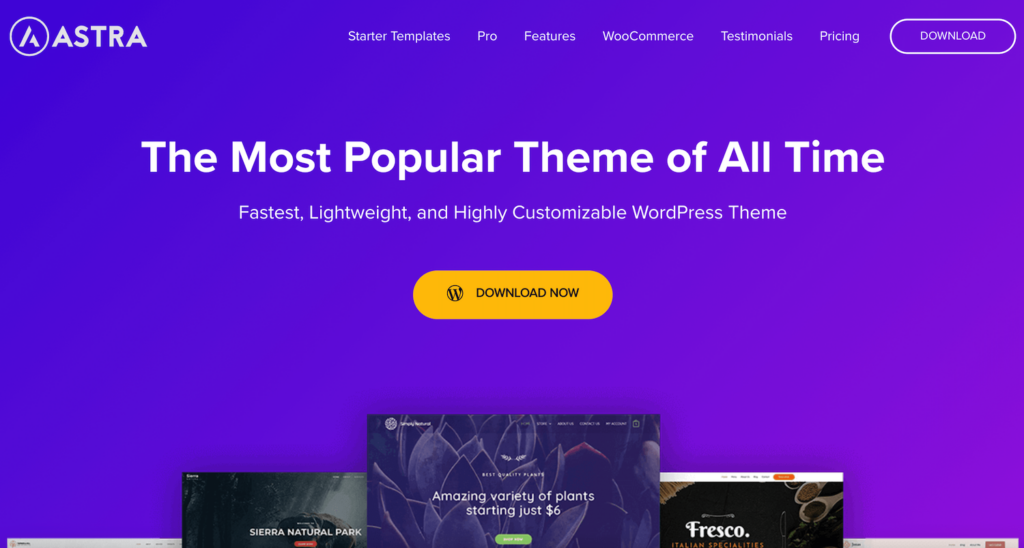 Astra is a popular theme that comes with numerous pre-made sites. Its minimalist design and user-friendly layout make it easy to get your site up and running quickly. Astra has various elements you can tailor to your needs, such as headers, blog layouts, typography settings, and page builder style choices.
Astra is compatible with page builders such as Beaver Builder. It also works well with other plugins like WooCommerce, making it a good option for ecommerce sites.
Key features:
One of the lightest themes available (load time is less than 0.5 seconds)
Use of

vanilla JavaScript, which stops render blocking jQuery from affecting performance

Optimized code for speed and performance
Many header and layout options
Pricing: Astra is free, with Astra Pro starting at $49 per year.
3. GeneratePress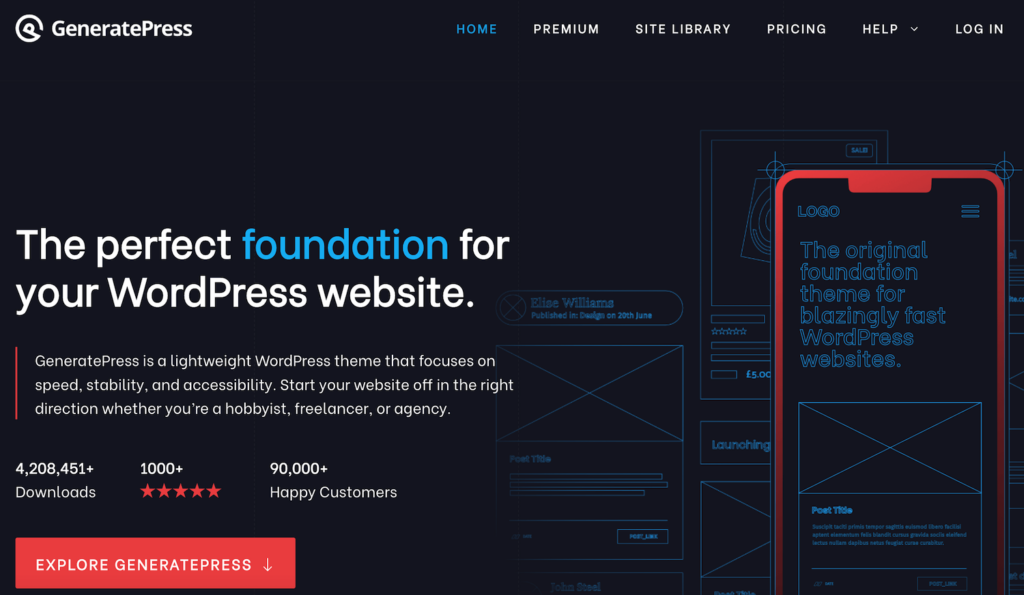 GeneratePress is a lightweight theme that offers flexibility and speed. It is also fully compatible with Beaver Builder and includes multiple new modules like Copyright and Sections.
GeneratePress is also an excellent option for customizing all areas of your site. You can choose from over 60 color controls, five sidebar layouts, multiple navigation options, and nine widget areas. Plus, with GeneratePress premium, you'll get access to a Site Library full of demo sites for different website niches.
Key features:
Lightweight and fast
Extensive library of templates that you can import easily
Ability to create custom headers, footers, and layouts
Available to use on up to 500 websites, making it ideal for agencies
Pricing: GeneratePress is free, with the paid version starting at $59 annually.
4. Page Builder Framework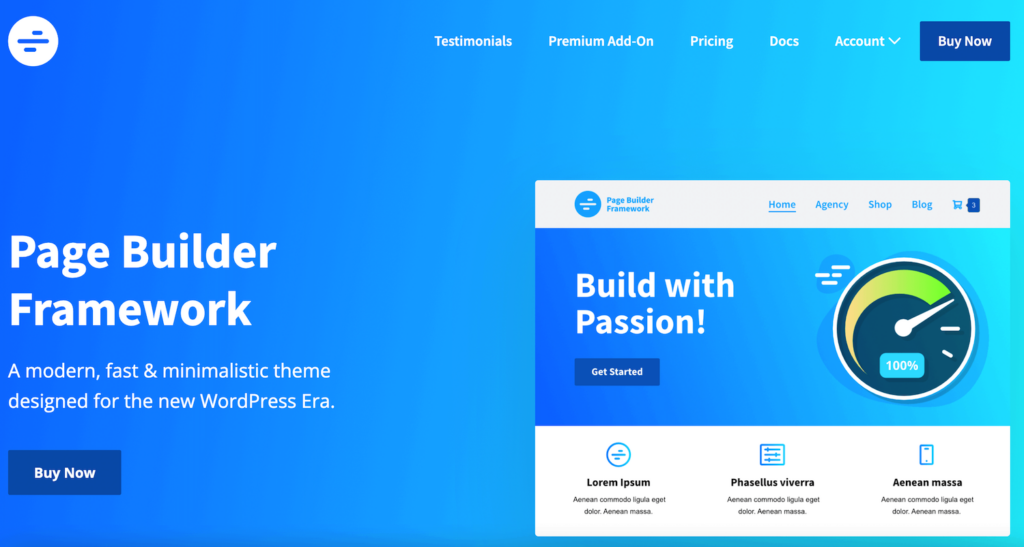 Page Builder Framework integrates seamlessly with Beaver Builder. Known for its speed and flexibility, this theme offers many customization options and the capacity to white label your client sites. It also has a minimalist design that enables you to build a streamlined and attractive website.
This theme integrates smoothly with WooCommerce, and you'll be able to change and configure product images, checkout options, and notices for your store. Additionally, the live editor feature means that you can see your changes right off the bat.
Key features:
Lightweight and speedy code, with a weight of under 50kb
Built-in WooCommerce integration and SEO features
Full GDPR compliance to ensure your privacy
100% mobile responsive
Pricing: Page Builder Framework is free, or you can upgrade to the premium theme starting at $58 per year.
5. OceanWP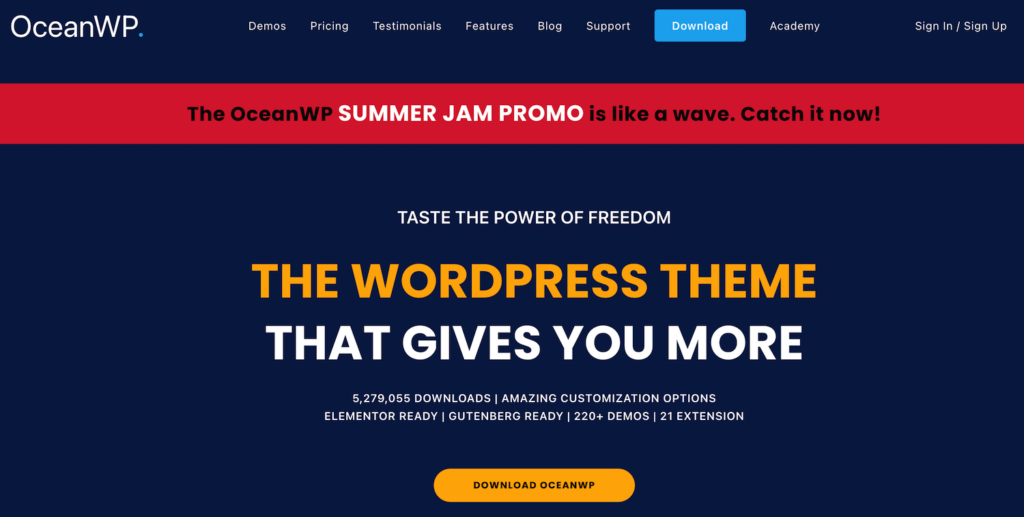 Finally, OceanWP is one of the most dynamic WordPress themes. It's compatible with page builders and just like the above mentioned themes works great with our Beaver Themer add-on.
OceanWP is designed to minimize your site loading times while allowing you to create a website tailored to your needs. It also comes packed with various visual and navigational features, including social media icons, custom widgets, page layouts, and different scroll types.
One great feature of OceanWP is its integration with WooCommerce, which means you can easily create an ecommerce store and boost sales. You can also choose from Google Fonts or advanced typography settings for different areas of your website.
Key Features:
Both beginner and developer friendly
Seven custom header styles
Compatible with Beaver Builder and the Beaver Themer add-on
Integrations with WooCommerce to improve your conversions
Pricing: OceanWP has a free version, with the premium option starting at $35 per year.
Conclusion
Deciding on a design for your WordPress site can be overwhelming. However, choosing a theme compatible with our Beaver Builder page builder allows you to create a cohesive look. Then you can build and customize your site to fit your branding.
To recap, here are five free and premium themes compatible with the Beaver Builder page builder: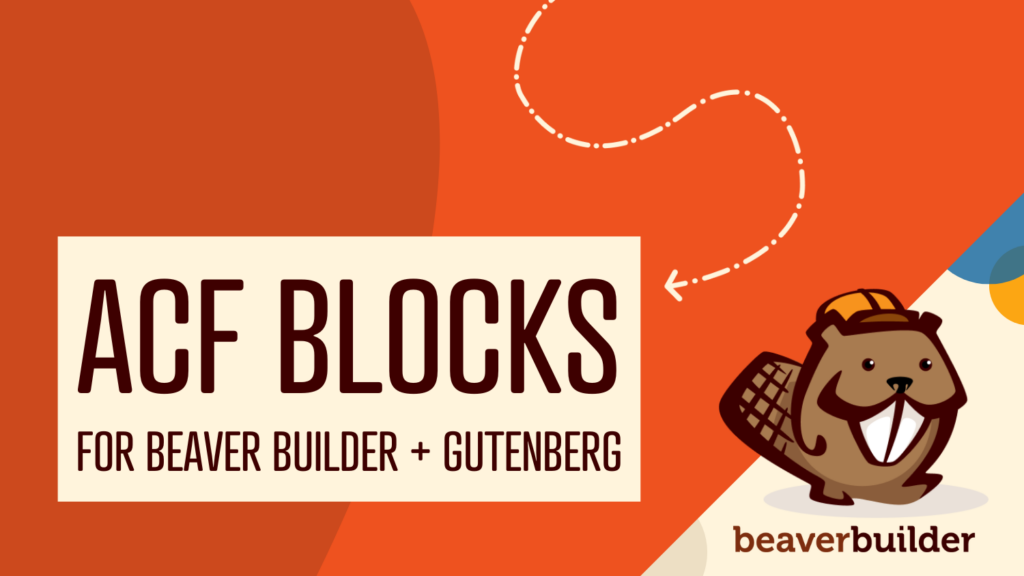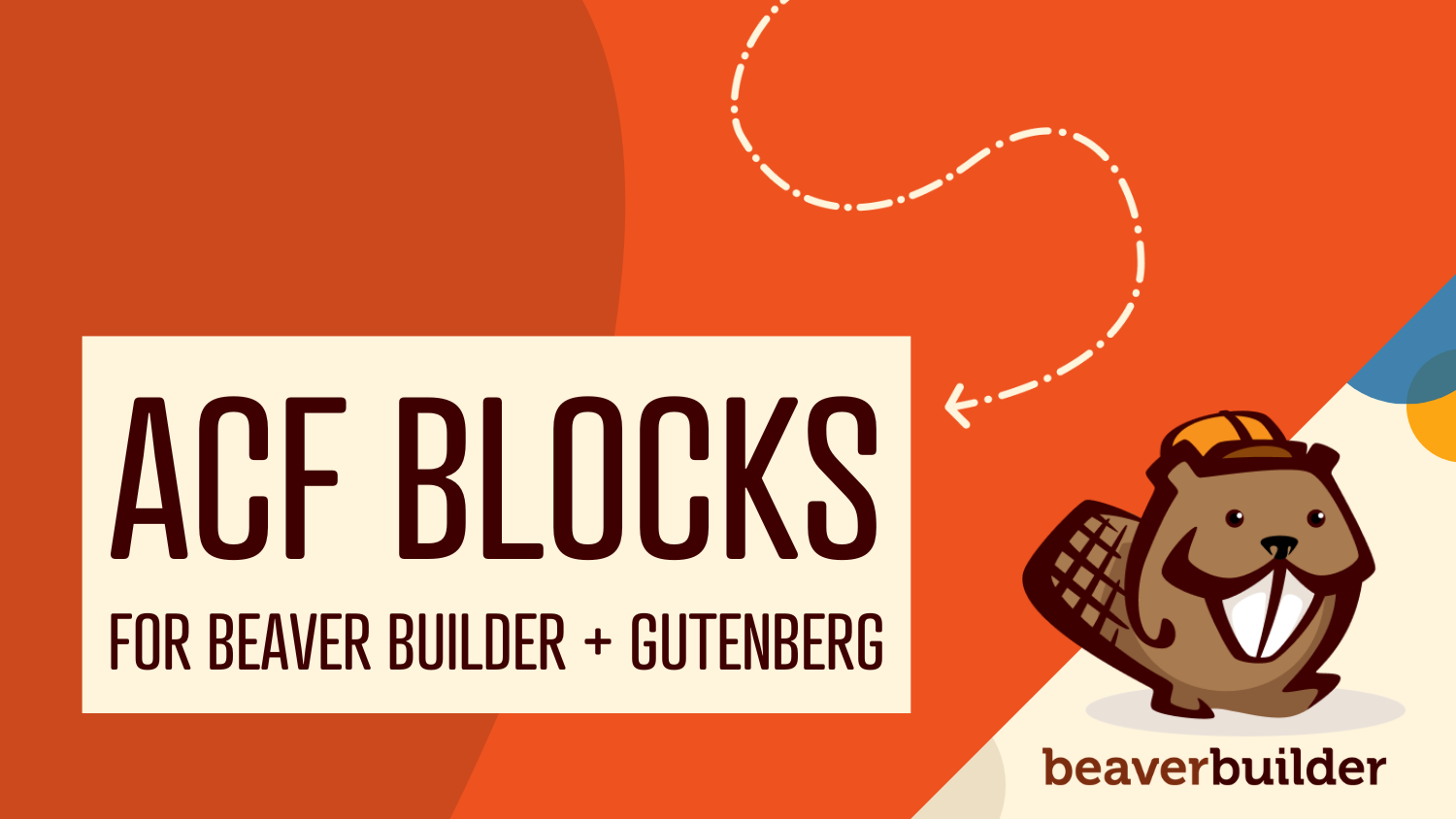 Have you ever wanted to create a custom module or block that works in both Beaver Builder and Gutenberg? Well,…
Join the community
We're here for you
There's a thriving community of builders and we'd love for you to join us. Come by and show off a project, network, or ask a question.