Astra and Beaver Builder: A Perfect Match for WordPress Users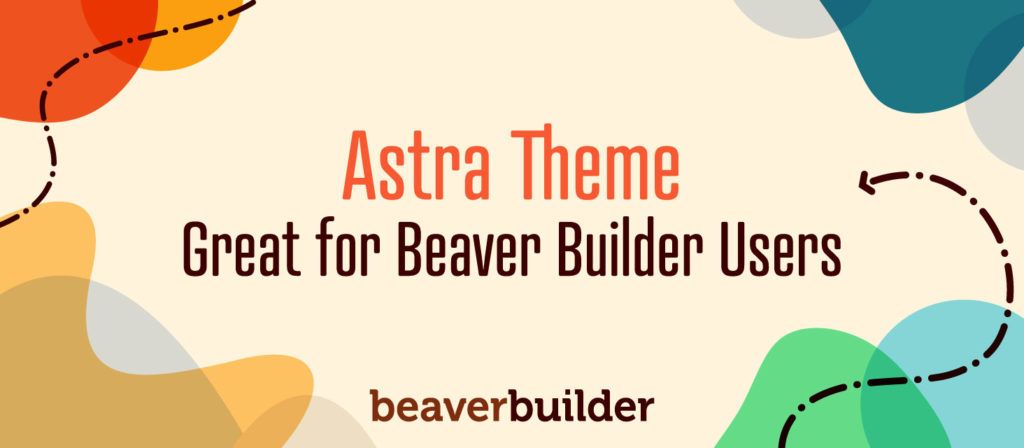 Finding a theme that plays well with our Beaver Builder plugin is not difficult. As one of the leading WordPress page builders available, it's built for easy compatibility. With that being said, figuring out which theme is "the one" can still be a frustrating process.
Fortunately, there are plenty of great options out there. In this article, we'll take an in-depth look at one of them – the Astra theme for WordPress. We'll also discuss how well it works with our page builder plugin. If you're ready, let's make a match!  
Getting to Know Astra (And Why It's a Beaver Builder Favorite)
WordPress is the most widely-used Content Management System (CMS) on the web. It offers a flexible, open-source codebase and a friendly user interface. This makes it popular with both developers and website designers, resulting in a lot of high-quality tools you can use.
The development team Brainstorm Force has been in the business of developing for WordPress for quite some time. Astra is one of its most popular and versatile themes: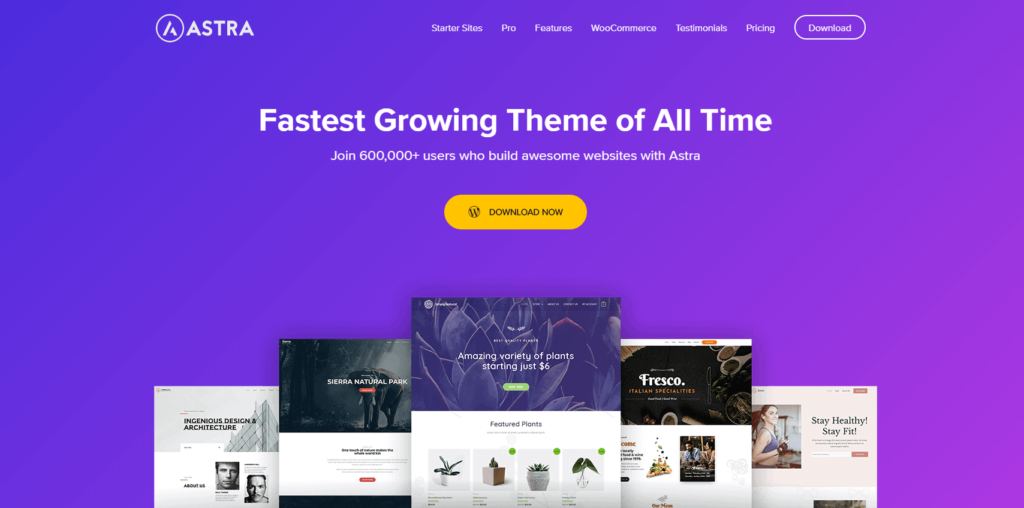 This is a multipurpose, highly-customizable theme that works for a wide variety of sites and niches. It's also designed for high performance, so you can achieve an attractive-looking site that also loads quickly.
Astra also integrates well with popular page builders, including Beaver Builder. In fact, the same team that developed Astra is responsible for the popular Ultimate Addons for Beaver Builder plugin. 
The Astra theme is built to work seamlessly with Beaver Builder. This means you can customize your settings on a per-page basis. If you've struggled to tweak other themes to your liking in the past, that shouldn't be an issue with Astra.
Another benefit of using this theme is the Starter Sites companion plugin: 

By adding this to your tool kit, you'll have access to over 30 free Beaver Builder website templates. This can vastly reduce the time it takes to get a new website up and running and you'll be well on your way to a site that's fully optimized for conversions.
How to Choose Between Astra and Astra Pro
The free version of Astra comes packed with features. When you consider how its various add-ons enhance this theme, it might be all you need. However, if you require advanced options, Astra Pro offers several plans to choose from. 
As with any theme that offers both a free and premium tier, you'll probably wonder whether the pro version is worth the price. That answer will be different for every site, so it's important to understand what the paid tiers bring to the table.
One of the biggest differences between the two versions is the availability of additional Site Layouts in the premium theme:
Astra Pro also offers more choices when it comes to typography, custom layouts, blog layouts, and global design options. That doesn't mean the free version lacks functionality in these areas, but your options will be more limited.
If you're looking for a theme with a lot of possibilities and an easy startup process, Astra hits all the marks. The free version is an excellent choice for small businesses on a tight budget. Alternatively, Astra Pro starts at $59 per year: 

A Lifetime option for each pricing tier is also available, starting at $249.
Astra is a powerhouse theme that's geared towards a wide array of users. When combined with Beaver Builder, it can be the foundation for a unique and conversion-boosting website.
3 Features You'll Get With Astra (And How to Get Started)
Astra clearly has a lot to offer and includes plenty of useful features. Let's look closely at how it works alongside Beaver Builder, and what you'll be able to do with this dynamic WordPress duo. We're assuming that you already have Beaver Builder set up on your website (if not, it's easy to do!).
1. Easy Setup and Configuration
You can get started by downloading the free Astra theme from your WordPress dashboard (under Appearance > Themes). Alternately, you can pick up the premium version of the theme, which as we saw above gives you access to additional features, layouts, and design options.
Whichever version you select, once you install and activate the theme you'll find a full set of tools under Appearance > Astra Options: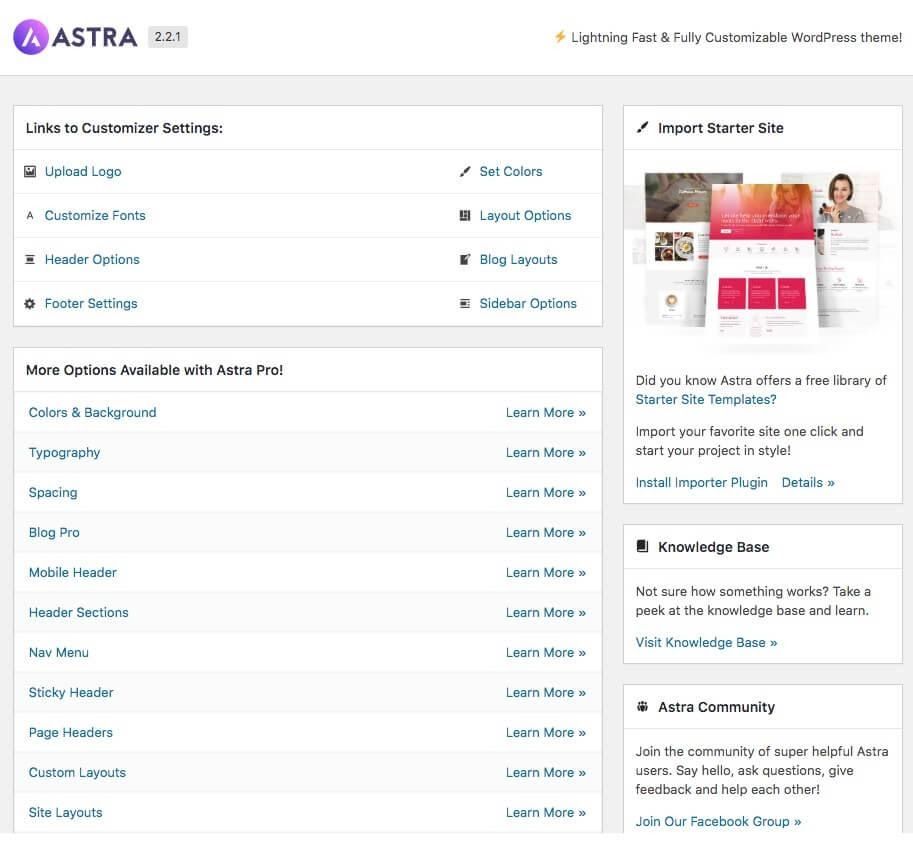 You can access all of the customization settings through Appearance > Customizer as well.
From the Astra Options page, you can also find additional premium upgrades. While it's not necessary, we recommend checking out the free Astra Starter Sites plugin we mentioned earlier. After installing and activating the plugin, you'll have a new menu option for Astra Starter Sites: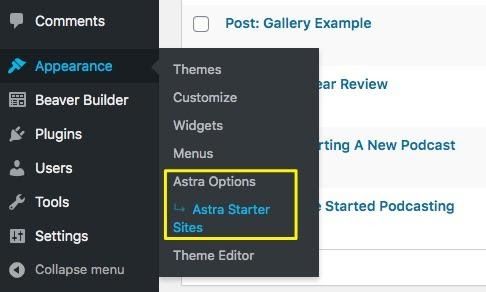 Go through a few simple setup steps in order to fully integrate Astra Starter Sites with Beaver Builder. After selecting the menu item, you'll be prompted to choose Beaver Builder as your page builder and click Next: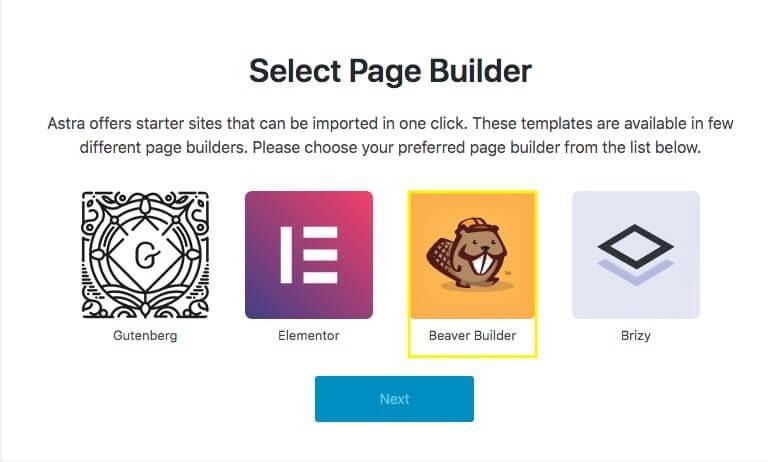 After you choose the template you want to use, click Preview to check it out. You'll have some options for what to import along with the template, as well as what to delete from old templates.
2. Advanced Site Customization Without Any Coding
We mentioned earlier that Astra enables you to customize settings on a per-page basis. This applies to posts as well. When you create a new post or page in WordPress, you'll see some dedicated Astra meta settings on the right-hand side of the screen: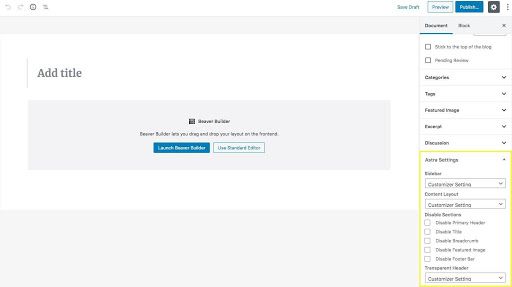 Before you launch Beaver Builder, you can change several theme settings. This means you can create exactly the setup you need for each piece of content. In addition to that, you have nearly endless style and structure options in the Appearance > Customize menu: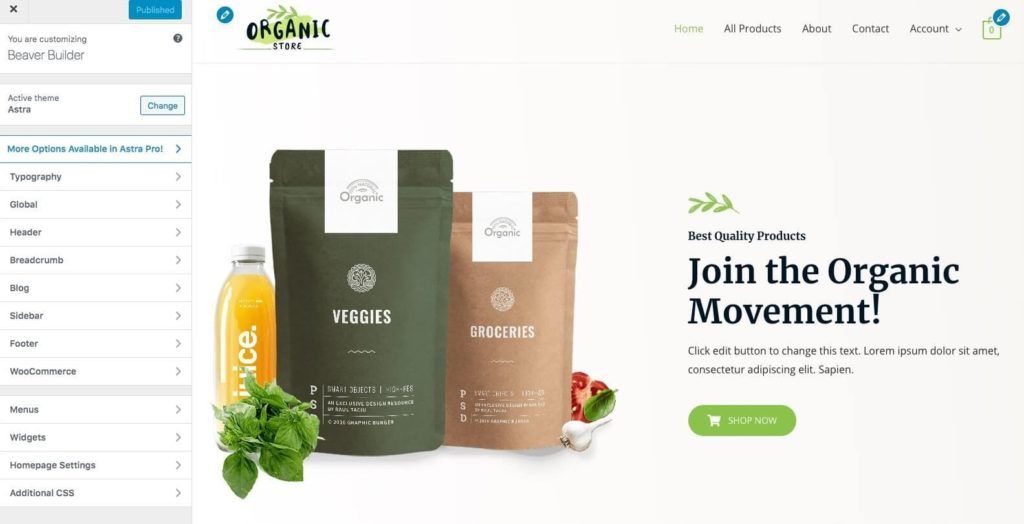 You can make adjustments to the overall theme settings in the Customizer, and see the results in real-time. While the combination of Astra and Beaver Builder gives you a lot of flexibility, there are some recommended settings to optimize your results.  
For example, the Astra team recommends using a full-width layout without a page title or sidebar. This enables you to design everything within Beaver Builder, without running into any restrictions. You're still free to experiment with any combination of layout options you like, however.
3. Enhanced Options for Any Skill Level
Another unique feature that Astra offers is the option to add custom enhancements. This includes functionality that might normally be included with a plugin. What's more, when you use the Astra theme you can also install Astra Hooks:

This places the power of the WordPress Plugin API hook function right into your theme. Hooks are just one of the handy tools built into the WordPress core. With them, you'll be able to add custom content easily into your header, footer, sidebar, main content area, and more.
You can install the plugin for free. You'll then find a Hooks menu under Appearance > Customizer: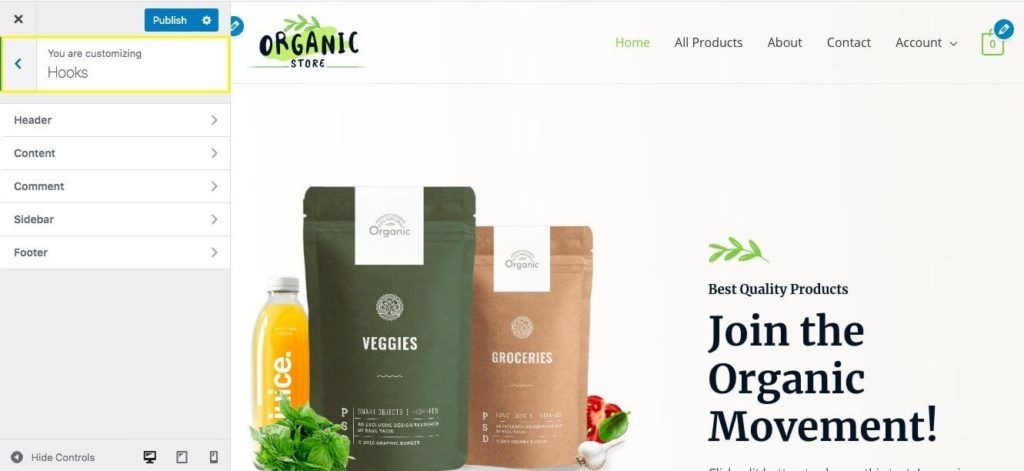 To add custom content, shortcodes or JavaScript, choose an area and enter your content into the corresponding field: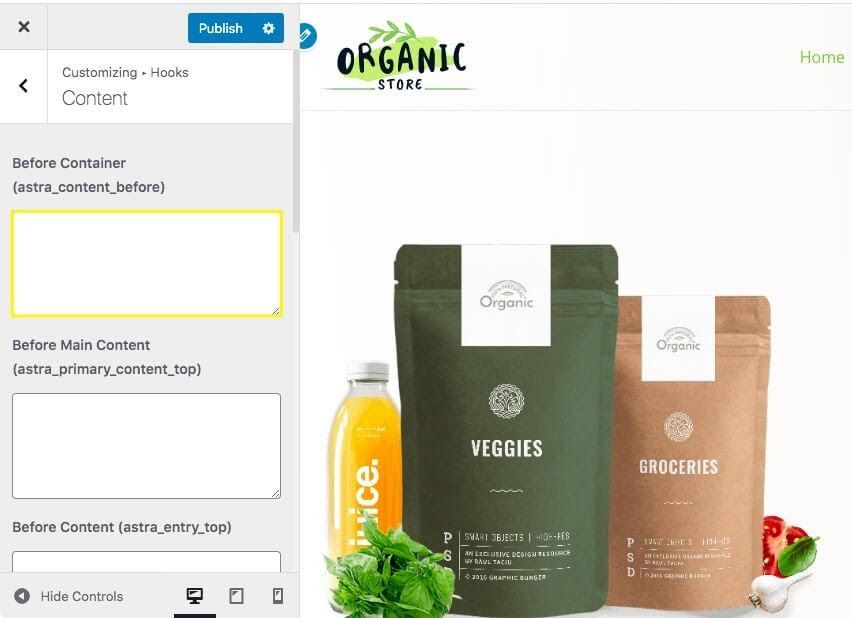 While this option isn't in the base Astra theme, it's definitely one of the best bonus features available. Since this plugin enables you to add several types of code, your customization options become almost endless. 
If you're not sure where your hooks will actually display in the theme, you can visit the Astra website to view a visual representation of all the hook locations. It's like having a menu of creative and unique opportunities to choose from for your website's design.
If you want even more features, you can explore and add any of Astra's related free plugins from the Appearance > Astra Options menu: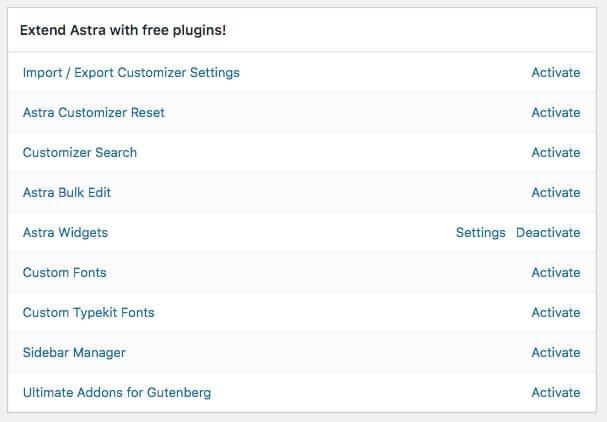 In particular, we'll highlight the Astra Bulk Edit plugin. This tool takes the Astra meta settings and creates a bulk edit option for them that's accessible without clicking to open each page or post you want to edit. Bulk editing can be a huge time saver.
Conclusion
Choosing a theme for your website can be both a fun and a frustrating experience. For example, some themes you consider won't be compatible with the other tools you're using on your website. The good news is that the Astra theme functions seamlessly alongside Beaver Builder.
Astra also brings plenty of key features to the table, including:
An easy and fast setup process.

Lots of options for customization and personalization.

Plenty of enhanced features and add-ons for beginners and advanced users alike.
Do you have any questions about using Astra with Beaver Builder to build an engaging website? Share your thoughts with us in the comments section below!