Choosing the Right Theme for Beaver Builder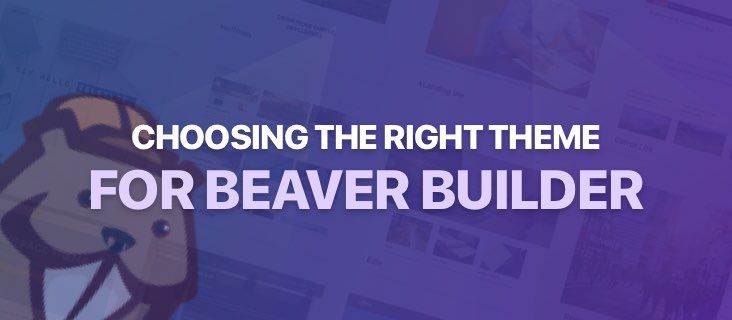 Hey all. I'm excited to introduce a guest author and friend, Joe Casabona. Joe was generous enough to share this lesson from his course,
Up and Running with Beaver Builder
.
The is a preview from the WP in One Month Course, Up and Running with Beaver Builder.
One of the advantages of Beaver Builder is that it gives you complete control over the content area of your website.
However, there is one barrier that can create limitations: your theme.
Your theme determines which parts of your site you can customize, and may either restrict your ability to design a unique site or provide you with the freedom you need to make it just right.
This means that selecting the right theme for your Beaver Builder website is key. In this post, we'll talk about how to do so. Let's get to work!
Why Your Website's Theme Is Crucial
WordPress is an amazing platform precisely because the core software is kept so minimal. Only the most vital features are included by default.
This enables you to fully customize your website by choosing the perfect combination of theme and plugins.
If you're not using a page builder, your site's theme will largely determine what it looks like and how it's laid out.
Of course, a tool such as Beaver Builder lets you customize the style and layout of your content, which at first makes it seem like your theme is less important.
However, as a Beaver Builder user, your theme is actually still crucial. It may no longer have final say over what your pages and posts look like, but it does impact what you can and can't modify and how much freedom you actually have to use your page builder.
How Beaver Builder Interacts With Your Site's Theme
Before you can choose a theme that works well alongside Beaver Builder, it helps to understand how our page builder works.
That way, you'll be able to tell if the theme you're considering lets you take full advantage of its functionality.
In a nutshell, Beaver Builder enables you to customize or fully overhaul everything you can change using the default WordPress Editor.
On a more technical level, it replaces anything that's added via the the_content() template tag.
While you should be able to use Beaver Builder with any theme, some might restrict what you can customize. Let's look at an example using Twenty Sixteen.
In this first screenshot, you'll see a page with some basic content, created using the default WordPress editor: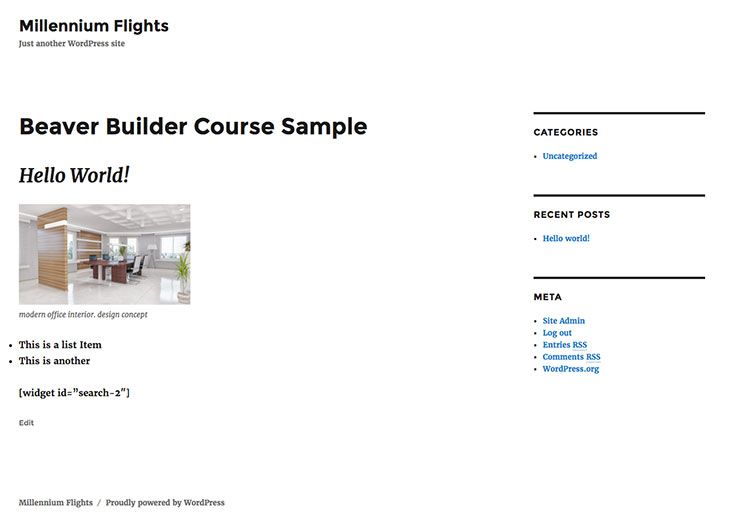 Here's the same page modified using Beaver Builder. The editable portion of the page is outlined in red: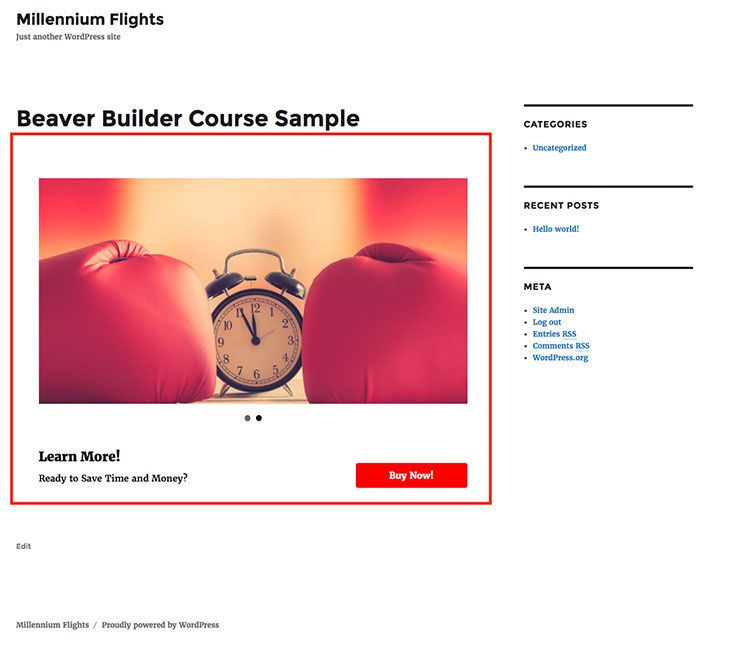 As you can see, only a small section of the page is actually editable. Elements such as the title and sidebar can't be deleted, moved, or customized.
This means you wouldn't be able to take full advantage of Beaver Builder's potential while using Twenty Sixteen.
Plus, your site may not end up looking cohesive. If you've heavily modified some elements but left others with your theme's default styling, they aren't likely to meld together seamlessly.
In other words, your theme provides a foundation that can help you create your dream website, or hold you back.
If you're planning to use Beaver Builder, you need your theme to give you as much room as possible to work with.
How to Choose the Right Theme for Your Beaver Builder Site (3 Key Tips)
Technically speaking, you can use any theme you like alongside Beaver Builder. However, as we've hopefully made clear by this point, you'll need to select your theme carefully if you want to avoid limitations and frustration.
Here are a few of the best ways to do so.
1. Look for a Theme That Offers Maximum Flexibility
Most importantly, you'll need to look for a theme that does two things. First, it should be minimal in terms of design.
The simpler the theme's default layout is, the less you'll have to fight against existing code to modify your site's look.
It's best to select a minimalist or pared-back theme and let Beaver Builder handle the heavy lifting.
That way, you'll have an easier time building something that's uniquely yours, rather than being constrained by your theme's particular look.
This includes finding a theme with as few on-page elements as possible. It's also beneficial if you can pick one that lets you hide or remove default elements, such as page titles.
Second, your theme should have as much of an editable content area as possible. The best way to ensure this is to look for a theme with a full-width content area.
This could be the theme's default layout or an option provided by a specific template: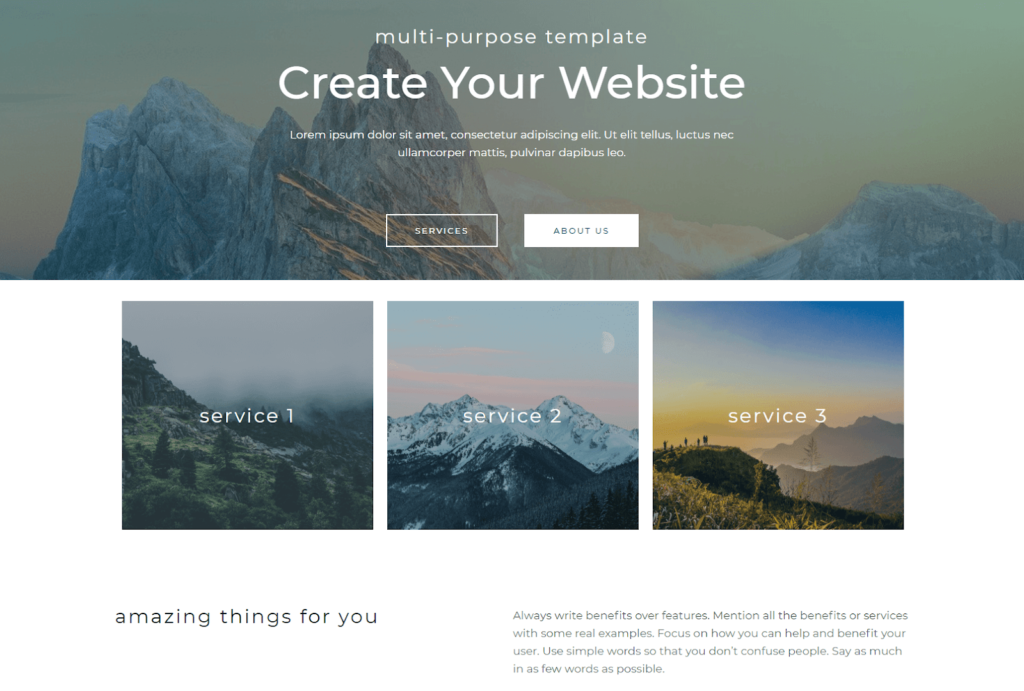 Either way, having a full-width content area means you're less likely to be constrained by built-in elements that can't be moved or changed.
Similarly, a theme that lets you completely exclude aspects such as sidebars will enable you to create your own using Beaver Builder instead.
2. Opt for a Theme With Customizable Header and Footer Elements
One of the hallmarks of Beaver Builder is that it allows for incredibly flexible content. That isn't restricted simply to what's in your pages and posts, or even in your sidebar.
With the Beaver Themer add-on, you can also have that level of control over your site's header and footer.
This is something not all page builders allow for, making Beaver Builder a uniquely-valuable tool.
When you're only able to edit your site's content area, you'll likely end up stuck with headers and footers that don't look quite right with your posts and pages.
However, Beaver Builder lets you create a cohesive look throughout your entire site.
Once again, this is only possible with a theme that gives you control over the design of your headers and footers.
It may do this via a robust customizer, multiple widget areas, or custom theme options. The 'how' doesn't matter so much as the fact that the option is available.
3. Consider the Theme's Other Merits
So far, we've been focusing on how to choose a theme that plays well with Beaver Builder. This is important, naturally, but it isn't the entire story.
After all, a theme that allows for maximum customization but is otherwise low-quality or out of date won't do your site any favors.
This means that when selecting your theme, you'll also want to pay attention to some key criteria, such as:
Design and functionality.

When you're building a website for a specific niche or use case, you'll need to consider whether your theme has the style and features to match.

Reviews and ratings.

This can tell you a lot about the theme's quality, and alert you to issues other users have had with it.

Regular updates.

A quality theme is updated often to keep it compatible with WordPress and protect it from security threats. As a rule of thumb, you should pass over any theme not updated in the last six months.

Page speed.

Your theme can have a significant impact on your site's performance. If you can, install the theme on

a testing site

and make sure it doesn't slow down your pages.
The best way to evaluate a potential theme is to try it out for yourself if possible. See if there's a demo you can interact with, or better yet a free version you can install and test to your heart's content.
Naturally, you'll also want to experiment with the theme in combination with Beaver Builder. Try using it to build out a few pages, and see what issues or frustrations arise.
Often, the potential problems with a theme only show up once you've started using it in earnest.
4 Excellent Themes for Beaver Builder Users
No one theme is right for every use case, and we encourage you to explore all of your options, both free and premium. However, if you're not sure where to start, here are a few strong contenders that work well alongside Beaver Builder.
1. Page Builder Framework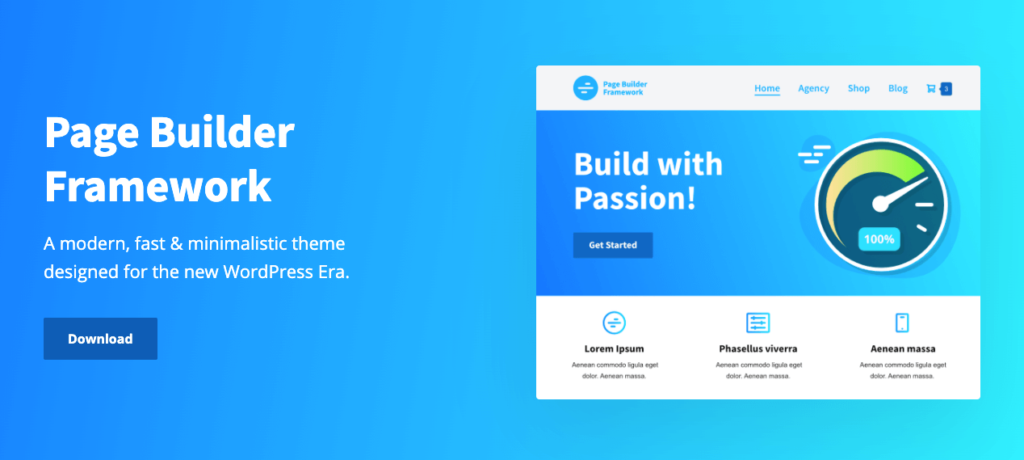 Page Builder Framework is a lightweight theme that's built for maximum performance. This means it's not cluttered with distracting elements that you'll need to adjust or remove.
In fact, this particular theme was designed specifically with page builders in mind. It's created to be customized rather than used as-is, and as such has an extremely minimalist design. At the same time, it still comes with a robust number of options and settings.
Key Features:
Offers a lightweight and performance-enhancing design

Is built to work seamlessly with Beaver Builder and other page builders

Provides plenty of customization options
Pricing: Free, with a premium version starting at $58.
2. GeneratePress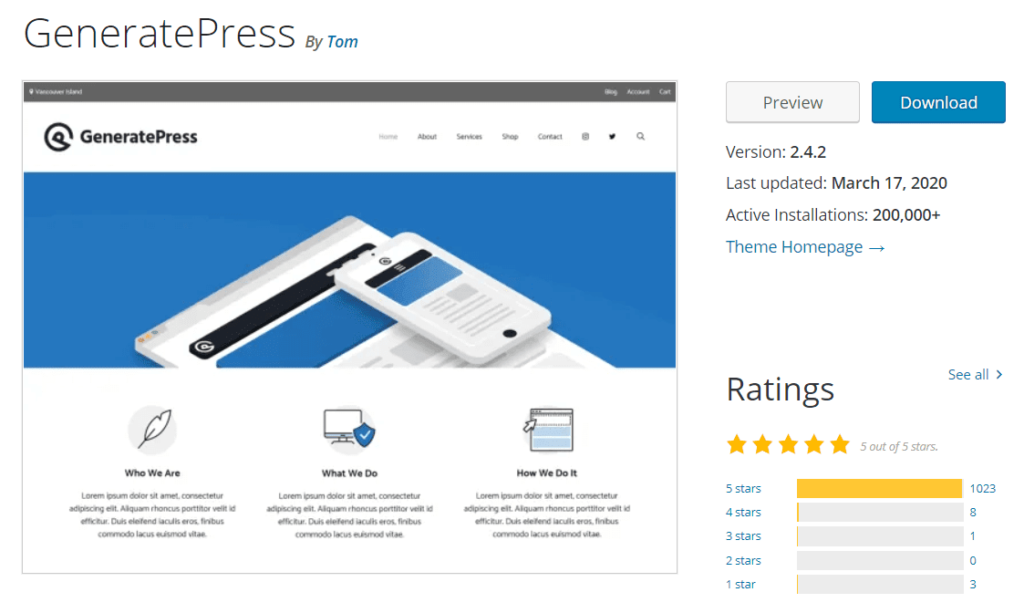 Next up, GeneratePress is an extremely popular multipurpose theme. It's ideal for building business sites but is also applicable to a wide range of niches and styles.
In many ways, this theme is very similar to our previous pick. It's minimalist, lightweight, and built for maximum performance. Plus, it's also been designed with page builders firmly in mind.
Key Features:
Adds minimal bulk to your site, in order to keep performance fast

Offers a variety of widget areas, navigation locations, sidebar layouts, and menu options, for maximum customization potential

Is fully responsive, and translated into more than 25 languages
Pricing: Free for the base version, with a premium version that costs $49.95.
3. Astra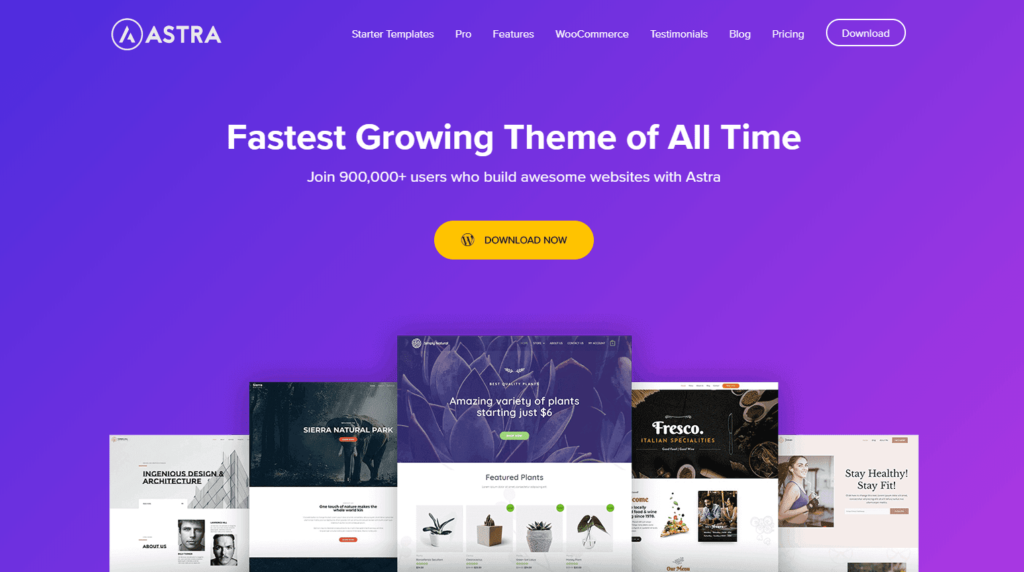 Astra is another hugely popular theme, and for good reason. It's both lightweight and customizable, meaning that it serves as a solid foundation for many types of sites.
This theme also provides a lot of prebuilt content to work with, including templates and full websites. You can turn off both the page title and sidebar as well as create full-width pages – making this a perfect theme for modifying with Beaver Builder.
Key Features: 
Includes a large library of pre-built content to get you started

Provides a lot of control over your page layouts, and lets you easily disable elements you don't need

Is very lightweight, in order to enhance performance
Pricing: There's a free version, but the premium version (starting at $41) is recommended for use with Beaver Builder.
4. Genesis Framework

Last but not least, Genesis Framework isn't exactly a traditional theme. As the name implies, its goal is to provide a basic framework for you to build your website on top of. To that end, it keeps things as minimal as possible, providing a bare-bones structure along with some robust customization tools.
You can make edits using the native theme options or combine this framework with Beaver Builder to create completely unique websites. Genesis Framework is a popular option for developers and can be an excellent starting point for those just getting into the industry.
Key Features:
Provides a wide array of customization options and prebuilt templates

Minimizes clutter and keeps your site from being bogged down with unnecessary data and files

Is flexible enough that you can use it to create highly-original websites, or even use it as the basis for building your own theme
Pricing: Genesis Framework is a premium-only option, starting at $59.95.
The Dedicated Beaver Builder Theme
Of course, we haven't yet mentioned the best theme to use with Beaver Builder – the dedicated Beaver Builder Theme, available with our Pro and Agency packages: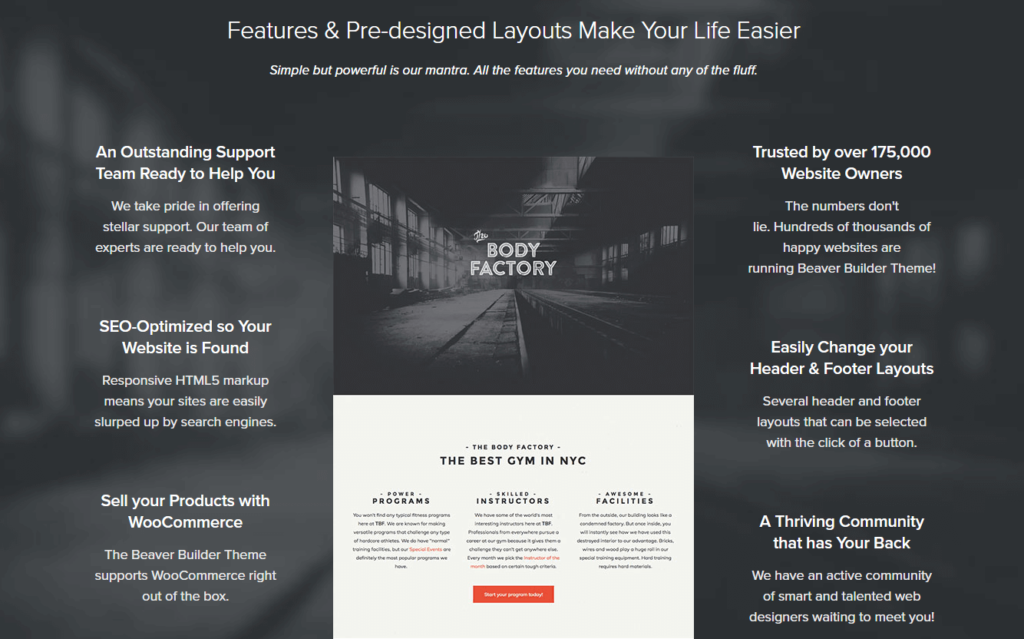 This theme easily meets all of the criteria we've discussed and naturally pairs perfectly with our page builder. With the robust set of tools offered in its Customizer, you can transform this theme quickly and easily to create nearly any type of website.
Not unlike the Genesis Framework, the Beaver Builder Theme is designed to be as pared-down and uncluttered as possible.
It's a starting framework for you to build your site with, making it much easier to achieve a creative design that doesn't look anything like your competitors' websites.
The Beaver Builder Theme is also lightweight, SEO-optimized, and configured to work seamlessly alongside WooCommerce.
You'll even gain access to top-quality support. Best of all, you don't have to know anything about code to create a show-stopping site.
However, if you are comfortable with code, the Beaver Builder Theme accounts for that as well. It lets you use custom CSS to modify your site and provides plenty of developer-friendly hooks, filters, and docs. As such, this theme is a top option for beginners and professionals alike.
Conclusion
The Beaver Builder plugin provides you with the opportunity to create unique pages with completely custom designs and layouts. However, it's very important to pick a theme that supports this functionality.
Choosing a theme that uses a minimalist design, full-width pages, and customizable headers and footers is a solid starting point. While the plugin works with just about any theme, the dedicated Beaver Builder Theme is your best option for making the most of everything our page builder has to offer.
Do you have a favorite Beaver Builder-compatible theme that we haven't mentioned? Tell us about it in the comments section below!