10 Tips for Beaver Builder Beginners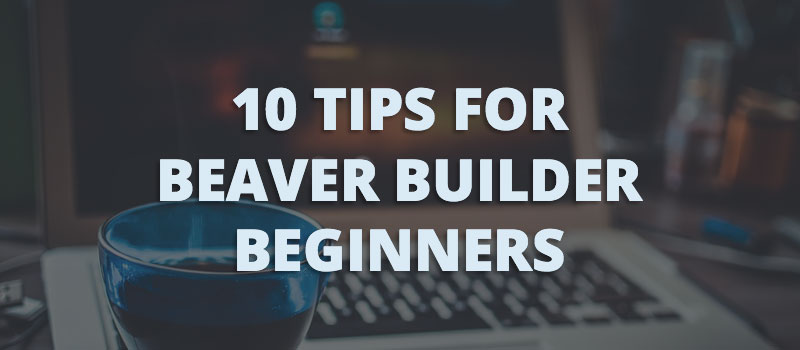 Still on the fence regarding Beaver Builder plugin's awesomeness? For starters, Beaver Builder is a page builder plugin which can be used to build amazing page layouts. It has just right number of features without the code bloat. Here are few "need to know" things about the Beaver Builder plugin to help you discover a new way of building WordPress websites!
1. Will Beaver Builder work with my current WordPress theme
Oh Yes! Beaver Builder comes into play in the content area of the theme, which is same for all themes (fortunately). A lot of folks use Beaver Builder plugin successfully with popular themes like Genesis, GeneratePress, Headway. Read our article about Choosing the Right Theme for Beaver Builder.
You may need to make few adjustments for the full-width display of Beaver Builder contents as your current theme CSS might be over-riding the content layout width. For example, Genesis theme users can use free Dambuster plugin for a quick fix.
2. Can I try Beaver Builder for Free?
You Bet! Just install the Beaver Builder Lite version plugin available for free in the WordPress repository. Lite version plugin allows you to test drive Beaver builder's core functionality for building amazing page layouts in no time using basic modules and columns layout.
Premium version of the plugin contains advanced modules and more features like modern template designs, shortcode support, quick template import/export and more.
3. Does the Page Builder work on posts & CPTs?
Absolutely Yes! Out of the box, Beaver Builder plugin is only enabled for "Pages". You can easily enable it for "Posts" and even for "Custom Post Types".
In WordPress Dashboard, go to: Settings > Page Builder option.
On the "Beaver Builder Settings" page, click "Post Types" option.
Then click to enable (tick mark) the "Posts" option.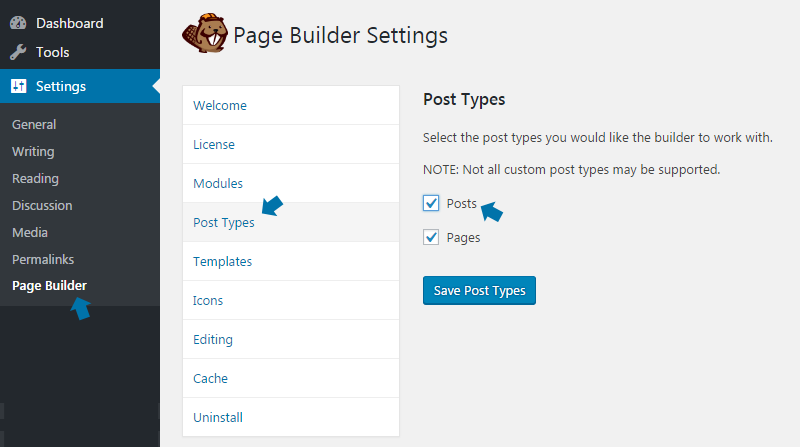 If your setup contains one or more "custom post types", these will be listed on the settings page (as seen above). You can enable Beaver Builder for specific "Custom Post Types".
4. Can I use Beaver Builder for building one page Sales Landing page?
Why Not? While a lot of developers use Beaver Builder to make full structure websites, a big percentage of folks use it just for building high conversion Sales Landing pages. We have a variety of Langing Page Templates that you can apply to your site with one-click.
Since Beaver Builder can work independent of the installed WordPress theme, one can quickly create landing pages with different: layout, design, fonts, color and more.
5. Is it possible to migrate Beaver Builder pages to another website?
Of Course! You can transfer one or more page layouts built using Beaver Builder plugin to a different website easily. To get started, save a page as a template.
Open page in the Beaver Builder mode.
Click "Tools" at the top right and then click "Save Template".
Enter any name and click "Save" button.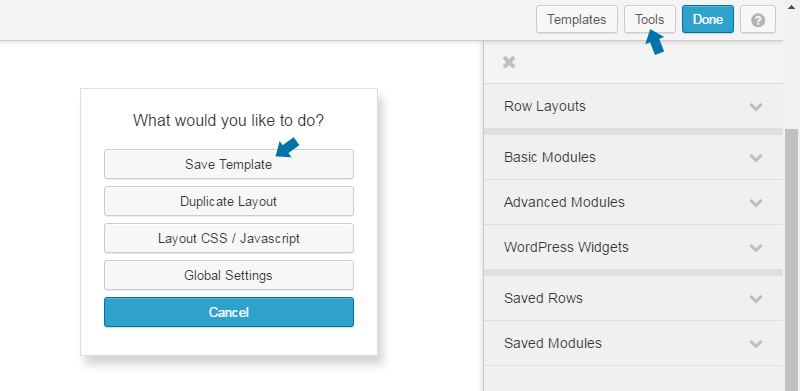 Save pages as templates that you want to migrate. Then use default WordPress import / export feature to migrate templates as explained here. Once the import is complete, you would need to update images used in the template and it's all done!.
6. Will my content vanish when Beaver Builder plugin is removed?
Surprise! Unlike other page builders, Beaver Builder loves your content. The moment you deactivate the Beaver Builder plugin, it will put back your text and image content within the post editor automatically.
The only thing that you would lose is: the beautiful content layout formatting (that was Beaver magic, right?) and content contained in advanced modules like tabs, accordion.
7. Do other plugins work fine with Beaver Builder
Of course! While it is impossible to test every WordPress plugin for compatibility, the majority of popular plugins work fine with the Beaver Builder plugin including: WooCommerce, LifterLMS, Jetpack and more.
8. I have a geeky multisite setup, can Beaver Builder handle that?
With Charm! The top version of the Beaver Builder plugin (Agency Package) has an inbuilt multisite support. You can configure Beaver Builder plugin from one place and even override settings from a specific website(s) in the multisite setup. Learn more about multisites here.
9. I understand it has an annual renewal, will it stop working after that?
No Way! You can use Beaver Builder as along as you want. However, renewal is required to receive plugin updates after one calendar year and access to awesome Beaver Builder support team. We offer a generous 40% discount on all annual renewals.
10. How is Beaver Builder better than other Page Builders?
Eye Opener! For the last couple of years, the term "Page Builder" has been associated with a lot of half-baked and buggy products. Seriously, you got to try Beaver Builder to see for yourself, how damn good this can be for your WordPress development workflow.
For a quick test drive, check the online demo of the Beaver Builder plugin or you can download the free version of Beaver Builder plugin from WordPress repository.
Over to you…
Got another question or a thing you want to ask about the Beaver Builder plugin? Use the comment form below.