April Update – Join Us for Beaver Builder's 3rd Birthday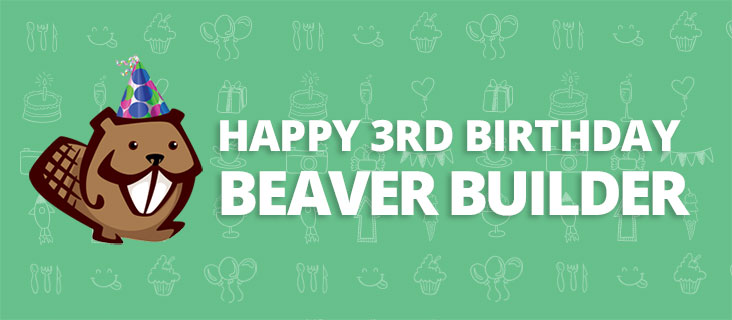 Hi there! Hope you're doing well. If you're in the US, we hope tax season didn't take too much of a toll on ya. For all that celebrate Easter, we hope you had an opportunity to spend some time with family and had a nice holiday—I know I did!
This month, I feel like I'm back in school and I have a big project deadline looming. The project, of course, is Beaver Themer. We have some news on pricing and launch dates for that. We're having a party today, we hope you can join us. There's also a couple new introductions to make and some general news and updates. Here we go…
Join Us for our 3rd Birthday Party
Admittedly, our update posts have been falling later and later into the month. I managed to get this one written up relatively early so we could sync it up with something happening today.
At 1 pm pst, we're going to have a little birthday party in our community Slack channel. Come by and say hello. Ask a question. Meet some other Beaver Builder users. We've done this a few times in the past and it's been really fun. Myself and the rest of the Beaver Builder team will be there.
Beaver Themer Update
We've been working hard tying off loose ends, building landing pages, updating our store, and generally readying the ship for the Beaver Themer launch. I'm excited to say, it's still coming along according to schedule! Barring any last-minute snafus, we're planning to move Beaver Themer into beta the week of May 1st, then launch sometime in the following two weeks.
Beaver Themer Pricing
Beaver Themer is going to cost $147. It will be an annual subscription and we'll offer our standard 40% discount for renewals. The subscription will give you access to updates (i.e., new features) and support. One notable difference between Beaver Builder and Beaver Themer is that your Beaver Themer subscription will renew automatically. And, yes, you can easily disable the auto-renewal.
For what it's worth, we deliberated and debated and strategized on how to approach BT's pricing for a long time. We didn't pull a number out of thin air and we did our absolute best to come up with a price that was reasonable but would also provide us with a return on the time invested and enable us to continue making it better.
An Introductory Special
Phew, now that we ripped off that band-aid, let's smooth things out a bit. Beaver Themer has been in the works for almost 9 months now and I can honestly say it's been a blast. Building a new product, exploring a new space, and solving new problems is the dream of any product team. We wouldn't have had the opportunity to do this if it wasn't for your support, so we're going to do a special introductory price for you—our existing customers.
For the first two weeks, we're going to knock ~25% off the sticker price for Beaver Themer. This is a one-time deal and our way of saying thanks to everyone that helped us on this journey. If you purchase Beaver Themer within the first two weeks, the price will only be $110!
Facebook Group Update
TL;DR: Bear with us while we figure out the best way to moderate and focus the Beaver Builders Facebook Group. 🙂
Quickly, I wanted to touch on something that's brewing in the Beaver Builders Facebook Group. The group has surged to over 6,000 people—it's wild! The passion and energy of our group are unique and I think it's pretty special.
Our friend Dave Toomey originally set up the group and has been the head moderator and admin there. We've helped out a bit, but—since it's the community's group—we try to stay hands off. There's been a lot of discussion about the best strategy to moderate the group and keep the discussion on topic. We (the BB team) try not to intervene, but we do hope that it stays a friendly place for beginners and advanced users alike.
We're hoping to work with Dave to come up with some more formal posting guidelines and make sure everyone's on the same page in terms of what kind of content should be encouraged. In the meantime, we hope everyone can err on the side of leniency and remember that the approachable nature of our group is one of the reasons it's so special. I hope we can find a way to focus the content without losing the charm.

The Team is Growing
It's been a little while since we've had introductions to make. I'm thrilled to announce we have two new members of the Beaver Builder team!
Carlos Velasco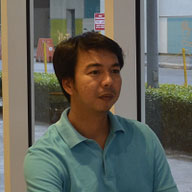 Carlos has been working with us for a few months now and he is a true gentleman. Slack is our communication tool of choice and, while it's great, it can be tough to get to know someone. That said, Carlos exudes professionalism and courtesy. He's been an awesome addition to the team. Carlos is based out of Davao City in the Philippines and he shares his home with a wife, child, and two dogs named Britney and Shakira. When he's not wrangling support tickets and charming his colleagues, he enjoys doing a bit of yoga.
Simon Prosser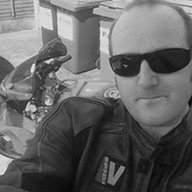 Next up we have Simon Prosser who joins us from the U.K. Simon is a very talented developer and he brings a unique skill set to our team. Similar to Justin, Simon has a punk rock past life and, again similar to Justin, used to rock a bad-ass mohawk. Simon has an extensive background in WordPress and it's been a blast being able to pick his brain about git workflows, server admin puzzles, and things of that nature. Simon is an automation wizard and has been tightening the proverbial bolts and fixing loose ends since the first day he joined us. Be sure to check out the Beaver Builder development visualization he spun up.
Footnotes
Beaver Builder Ch-ch-changes
The dev team has been really busy recently! We have alpha/beta versions of the theme, builder, and themer available for testing. You can find these downloads on your account page and you can see all fixes and new features on our changelogs page.
Page Builder, Theme, and Themer Hooks Guide
As the heading implies, we (and by "we" I mean Simon) created a few hook reference pages. There is a reference page for the Page Builder, Theme, and Beaver Themer.
Matt Report Season 5 Featuring Beaver Builder
This is really exciting! One of my favorite WordPress podcasts, The Matt Report, featured several familiar names as part of a "Beaver Builder Community" story arc. Matt's insights and interviews are always top-notch and hearing them through the scope of the BB community is something else.
I wanted to give a special thanks to David Waumsley, Nathan Wrigley, Jon Perez, Chris Wallace, Davinder Singh Kainth, and Brent Jett for participating and, of course, to Matt for hosting.
Beaver Builder Child Theme Generator
Our buddy Puneet from BeaverAddons created a slick tool that automatically generates branded Beaver Builder Child Themes. If you're using the Beaver Builder Theme on multiple client projects, give it a spin. It should be a major time saver.
Thanks for the Reviews
Last month, we asked for everyone to help us out by leaving a review on our WordPress.org page. We got a TON of reviews, so thanks again for that. We really appreciate it!
Upcoming WordCamps
I am heading out to Chicago next week for WordCamp Chicago and Justin and I will be out at WordCamp Orange County in June. Will you be at either? Let's link up!
In Closing
Well, I think that about does it. Keep an eye on the blog here as we'll be posting some more info on Beaver Themer, BB 2.0, and at least one guest post in the very near future. As always, thanks for your time and your support. Wishing you the best on behalf of the whole BB team!