8 Beaver Builder Courses for Advancing Your Web Development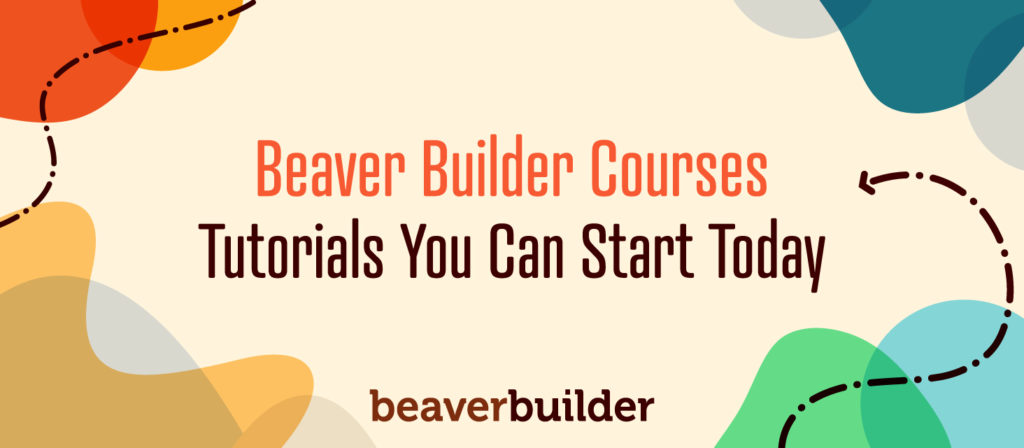 Beaver Builder is a user-friendly WordPress plugin that's easy to install. Within minutes, you can have a high-quality page builder working for you. However, to get the most out of this dynamic tool, you may want to take a Beaver Builder course or online tutorial to gain a competitive edge.
In this post, we'll discuss how continued professional development helps you stay relevant in a growing field. Then we'll highlight eight courses you can begin now to help you stay sharp.
Let's get started! 
Leveraging Online Tutorials (and Why Your Professional Development Matters)
Keeping your skills sharp is vital, especially when you consider the industry forecast for web development and related fields. In fact, the Bureau of Labor Statistics projects that jobs in this industry will grow 13 percent over the next eight years. 
The median annual pay for web developers is promising as well, and you can often qualify at the entry-level with an associate's degree. Both experience and a willingness to learn new techniques often play a major role in how you progress in the profession. That said, the best online tutorials for your favorite web design tools should be part of your continued learning.  
It's easy to find tutorials and professional development courses online. Actually, there are so many online training resources available that you might find it difficult to narrow down which ones to spend your time and money on!
That's why we've put together a list of excellent Beaver Builder courses for both beginners and advanced users.
Let's look at some of the options.
8 Beaver Builder Tutorial Courses You Can Start Now 
The right online training can improve your skills, overcome certain professional roadblocks, stimulate creativity, and build confidence. Here are eight different courses that focus on Beaver Builder and help boost your professional development.
1. WP101's Beaver Builder 101 Course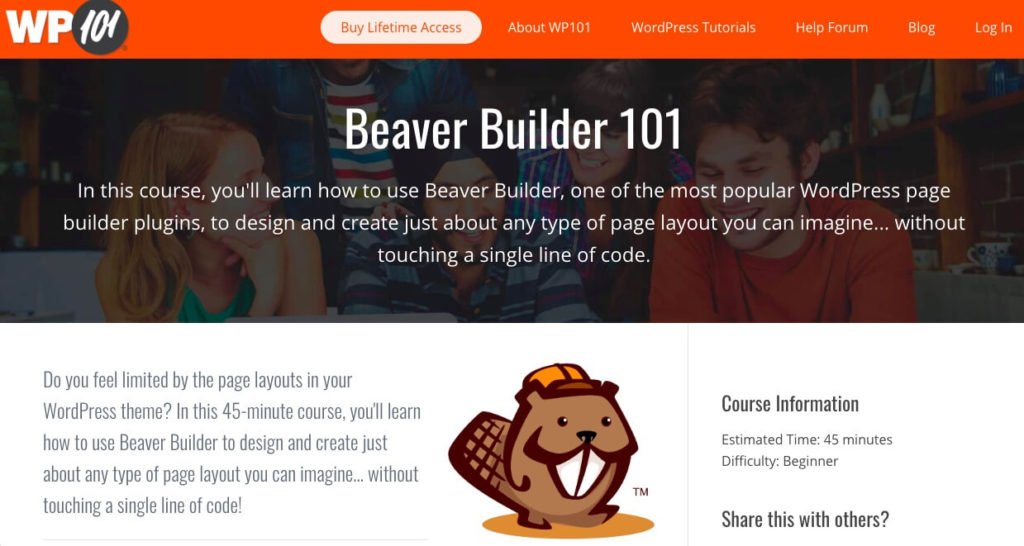 WP101 is a well-known brand in online tutorials and courses. This means you can rest assured that the Beaver Builder 101 course will provide you with actionable skills.
This course is listed as beginner-level and contains 45 minutes of content. You'll cover everything from getting to know the Beaver Builder product line to building templates and using modules.
Price: WP101 offers several access plans for its content, starting with a monthly option for $19. Use promo code "BB101" for 10% off.
Pros: The course is taught by expert WordPress developer Carrie Dils.
Cons: There aren't many drawbacks other than only the introduction video is free. Additional videos require purchasing.
2. Get Started With Beaver Builder from CreatorCourses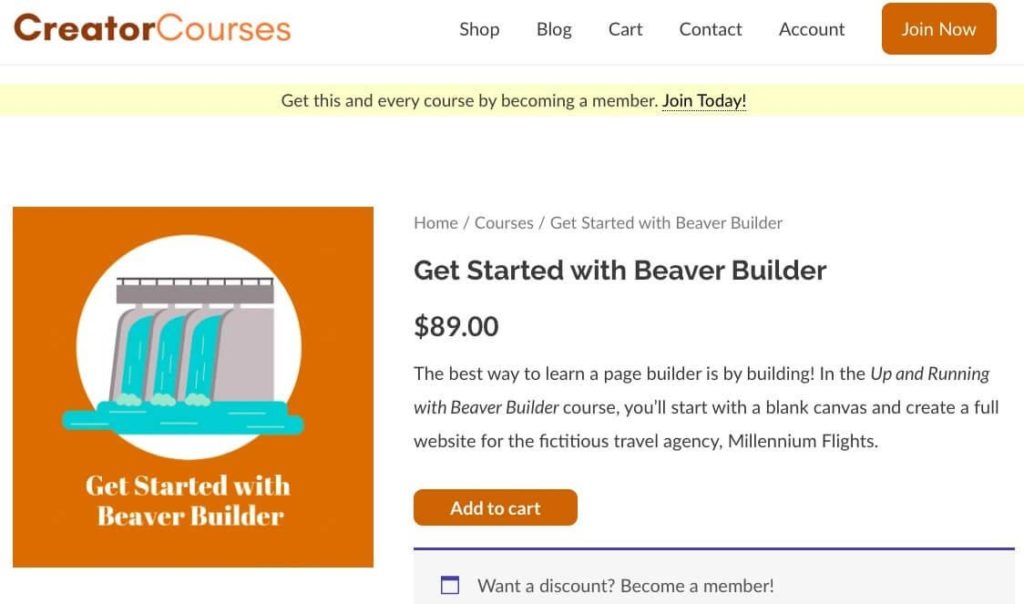 CreatorCourses was developed by a veteran web builder and teacher, Joe Casabona. His Get Started With Beaver Builder course is self-paced and full of task-oriented lessons.
You'll get 19 modules spread across four lessons, equaling two hours of content. Those modules cover everything from choosing fonts and making rows and columns to customizing the Beaver Builder theme—and more. 
This is a great course for quickly producing a website built with Beaver Builder. It's recommended for beginners and agencies as well as for businesses and nonprofits that need a website but can't hire a developer.  
Pricing: The Beaver Builder course is $89 for lifetime access. Or, you can become a member for $16 per month and access all of the CreatorCourses.
Pros: You don't have to learn on your own if you don't want to. CreatorCourses come with access to instructor chats on Slack and members-only social media channels. 
Cons: The course offers a fairly surface-level look at Beaver Builder. As a result, what you can accomplish with your website is limited, especially if you want to build something complex.
3. Chris Lema's MemberPress for Beaver Builder Course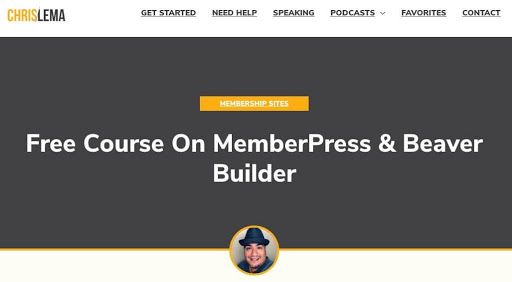 Chris Lema is a long-time WordPress user and Vice President of Liquid Web. He's transparent about his love of both Beaver Builder and MemberPress. That's why he decided to offer a free six-part course about how to use the two products together. 
The course walks you through how to integrate MemberPress and Beaver Builder into your WordPress website to create a unique membership site. Chris shows you how using these two tools together enables you to do more with your website.
Price: This is a completely free course. 
Pros: Chris has over 15 years of WordPress experience. He brings a lot of knowledge and energy to his courses. 
Cons: You'll have to submit your email address to get access or more information about the course. 
4. WPCrafter's Beaver Builder Essentials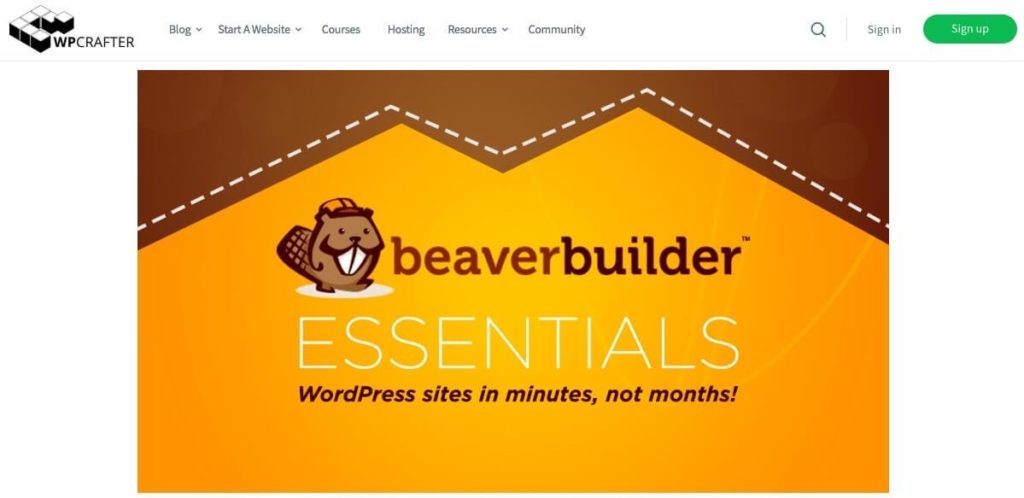 The Beaver Builder Essentials course comes from WPCrafter. This site offers over 300 free and premium video courses and product reviews.
The Essentials course is comprehensive and offers six different modules with a total of 39 lessons. You'll cover everything from creative prep work to advanced features and add-ons, such as Beaver Themer. 
The structure and breakdown of this course's content make it a good choice for just about any experience level. If you need to train new web designers or simply keep a reference on hand for Beaver Builder, this course is a useful option. 
Price: Beaver Builder Essentials is $199 for the entire course or free if you have a WPCrafter membership (which is $399). 
Pros: This course covers it all and is very detailed. 
Cons: It is one of the more costly options on the list. 
5. Smart Web School's Mastering Beaver Builder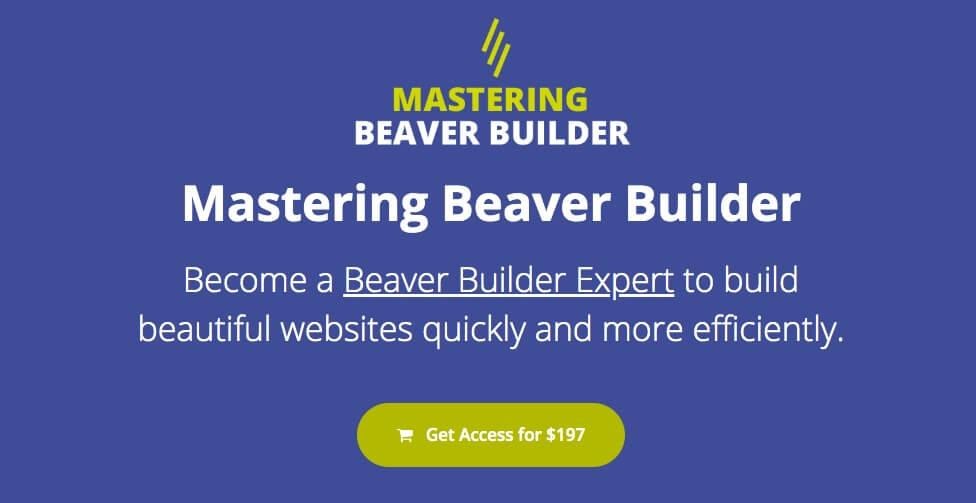 Smart Web School offers a comprehensive course for mastering all of the tools Beaver Builder has to offer. The Mastering Beaver Builder course includes nine modules with a total of 32 lessons. This is an excellent resource for any Beaver Builder user.
Additionally, there are two bonus modules with more than ten lessons on templates, tips, and tricks. The creator of the ProBeaver website teaches the course. This means you'll be learning from one of the best when it comes to using our page builder.
Price: This course is $197, with a free 'Getting Started' option for new users.
Pros: You get lifetime access to the course and can learn at your own pace.
Cons: There's a lot of material to cover, which could be overwhelming.
6. iThemes Beaver Builder Developer Course 

The iThemes Beaver Builder Developer Course helps developers fine-tune their workflows and create reusable material in Beaver Builder for better design efficiency.
The content includes information on creating a theme and plugin stack that you can use for all your future development needs. This can save you a lot of time and energy in the long run.
Price: The Beaver Builder course is $199 on its own or comes with the iThemes $479 WordPress Web Designer's Toolkit.
Pros: This is a higher-level course that can help with workflow and comes with nine hours of content plus a 50-page manual with extra code snippets.
Cons: The course is delivered as a live webinar. However, you do have the option to receive the materials later if you can't attend.
7. Jimmy Kelley Digital's Chomp! Beaver Builder Training Course 

The Chomp! Beaver Builder Training course provides five modules with 24 lessons. This course is designed more for newer and less-experienced users. Even so, there are also some valuable tips and tricks among the lessons that can take your design skills up a notch.
The course instructor brings more than 20 years of web development knowledge to the table.
Price: For $97 you have instant access to hours of valuable lessons.
Pros: This course covers some essential basics, but it also includes some advanced lessons on mobile optimization.
Cons: Some of the installments are between 25 and 45 minutes in length, which can be long for a single-video course lesson.
8. Udemy's Beaver Builder Master Course

Udemy is another popular brand when it comes to online training. Consequently, the Beaver Builder Master Course offers a high-quality experience at a very reasonable price.
This course comes with lifetime access to two and a half hours of on-demand video. The content is perfect for beginners who want to expand their design capabilities without using code.
Price: The full course is currently available for $11.99, with a normal retail price of $19.99.
Pros: You can watch the course videos on mobile devices or a TV in addition to your computer.
Cons: This course may be too basic and leave you with questions or in need of additional training.
How to Showcase Your Beaver Builder Skill Set Professionally
Now that you know what Beaver Builder courses are available, you may also want to consider how to showcase your new knowledge. For example, you can highlight your latest training on your resume, business website, or social media profiles.
In fact, your acquired skills and self-directed learning can and should be called attention to in your resume. This demonstrates to potential clients and employers that you possess the initiative to keep learning and achieve your goals.
Moreover, many courses offer a certificate of completion. If you don't have an office to hang those in, you can also look for courses that offer badges or other recognition that you can easily showcase digitally, including on LinkedIn.
Conclusion
Making time for professional development can be both challenging and rewarding. The web development industry is expected to continue to grow over the next few years. This means your services will be in demand, but the competition may increase as well. 
You can keep your skills sharp by leveraging many of the free and premium courses we've listed. Once you've invested in professional development related to Beaver Builder, don't forget to mention it on your resume and website to emphasize your achievement. 
Have you tried any of these Beaver Builder courses and tutorials, and what did you think of them? Share your experiences with us in the comments section below!