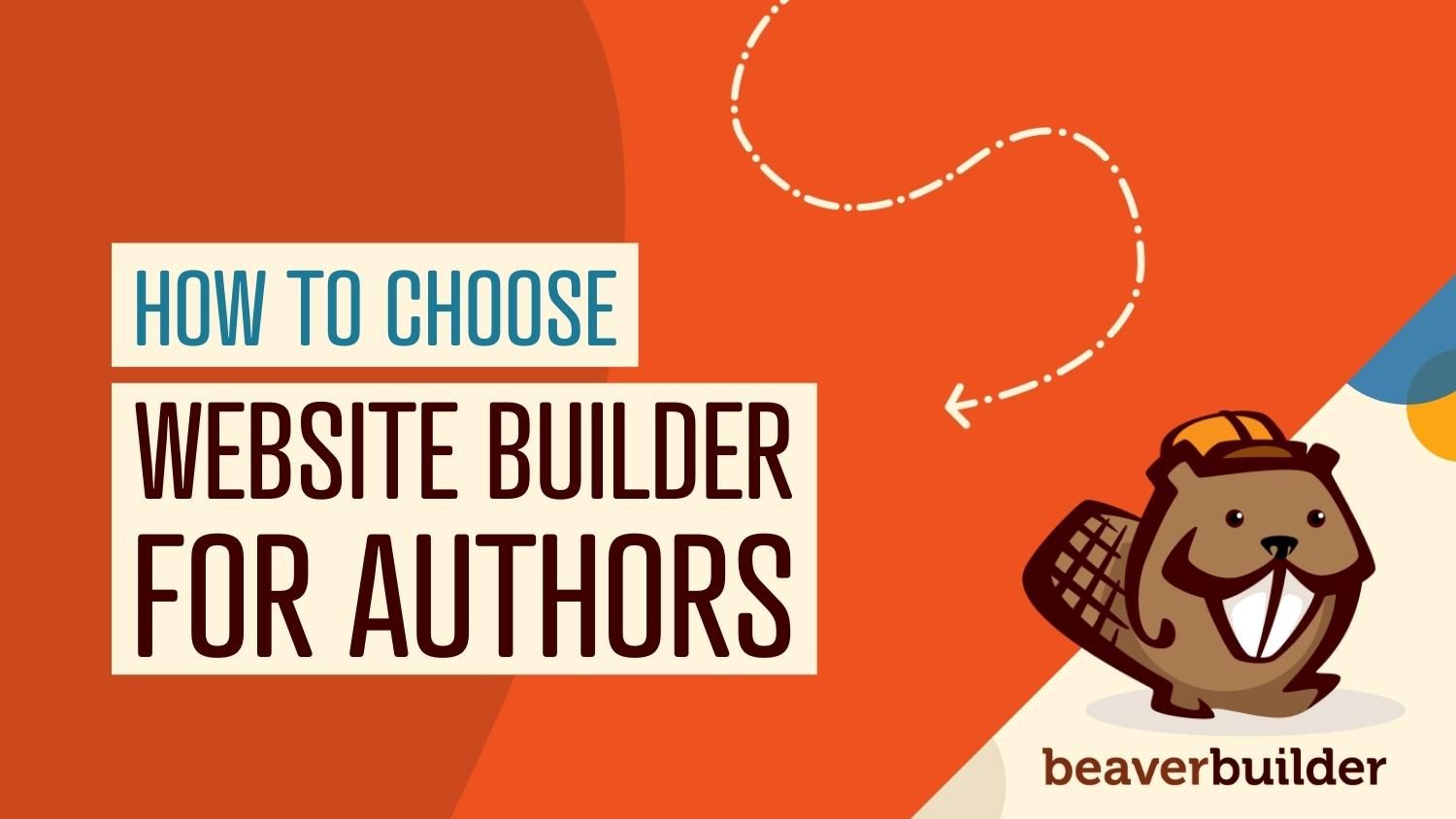 How to Choose the Best Website Builder for Authors
As an author, you may have little knowledge of coding, and no time to learn about website development. Fortunately, a website builder can make establishing an online presence much more straightforward. You can quickly create a professional web space that's perfectly tailored to your needs, thanks to preset templates, a drag-and-drop editor, and easy-to-use modules.
Let's talk more about why you should consider using a website builder, and introduce the features that make Beaver Builder the best option for authors!
Why a Website Builder Can Help You Create Your Author Website
Building a website might seem difficult. It might provoke thoughts of complicated code and intimidating programs. However, with the right tools, creating a website can actually be quite simple.
A website builder is a tool that lets you design your site without having to touch a single line of code. You won't need a developer or designer; you can use a drag-and-drop interface to build your pages block by block.
Most website builders also offer easy-to-use templates that make this task quick and easy, and provide you with a professional-looking website without much work required on your end. As an author, it's crucial to put forth a professional appearance.
Using the best website builder for authors can benefit you in several other ways. By cutting out development costs, you're saving a good amount of money, something that will be particularly important to those just starting in the industry. The ease of the drag-and-drop interface means you can add essential information and features your readers will need, such as calendar options, donations, and contact forms.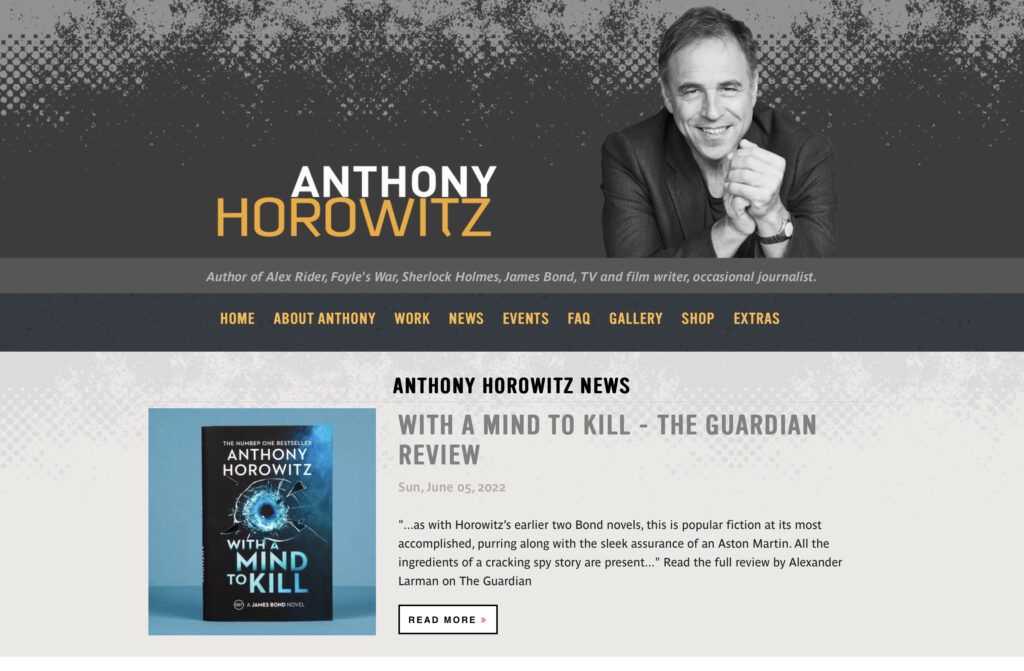 There are many website builders available, so it's important to know what you're looking for. A drag-and-drop editor is vital to those who want a quick and easy process. Aside from that, you'll want to ensure that your chosen tool offers page templates, social media sharing, responsiveness, and Search Engine Optimization (SEO)
Fortunately, you don't have to look far for such a website builder. All these features and more are available with Beaver Builder.
An Introduction to Beaver Builder: The Best Website Builder for Authors
Building a beautiful and professional author website is easy with Beaver Builder. Via a flexible drag-and-drop page builder, this best website builder for authors allows you to create your pages from the front end of your WordPress-powered website.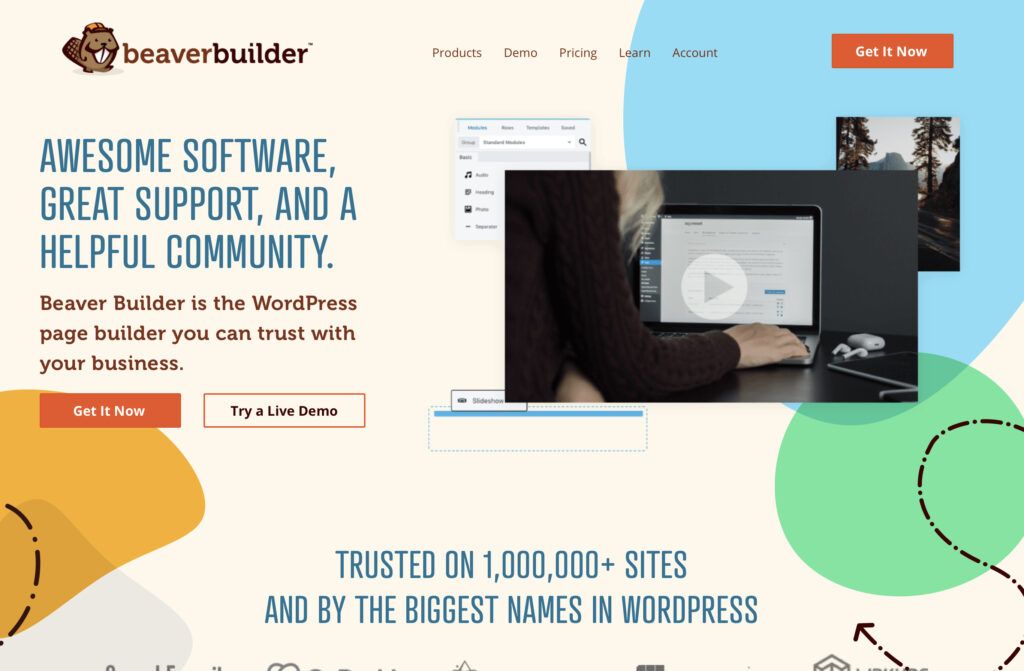 Beaver Builder features a wide range of content modules you can use to build your website. These include audio and video modules, images, buttons, headings, and icons.
By upgrading to the premium version, you'll unlock access to contact forms, tabs, sliders, blog posts, subscribe forms, social icons, and many more. If Beaver Builder doesn't have the module you want, it's fully compatible with core and third-party widgets.
With Beaver Builder, you can create just about any type of site you need. When it comes to building your author website, you'll benefit from handy contact forms, blog posts, and subscription forms.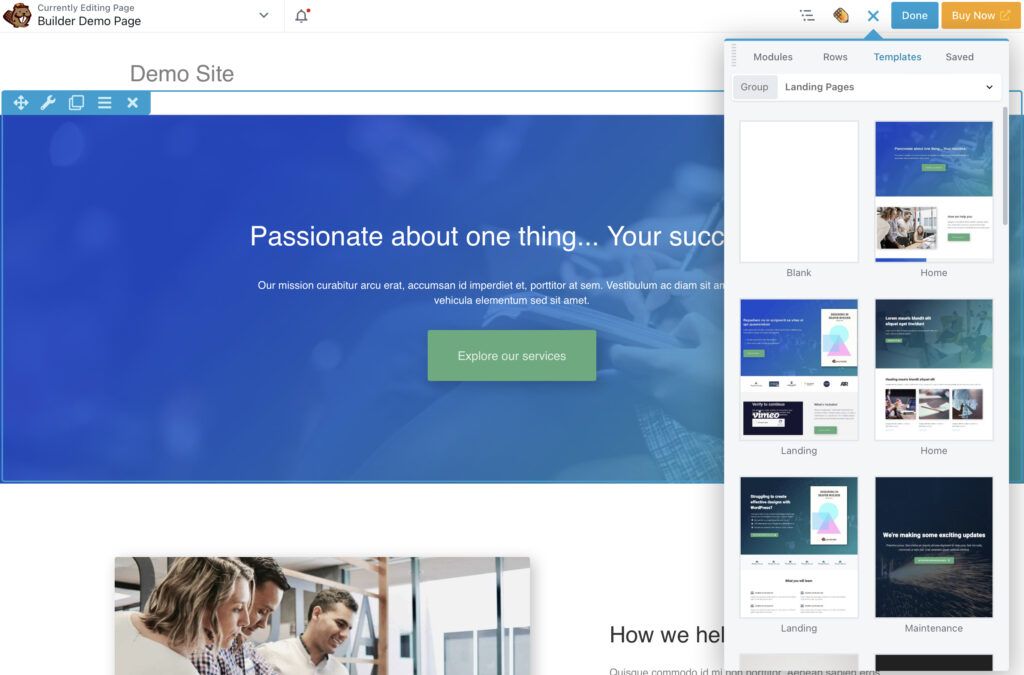 What's more, some of the best features of Beaver Builder don't have anything to do with the modules. For example, our plugin is optimized for performance, something that search engines look for when deciding how to rank your pages. Meanwhile, every part of the plugin is fully responsive, which means you can make your site user-friendly for all of your readers.
5 Reasons Beaver Builder Is the Best Website Builder for Authors
Now, let's take a closer look at five key features and options that make Beaver Builder the best website builder for authors.
1. The Drag-and-Drop Editor Makes Creating a Website Easy
One of Beaver Builder's key elements is its intuitive drag-and-drop system. Instead of having to start from scratch, you can select a module from a list of options and drag and drop it into place on the page. You can also see exactly how your layout and content will look on the front end on your website, without having to leave the page.
The major advantage of the drag-and-drop editor is its ease of use. There's no need to know any coding, and it's perfect for those creating their first websites. The wide range of modules that are available help you build something that looks unique, even if you don't have any design experience.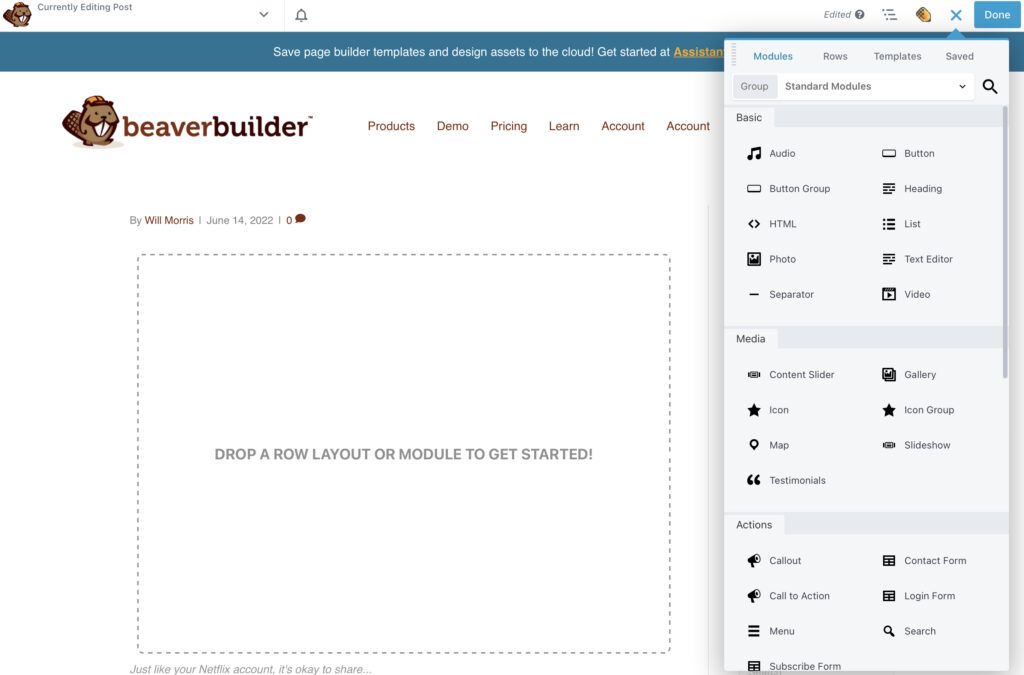 When creating your author website, there are plenty of modules that might come in handy. For example, the gallery option can be an opportunity to showcase your book covers or internal illustrations. The map may be useful for promoting book signings and other appearances.
Contact forms, subscription forms, and pricing tables are essential components of any professional's website, and Beaver Builder makes it easy to add all of these elements. As a writer, you'll also likely make full use of the various blog post options.
To make your job even easier, Beaver Builder lets you save modules for reuse. For example, if you've laid out a text field with the blurb for your latest book, you may wish to duplicate it elsewhere. This avoids the need to re-create elements and layouts you use frequently, and gives you more time to devote to your latest project.
2. Landing Page Templates Provide a Strong First Impression for New Readers
Even with the drag-and-drop builder, it may seem intimidating to build an entire website on your own. The good news is that the process is even more straightforward thanks to a selection of pre-built layouts. You can use these to set up a functional and visually-appealing page quickly, then add your own content and make whatever customizations you desire.
The most important of these is potentially our landing page templates. Your first impression on visitors will always be your website's speed. With this in mind, we have designed Beaver Builder to load quickly by only loading the assets needed for a given layout or page.
However, your second impression is your landing page, since it's often the first part of your website that potential new readers will see. It's a standalone page you can link to from social media posts, in emails, and via other marketing methods. A well-designed landing page will introduce visitors to your work, get them interested, and provide them with a clear call to action (for example, to buy your latest book).
Beaver Builder provides a number of landing page templates you can use. You can select one of the designs and adapt it to your specifications, with many being perfect for authors. For example, you might want to check out the eBook template: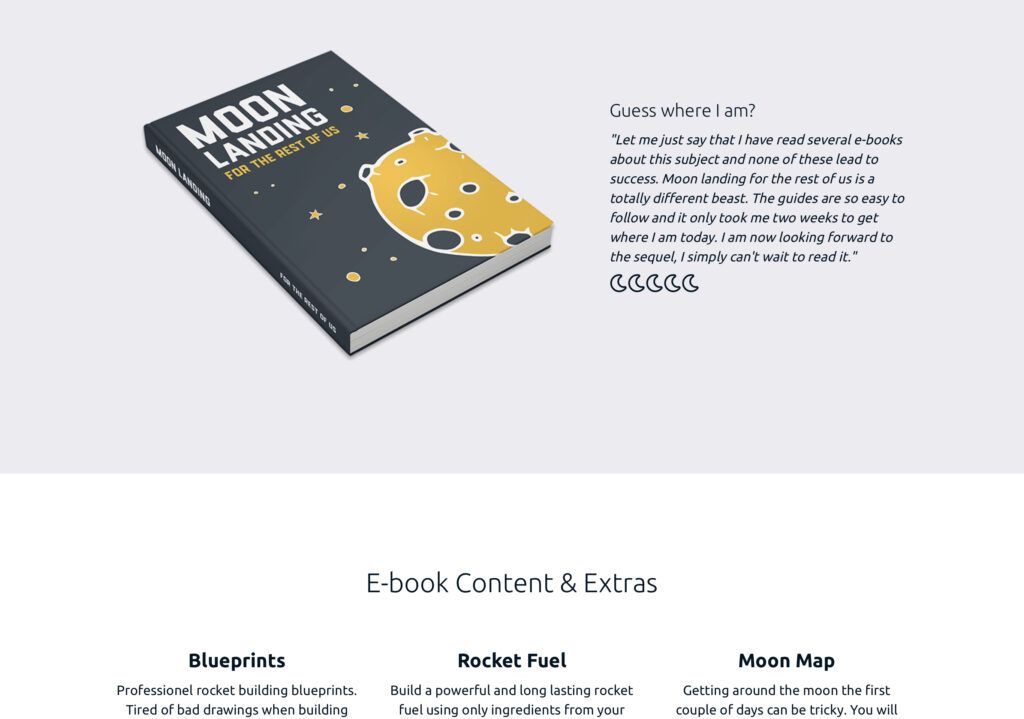 We've designed this template for authors who want to promote a particular work. The design features images of the book prominently, as well as providing space for you to promote any included 'extras'. When combined with other modules such as testimonials and a countdown timer, the eBook template could be the perfect way to launch and sell your latest masterpiece.
3. Content Templates Make Adding Pages Simple
Beaver Builder offers layouts for more than just landing pages. Every part of your website is covered. Whether you need a stylish contact form or a place to tell your readers about your background, Beaver Builder has a pre-built content page template you'll likely find useful.
It's crucial to ensure that your whole website looks professional, not just your landing page. If you want to offer a strong user experience and give readers confidence in your work, it's best that your website maintain the same standard throughout and remain uniform.
Like landing page layouts, adding a pre-built page is simple. After creating a new page, you open the Content panel and click the Templates tab. There you can choose a layout and apply it, then customize the page to your requirements: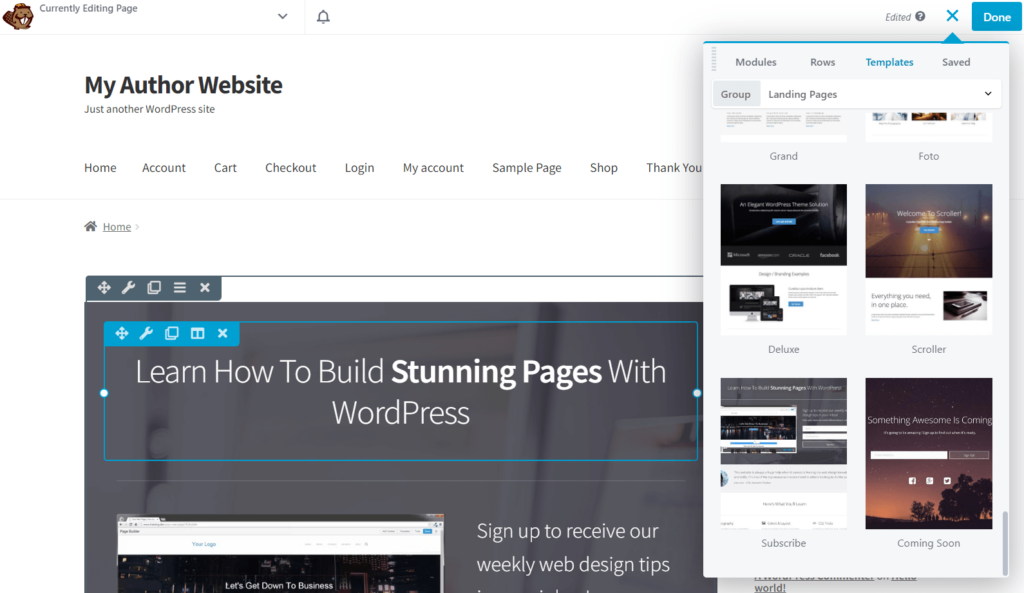 When building your author website, you may find the following content page templates most useful.
About You Pages
Whether you're a book author, a freelance journalist, a copywriter, or something else, letting your audience know about you is vital. You'll want to provide readers (and potential partners) with information about your background, experience, education, and more. If you're selling your services, this is doubly important.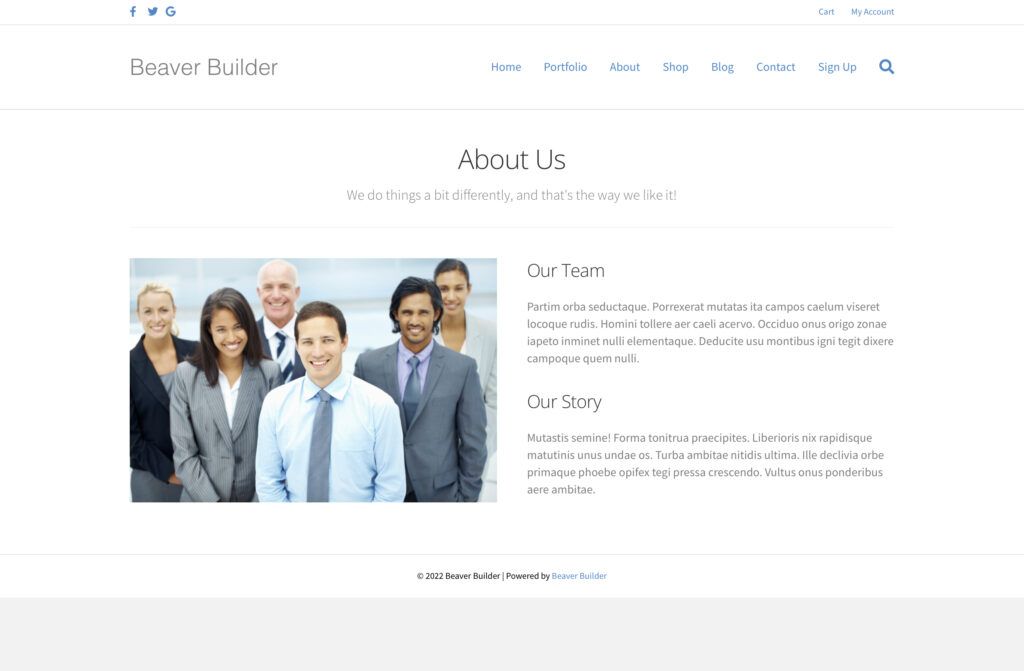 Beaver Builder offers separate pages to describe yourself and your services, along with pricing pages and FAQs.
Contact Pages
Allowing visitors to get in touch is a vital aspect of most websites. Perhaps you're offering your services as a writer, or you wish to encourage feedback and discussion on your work.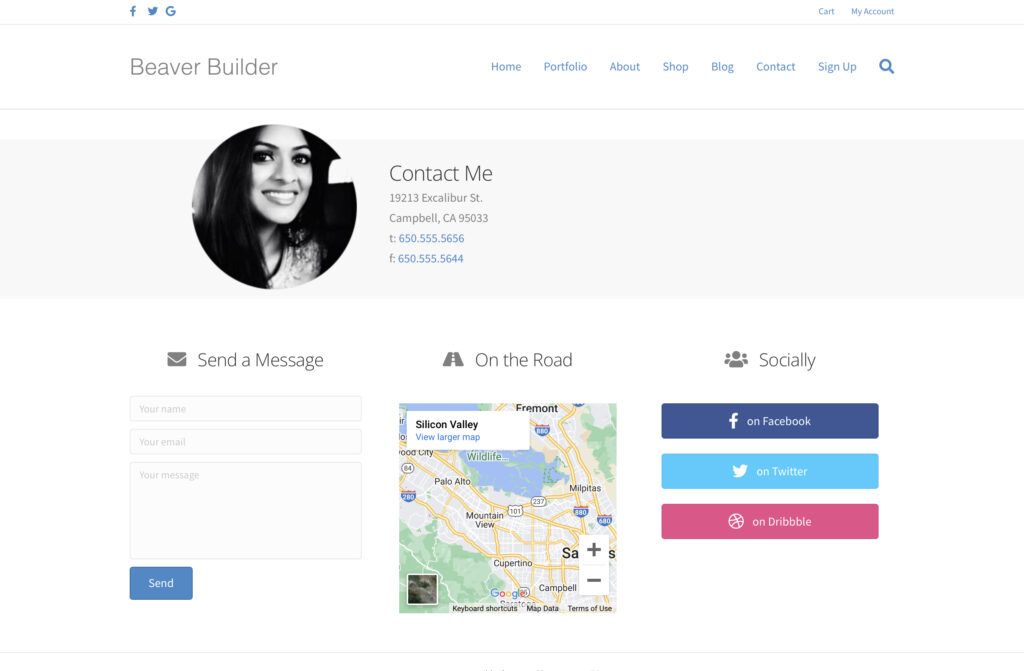 In either case, Beaver Builder has something you'll probably like. There are five different contact page designs ready to be adapted for your website.
Traditional Blog Pages
Blog writing is likely to come naturally to any author. Many writers use blogging to highlight aspects of their work, or give updates on their books (both published and in-progress). Some authors even use blogging as a supplemental income source.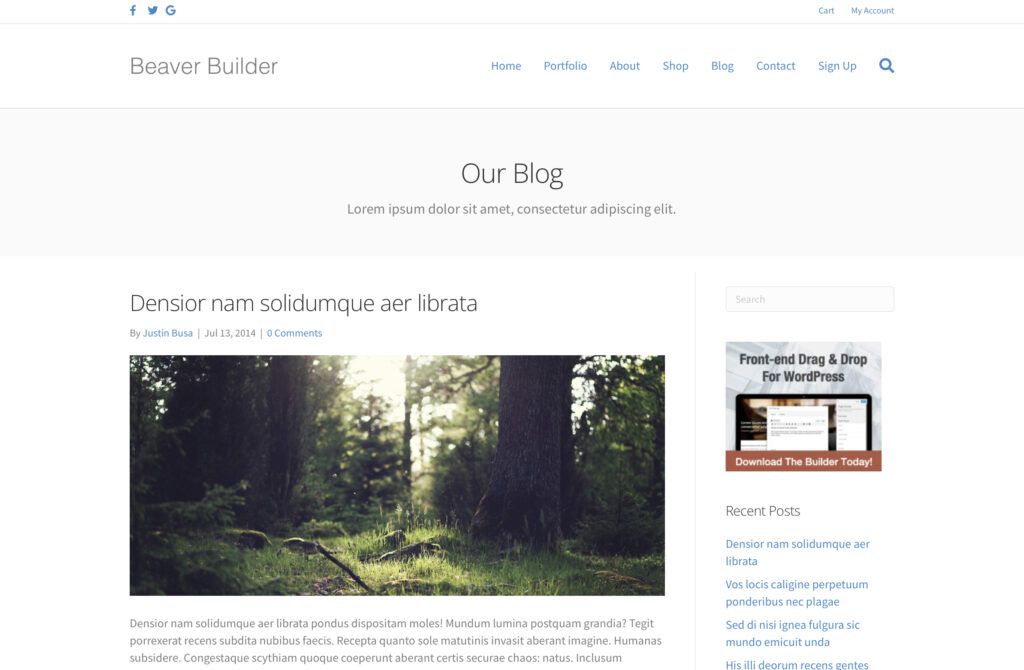 No matter what you use it for, Beaver Builder has plenty of blogging options, from a more traditional template to designs for post grid and gallery-style blogs.
Newsletter Subscription Page
Finally, as an author, marketing will likely be near the top of your agenda. Whether you're selling your services or selling your work, you need to stay in touch with the leads that your website has generated. Getting them to sign up for a mailing list is a perfect way of doing this.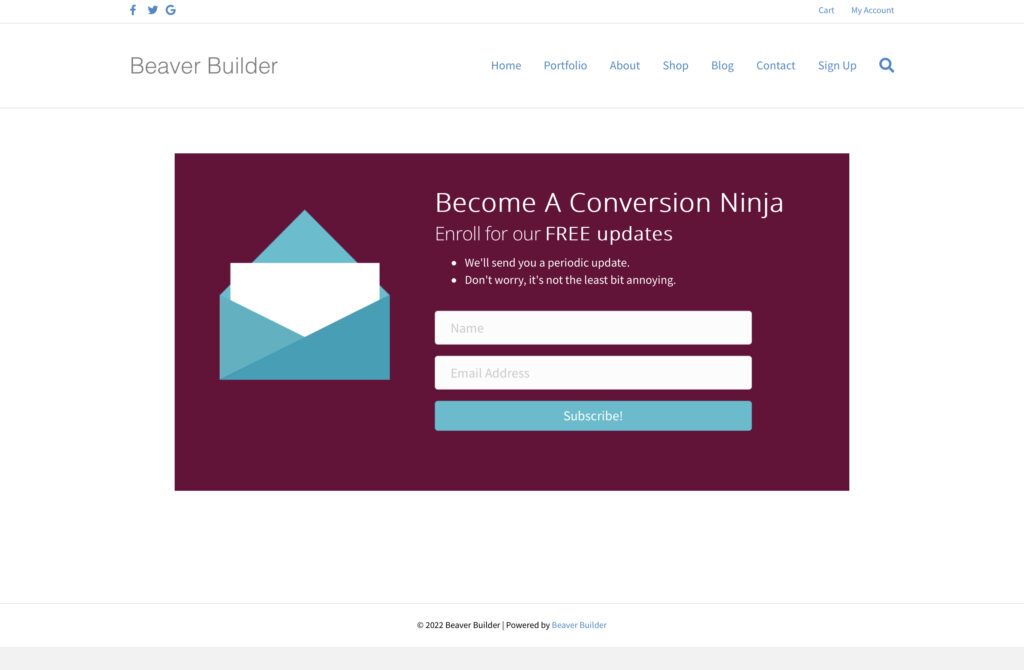 Beaver Builder features a fully-customizable newsletter subscription page. This allows you to capture e-mail addresses and keep those interested in your work fully informed.
4. Customization Options Give You the Chance to Get Creative
Another factor that makes Beaver Builder the best website builder for authors is the number of customization options it provides. While the many different layouts will give you a great base to start from, you'll want to make your website your own. Beaver Builder allows you to do this with ease.
By installing the Beaver Themer add-on, you can add Custom Post Types (CPTs) to your site. A CPT inserts code into your theme that allows WordPress to apply unique style rules to a particular type of post. WordPress recommends that you don't add CPTs to your main theme; instead, it's best to create custom formats through a plugin. Beaver Builder will do this for you.
In terms of look, your Beaver Builder website is also fully customizable. The plugin features a range of built-in system and Google fonts, allowing you to add any other web fonts you wish. You can add animation to any row, column, or module, and there are a wide range of color and background options: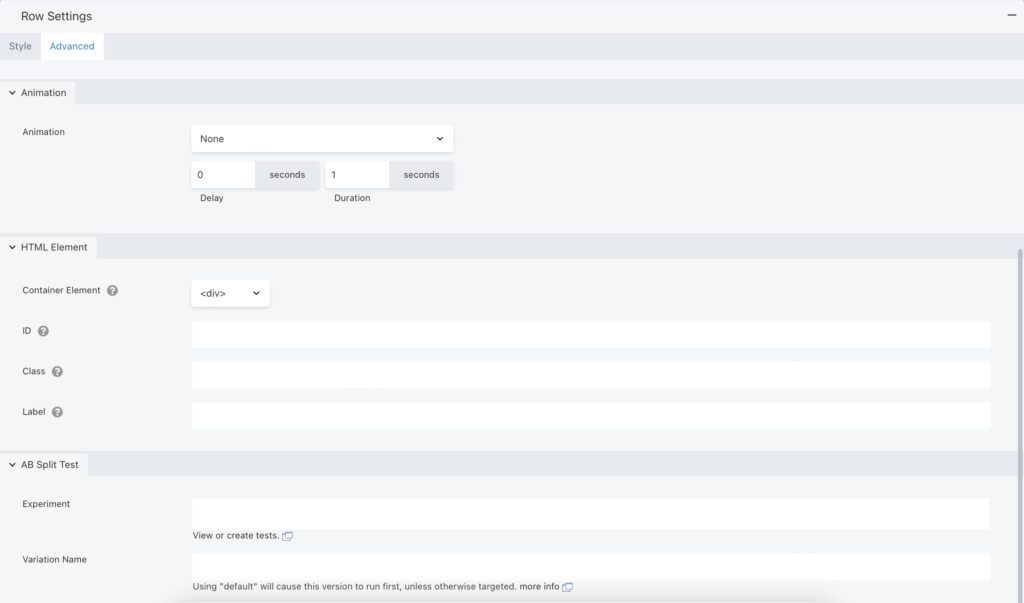 Thanks to another time-saving feature, you don't have to make all stylistic changes individually. Instead, Beaver Builder allows you to save global settings to maintain consistency throughout your website. Coupled with the ability to save global modules, creating pages quickly couldn't be easier.
Finally, if you are more experienced with coding, you can add custom CSS and JavaScript to your site. You can make these changes on individual pages, or use the Global Settings menu to add these customizations sitewide.
5. Built-In SEO Helps You Climb Search Engine Rankings
Last but not least, Beaver Builder is a very search engine-friendly plugin. This can be all-important for beginners, as well as any writers who are advertising their services or products online.
SEO (Search Engine Optimization) is a complicated discipline. In simplest terms, it's the process of improving a website to increase its visibility in search engines such as Google. These search engines use algorithms to determine page rankings, with the goal of showing searchers content that matches their needs.
There are several things search engine algorithms look for. Beaver Builder has many of those elements covered, making your SEO work much more manageable.
For instance, our plugin features quick loading speeds across all layouts and landing pages, as well as a highly-responsive design. Plus, it helps you perform key SEO tasks yourself, such as optimizing your headings and images: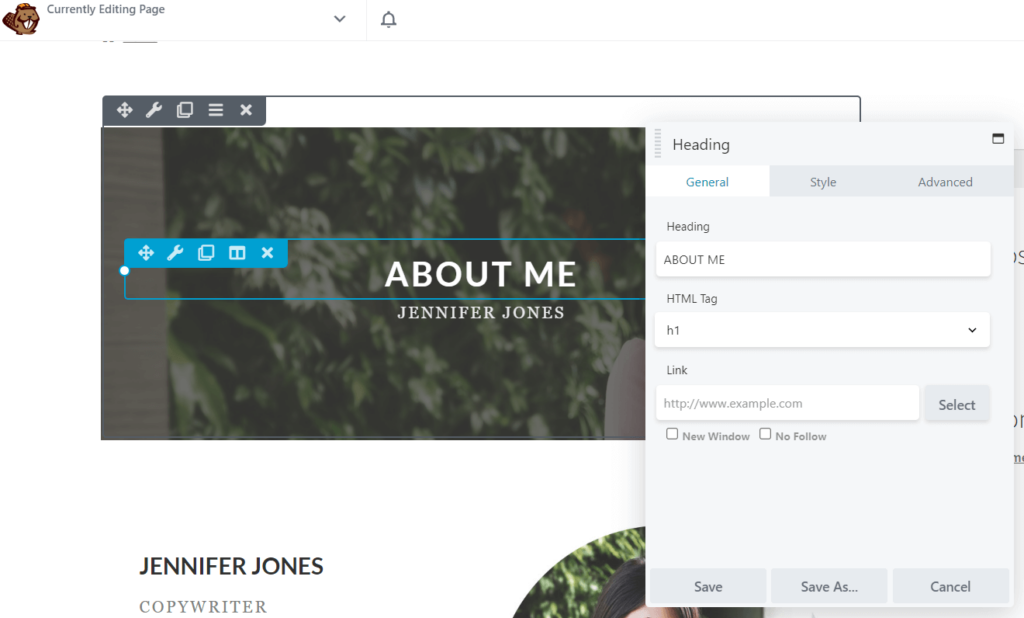 However, to get the most out of Beaver Builder's Page Builder in terms of SEO, it's recommended that you pair the plugin with our Beaver Builder Theme. Your theme affects some of the most fundamental aspects of your website, so it's crucial to opt for one that's designed for SEO from the ground up, and plays well with your other plugins and tools.
Conclusion
These days, a strong online presence is all but mandatory for successful authors. At the same time, you probably don't want to take a lot of time away from your work to set up a professional website. Fortunately, Beaver Builder can help you get a fully-functional site online quickly, and provide new and old readers alike with the information and resources they're looking for.
To recap, here are the five top features that make Beaver Builder the best website builder for authors:
Drag-and-drop editor: The simple and easy-to-use interface is perfect for beginners.
Landing page templates: You can present the best possible face to new readers and provide them with a clear call to action.
Content page templates: These let you build your site quickly, while ensuring that it looks professional.
Customization options: Beaver Builder makes customization easy, with plenty of opportunities to personalize your website.
SEO-friendly: Built-in SEO features help interested readers and potential business partners find your site in search engines.
Are you ready to build your author website? Download our Beaver Builder plugin and get started today!
Join the community
We're here for you
There's a thriving community of builders and we'd love for you to join us. Come by and show off a project, network, or ask a question.