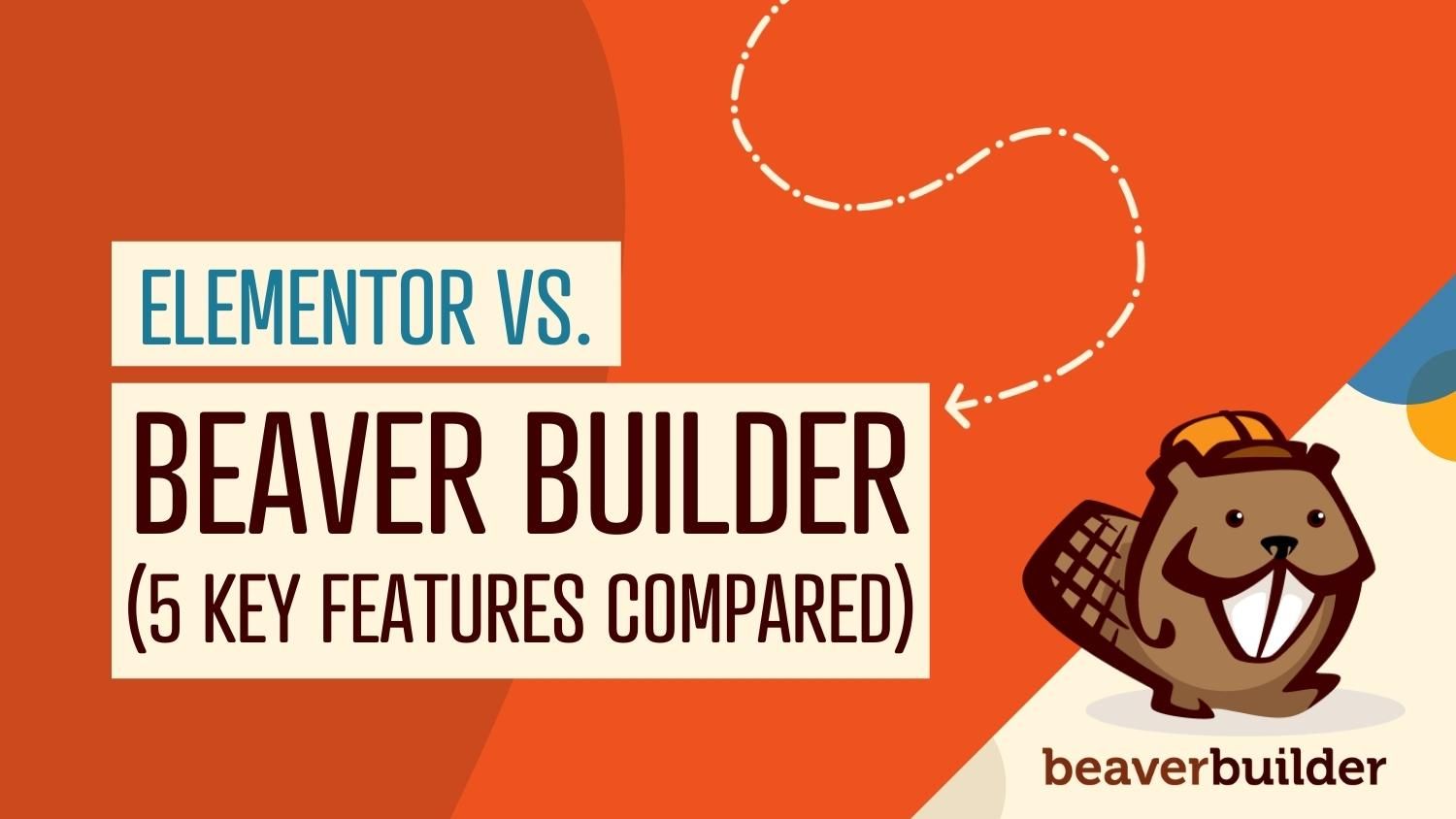 Beaver Builder vs Elementor: 5 Key Aspects Compared
A page builder can offer more design and customization tools than the native WordPress Block Editor. However, choosing the right plugin for your website can be difficult with so many options available. To help you get started, we've compared two of the most popular page builders: Beaver Builder and Elementor.
In this post, we'll introduce you to Beaver Builder vs Elementor. For each page builder, we'll discuss its main features and use cases. Let's get started!
Table of Contents:
Beaver Builder: An Introduction
At Beaver Builder, we created a page builder suited to all kinds of WordPress users. It has over 1 million installations, with happy customers building everything from college websites to e-commerce stores:
Using a drag-and-drop front-end editor, Beaver Builder lets you quickly add specific modules to any page. This beginner-friendly interface enables you to design a website while previewing your changes.
Plus, Beaver Builder can be a powerful tool for developers. With responsive style settings, shortcodes, and custom hooks, our page builder can implement more complex features than other plugins. These features can provide more flexibility and efficiency to developers when building a website.
Elementor: An Introduction
With 5 five million active installations, Elementor is one of the most popular page builders. Like Beaver Builder, Elementor uses a drag-and-drop editor and a responsive interface:
Users can benefit from the free version of Elementor, which provides over 40 ready-to-use widgets. With these tools, even beginners can design websites with custom image galleries, icons, testimonials, and more.
Elementor also has an extensive template library, which can equip users with pre-designed layouts and blocks. For novice website owners, this resource can help you design pages without editing any code.
Beaver Builder vs Elementor: 5 Key Aspects Compared
To decide which page builder is more suitable for your website, you'll need to compare Beaver Builder vs Elementor in a few crucial areas. Then you can choose the plugin that best meets your design needs.
1. Features
When it comes to page builders, you'll want to find one that is feature-packed and flexible. This way, you can use the tool to design any part of your website.
Beaver Builder is a developer-friendly page builder with clean code and customizable HTML, PHP, CSS, and JavaScript. Plus, it's designed for Search Engine Optimization (SEO) and is compatible with most themes and plugins.
The main difference between Beaver Builder and Elementor is speed. When comparing the two tools, Beaver Builder performs 45% faster in page load time. This is an important feature to consider when you're trying to improve conversion rates on your website.
What makes Elementor distinctive is its extensive template library. With over 300 pre-made templates, the page builder provides many options for beginners.
In general, you can use either Beaver Builder or Elementor to design your ideal website. However, let's discuss a few additional factors to help you decide more easily.
2. Ease of Use
As a website owner, you'll likely be constantly creating new content like blog posts and pages. To simplify this process, it can help to choose a page builder with a clean and easy-to-use interface.
With our Beaver Builder plugin, you can click on Launch Beaver Builder whenever you add a new post or page. This will open the front-end editor:
You can drag and drop modules into the post if you want to make content entirely from scratch. For example, you might create an event page by describing the event in a text module. Then, you can insert a countdown timer and action buttons to encourage users to register:
To edit a specific module, all you'll have to do is click on it. Then you can customize its General, Style, and Advanced settings. Plus, you can also edit rows and columns using this method:
Although both Beaver Builder and Elementor use a drag-and-drop front-end editor, many people find it useful that the Beaver Builder sidebar is moveable. By contrast, Elementor's panel is fixed to the left-hand side.
Opening the Elementor editor is a very similar process. After adding a new page, select Edit with Elementor:
Then, the settings will be within a fixed sidebar on the left. You'll see a list of available widgets that you can drag onto the live-end preview on the right:
Alternatively, click on the file icon to choose a pre-designed template. Like Beaver Builder, you can edit the layout and style of the page by adjusting its width, background, typography, motion effects, and CSS:
Ultimately, both Beaver Builder and Elementor offer high-quality and accessible design options. Since Beaver Builder has a moveable sidebar, however, it can feel more flexible.
3. Template Selection
If you're new to website design, you may want to use pre-made templates to structure your pages. With Beaver Builder, you can access dozens of page templates that are responsive, customizable, and cohesive with any theme:
You can browse templates for landing and content pages inside the Beaver Builder editor. Once you find one you like, just click on it to add it:
Then, your page will automatically generate pre-formatted text, headings, images, action buttons, and more. By selecting specific elements, you can edit them to include your site's information:
Beaver Builder also provides prebuilt rows in a variety of categories. These are smaller forms of templates that can automatically format calls to action, testimonials, and more.
To start using prebuilt rows, go to Rows and group them by Prebuilt Rows. Here, you'll find a list of options to choose from:
After you select a specific feature, you can choose a unique format. Then, simply drag and drop the prebuilt row onto the page:
With Elementor, you can choose from hundreds of page templates. After connecting to the Elementor Template Library, you can insert pre-designed pages or blocks:
Elementor also provides complete website template kits. These contain multiple templates for different pages so that you can create a cohesive website design:
However, these kits are only available when you purchase Elementor Pro. The free plugin provides a more limited template selection.
4. Available Modules
Using a page builder, you can drag and drop elements to create and customize your website. This means you'll want to look for plugins with a wide variety of building blocks. While at Beaver Builder, we call them modules, Elementor calls them widgets.
Beaver Builder modules are highly flexible, enabling you to build a page with specific features. These elements are divided into six categories: Basic, Media, Actions, Layout, Info, and Posts:
You can drag and drop any modules you like in the editor, building a web page with menus, forms, images, pricing forms, and more. After adding a module, you can edit its content to include your text and pictures. You can even update its color, alignment, animation, spacing, and font:
With the free version of Elementor, the widgets are divided into two categories: Basic and General. Upgrading to the premium page builder will unlock over 90 professional widgets.
Additionally, we designed Beaver Builder to be highly flexible. If you need specific functionality that isn't included in the basic modules, you can build your own. Beaver Builder makes it easy for users to create custom modules and style them with CSS. If you need help, we have a friendly and inclusive community of users available inside our Facebook group.
5. Pricing
Both Beaver Builder and Elementor have "Lite" versions in the WordPress directory. However, these free plugins don't have as many features.
For example, Beaver Builder Lite provides some content modules, full-width layouts, widgets, and custom post types. If you need more advanced modules and templates, you can purchase Beaver Builder premium starting at $99 per year (for unlimited websites):
The core version of Elementor includes over 40 free widgets and 30 templates. To access a wider variety of widgets, templates, and website kits, Elementor Pro starts at $49 per year (for one website):
Beaver Builder could be a more valuable option if you buy a premium page builder. Even though our base plan is more expensive than Elementor's, you can use it on unlimited sites. Elementor's Essential Plan only supports one website activation. Additionally, our agency plan is more affordable than Elementor's.
Beaver Builder vs Elementor: Which Should You Choose?
Beaver Builder and Elementor are both popular page builders for a reason. Responsive drag-and-drop interfaces, versatile modules, and pre-made templates make it easy to design a website from scratch using either of these tools. So, you'll have to consider your personal goals to make the right choice.
Let's compare some of the key features of Beaver Builder and Elementor:
Whether you're a beginner or a professional developer, Beaver Builder can be a powerful and flexible tool. If you just created your first website, you can use our templates to design each of your pages. Then, you can drag and drop modules onto the page, customizing them as needed.
As a developer, our plugin offers many advanced features to customize your layouts and streamline the development process. Since it supports custom coding, theme layouts, and modules, Beaver Builder can suit any of your client's needs.
By contrast, Elementor can be a beginner-friendly and cheaper alternative. If you're looking for a wider variety of page templates without investing in a premium page builder, Elementor is a solid choice.
Conclusion
Ultimately, both Beaver Builder and Elementor provide clean drag-and-drop interfaces to build a responsive website. If you're looking for a cheaper plugin with flexible templates and widgets, Elementor could be right for you. However, Beaver Builder's responsive design settings, custom modules, and shortcodes are fantastic for web developers and general users alike.
To recap, here are the main differences between Elementor and Beaver Builder:
Features: Both page builders offer a drag-and-drop front-end editor, but Beaver Builder's customizable code and less bloat make it arguably more developer-friendly with faster page load times.
Ease of use: Our Beaver Builder interface provides a flexible, moveable sidebar, making it easier to organize your workflow.
Template selection: Elementor Pro includes a complete template library, but you can achieve similar features with our landing page and content templates, as well as Beaver Themer.
Available modules: The free version of Elementor comes with more widgets. However, Beaver Builder still has a variety of flexible modules, including support for custom coding.
Pricing: You can access both Beaver Builder and Elementor for free. If you purchase a page builder, our plans offer extensive features starting at $99 per year.
People Also Ask
What Is the Best WordPress Page Builder?
Beaver Builder is a flexible, feature-packed page builder well-suited to beginners and developers alike. With the plugin's extensive page templates, module selection, and global settings, you can quickly create any website content, from membership sites to e-commerce businesses.
Is Beaver Builder Better Than Elementor?
Many people choose Elementor as a free, beginner-friendly option. However, the Beaver Builder plugin is also a solid choice and has a free Lite version that boasts an easy-to-use interface. You can upgrade your plan at any time to access more extensive developer features, including full site editing.
Join the community
We're here for you
There's a thriving community of builders and we'd love for you to join us. Come by and show off a project, network, or ask a question.