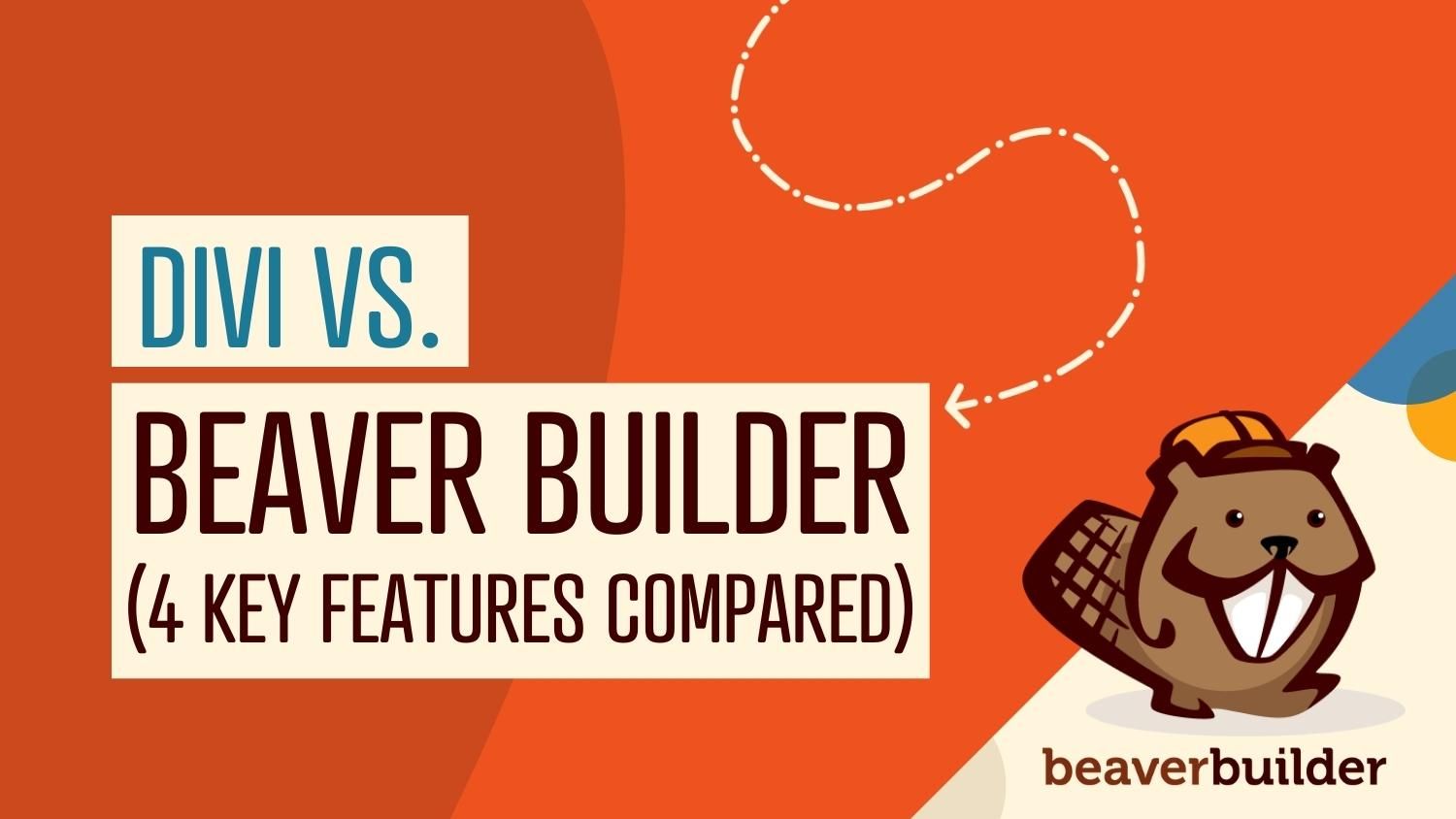 Beaver Builder vs Divi: A Comparison of 4 Key Features
When it comes to WordPress page builders, there are a lot of options. All of these plugins can completely transform the way you create websites, but their functionalities vary greatly. So, if you're deciding between page builders, you'll likely benefit from a detailed comparison of Beaver Builder vs Divi, two of the most popular choices.
These tools offer different approaches to "page building" and unique sets of features. In this article, we'll compare Beaver Builder vs Divi to help you pick the best option for your website. Let's get to it!
Beaver Builder: An Introduction
Beaver Builder is one of the most popular page builders on the market, with over one million active users to its name. The core of this plugin is a drag-and-drop editor, which lets you choose from pre-made templates or create your own designs from scratch.
You can use Beaver Builder's modules to add almost any kind of feature that you want to your website. That includes common elements such as paragraphs, lists, and galleries. You'll also get access to more complex modules such as login forms, pricing tables, number counters, and much more.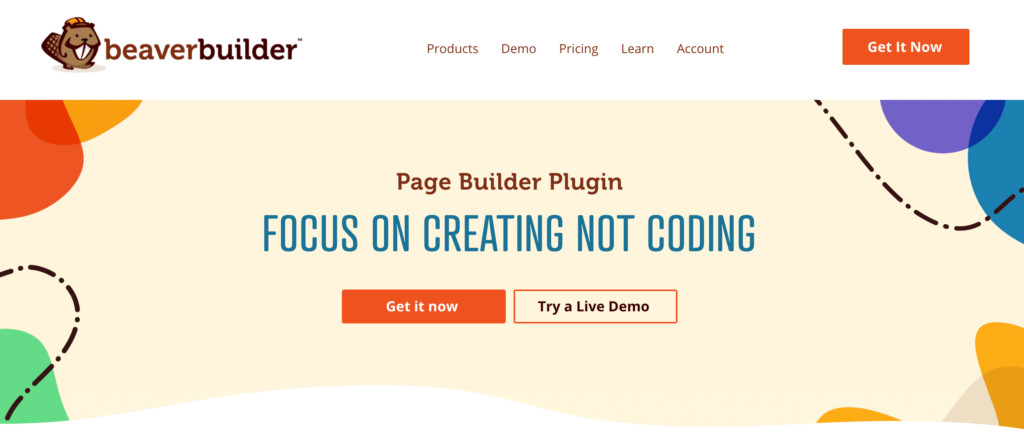 Even better, every page that you create using Beaver Builder is responsive by default. Moreover, you can fully customize each of the modules you add. That includes their style, placement, and behavior.
Beaver Builder enables you to choose between a free plugin and premium licenses. Premium licenses give you access to a larger number of modules, theme builder functionality, multisite support, and even white labeling.
Divi: An Introduction
Divi is a premium, visual drag-and-drop builder. With Divi, you get access to a library of ready-to-go modules that range from standard elements such as Calls to Action (CTAs) and menus to more advanced options, like sliders and social media icons.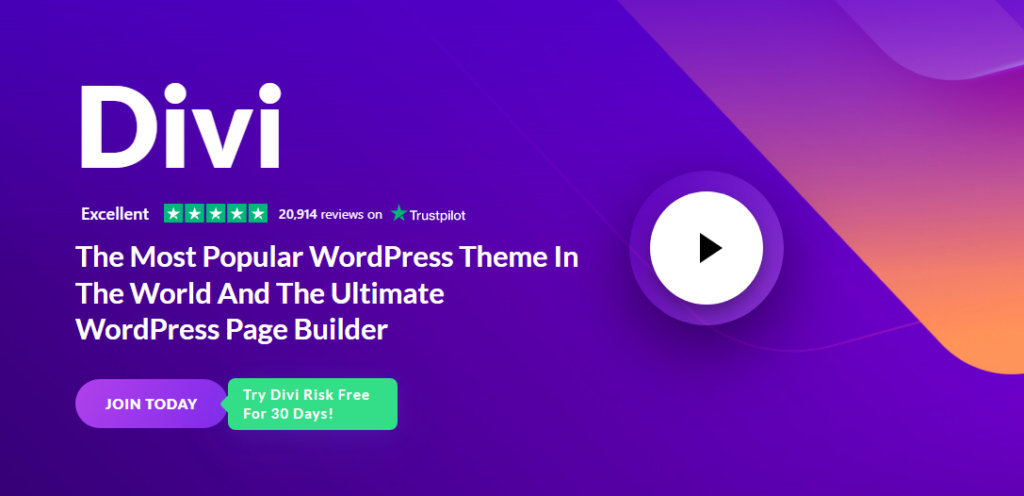 It's important to note that Divi doesn't offer a free option. You'll need to pay for a license to use both the theme and the page builder.
When you purchase a Divi license you also get access to the page builder's theme. Although Divi works with most modern themes, it was designed to be used with the theme that shares its name.
Beaver Builder vs Divi: 4 Key Features Compared
To understand the differences between Divi and Beaver Builder, we need to go over several key aspects of their functionality. Let's start by talking about ease of use.
1. Ease of Use
By "ease of use," we mean how long it can take a new user to get acquainted with the page builder and start putting together a website. That learning period may vary depending on the plugin's interface and the resources it offers to new users.
If you're trying out Beaver Builder for the first time, the plugin will offer a tour of its features. This tour will walk you through using templates, columns, modules, and editing content.
In a nutshell, if you complete the welcome tour, you'll learn everything you need to know in order to start building websites using Beaver Builder: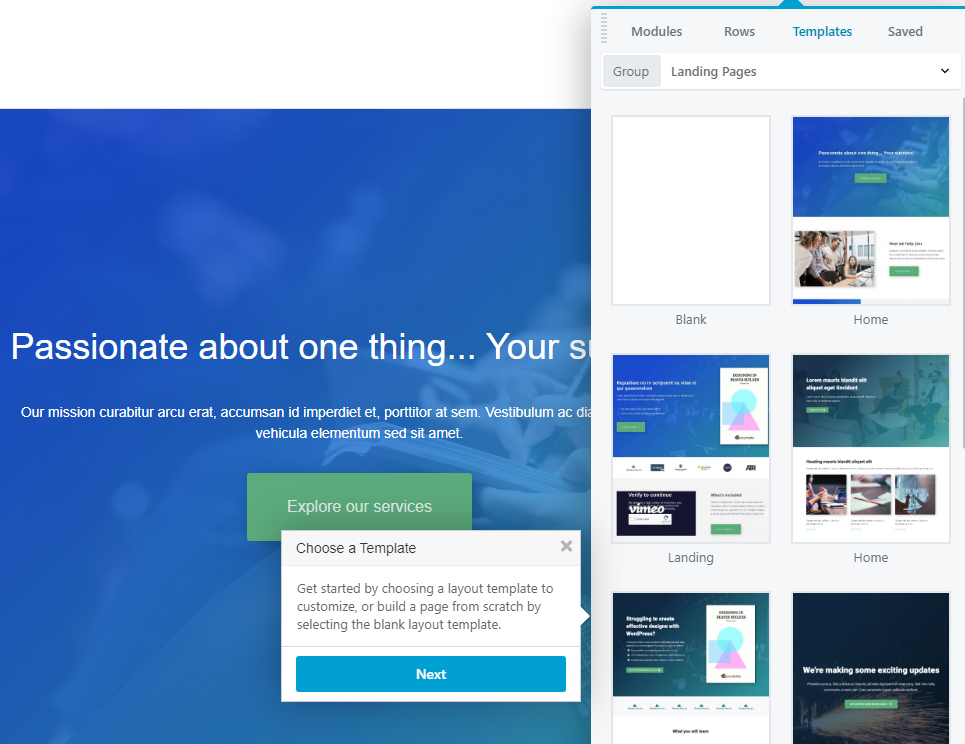 Beaver Builder itself is also highly intuitive. You can open the modules screen and drag any element that you want over to the page itself.
Once the element appears, you can open its settings window to customize how it looks. Every module comes with custom settings, including general, stylistic, and "advanced" options: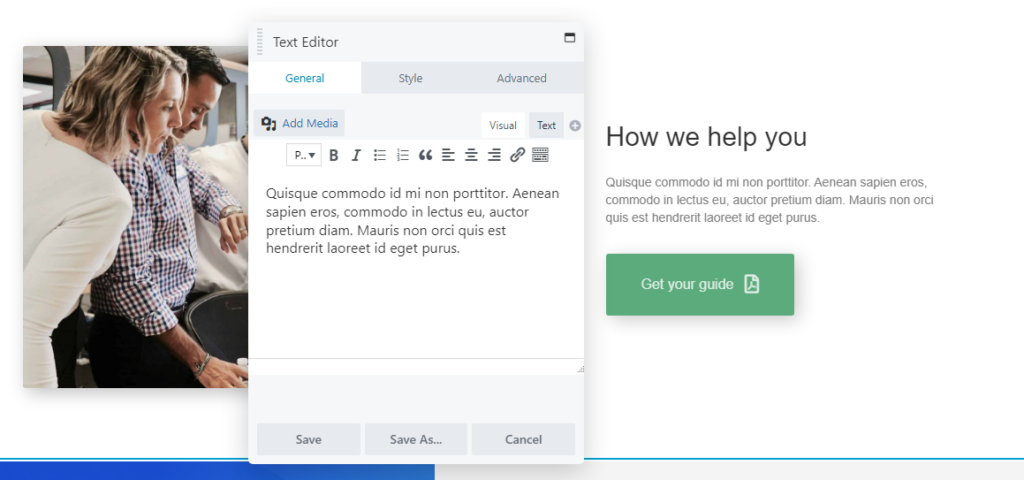 In Divi's case, the page builder also offers a built-in "tour" of its inner workings. The Divi tour includes several videos going over the tool's key features, which is a nice touch. These learning materials can show you how to use templates, add columns, modules, as well as how to edit specific elements.
In our experience, both Beaver Builder and Divi are fairly beginner-friendly plugins. However, Divi can sometimes slow down or lag a bit depending on your hosting provider and plan, as it's a very resource-intensive plugin.
2. Pricing
In many cases, especially when it comes to small businesses, price is a major consideration. If you're on a strict budget, you may lean toward the cheapest option. However, price shouldn't be the ultimate decision maker when it comes to the tool that you'll use to build your entire website.
Beaver Builder offers a free version that limits the number of modules you'll have access to. The plugin's core drag-and-drop functionality still works as usual, but you don't get the full selection of modules and templates the plugin offers otherwise.
As far as premium licenses go, Beaver Builder has a broad range of choices. Licenses start at $99, and that tier gives you access to the plugin's full suite of modules and templates: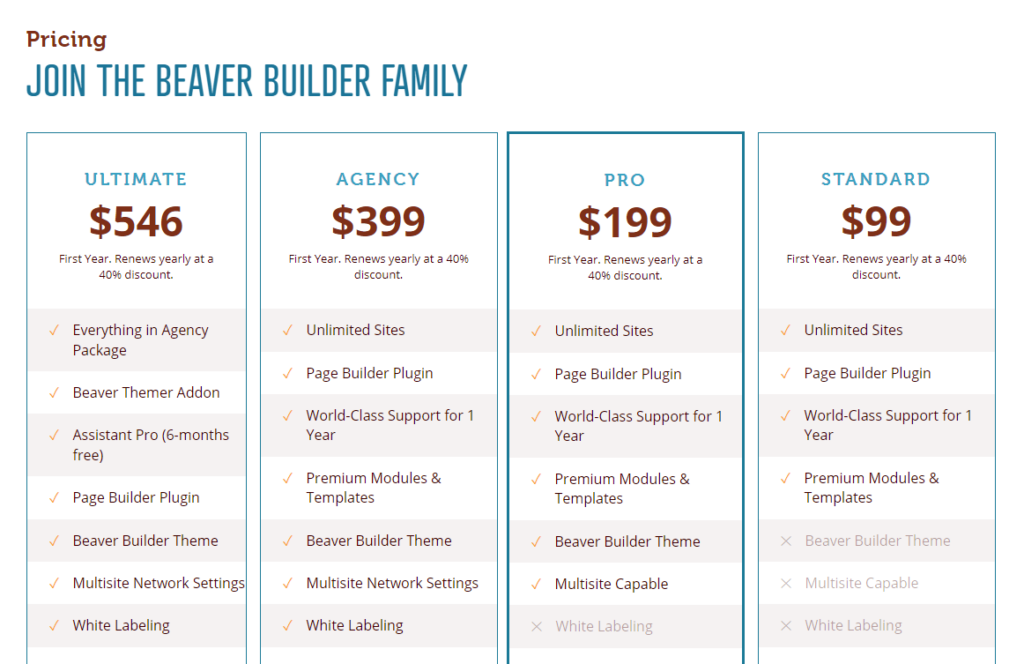 The more expensive Beaver Builder tiers are geared towards developers and agencies. Those plans give you access to features such as multisite support and white labeling. If you're planning on using Beaver Builder for your own site, the Standard license is likely the way to go.
Divi doesn't have a free version of its page builder plugin. The team behind Divi only offers two types of premium licenses, which include a yearly and lifetime option: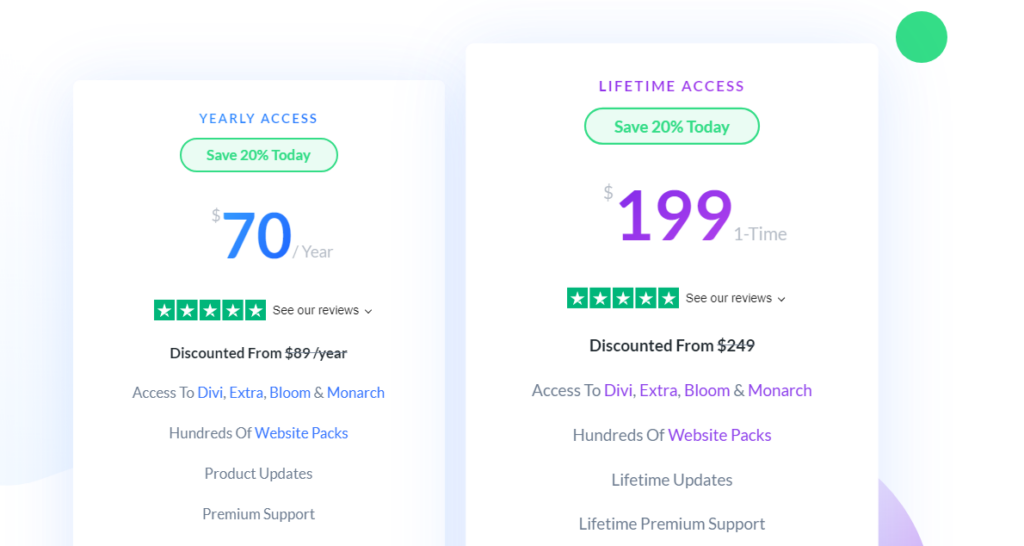 A standard Divi premium license costs $89 per year (unless you catch a sale). That's $10 less than Beaver Builder. However, Divi doesn't offer white labeling options, which can be a disadvantage if you plan on using the plugin on client sites.
3. Template Selection
Templates are among the primary selling points for any page builder. A lot of users want to get professional-looking websites up and running as fast as possible without needing to learn how to use coding or complex tools. Page builders alone allow you to achieve that, but you can also use their templates as starting points and customize them as you see fit.
Beaver Builder offers a broad collection of pre-built templates, with 70 options divided into content and landing pages: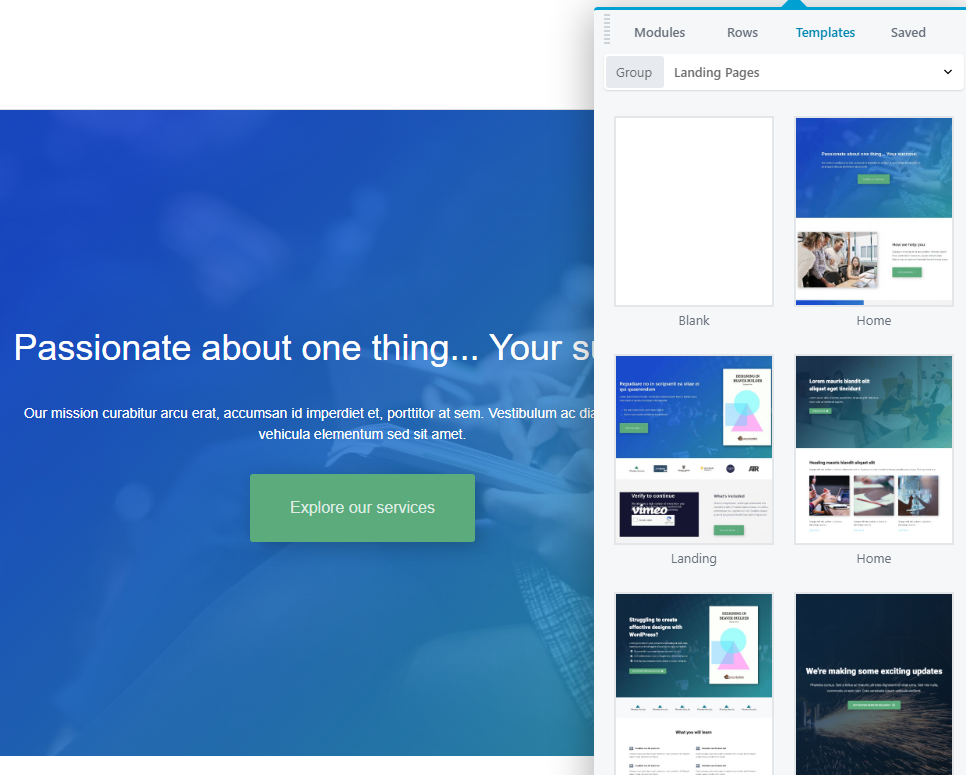 The landing page templates include design options for most types of businesses or individuals that might need a website. That includes agencies, startups, app pages, photography portfolios, and more. You can mix the landing page options with the content templates to build full websites rather quickly.
Simply choose a Beaver Builder template from the list and drag into into your layout. All that's left to do is update the design with your branding. It's that easy:
Divi's primary selling point is that they offer a variety of templates (or "layouts", as they call them) to choose from. Their goal is to offer templates for basically any type of website that you might imagine. They even go as far as to provide full website designs, including multiple page templates: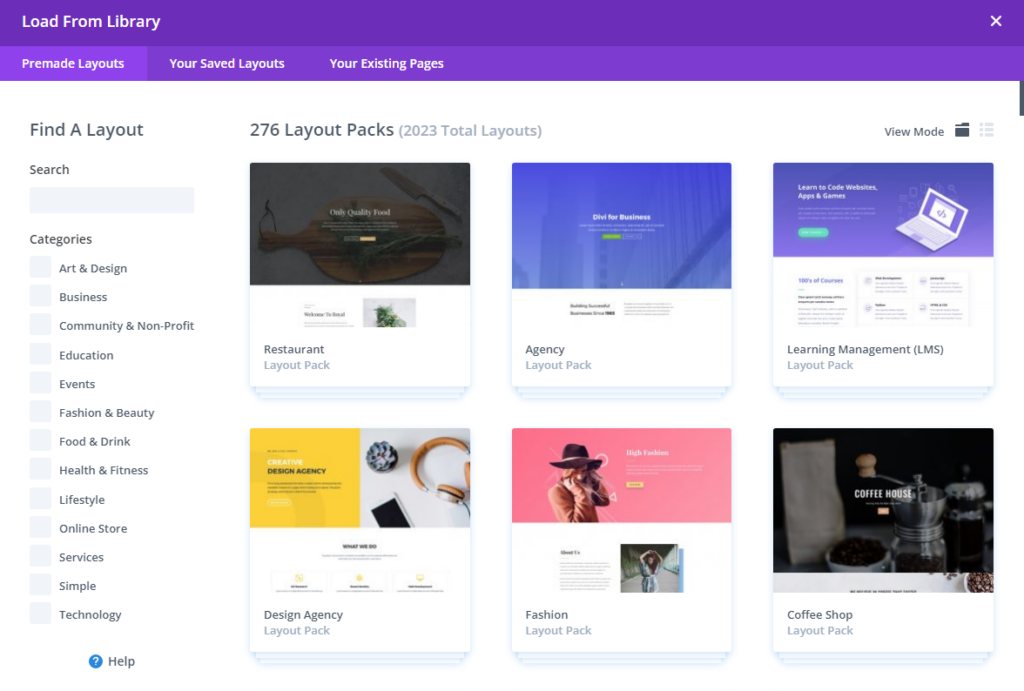 However, if you take advantage of an entirely finished website design, you run the risk of your website looking a bit generic. Since Divi templates are organized into highly specific categories, in the worst-case scenario, you may wind up using the same exact website design as a competitor without realizing it.
4. Available Modules
Modules are at the core of any page builder plugin. These "modules" are the elements that you use to build your pages. Basically, any element that you see on a modern website, from paragraphs to images and contact forms, can be available as modules depending on the plugin you use.
In terms of modules, Beaver Builder offers a selection of 33 core options: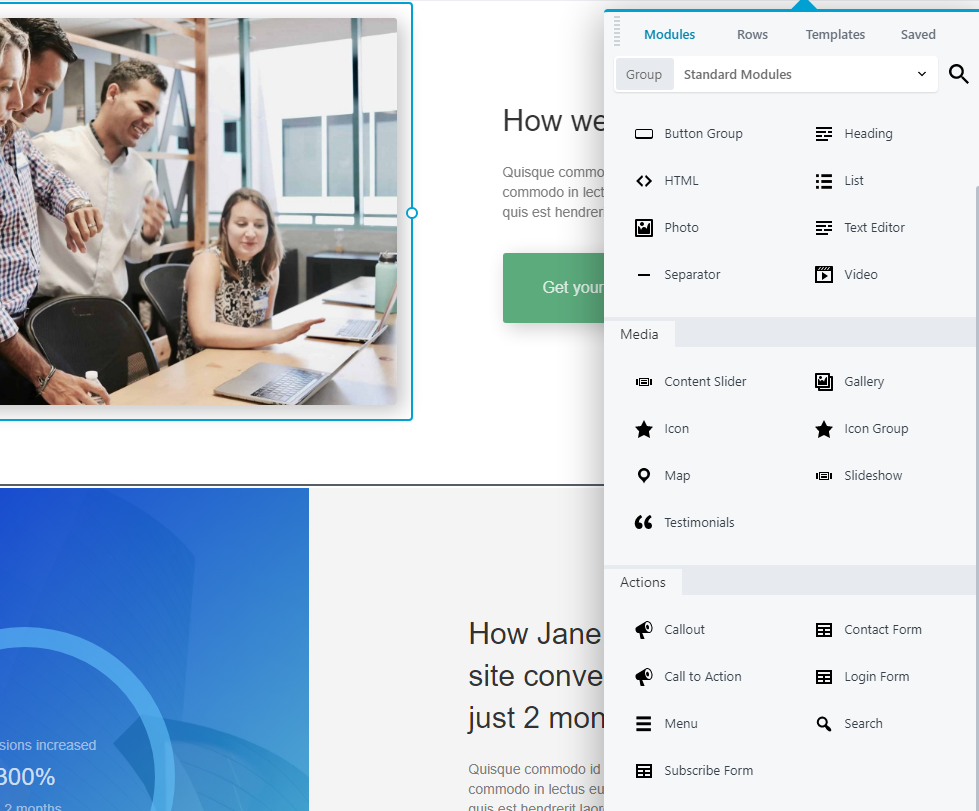 You might like to read this article, The Ultimate Guide to Beaver Builder Modules, to see a comprehensive module list. If you install WooCommerce or Beaver Themer, you will get access to even more modules specific to those plugins.
What's more, you can easily expand the selection of Beaver Builder modules using add-ons and extensions. Beaver Builder is so popular that there is a broad selection of add-ons, such as Ultimate Addons for Beaver Builder and PowerPack, that you can use to extend the plugin's functionality.
In terms of modules, Divi is comparable to Beaver Builder, offering 39 unique modules out of the box. It's also possible to get WooCommerce modules: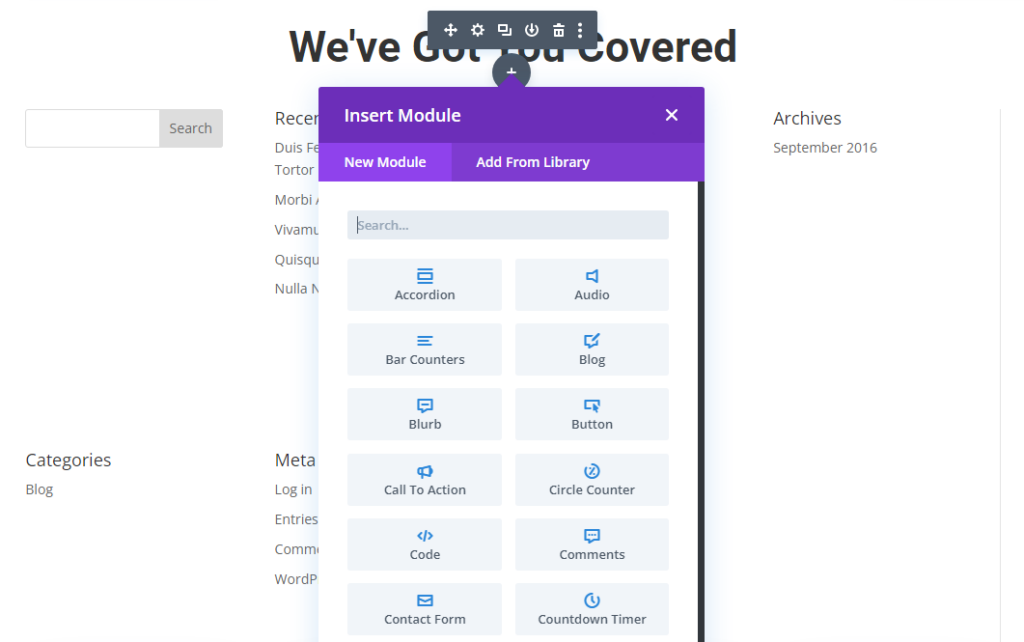 Both Beaver Builder and Divi cover pretty much all the core elements that you'd want to include in a modern website. Just as with Beaver Builder, Divi also offers the option of using add-ons.
Beaver Builder vs Divi: Which Should You Choose?
Overall, Beaver Builder and Divi offer very different page-building experiences. However, in many aspects, Beaver Builder is the more beginner-friendly option. You can use the free version of the page builder to learn how it works before purchasing a more sophisticated plan. Or, you can take the full suite of Beaver Builder products for a test drive on this demo site.
One area where Divi has a slight advantage is when it comes to templates. Simply put, Divi offers one of, if not the largest collection of templates among page builders.
Beyond that, there's the issue of performance. In our experience, Divi requires more resources in terms of web hosting performance to run smoothly. The page builder looks stunning, but it can be slow depending on your hosting plan.
This can actually counteract your efforts to create a website quickly. Beaver Builder, on the other hand, will run swiftly and smoothly on pretty much any server.
Conclusion
There is no single page builder that's perfect for every kind of project. Beaver Builder and Divi are fairly matched in terms of features and modules, so your decision may come down to performance and price.
Although Divi comes with a greater selection of templates, it doesn't offer a free version. The free version of Beaver Builder is perfectly functional, and you can use it to build modern websites without having to spend a dollar on licenses. If you do choose to upgrade to a premium license, you can get access to a great selection of modules and templates.
Related Questions
Why should I use a WordPress page builder plugin?
A WordPress page builder plugin allows you to create a website quickly without the need to know how to code. Unlike the default Block Editor, page builder plugins tend to offer a broader selection of modules as well as pre-built page templates. Moreover, most page builders, including Beaver Builder, enable you to edit your website and see your changes simultaneously on the front end of your site.
Can I use Beaver Builder for free?
There's a free version of the Beaver Builder plugin called Beaver Builder Lite. Buying a premium license gives you access to additional modules and templates, but it's not strictly necessary.
Join the community
We're here for you
There's a thriving community of builders and we'd love for you to join us. Come by and show off a project, network, or ask a question.