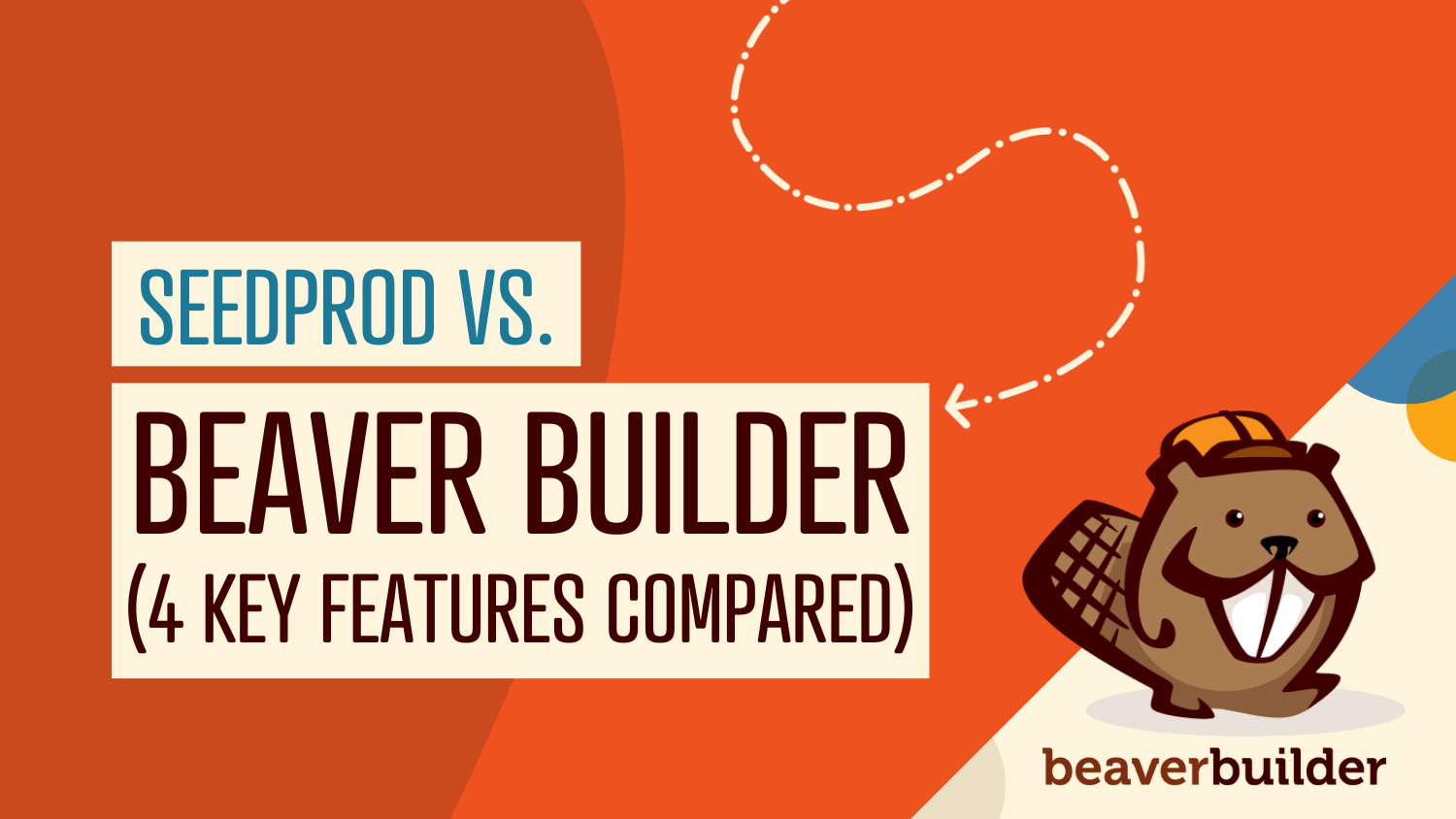 Beaver Builder vs. SeedProd: 4 Key Aspects Compared
If you have a WordPress site, you may prefer to use a page builder than the default Block Editor to design custom pages. However, you might become overwhelmed by the number of plugins available. Two well-known options are Beaver Builder and SeedProd.
In this post, we'll give you an overview of both Beaver Builder and SeedProd. Then, we'll compare the two plugins in terms of features, ease of use, template selection, and price. Let's get started!
An Introduction to Beaver Builder
At Beaver Builder, we created a flexible page builder plugin that gives you full control over your site's design. Using our drag-and-drop editor, you can build custom WordPress pages without writing any code:

After you install our plugin, you can start designing your site with our pre-made templates. You'll find designs for different purposes and themes, including landing pages for generating leads. Plus, each template is coded to be responsive regardless of your WordPress theme.
Beaver Builder also comes with helpful features for professional developers. Since it supports custom HTML, PHP, CSS, and JS, you can build unique sites for your clients. Additionally, our premium plans can be used on unlimited websites, which makes Beaver Builder a cost-effective option.
An Introduction to SeedProd
SeedProd was originally designed to help site owners create maintenance mode or coming soon pages. This way, users could work on their website without causing errors on the front end. However, SeedProd has since extended its capabilities to full website editing: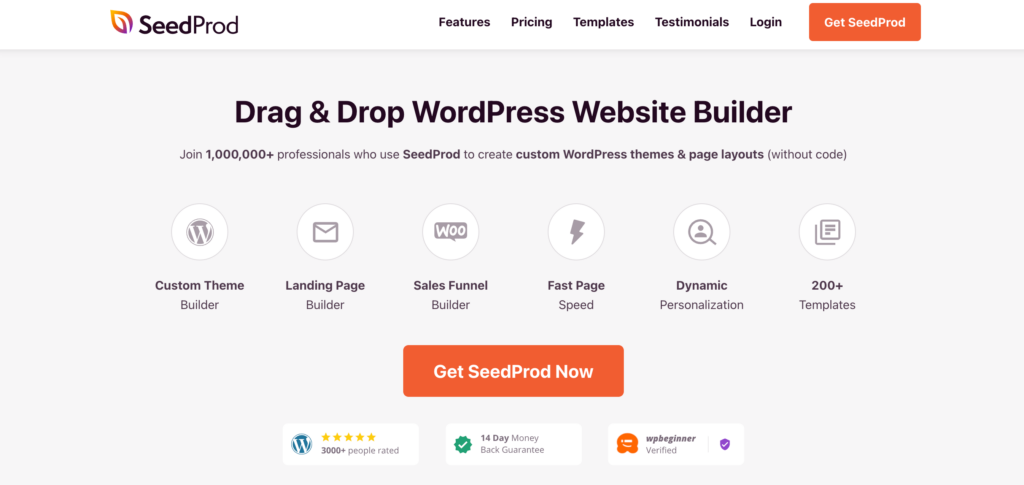 You can use SeedProd to build and edit any part of your website. Like Beaver Builder, it has a drag-and-drop interface that makes it easy to create custom pages.
SeedProd is probably best known for its landing page templates including opt-in forms, webinar pages, and more.
Beaver Builder vs. SeedProd: 4 Key Aspects Compared
Now that you're familiar with both Beaver Builder and SeedProd, let's dive a little deeper. This way, you can compare each page builder and make the right choice based on your needs.
1. Features
Let's start by comparing Beaver Builder vs SeedProd in terms of features.
Beaver Builder
Beaver Builder is one of the most feature-packed page builders you can find. It offers a wide range of tools, including:
Front-end editor. You can make changes and view their effects in real-time. This can streamline the development process and avoid the need to preview pages.
Content modules. Beaver Builder provides a large selection of modules that you can insert anywhere on a page. These include headings, photos, and text. With the premium version, you'll get access to more advanced modules, such as contact forms, media sliders, pricing tables, and more.
Page templates. You can use pre-designed templates to quickly build your pages. You'll find options for contact pages, newsletter opt-ins, and more.
Global settings. This feature enables you to implement site-wide customizations such as button styles or a default row width.
Custom modules: You can create your own Beaver Builder modules to use on your site.
Widgets and shortcodes: Beaver Builder supports WordPress and WooCommerce widgets, as well as custom shortcodes. These features can help you add engaging elements to your website.
Multisite capability: You can use Beaver Builder to customize each individual website on a network.
You'll also find that the Beaver Builder editor is easy to use. Its clean interface is responsive, enabling you to undo or redo revisions as necessary. Additionally, it is coded to be lightweight, so you don't have to worry about the plugin slowing down your website.
SeedProd
As mentioned earlier, SeedProd specializes in landing pages. Each of its 150 templates has bloat-free code, making them responsive, mobile-ready, and easy to customize.
However, SeedProd's features go beyond landing pages. These include:
Drag-and-drop page builder: Similar to Beaver Builder, SeedProd supports easy drag-and-drop editing.
WordPress blocks: Also, like Beaver Builder, you can use elements like contact forms, navigational menus, WordPress widgets, and social media icons on any page.
Block templates: You can use block templates to instantly customize your content.
Draft mode and live previews: You can make edits privately until you're ready to publish, and access live previews of the page regardless of its state.
Custom CSS: This feature enables you to add custom CSS code or snippets to any page, so you can further customize its design.
Pre-designed maintenance pages: Along with landing pages, SeedProd provides pre-made templates for coming soon announcements, maintenance mode messages, and 404 error pages.
Since SeedProd was designed to create landing pages, it includes several tools to help you boost conversions. Plus, it comes with WooCommerce integration, subscriber management, and spam protection.
2. Ease of Use
Before you select a page builder, it's important to evaluate its ease of use. With the right plugin, creating new pages can be a straightforward process.
Beaver Builder
After you install Beaver Builder, you can add a new post or page. Then, you can click on Launch Beaver Builder to open the drag-and-drop editor: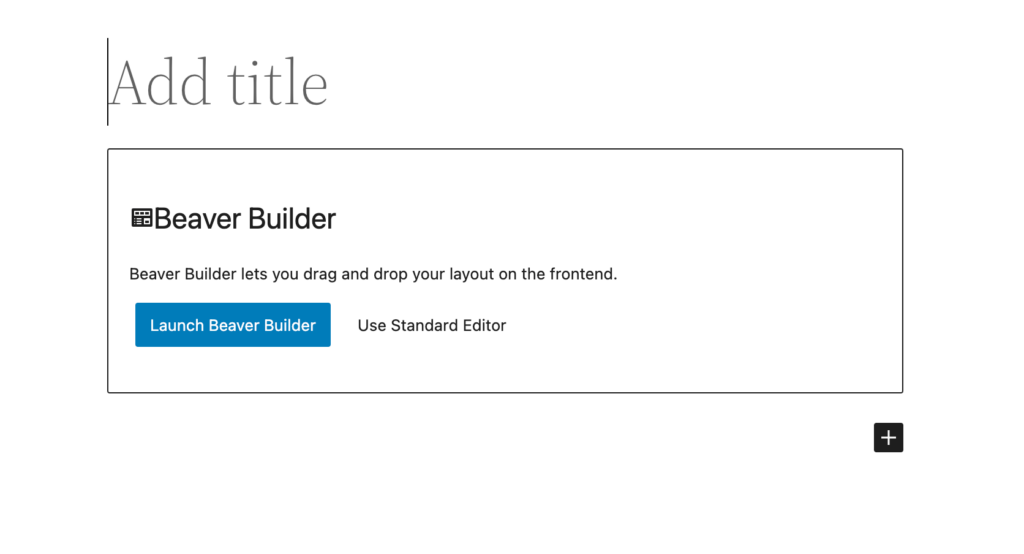 Next, select the + icon. This will display a list of modules that you can insert anywhere on the page: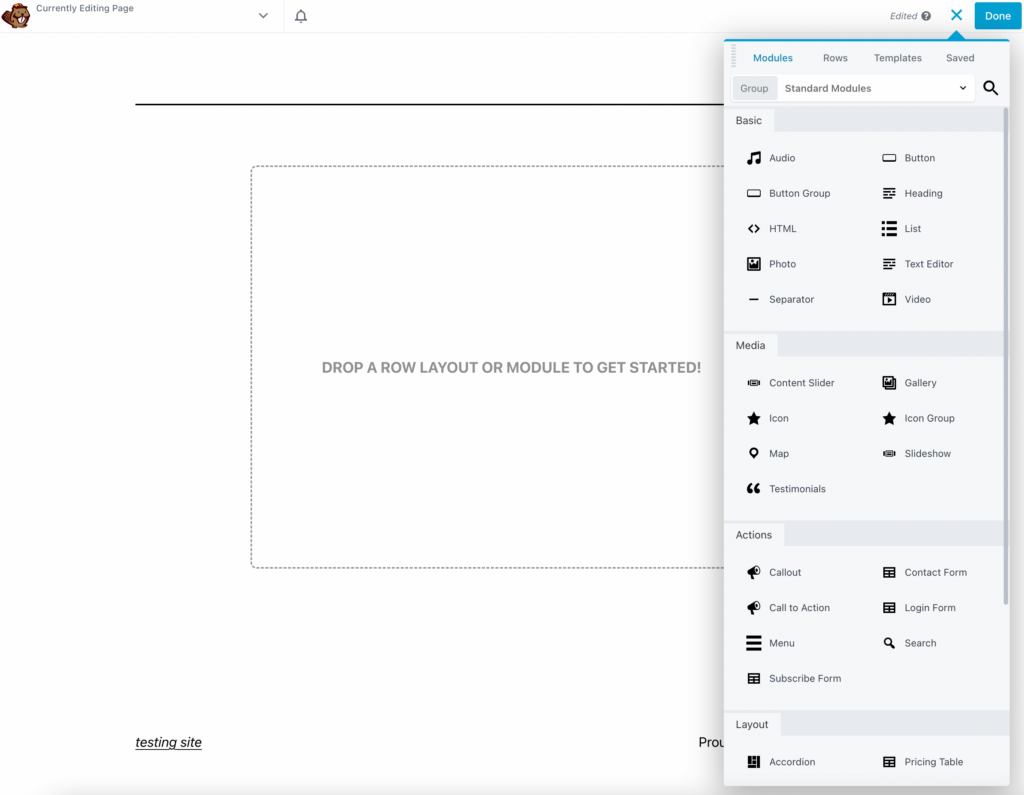 As a beginner, you may want to use a pre-designed page template to kickstart the design process. To do this, navigate to the Templates tab and select either Landing Pages, Content Pages or Micro Pages: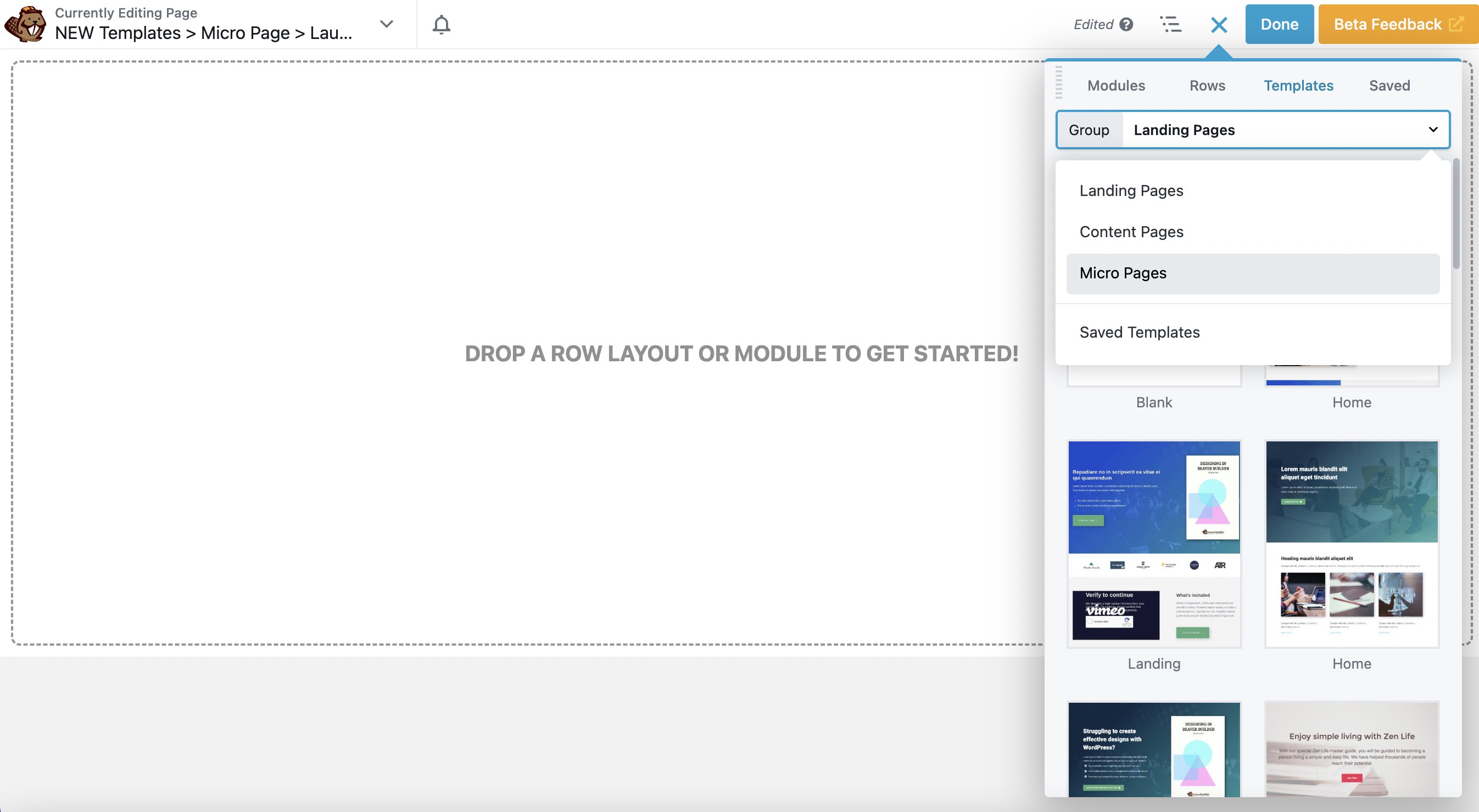 Once you find a template that you like, go ahead and click on it. This will automatically format the page with your selected design: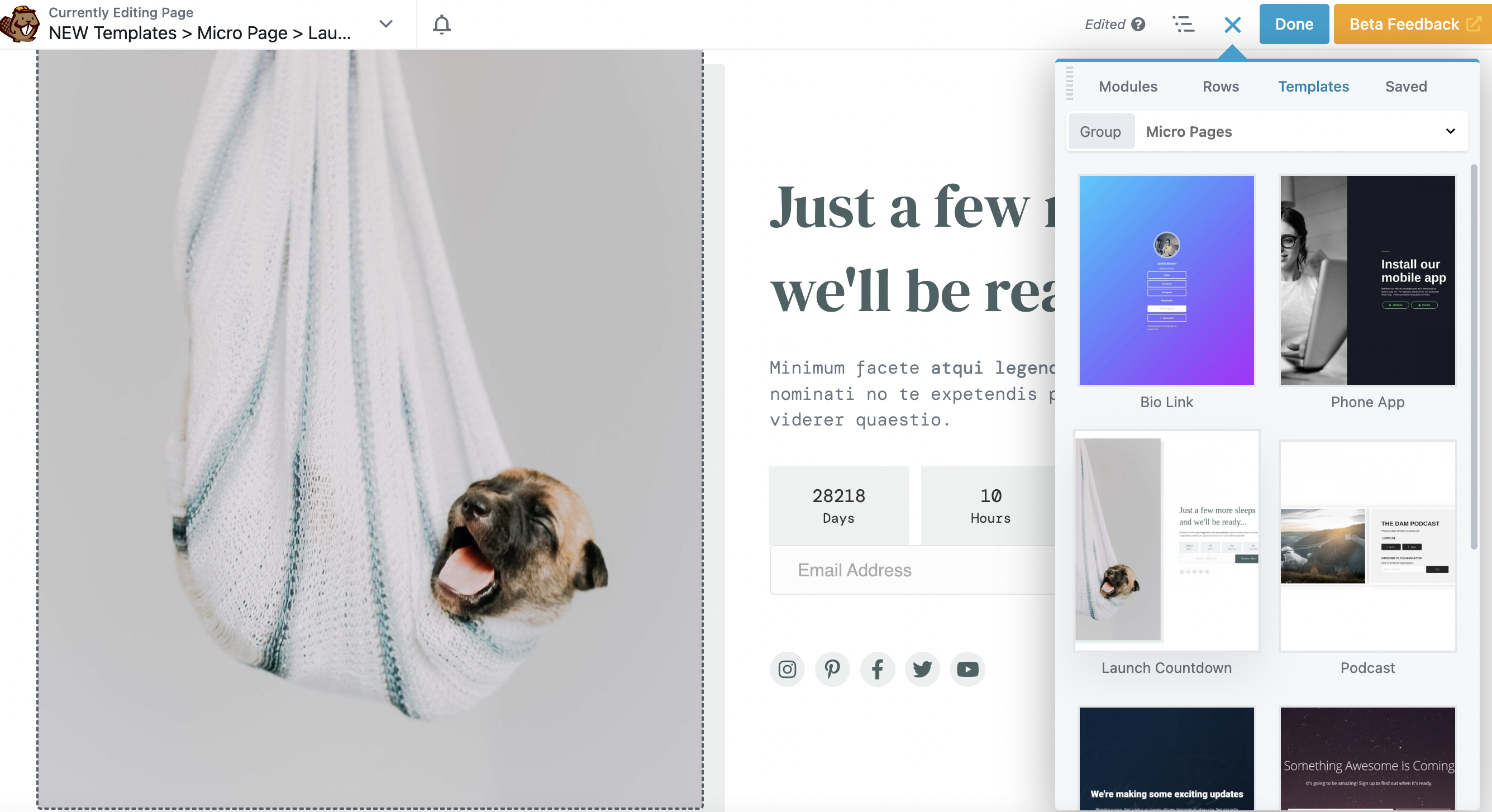 To make your page unique, you can simply select any module and configure it to your liking:
You can also add and remove modules as you wish. This process of starting with a Beaver Builder template makes creating your pages and posts quick and efficient!
SeedProd
If you're using SeedProd, the design process is a bit different. Once you install the plugin, you'll need to navigate to Landing Pages > Add New Landing Page to get started: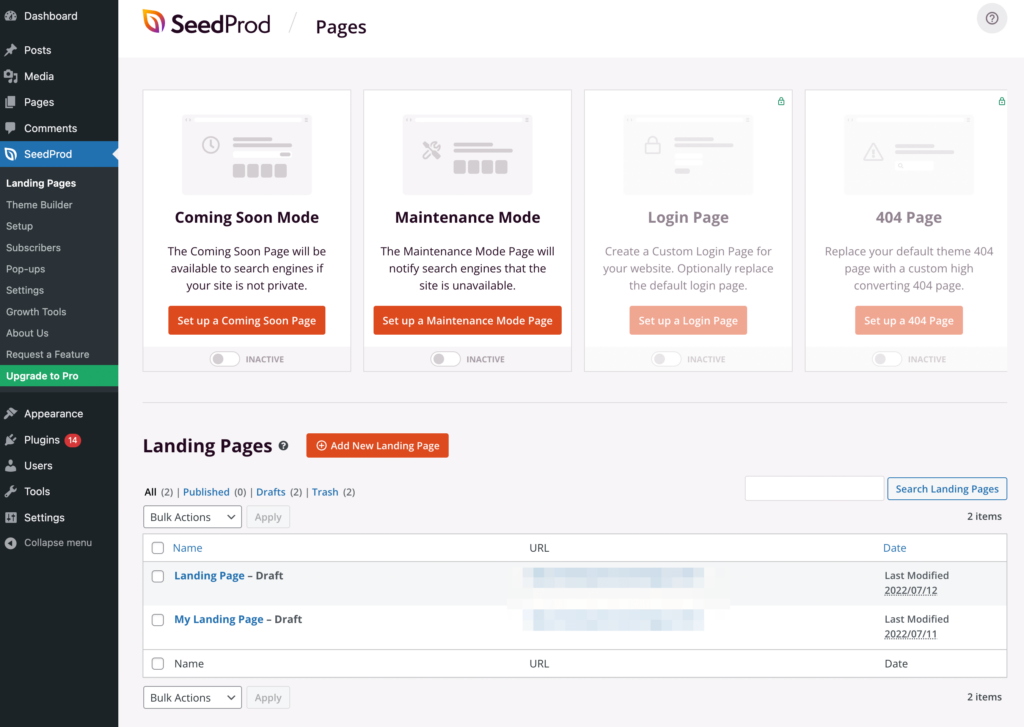 Then, you can select a page template: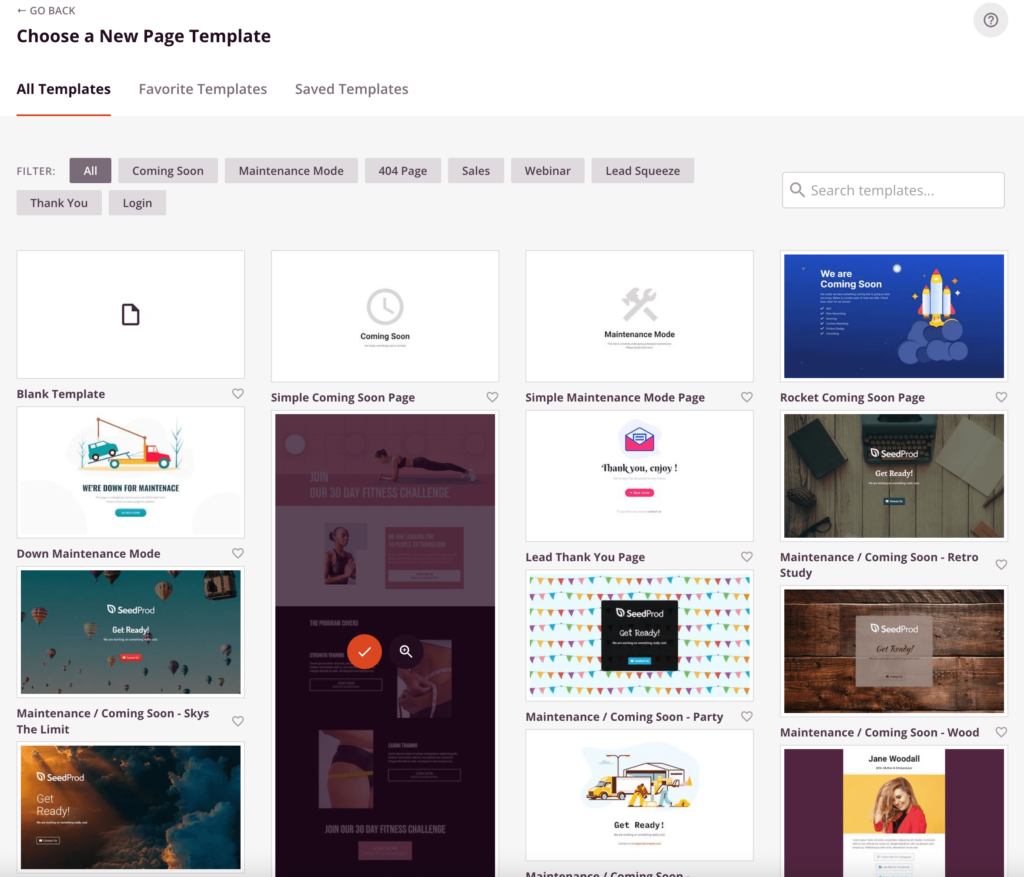 In the SeedProd editor, you can drag and drop content blocks onto the page, and use pre-made sections: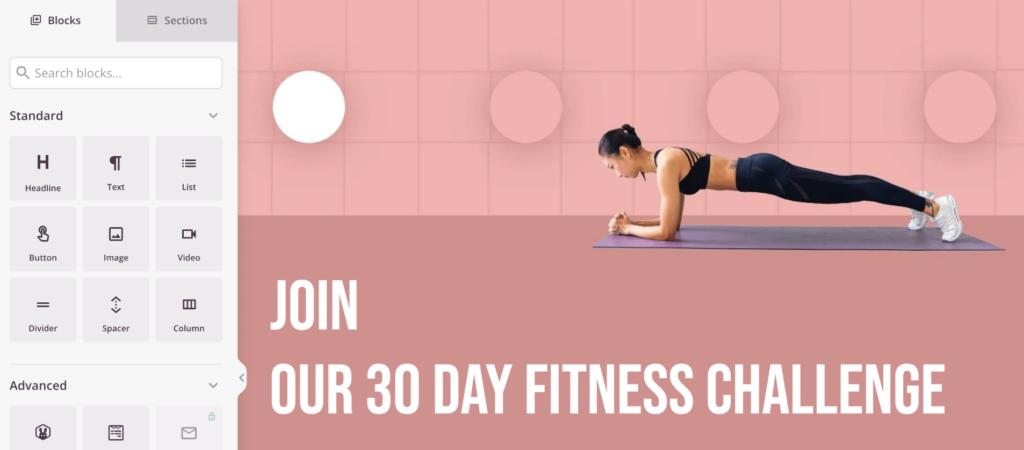 Both Beaver Builder and SeedProd provide simple ways to edit WordPress pages. However, Beaver Builder includes all the customization options in the editor. With SeedProd, you'll have to select templates and edit them from different parts of your WordPress dashboard.
3. Template Selection
If you don't want to design a page from scratch, templates can be a useful feature. Often, the best page builders include a variety of pre-designed layouts to help you get started.
Beaver Builder
With Beaver Builder, you can choose from a wide selection of WordPress templates. These are divided into three main categories: landing page templates, content templates and micro page templates.
Regardless of your niche, our templates can help you make a great first impression. You'll find options for small businesses, portfolios, restaurants, universities, and more: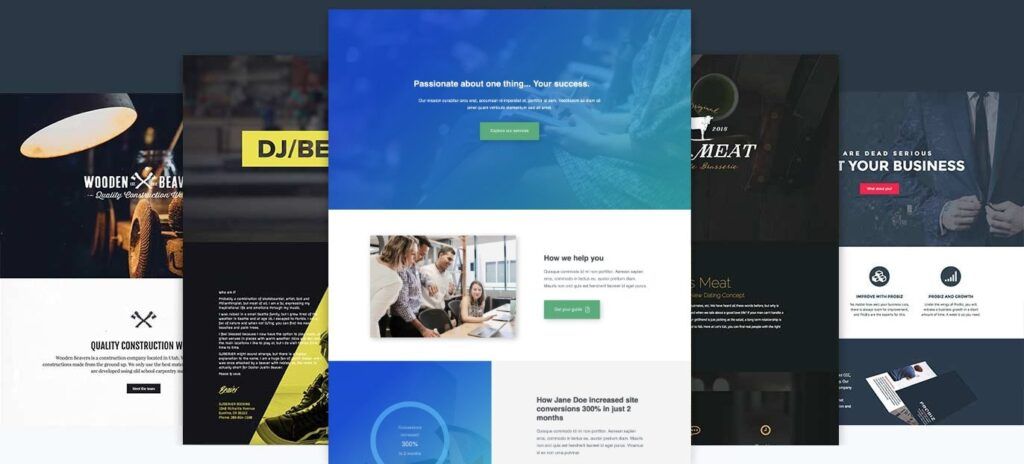 You can also use Beaver Builder to automatically design other areas of your website. Our content page templates can help you format the following pages with ease:
About
Services
Contacct
FAQs
Offer
Download
Case Study
Webinar
Thank You
Blog
Pricing
Here is an example of an Offer content page template: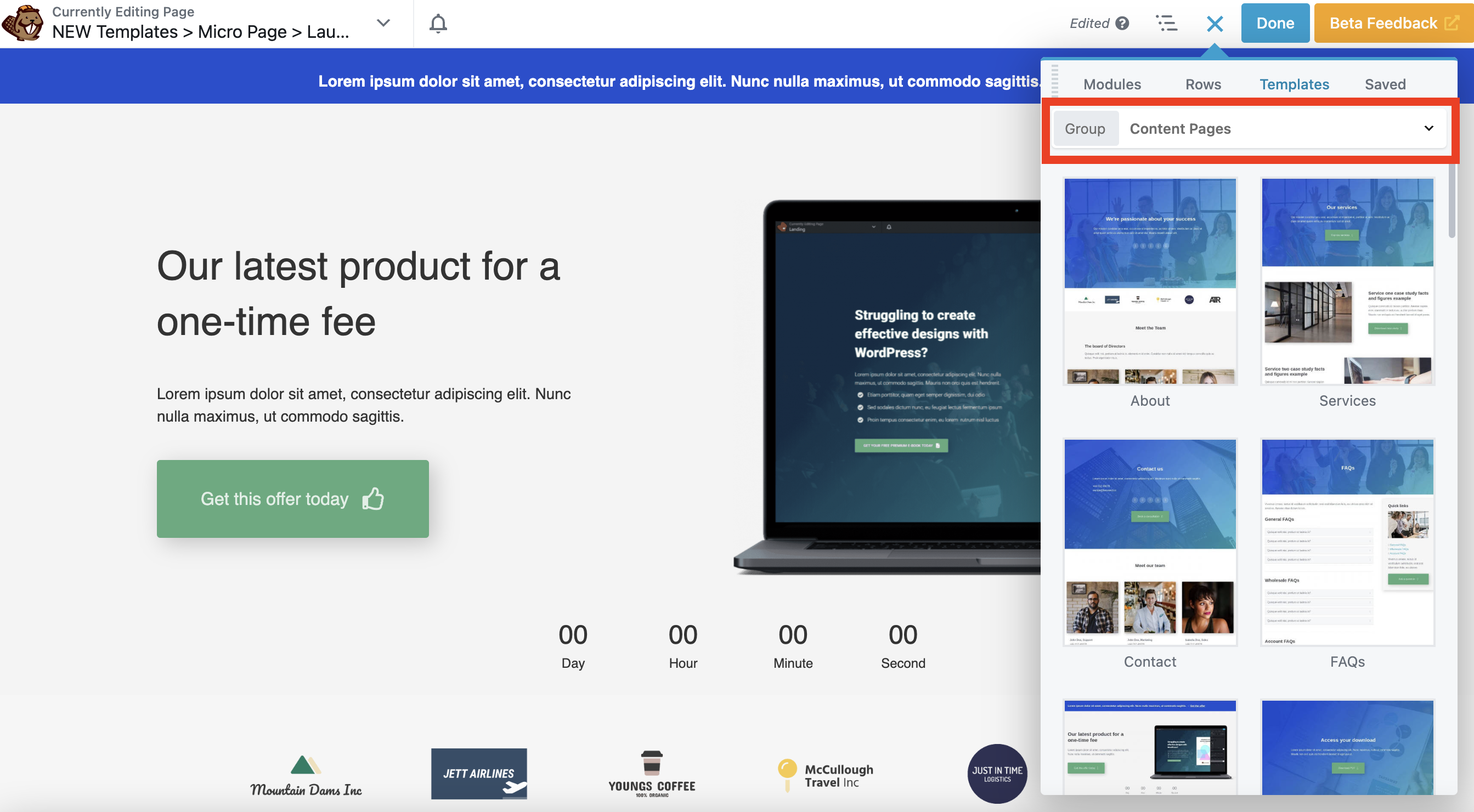 All of these templates give you a starting point for your design and can easily be customized to suit your needs. You can quickly import all of your website's basic content pages in just a few minutes!
SeedProd
SeedProd also provides a number of templates that you can use. For instance, you can choose from maintenance mode and coming soon pages: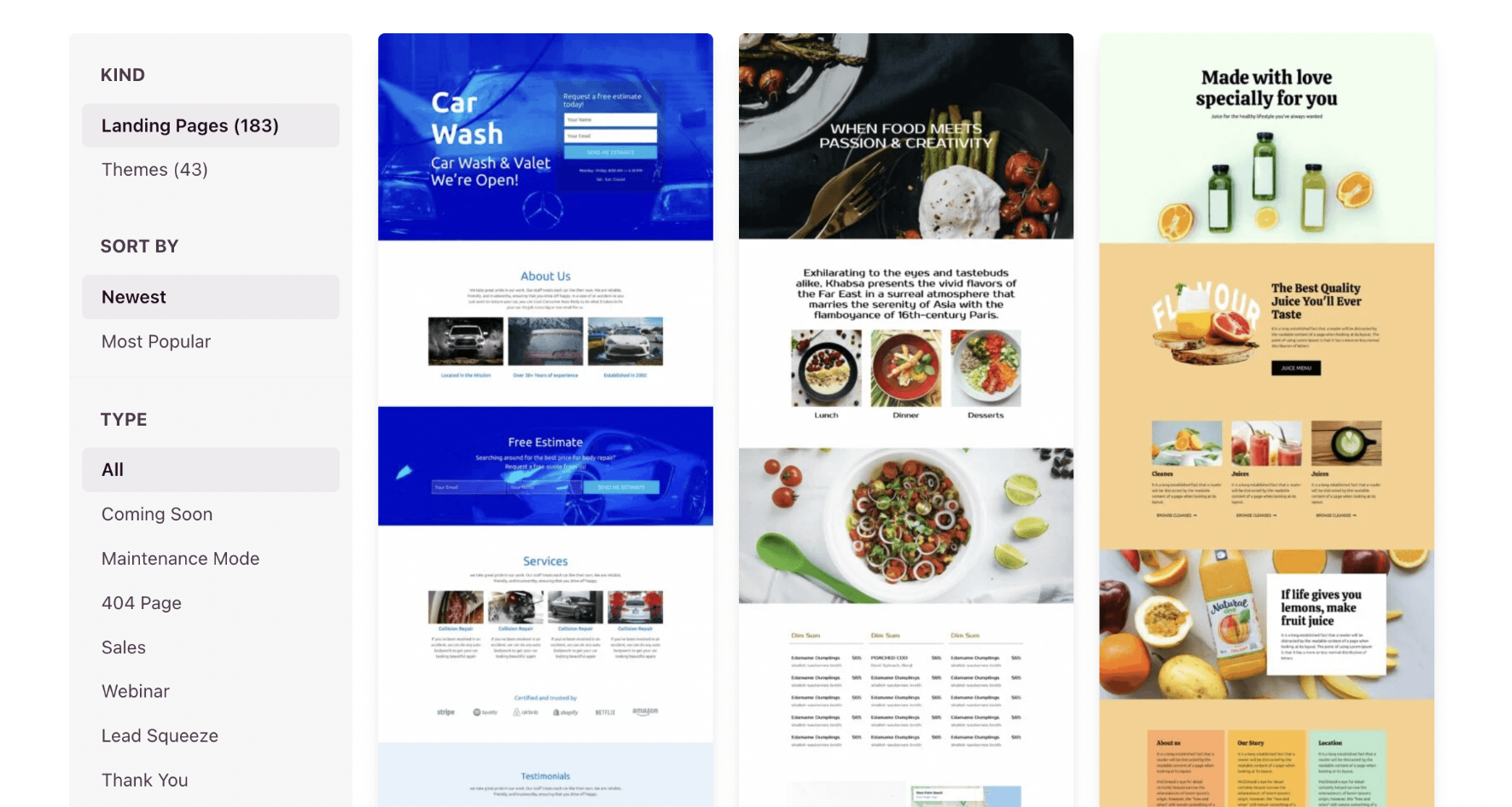 Plus, SeedProd designed these templates to help you increase conversions. Many of the Lead Squeeze and Sales page layouts contain opt-in forms and other ways to engage customers.
Although SeedProd offers more templates than Beaver Builder, you'll only be able to access them with the highest-tier plans. Meanwhile, Beaver Builder will provide all the templates you need with the Standard package.
4. Pricing
Whether you're a freelance developer or small business owner, you'll likely want to find the most cost-effective page builder. Fortunately, both Beaver Builder and SeedProd have free versions.
Beaver Builder
Beaver Builder Lite includes many free content modules, such as photos, buttons, headings, and more. You'll also be able to use widgets, shortcodes, and CSS classes:

If you need more advanced features, you can purchase a Beaver Builder premium plan: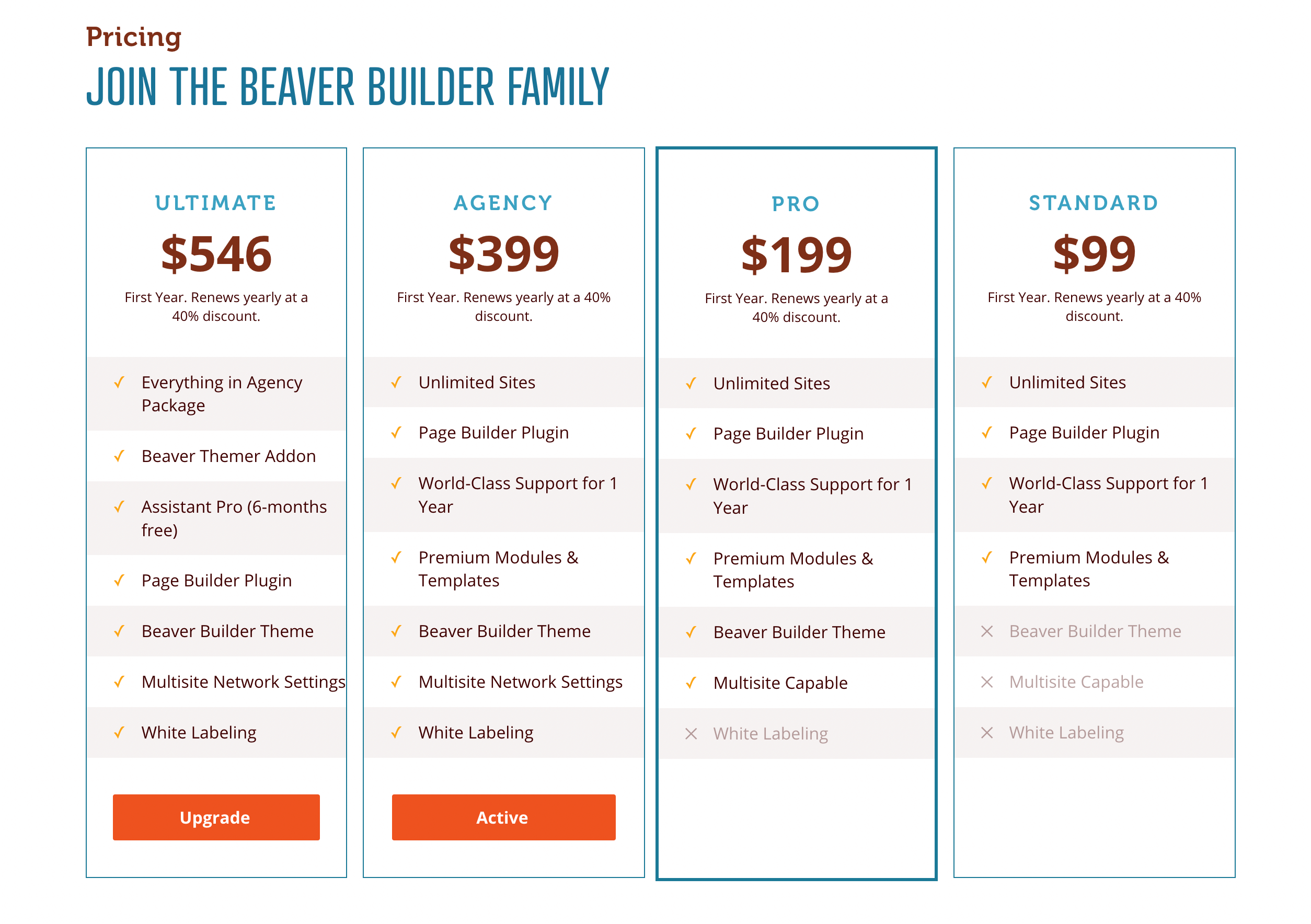 This provides access to a full set of premium modules and layout templates that can be used on unlimited websites. Our plans start at $99 for the first year.
SeedProd
Website Builder by SeedProd is the free version of SeedProd. This includes a few basic page templates for coming soon, maintenance mode, sales, lead generation, and thank you pages. However, you'll need to purchase a premium version to access more templates and features: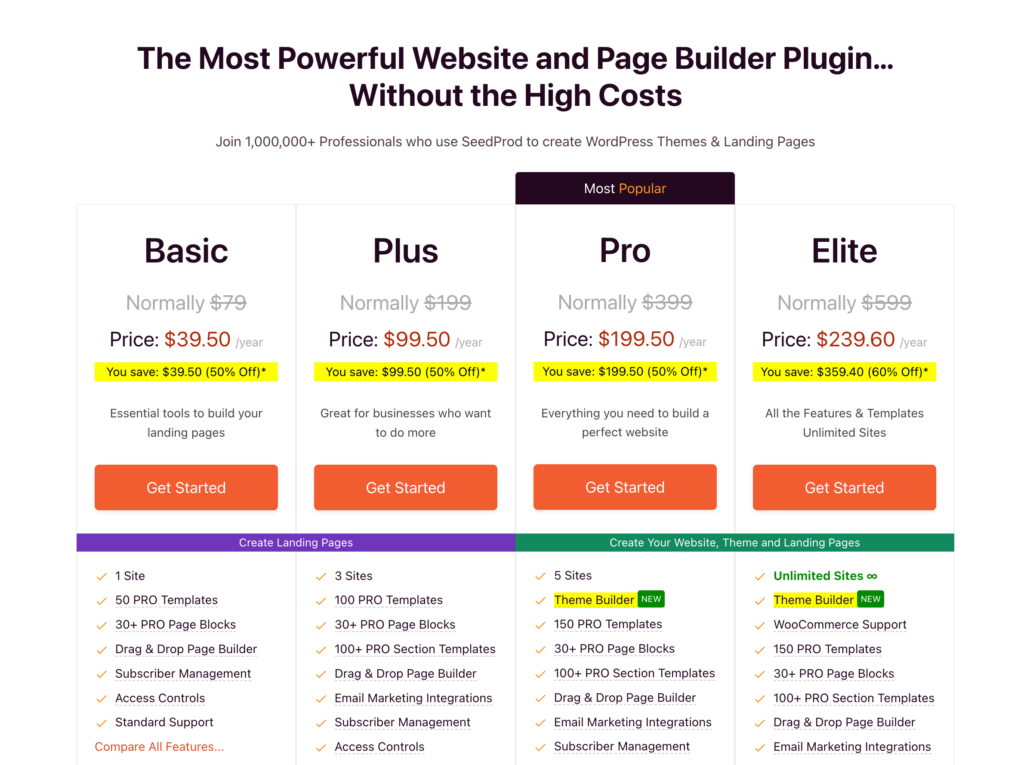 Beaver Builder is the most cost-effective option. Although SeedProd offers cheaper plans, any version of Beaver Builder can be used on unlimited websites. Plus, you can access the complete set of modules and templates with our lowest plan.
Beaver Builder vs. SeedProd: Which Should You Choose?
Selecting a page builder can either help or hinder your design process. To help you choose between Beaver Builder and SeedProd, let's compare their entry level features:
| | | |
| --- | --- | --- |
| Feature | Beaver Builder | SeedProd |
| Drag-and-drop editor | Yes | Yes |
| Content modules/blocks | Yes | Yes |
| Conversion-ready landing pages | Yes | Yes |
| Pre-designed content page templates | Yes | No |
| WooCommerce integration | Yes | Yes |
| Multisite capable | Yes | No |
| Unlimited websites | Yes | No |
Ultimately, this choice will depend on how you plan on using the page builder. For instance, if you need a plugin designed specifically for high-converting landing pages, SeedProd can be an effective option.
However, you may want to consider using Beaver Builder as a more flexible option. Using this tool, you can customize every area of your website. Plus, we offer a more comprehensive set of modules and templates in our plans.
Pricing is another factor to consider. Although SeedProd provides cheaper plans, it restricts many of its templates to the more expensive subscriptions. Since our standard plan includes all premium modules and templates for unlimited websites, Beaver Builder can be a better choice.
Conclusion
When you need a functional, easy-to-use page builder for your website, you can't go wrong with either Beaver Builder or SeedProd. Both of these plugins have drag-and-drop interfaces, page templates, and customizable coding.
If you're only building landing pages, SeedProd can offer a wide range of templates and conversion tools designed for this task. However, Beaver Builder is a more flexible page builder that provides more value for its cost. With a Beaver Builder plan, you can use premium page templates and modules on as many websites as you want. This makes it a better option for designers and developers!
Related Questions
Who Would Benefit from Using SeedProd?
SeedProd can be an effective tool for those who need a free landing page builder. Since it provides conversion-optimized templates, SeedProd can help you generate more leads through your site. However, keep in mind that the advanced features are restricted to its more expensive plans.
Who Would Benefit from Using Beaver Builder?
Beaver Builder is a page builder that suits beginners and developers alike. With a drag-and-drop interface and pre-designed templates, this page builder is incredibly easy to use. Plus, it supports custom coding, which can be beneficial for advanced users.
Join the community
We're here for you
There's a thriving community of builders and we'd love for you to join us. Come by and show off a project, network, or ask a question.