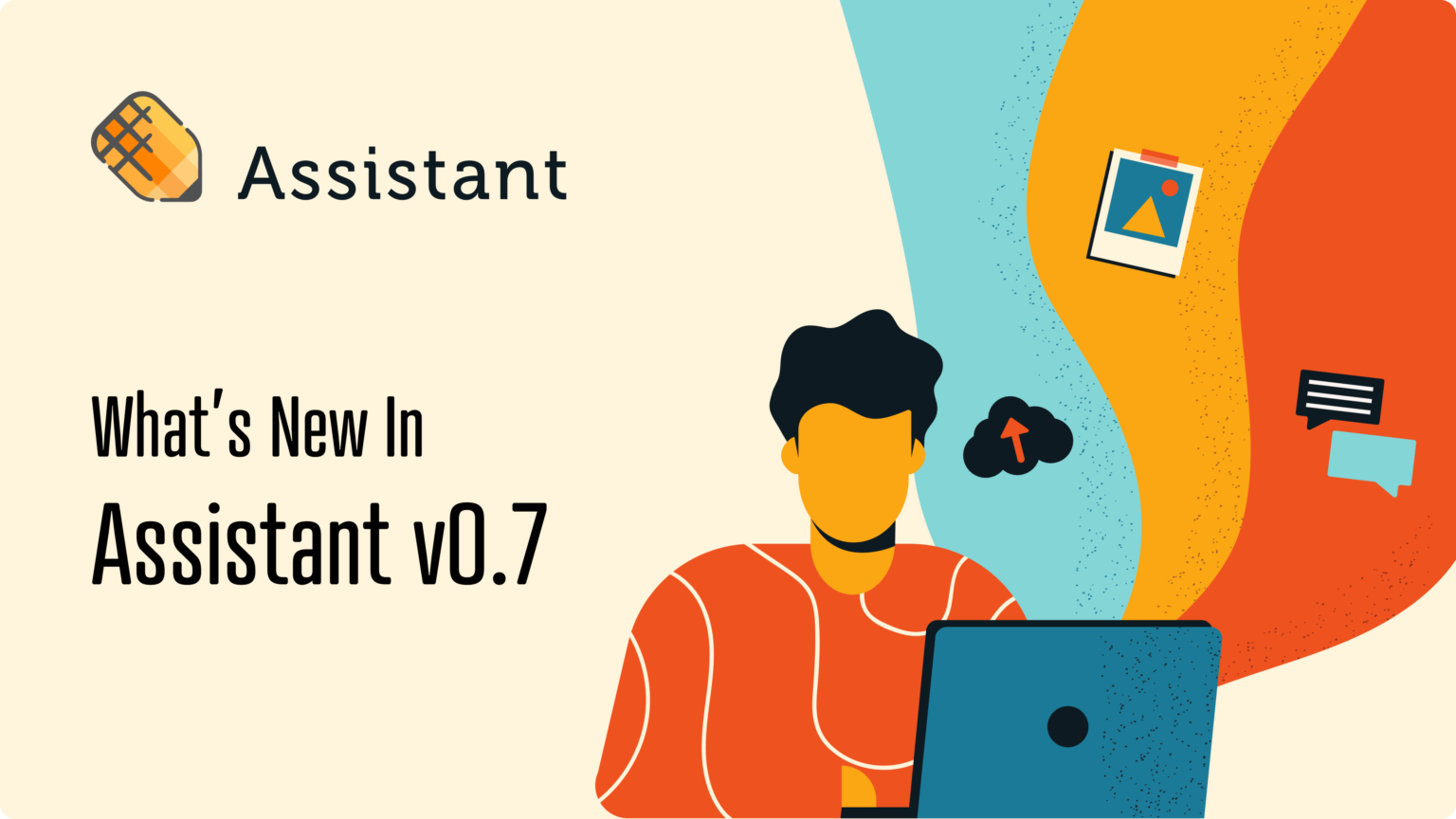 If you're a Beaver Builder user, chances are you're also familiar with our Assistant plugin. This tool recently underwent an update, and there are a lot of new features to explore. Fortunately, we have all the information you'll need right here.
In this article, we'll introduce you to the Assistant plugin. We'll also touch on why it pairs so well with our page builder tool. Then we'll cover six key changes in Assistant version 0.7 that you should be aware of. Let's dive right in!
Check out this video that walks you through Assistant plugin and Assistant Pro
An Introduction to the Assistant Plugin
Our company is probably best known for our page builder solution: Beaver Builder. However, we do a lot more. For instance, we created the Assistant plugin as an intuitive tool for all WordPress users:

Normally, most changes to WordPress sites have to be made on the back end. While this isn't hard to do, it can also interrupt your workflow.
That's why we made Assistant. This plugin lets you perform administrative tasks from the front end of your site, streamlining your work process.
Best of all, you can get all of these features at no cost. Assistant is a 100-percent free plugin and we have no plans to charge for the core features. As such, it's a tool available on any budget.
When you install Assistant, it adds a new sidebar panel to your front-end view. Don't worry about your visitors, though – only you and people who have access to login into the site can see it: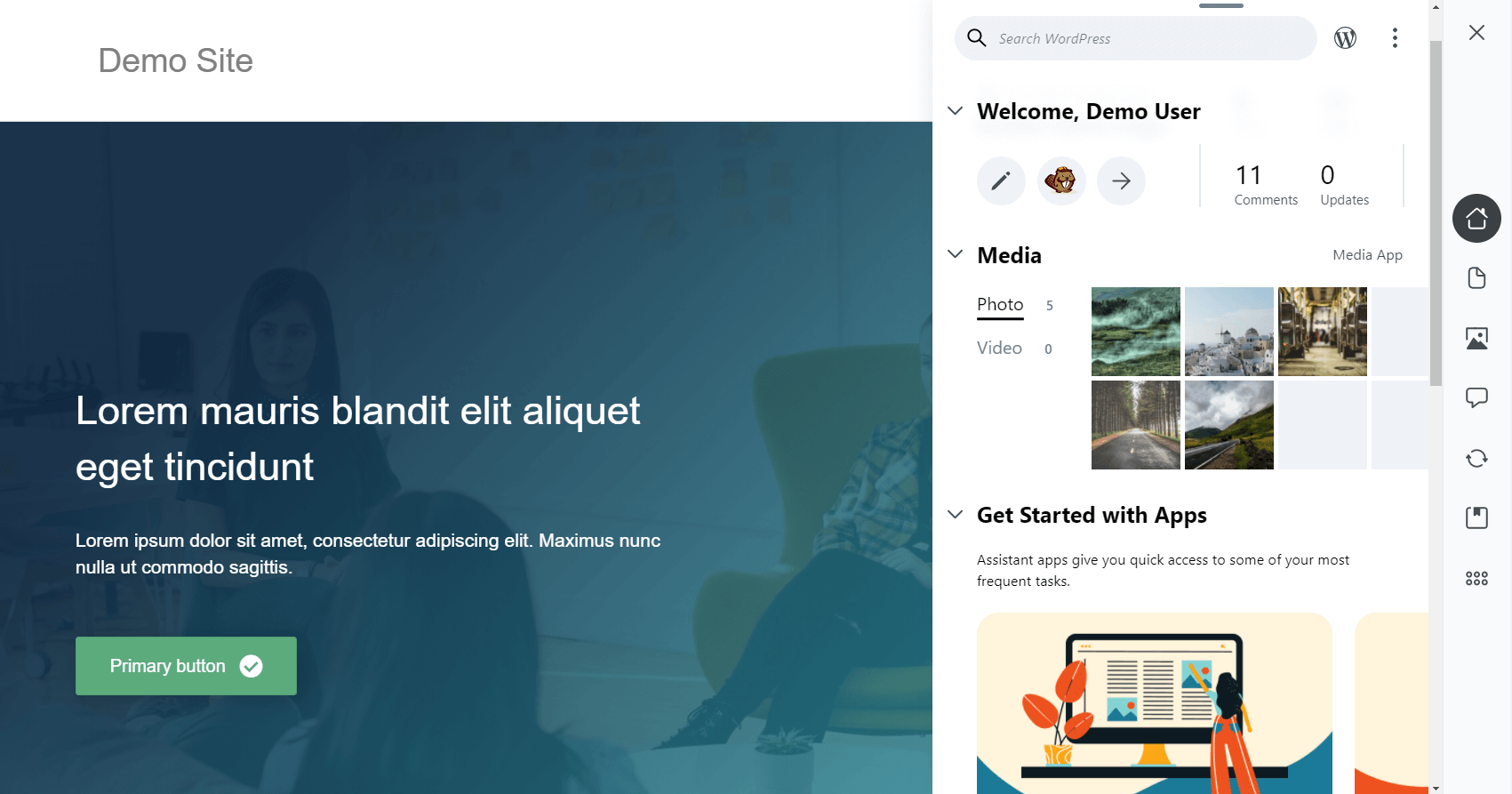 This compact sidebar packs a big punch. From comment editing to post labeling, it helps you improve your site administration. If you want a better idea of how you can use Assistant on your site, check out this article for some practical inspiration.
Why the Assistant Plugin Can Make Beaver Builder Even Better
Beaver Builder is our drag-and-drop page builder. It's easy for beginners to use but also advanced enough for professionals.

The builder's intuitive design means you don't need to know a single line of code. To create layouts, you simply place modules where you want them and add the content.
As you might expect, we're big fans of our plugins. Nevertheless, we want to add a disclaimer here: you don't need Beaver Builder to use Assistant. This tool works flawlessly regardless of your page builder, even without one.
Because Assistant is developed by the Beaver Builder team, the two programs have been optimized to work seamlessly together. Both solutions are focused on easy, front-end editing.
Especially for designers and developers, the combination of these tools can be a powerful asset. Not every client you work with is tech-savvy. By providing them with both Assistant and Beaver Builder, you give them more control over their sites without requiring high-level knowledge while protecting important settings in the admin area from accidental edits.
Assistant continues to evolve just like Beaver Builder. We're always on the lookout for ways to make our programs more efficient and easier for you to use. There's a lot of potential for how these two plugins can continue to work together in the future.
Assistant Version 0.7 Release Update: 6 Key New Features
Developers often update their plugins to address minor fixes and security concerns but we've also added a collection of impressive new features for version 0.7. Here's a breakdown of what's changed.
1. Adjustable Panel Size
One of the major goals of Assistant is to make your front-end editing easier, so we've given you more control over your site by making your menu panel adjustable.
Before version 0.7, you could already switch the menu between the left and right sides of the screen but the width was fixed. If your preferences didn't match the default sizing, this could get in the way of your work.
Now all you have to do is click and drag the border. You can make the panel very narrow to accommodate full-page designs: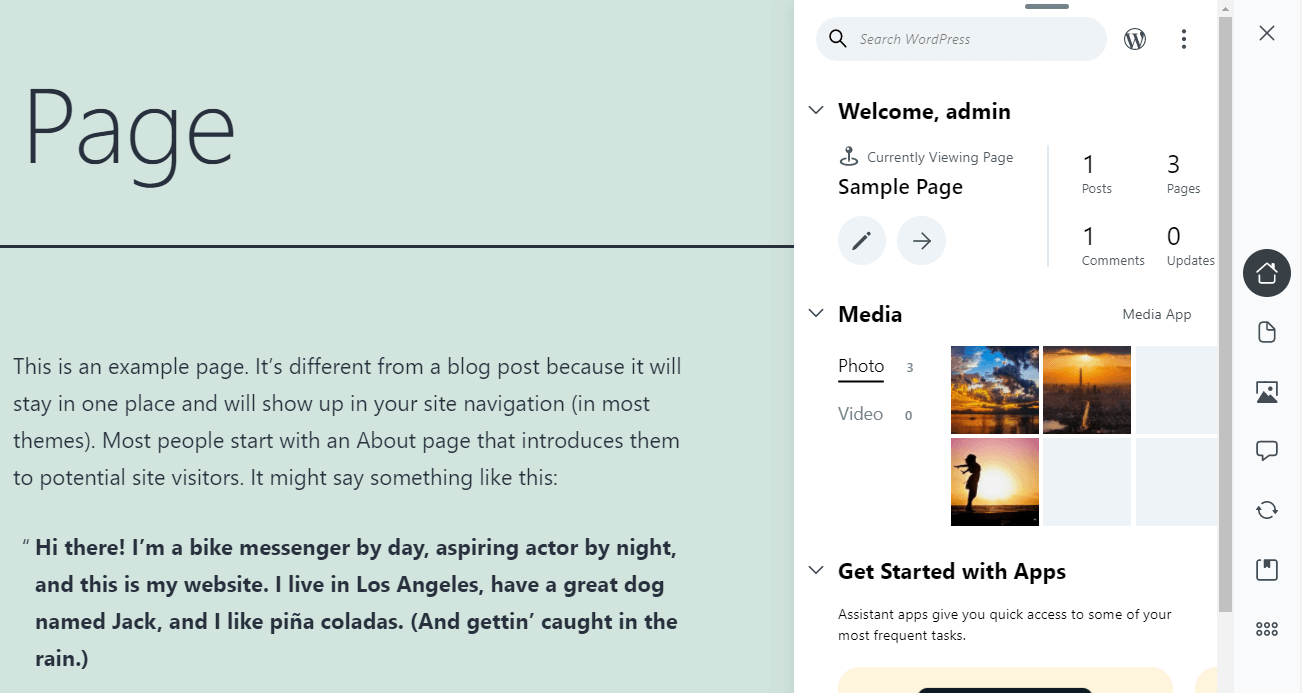 Alternatively, you can expand it out if you prefer a bigger panel: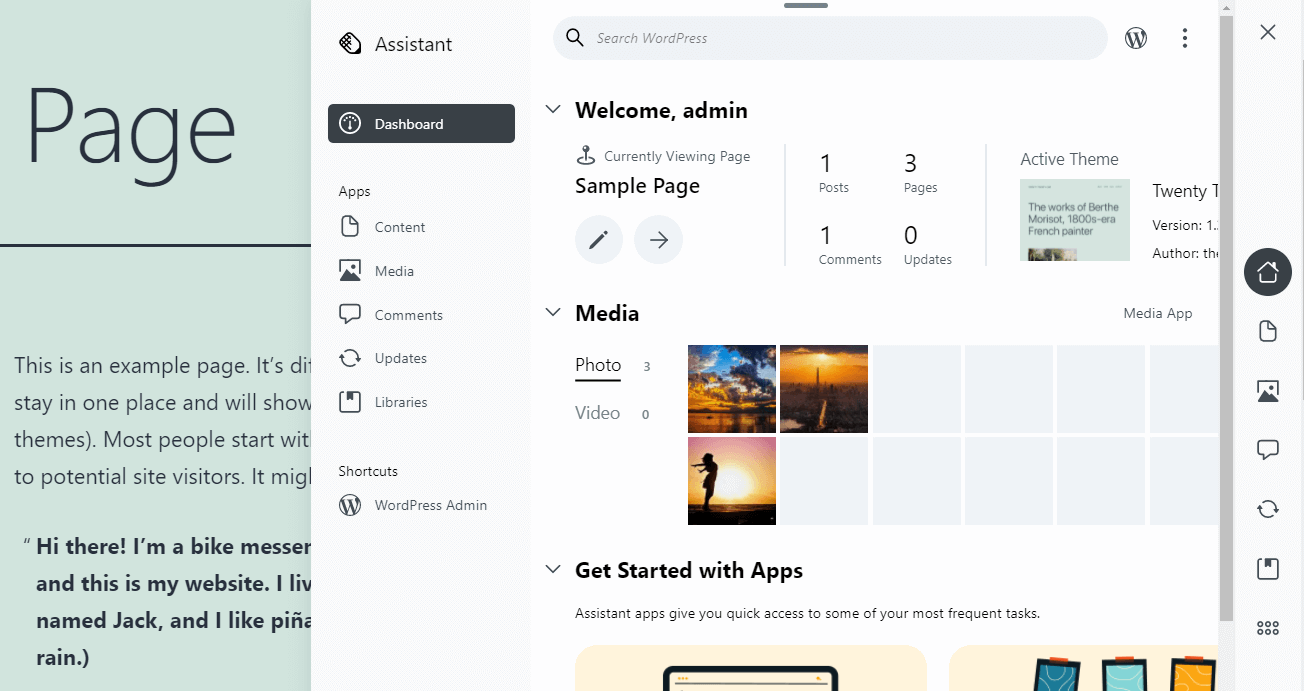 It's a quick and easy adjustment to stretch the panel in or out as necessary. The width setting only affects the user who sets it, so any other WordPress administrator can configure their own settings.
To achieve the best results, consider using the adjustable panel size along with other menu display options. For example, Assistant also features a dark mode. If you want a larger menu that's a little easier on the eyes, expanding the panel while using a darker color scheme may be the ticket.
To activate dark mode, click the three vertical dots in the upper-right corner to see an option for Dark Color Scheme: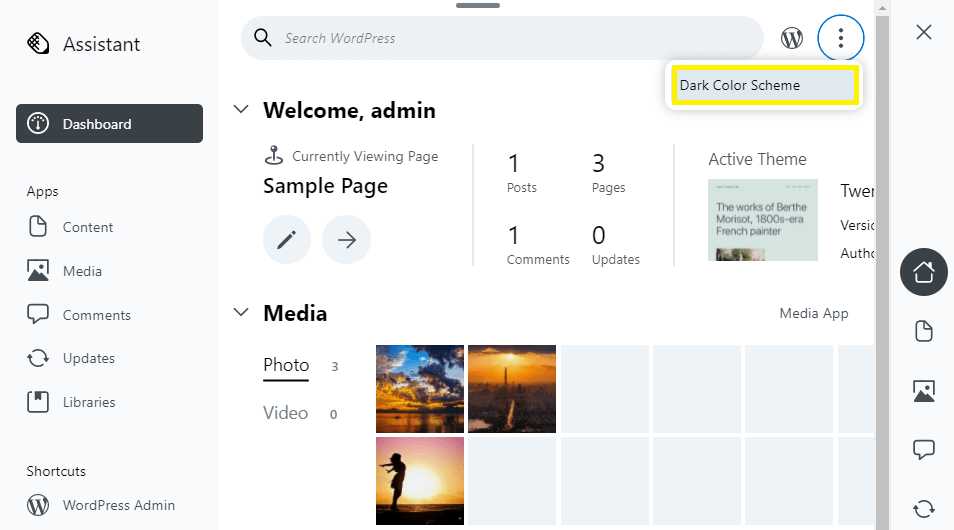 Repeat the process to change back. We encourage you to play around with the settings. Assistant is supposed to support your work – so don't be afraid to make it your own!
2. A More Intuitive Home Screen
If you've used Assistant before this update, you probably remember the home screen looking a little different. In the past, it functioned via a block layout: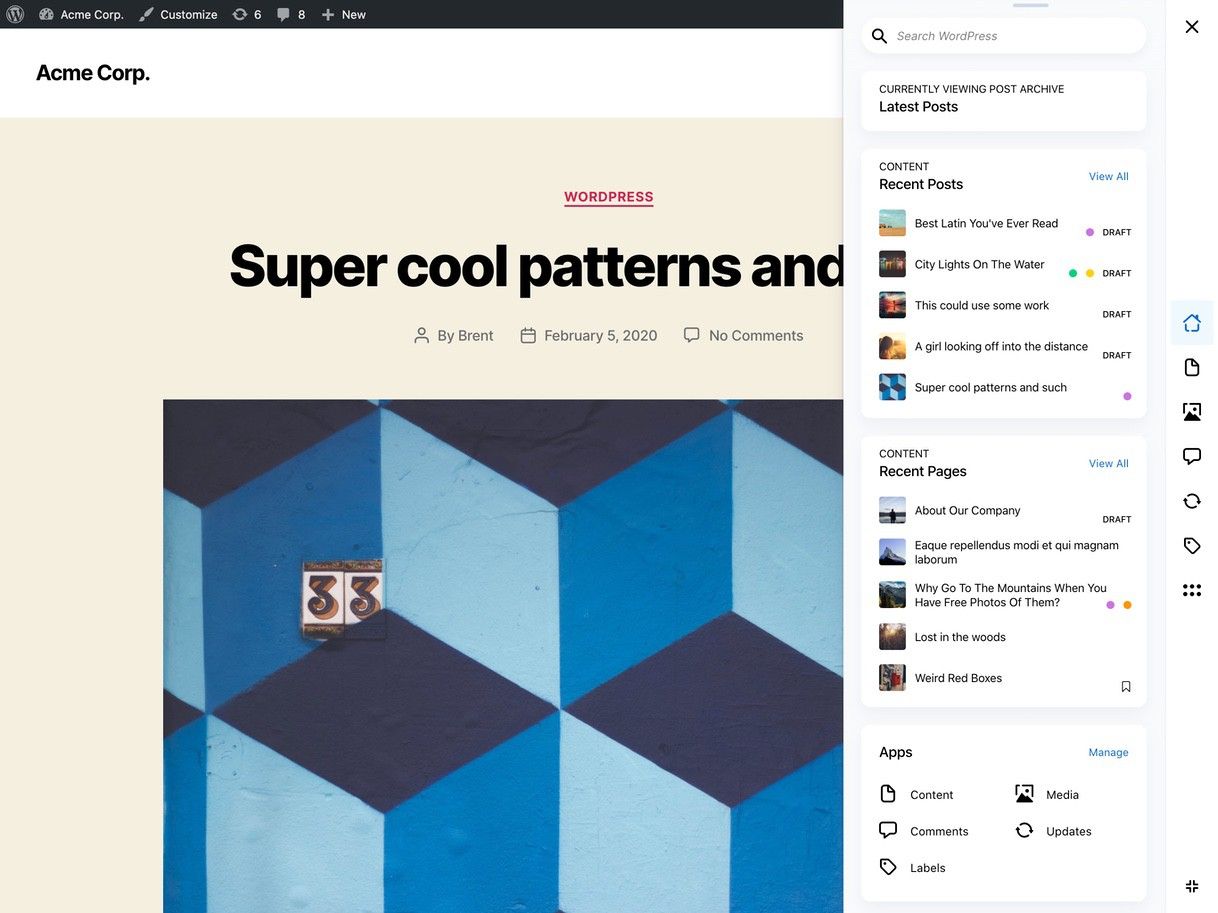 While this kept things organized, we also felt that we could make it a little more intuitive. So, we did just that! Here's another glance at what our new home screen looks like: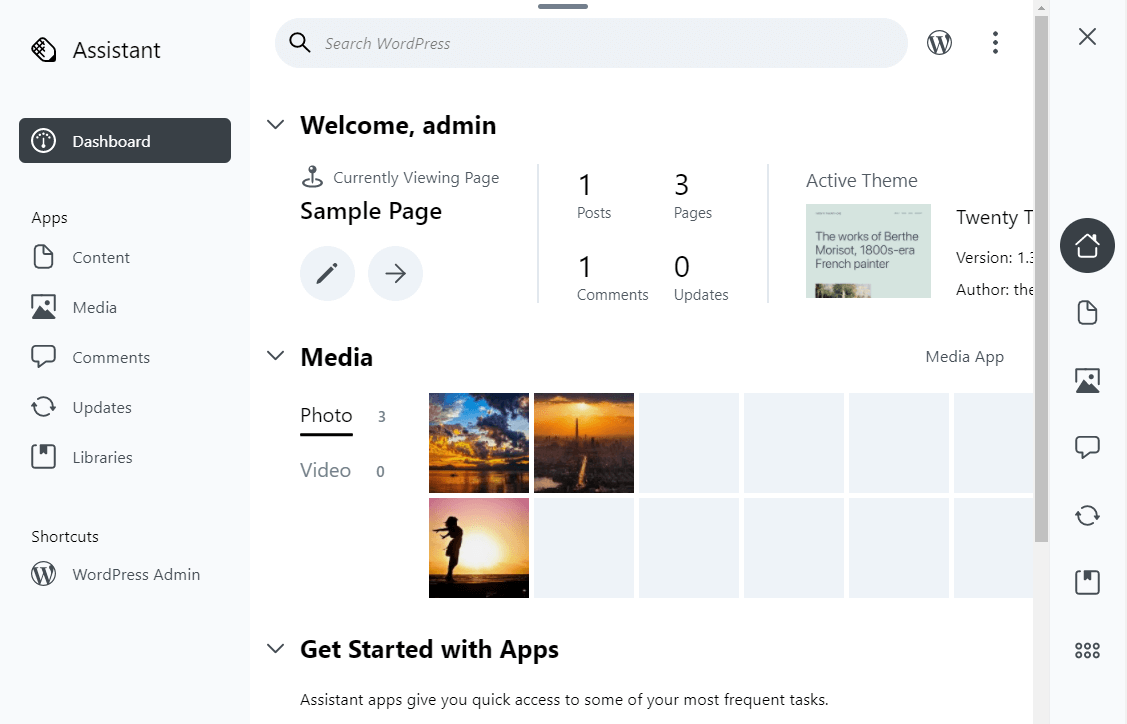 As you can see, there's more room for all the sections to breathe. Instead of several long blocks, you can now see more of them in a single view. Additionally, horizontal navigation arrows make it easy to get a closer look at whichever element you want to see.
Also, you can now control the vertical displays. Simply click on the arrow next to each heading to minimize it. If you like to keep your navigation tidy, this is definitely a feature worth trying out: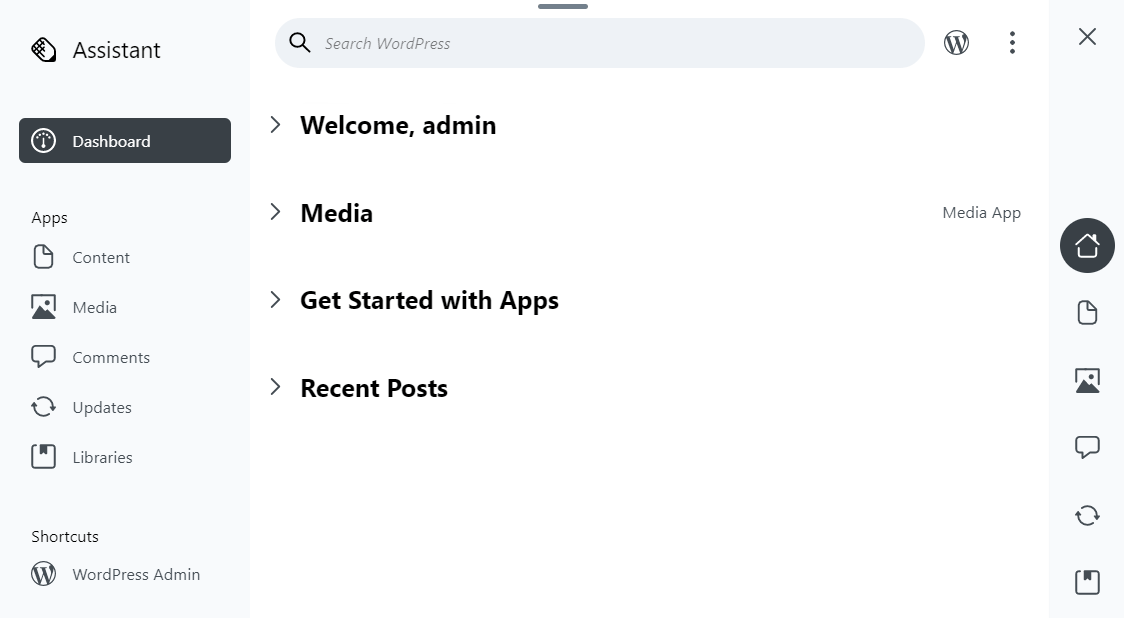 We feel that this update will make the home screen easier to understand because it gives you a better idea of your site's status with a single glance.
If you want to further customize this element, navigate to Apps & Settings for a few more options: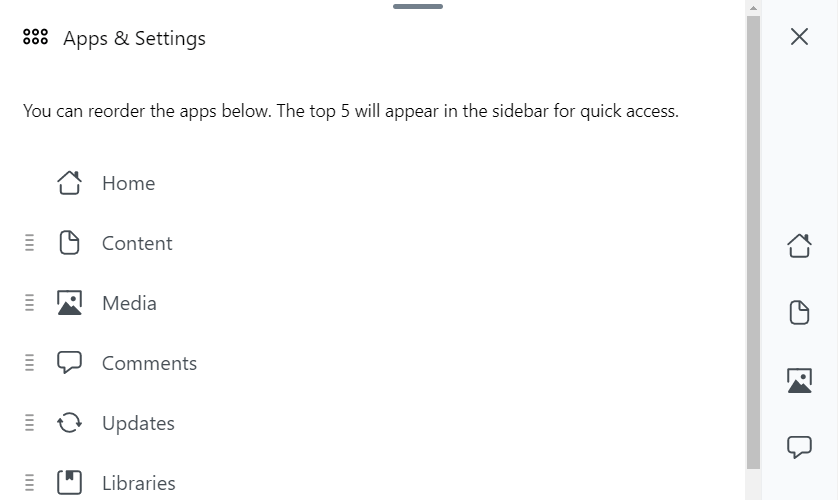 If you mostly work on comments, for example, you can move the Comments app to the top of your home screen. This update gives you the freedom you need to streamline your projects with Assistant.
3. Seamless Media Uploads
No matter what the focus of your site is, there's a good chance that you use media: photos of the latest restaurant, how-to tech videos, or fan-fueled podcasts. Pretty much everyone uses visuals, audio, and/or video to enhance their sites.
With that in mind, we've made it even easier to upload these files from the front end of your site with Assistant. To get started, open the dashboard. Under Apps, click Media to open the new interface: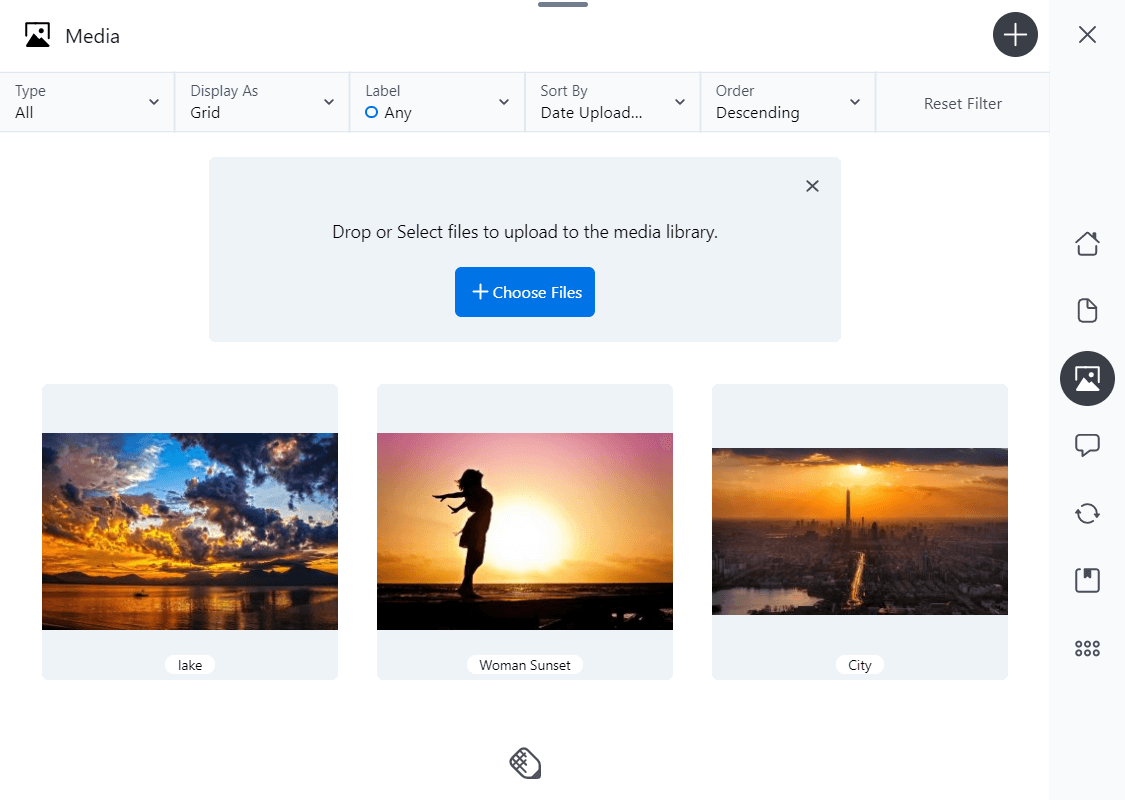 Before this update, you could drag and drop your images into the media app, but in Assistant version 0.7 we've made it more intuitive by providing a box and button that highlights this capability.
For example, let's say you're browsing your site from a visitor's point of view and see a post that could use a few more photos. Simply drop them into the home screen, upload the files, and come back to the page later. Our Assistant plugin helps you view your page as a visitor, yet improve it as an administrator.
4. Integration of the Labels App
The Labels feature lets you mark posts and pages with colors and titles and flag your content. For example, you can flag your most popular posts to get inspiration for future content. Other users can also see if you've flagged something for their review. Alternatively, you might just prefer a color-coded way of visualizing your categories.
The Labels feature has now disappeared from the apps selection but don't be disappointed – it's not gone! It's now an integrated part of the Assistant menu.
To find Labels in the latest version, navigate to Apps & Settings. Scroll to the bottom to see your options: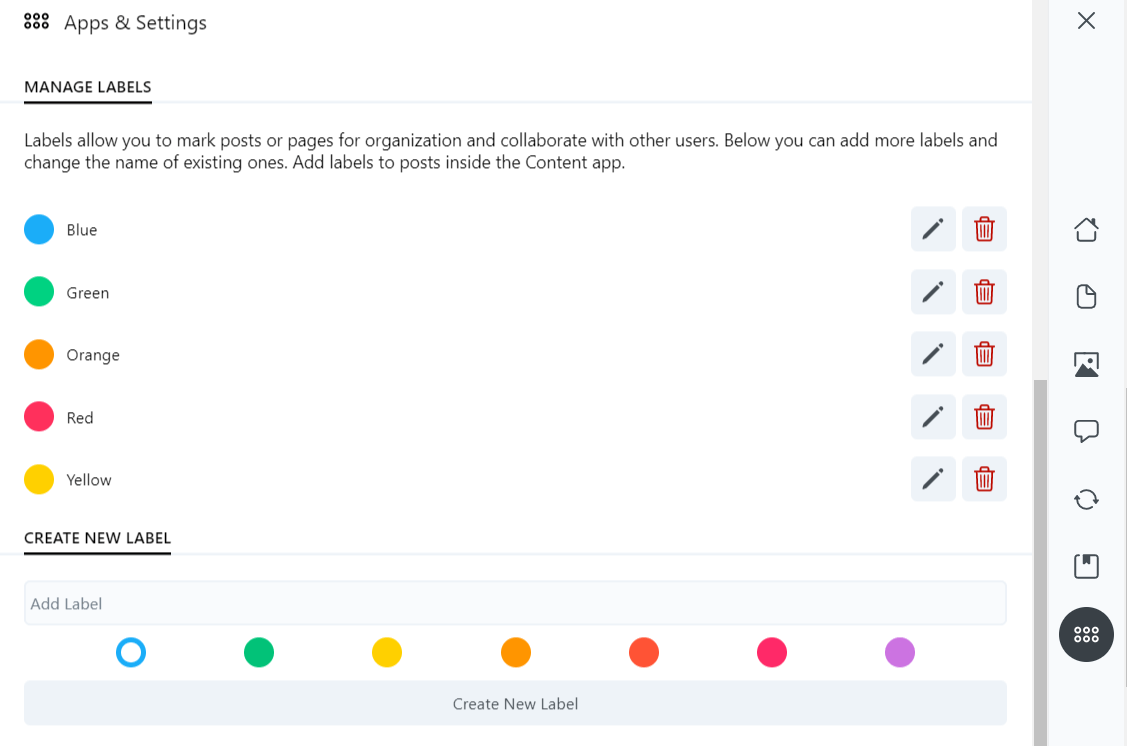 From here, you can use labels just like you did before the update. Click a Pencil icon to edit an existing label or the trash can icon to delete it. Create new labels at the bottom of the screen.
To add labels to posts, navigate to the Content App. From there, hover over the post or page you want to label and click the Pencil icon. Scroll to the Labels section and click Add Label to apply your changes: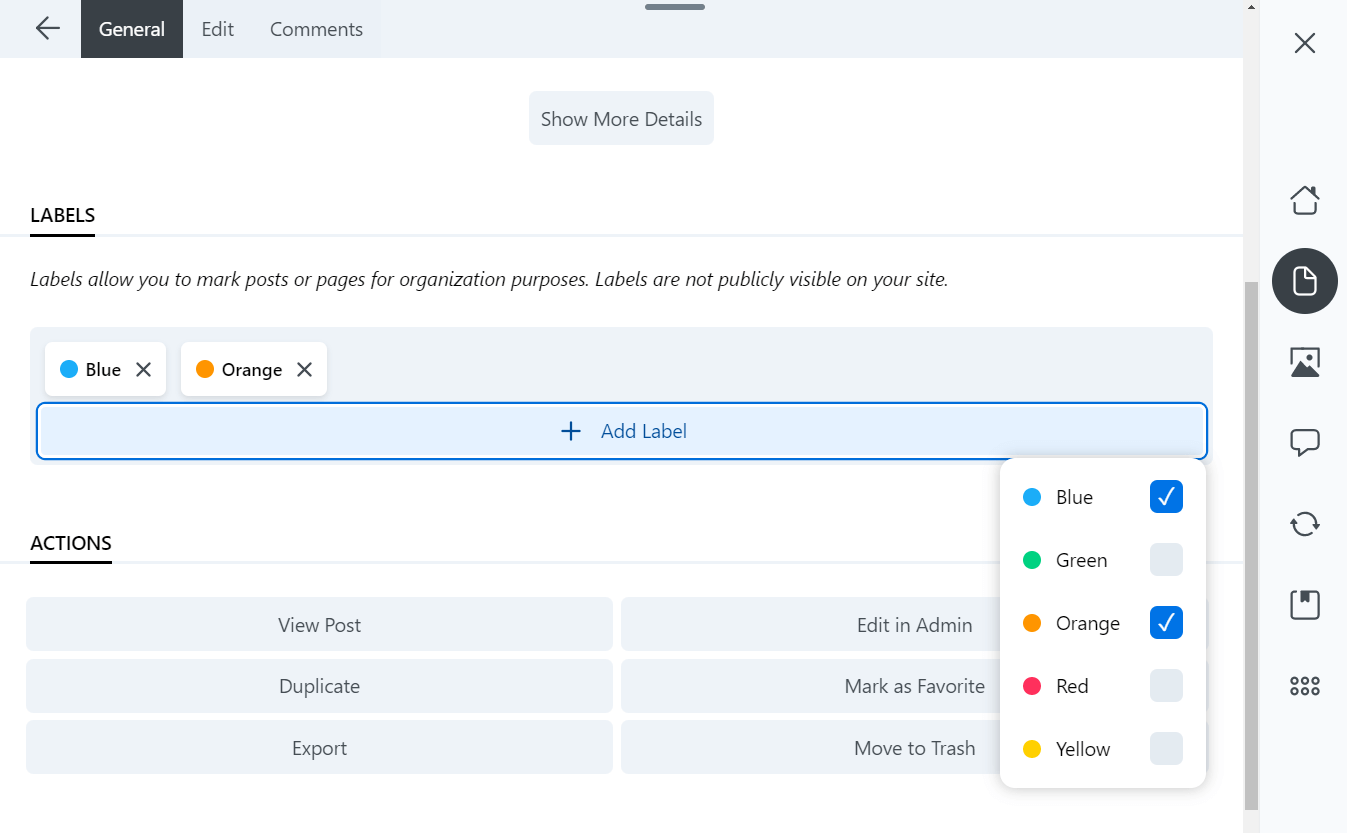 As with most of Assistant's features, these labels are not visible to anyone who's not an administrator. This means that you can feel free to apply whatever organizational system makes the most sense to you.
5. General Bug Fixes
Nearly every plugin runs into issues from time to time. While this is a normal part of development, we understand that they can still be frustrating for our users and do our best to tackle them as they arise.
Version 0.7 includes a bug fix for a crash issue. After disabling an app, some users experienced a blank page with no explanation. Now you should be able to disable apps without any worries.
If you spot a similar bug, don't hesitate to let us know. We're always looking for ways to improve. After all, Assistant is supposed to make your life easier – and we want to make sure it does!
Service changes like these are another important reason to keep your technology updated. Whether it's a free plugin or WordPress itself, staying on top of adjustments will help keep your site in top shape.
To stay in the loop about software updates from the Beaver Builder team, check out our blog or consult the Assistant development log.
6. Libraries App
This last feature is a bonus. If you love being on the cutting edge of your technology, then this is the change for you!
We've developed a new cloud software called "Assistant Pro". Assistant Pro joins your WordPress sites together by allowing you to sync creative assets, posts, and layouts between them. 
One of the main features of Assistant Pro is the Libraries app. You can access Libraries in Assistant plugin by navigating to the Libraries option under Apps:
This is a powerful collaboration tool. You'll be able to use libraries to share resources across sites. You can learn about all the great features Assistant Pro has to offer in this article: https://www.wpbeaverbuilder.com/best-assistant-pro-features/
Watch this video to learn how it all works together:
If you work with a lot of clients or virtual assistants, this feature can be invaluable. Rather than sending dozens of emails to different users, you can simply link up all of your work in one place.
Assistant Pro is available to use now. You can get started by creating a free account here: https://assistant.pro/
Conclusion
We're always striving to perfect our products. With the Assistant version 0.7 release update, we believe we've gotten closer to that goal and made your website building easier.
In this article, we covered six of the most important features included in the 0.7 release update:
A newly adjustable panel size option.

A redesigned home screen to give you a better site overview.

More intuitive media uploads capability.

The integration of the

Labels

app directly into the

Settings

menu.

The resolution of a blank screen error encountered after disabling an app.

Connect with our cloud-based software

Assistant Pro

.
Do you have any feedback about our latest Assistant update? Let us know in the comments section down below!
New: Assistant Pro Cloud Storage & Template Marketplace
Here at Beaver Builder, our goal is to create products that help you build WordPress websites easier and faster. Assistant Pro offers easy-access WordPress cloud storage and a variety of community-made templates, so you don't have to start from scratch for each new project.
With both free and premium Beaver Builder templates available, you can quickly build and personalize your website to suit your needs.
We've designed Assistant Pro as a cloud storage solution specifically for WordPress developers like you. It helps you securely store and organize your templates, design assets, and code snippets while making team collaboration a breeze. Your team members can access and share templates effortlessly, streamlining the whole process.
Used and trusted by professionals globally, we've made sure Assistant Pro simplifies the website-building process without needing coding skills. This way, you save both time and effort, making it a win-win for everyone.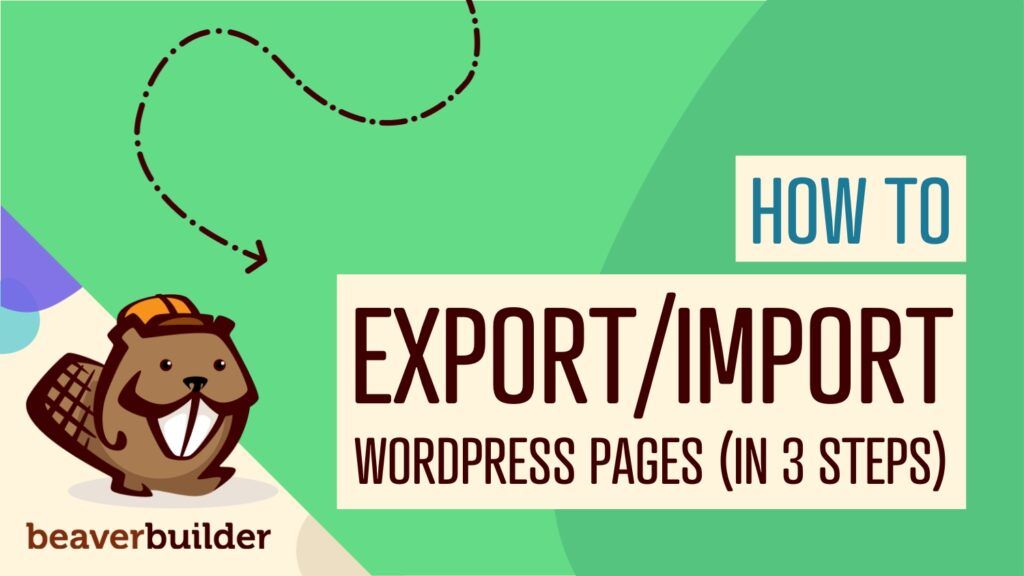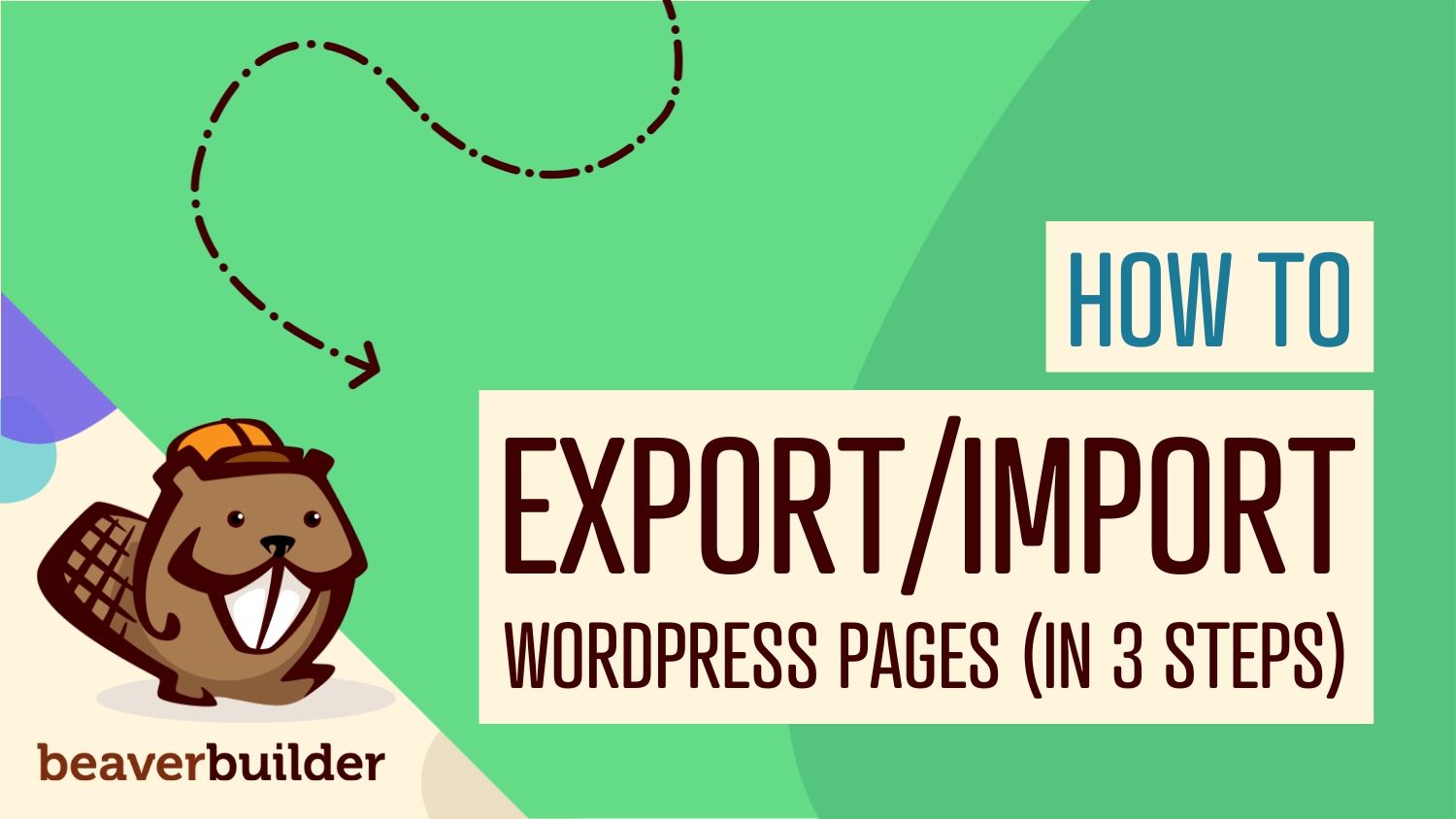 By default, WordPress has built-in tools for exporting and importing your entire website or just your posts and pages. Fortunately,…
Join the community
We're here for you
There's a thriving community of builders and we'd love for you to join us. Come by and show off a project, network, or ask a question.