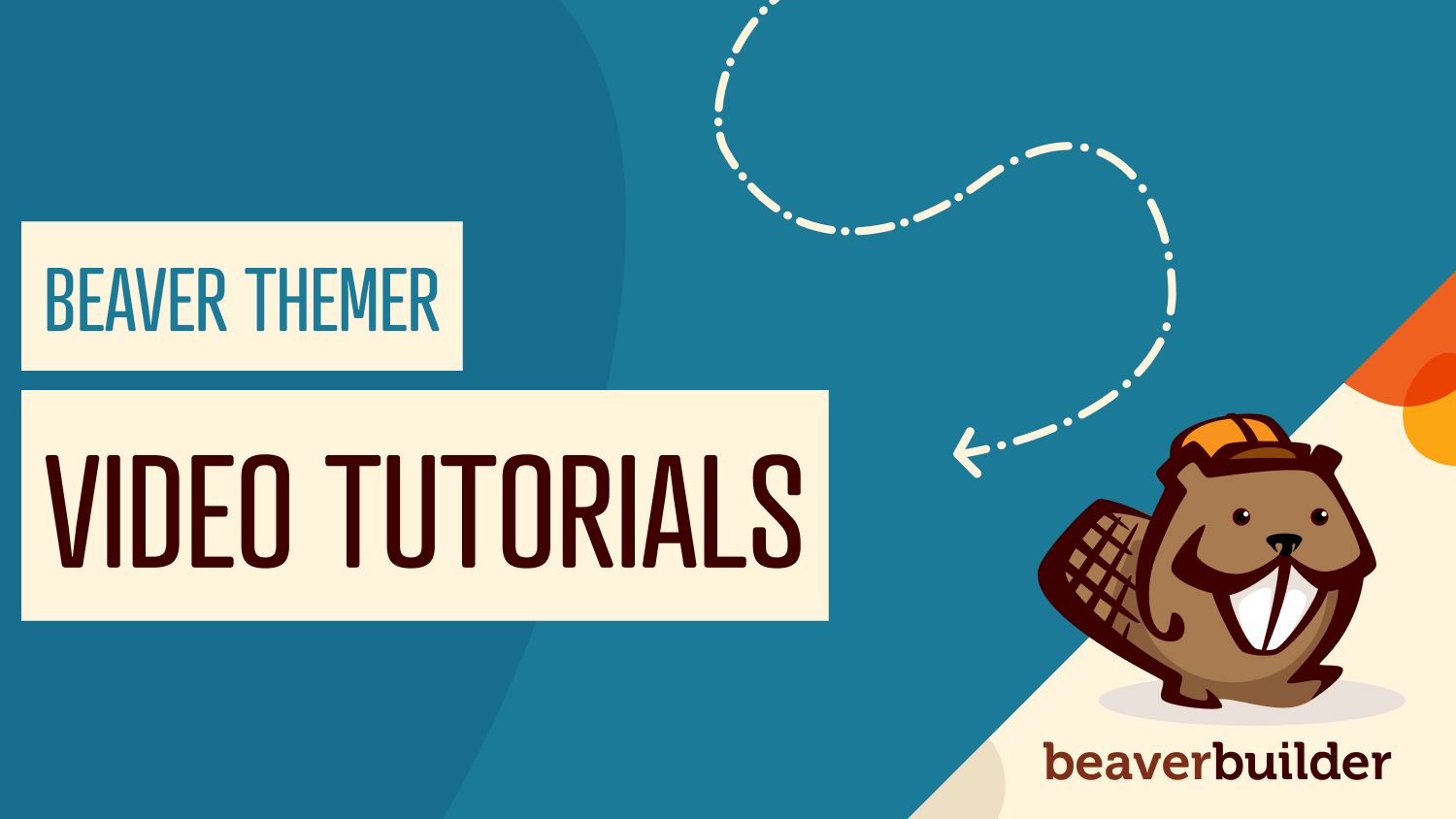 With any new tool, there tends to be a learning curve. Fortunately, we've got your back when it comes to Beaver Themer. By familiarizing yourself with our video guides, you can know exactly what to expect from our extensive theme-customizing add-on for the Beaver Builder page builder.
In this article, we'll give you a brief overview of Beaver Themer. Then, we'll take you through 14 video guides that show you everything you need to know about how to use it to customize your WordPress site. Let's get started!
We just launched 6 FREE
Beaver Builder courses
. Learn how to use all our products with our easy-to-follow step-by-step video tutorials. Create a free account today!
An Introduction to Beaver Themer
If you're looking into Beaver Themer, chances are you're already familiar with our powerful page builder, Beaver Builder. This tool can help you create dynamic web pages using a flexible and robust drag-and-drop interface.
You can use it to add prebuilt modules and layouts to any content area on your site. However, you might find yourself wondering if it's possible to reap the benefits of these features in other areas across your site, such as your header.
That's where Beaver Themer comes in. When added to Beaver Builder, this tool enables you to create layouts outside the content area and apply them to multiple locations or to your entire site. The layout and style of these areas are normally under the control of your theme: headers, footers, archive and post pages, 404 pages, and search pages. It also lets you add banners or more extensive layouts in areas before or after the header, footer, and so on.
Beaver Themer gives you the power to create highly customized layouts that no theme could achieve. The variety of design options ensures that each page looks unique while staying in harmony with the rest of your site.
If you've already purchased Beaver Themer and are interested in a quick-start guide, you've come to the right place!
However, you might not have made your purchase just yet. In that case, feel free to follow along with the tutorials below on our live demo site to get a feel for the features.
Keep in mind that Beaver Themer is an add-on for our premium page builder so you need a subscription for both Beaver Themer and Beaver Builder. Beaver Themer is optional, but we think these guides demonstrate how much it can enhance your web creations.
14 Beaver Themer Tutorial Videos to Watch
Considering all the features Beaver Themer adds to your WordPress installation, you may want some extra instruction when you're first learning how to use it. Here are 14 of our most useful video guides to help you get started.
1. How to Install Beaver Themer Addon Plugin [Tutorial]
As you might have guessed, the first step in using the Beaver Themer add-on is installing it. This video guide will give you a brief tutorial on how to do just that. It covers everything from accessing your license key to activating the tool in your WordPress dashboard.
This video guide can get you off the ground in a little over 60 seconds. As such, it can be a particularly useful primer if you're in the early stages of getting started with our products. It may also be helpful if you're new to WordPress in general.
2. Beaver Themer Overview
After you've gotten settled and installed Beaver Themer, you can dive into its functionality. This video guide gives you an explanation of Themer's basic operations.
This video includes using Theme layouts, templates, and categories. Additionally, you can gain an understanding of saved rows, columns, and modules. All of these functions help you create a catalog of go-to elements to replace your theme functionality, all over your site.
This video is a well-rounded introduction to using Beaver Themer. If you're looking to find all the most important features without having to hunt for them, you can use this guide as a roadmap.
Finally, the run time for this content clocks in at just over seven minutes. As such, it's an efficient way to get your bearings.
3. Introduction to Theme Parts for Beaver Themer
For our next guide, we'll start getting into the finer details of Beaver Themer. You can use this video to learn the basics of creating Themer parts.
A Themer part is one or more rows of Beaver Builder layout that can appear before or after the header, above or below your page or post content, or before or after your footer, on any page of your site that you specify.
Themer parts are an easy way to include Calls To Action (CTAs), event and sale banners, and much more.
Not only do Themer parts let you insert content into areas of the site that would normally require another plugin or code, but you can also make the banners disappear throughout your site with a single click until the next time you need them.
The walkthrough in this video explains how to create Themer parts and demonstrates the page positions in which you can place them. 
Themer parts are a simple yet powerful facet of a stellar WordPress page. As such, it's worth taking just under four minutes to familiarize yourself with their use. Note that this is an older video so the Themer UI has changed somewhat, but the concepts and capabilities are current.
4. Creating Single Post Layouts With Beaver Themer
Did you know you can also use Beaver Themer for single post layouts? This video gives you the information you need to create the ideal format for your blog content.
You can discover how to achieve the perfect layout and how to add a sidebar with WordPress widgets if you want one. Since Beaver Builder layouts are edited on the front end of your site, it's an easy way to make changes while viewing your site from a typical user's perspective.
If you're ready to understand the full potential of a single post layout, this video is for you.
5. Creating Archive Layouts With Beaver Themer
Our next video guide gets into more specialized territory – creating archive layouts. You can watch it to learn the ropes of how to customize these page designs as well as apply extended functionality.
For example, you can use Beaver Themer to automatically display your most recent post's featured image in the archive page's header.
You can also find subtle yet impactful formatting tips. For example, lengthy archives can be unwieldy for your users to navigate. This video shares hints for making the most of your space so that it's easy to read and navigate.
The video also shows you the various types of archives that your Themer Archive layout can apply to. You might want to design different Themer Archive layouts that apply separately to post archives, category archives, author archives, and so on. 
Old posts can demonstrate your depth of experience, or act as a repository of useful information. Therefore, we recommend that you pay attention to how you present your archives. By watching this video, you can figure out how to display your content in an appealing and practical way.
6. Editing Your Header Using Beaver Themer
Your header is an essential part of your web design as it typically appears on every page of your site. In this video tutorial, we'll walk you through the basics of creating a Themer layout and deciding where to display it on your website.
We'll walk you through the steps of creating a header to replace the old header on all pages of your site except posts or custom post types. Then, we'll explain how you can set an execution rule so that the header displays on every page except your landing pages.
7. Creating a Transparent Header With Beaver Themer
Your WordPress site's header is one of the first things users see when they arrive, making it highly important for establishing your brand identity and orienting visitors quickly.
One of the most notable features of Beaver Themer is that it enables you to customize your header using Beaver Builder's drag-and-drop interface, including prebuilt layout templates and rows.
In this video, you'll specifically learn about creating a transparent header and how to apply it to a couple of specific locations.
We're particularly fond of the transparency aspect because it can go a long way towards smoothing out the look of your site, such as alternating this style with a more traditional opaque header to subtly signal differences between pages. Consider watching this video as an introduction to the process.
8. Creating a Custom WordPress Footer with Beaver Builder
Similiar to the header, the footer is an important aspect of your website. It's where visitors typically go to find navigation links. You can also use it to add copyright information, contact details, social media icons, and more.
This video guide explains how you can create a custom WordPress footer using Beaver Builder and Themer. It shows you how to create a Themer layout and configure the layout settings. Then, it walks you through adjusting the footer layout and adding footer content.
9. Creating 404 Layouts With Beaver Themer
A 404 error appears when a user attempts to access a certain page that can't be found. While most visitors would probably rather not encounter this message at all, it's still a critical part of any site.
The next Beaver Themer video guide on our list can assist you in customizing what your audience sees if this problem occurs. It shows you how to edit your 404 page in WordPress using Beaver Builder and Beaver Themer.
There's nothing wrong with a default 404 error page. Nevertheless, a little bit of personalization can help reassure visitors that your site is still up, and that they've simply tried to access a page that has moved or doesn't exist.
Some websites use the 404 pages as an opportunity to make the site memorable by injecting humor or other unique content. Our video shows you how to customize this page with whatever layout you like.
If you're a website developer, a custom 404 page goes a step beyond your client's expectations and showcases your ability to provide unique services even when something on your site doesn't work as expected.
A custom 404 page plus white labeling your client sites demonstrates professionalism as a developer.
10. Customizing WooCommerce Single Product Pages With Beaver Themer
WooCommerce is arguably one of the most popular plugins in WordPress history. Our video guide on the subject can teach you how to use Beaver Themer to improve your WooCommerce product displays.
You can use our guide to optimize individual items on your digital shelves. Additionally, you can learn how to customize your product archive pages so that your site's style is consistent throughout.
It will teach you how to create a Singular Themer Layout to apply to your site, add basic product elements to your page, and enhance the page with a variety of features.

This video provides helpful knowledge for online store owners, managers, and developers. For one thing, an effective shop layout can showcase the full potential of your product line.
You may also discover ways to emphasize your brand's design in-store. Sales can be tricky, but Beaver Themer's features can give you a competitive edge.
11. Customizing WooCommerce Shop Page With Beaver Themer
Your online storefront design is important because it's the first thing shoppers see when they arrive. It will help them form an impression of your brand. This tutorial will guide you through the process of customizing your WooCommerce Shop Page with Beaver Themer.
It will walk you through the steps of setting up your Storefront Page, creating a Themer layout, and customizing all elements of the page. The video will also discuss the WooCommerce Beaver Builder module that lets you change how to display your products, insert an order tracking form, and more.
12. How to Build Events Pages With Beaver Themer
Hosting events for your website's audience is an effective way to grow your online community. Nevertheless, crafting the perfect events page can be tricky.
In this video, we show you how to create events with Beaver Themer and The Events Calendar plugin. With this guide, you can learn the foundations of building an events page. You'll also discover the easiest way to add a relevant calendar that includes exact dates and times for your events.
This video could prove especially helpful if you run a business that relies on in-person events. It can also help you establish unique content marketing opportunities with webinars, run a fundraiser for your nonprofit, help customers find your pop-up shop, and much more.
13. Using Advanced Custom Fields With Beaver Themer
Tailoring your website to its exact purpose can improve its efficacy. As such, consider watching our video guide to using Advanced Custom Fields in Beaver Themer layouts.
This video shows you how to add custom fields for a heading, subheading, and photo gallery into a layout using Themer field connections: the mechanism responsible for displaying the correct content wherever the layout applies. It's a simple way to take your layouts to the next level with custom content.
Watching this video can help you create more personalized pages. Zeroing in on small aspects such as these can have a big impact on your site's final design.
We recommend that you take the time to watch this brief video and boost your customization skills.
14. Adding an Announcement Bar Using Beaver Themer
An announcement bar is a powerful element you can add to your website to help grab visitors' attention. You can use it to post updates, special announcements, promotions, and more.
In this video tutorial, we'll show you how to create a custom WordPress announcement bar using Beaver Themer. We'll also explain how you can easily create Beaver Builder layouts in areas of pages or posts that are usually controlled by your WordPress theme.
This guide will take you through the process of creating a Themer layout and configuring the layout settings. Then, it shows you how to edit the top bar layout to fit your site's aesthetic.
Conclusion
Even the savviest of developers can get turned around when acclimating to a new tool. Learning about useful technology such as Beaver Themer is crucial to professional growth, whether you're a WordPress expert or starting your first website. By watching our video guides, you can make the adjustment period a whole lot easier.
In this article, we covered the contents of 14 highly useful Beaver Themer video tutorials.
From installation to advanced customization, we mapped out the best guides to help you get started with Beaver Themer and access a variety of handy features for designing your dream WordPress site.
Do you have any questions about using our Beaver Themer add-on? Let us know in the comments section below!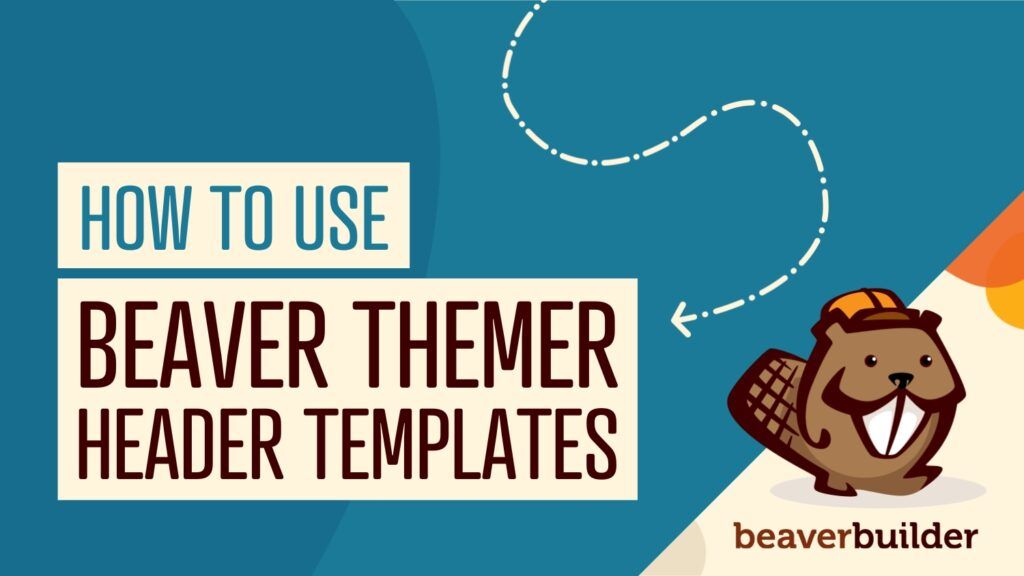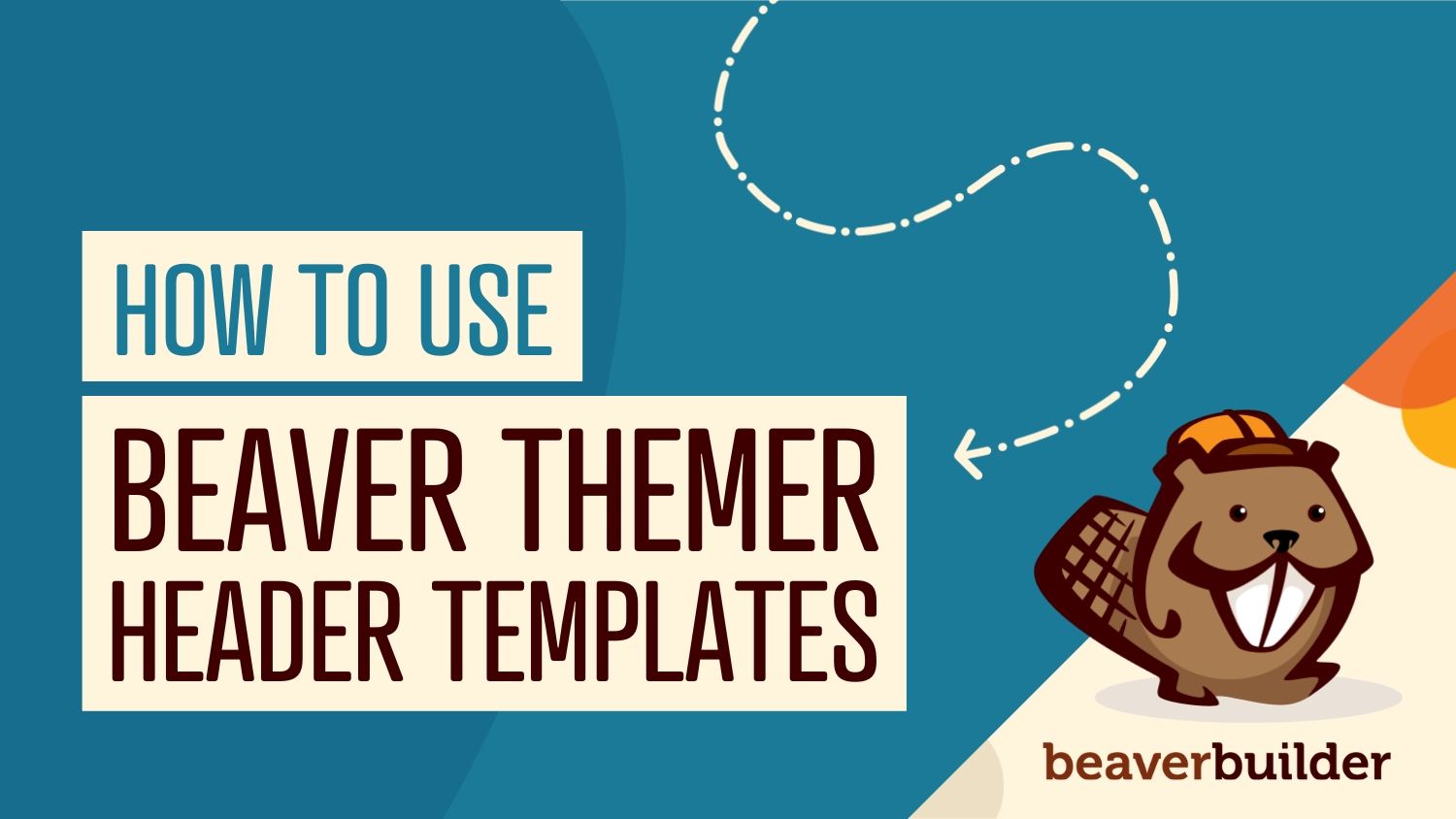 Customizing a WordPress header isn't often an easy process. If you're not comfortable editing theme files, there aren't many ways…
Join the community
We're here for you
There's a thriving community of builders and we'd love for you to join us. Come by and show off a project, network, or ask a question.