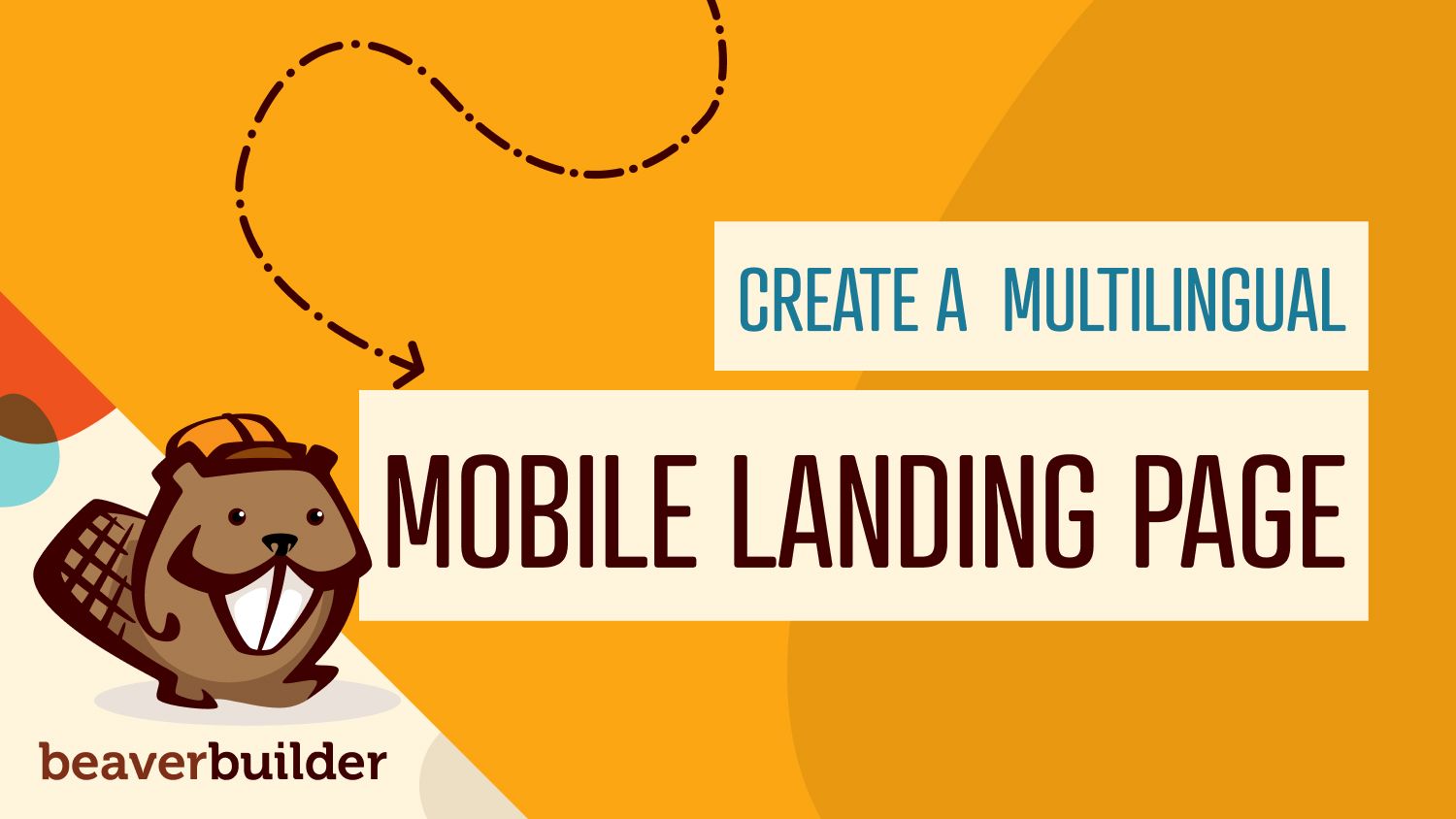 Landing pages are a crucial part of many companies' marketing strategies. To be effective, they have to be done right. Ideally, this page will boast smart design, excellent performance, and accurate translation – especially on mobile devices, where each second counts.
Nailing this trifecta can be tough, but the combination of the Beaver Builder and WordPress Multilingual (WPML) plugins can help.
Beaver Builder is a powerful page builder for WordPress that makes creating mobile landing pages simple. Add in WPML for easy translation, and you have a recipe for success.
In this article, we'll explore the importance of performance for mobile landing pages. Then we'll walk you through creating and translating yours in three steps using Beaver Builder and WPML. Let's jump in!
Why Performance Is Important for Mobile Landing Pages
Before we discuss mobile landing pages specifically, we first want to acknowledge that strong performance is vital for all web pages. Landing pages, home pages, about pages, blog posts – each one on your site can benefit from faster speed.
Performance has a direct impact on User Experience (UX), which in turn influences your bottom line. For example, research has found that:
Bounce rates climb steadily as page load time increases, with

38 percent of users

leaving a page if it takes five seconds or more to load.

Every one-second delay in page loading results in a

seven-percent decrease

in conversions.
Page speed is also important for Search Engine Optimization (SEO). Google gives loading time a lot of weight in search engine rankings. 
These considerations are magnified for both landing pages and mobile sites. Because landing pages are typically designed for a single, specific purpose – to get users to take an action – anything that reduces the possibility of that happening is bad news. As we mentioned above, slow performance is a major cause of users leaving a page.
Mobile users are also highly sensitive to performance issues. Since mobile use often happens while people are out-and-about or during brief moments of downtime, speed is the name of the game. When you combine mobile and landing pages, you end up with what might be the single most performance-sensitive type of content on your site.
How Beaver Builder Can Help You Build an Effective Mobile Landing Page
As we mentioned earlier, Beaver Builder is a popular page builder plugin for WordPress that makes creating any part of your site simple, including mobile landing pages:
Our tool offers templates to help you get started quickly, and a drag-and-drop interface that helps you modify those templates to suit your needs. The builder also includes a wide variety of modules to help you create the elements you need on your landing page, including:
Images

Contact forms

Call-to-Action (CTA) buttons

Advanced multi-column layouts
Additionally, we have a WordPress theme (known as the Beaver Builder Theme) that's flexible and responsive, making it ideal for mobile pages. The solution even comes with several prebuilt layouts and is SEO-friendly.
You can also easily adjust the base theme to your liking via the WordPress Customizer. If you're using Beaver Builder, we highly recommend using the Beaver Builder Theme as well.
How to Use WPML to Translate a Beaver Builder Landing Page (In 3 Steps)
Whether you want to convert your pages yourself with the WPML Translation Editor or use a translation service, WPML makes it easy to translate mobile landing pages created in Beaver Builder. Note that you'll need both the Beaver Builder and WPML plugins installed and activated on your WordPress site to follow these steps. 
If you need help installing the WPML plugin, you can check out their detailed Getting Started Guide. For advice when setting up Beaver Builder, you can view our installation guide.
Step 1: Create and Publish Your Page Using Beaver Builder
The first step is to create your landing page using Beaver Builder. While we offer a limited free version, you'll need the premium tool to take advantage of all the available modules.
After you sign up for an account and purchase a plan, you can install and activate the plugin on your website. Then, from the WordPress dashboard, navigate to Pages > Add New: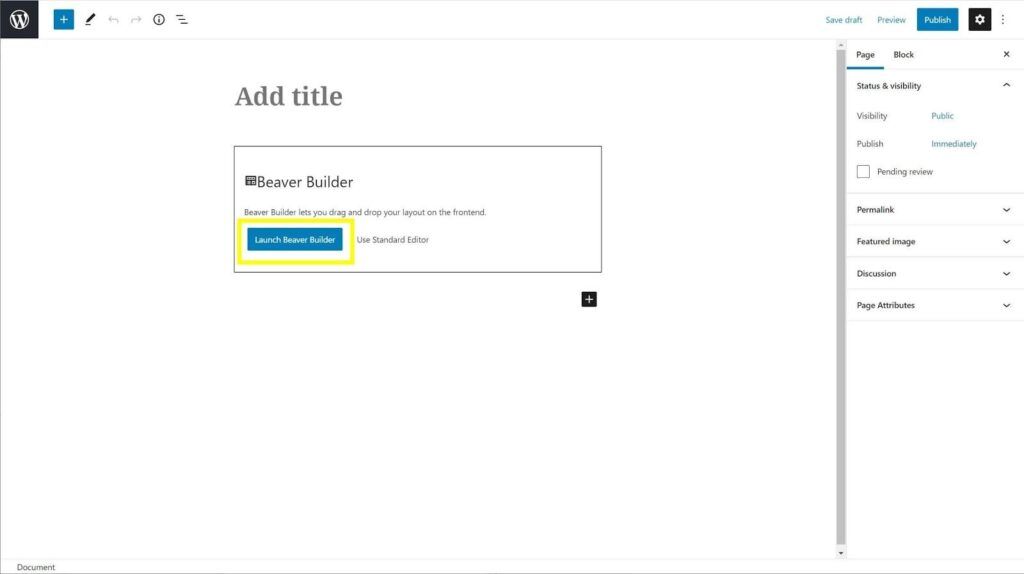 Click the Launch Beaver Builder button to open a new page in the builder.
Next, you can design your page using Beaver Builder's modules and templates. Modules can be accessed by clicking on the + button in the top-right corner of the screen: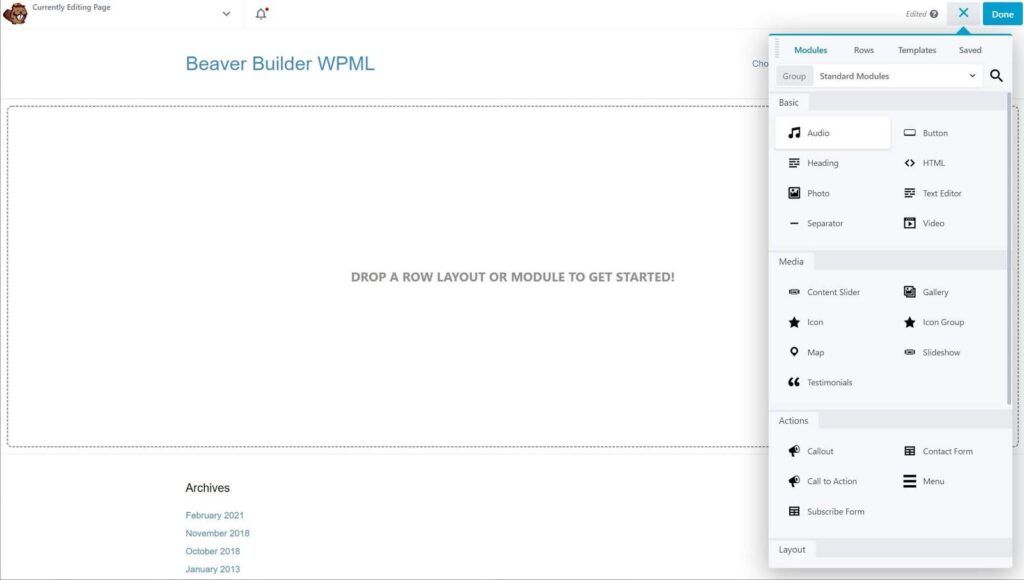 To place the modules, you can simply drag and drop them from the menu to the page. You can also configure each module's settings to better fit your needs.
Most of the modules have extensive configuration options that you can access by clicking on the wrench icon when the element is selected.
When you're finished, you can publish your page by clicking the Done button and selecting Publish. 
Step 2: Enable the Translation Editor in WPML
After your page is built and published, you're ready to translate it. WPML's Translation Editor provides a simple interface for translating each Beaver Builder module on a page.
It's enabled by default but you can double-check by navigating to WPML > Settings and looking for the How to translate posts and pages section: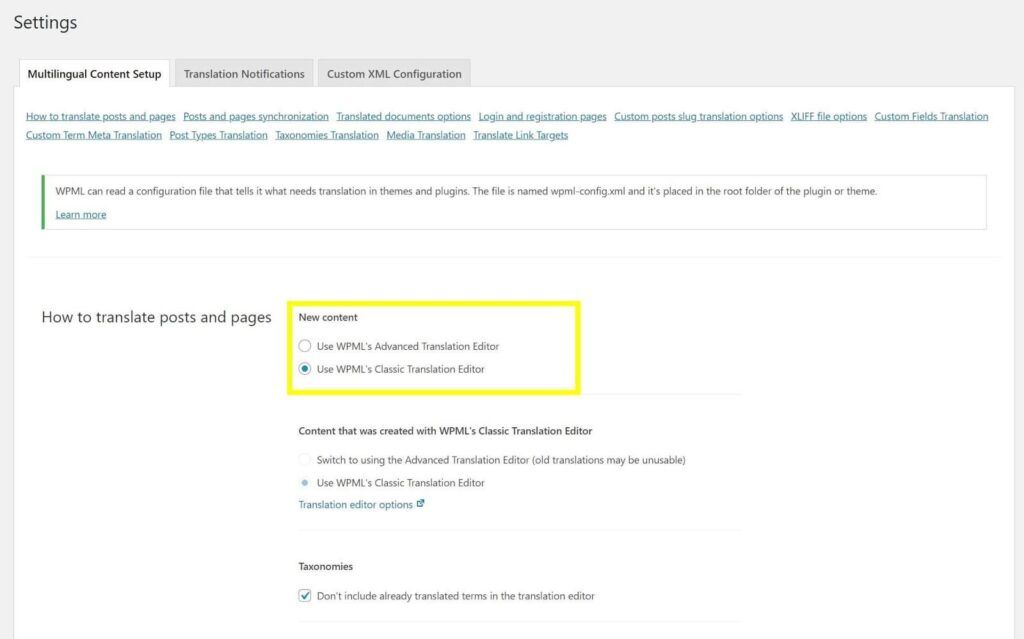 One of the two options in the first section should be checked – either the Classic Translation Editor or the Advanced Translation Editor.
Which option you choose is up to you and the needs of your site. Either choice works for translating Beaver Builder content.  
Step 3: Use the Translation Editor to Translate Your Mobile Landing Page
Use the WPML Translation Editor to translate your Beaver Builder landing page. After your page is published, you'll see a Language box in the sidebar.
Click the + icon next to the language you want to translate to: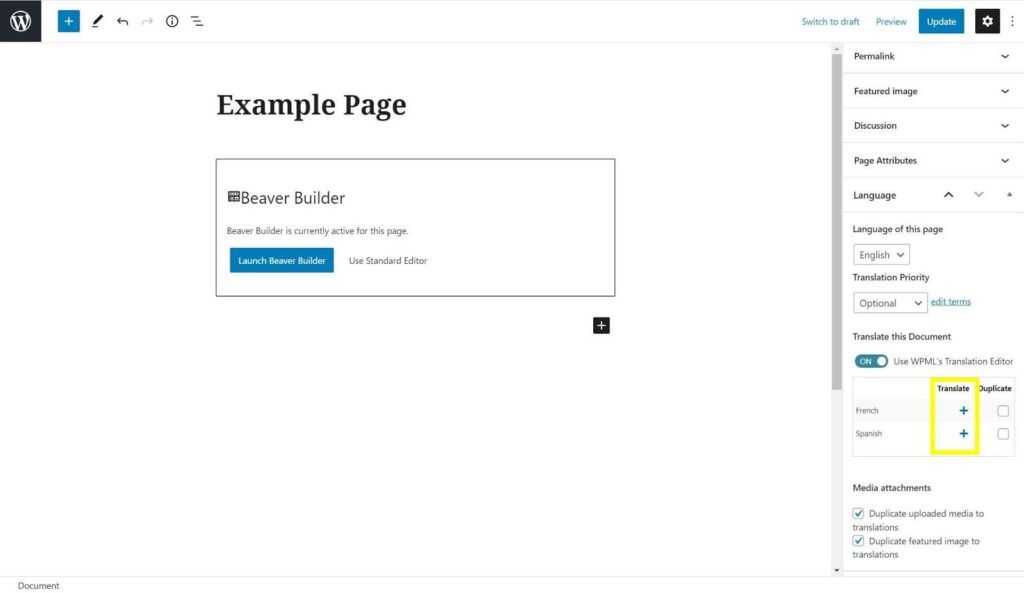 You can also find these icons on the main list of pages by navigating to Pages > All Pages:

Clicking this icon opens the WPML Translation Editor: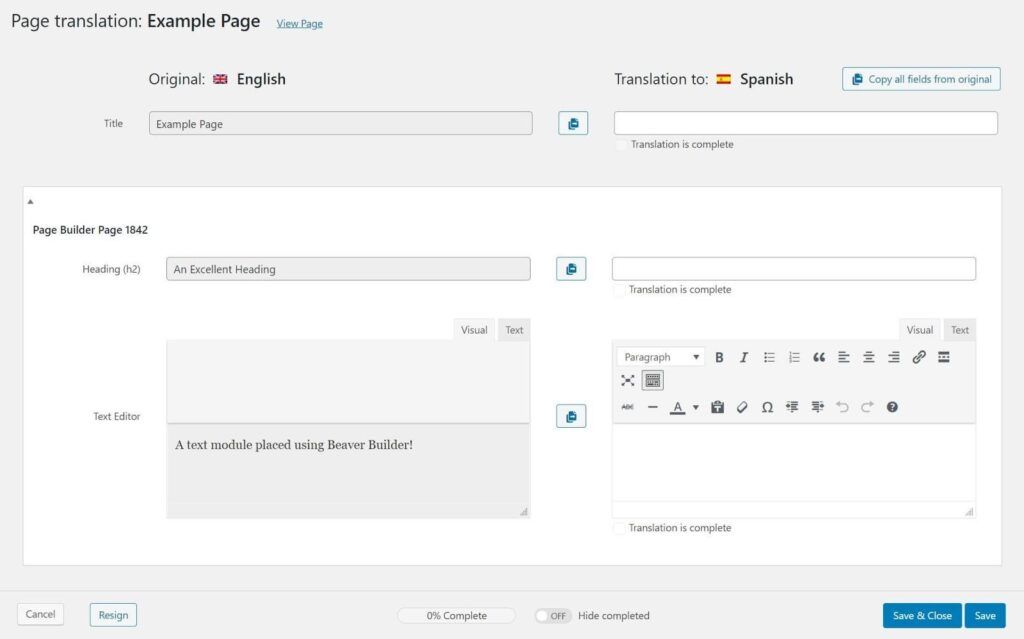 Each module on the Beaver Builder page is laid out on the left, along with the text it contains. On the right, there's a text editor where you can enter the translation.
Scroll through the modules and add your translations. When you're finished, you can check off the Translation is complete box under each section of the Editor: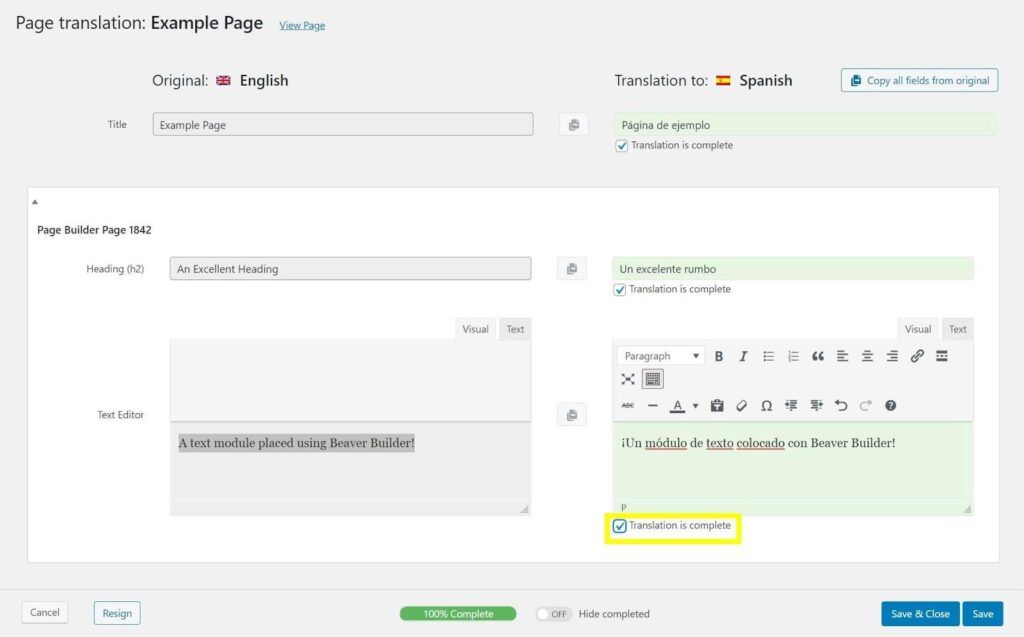 The progress bar at the bottom of the screen shows what percentage of the sections have been marked as complete.
You can also hide the finished sections, which is particularly handy on long pages, or if you've added one or two new modules to the page and don't need to see the rest. 
If you don't want to interpret the page yourself, you can send your content to a translation service using WPML.
First, you'll need to either add translators to your site or choose a translation service in the WPML settings. To do so, navigate to WPML > Translation Management: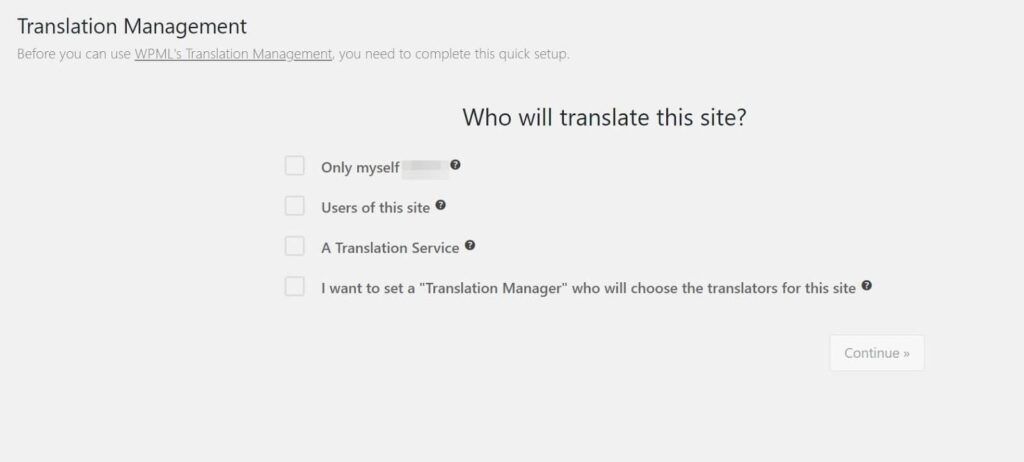 On this screen, the setup wizard walks you through adding your translators.
Then you can navigate to WPML > Translation Management again and select your Beaver Builder page to add it to the Translation basket.
Your translators will receive a notification to translate the content and will handle the rest for you. 
Conclusion
Mobile landing pages are one of the most important parts of a marketing funnel. They're also one of the hardest types of pages to get right. The design, performance, layout, CTA, and copy all need to be spot-on. Multilingual translation adds to the challenge.
However, combining Beaver Builder and WPML can make the task of building speedy mobile landing pages significantly easier.
You can design your page in the builder, then use WPML to translate it into the languages you need quickly and easily. Just follow the three steps covered in this article to get started.
Do you have any questions about creating a multilingual WordPress landing page? Let us know in the comments section below!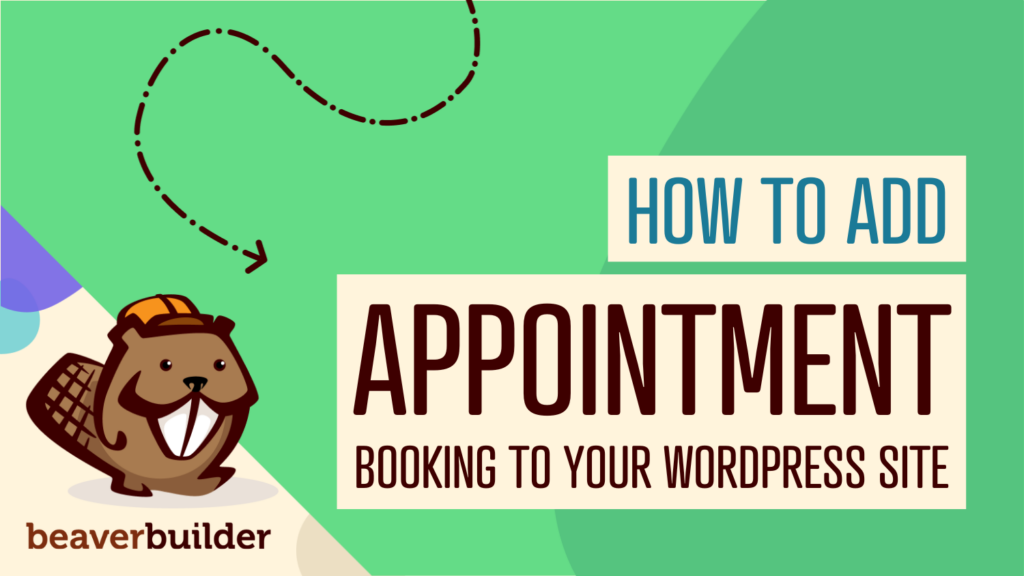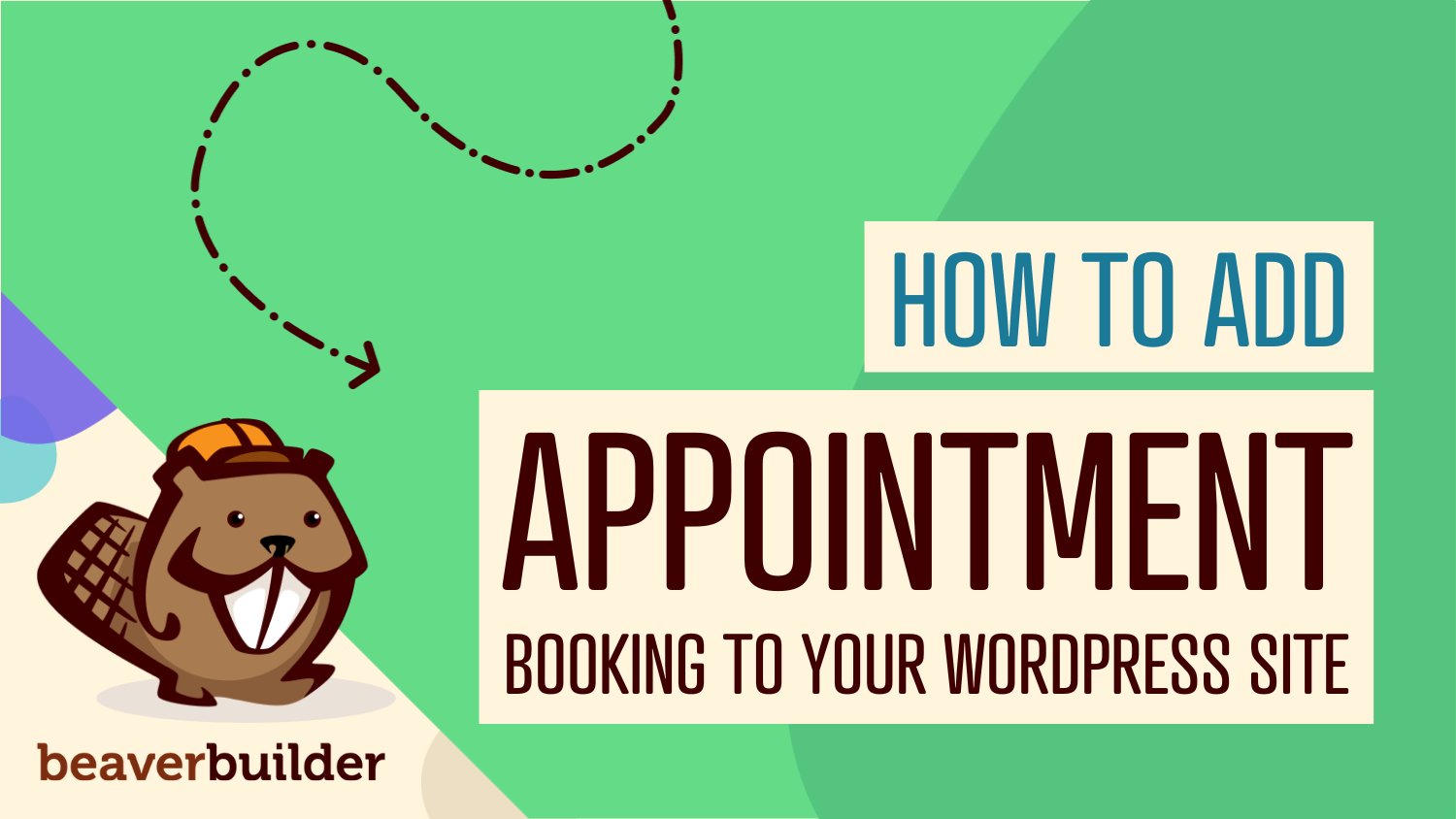 Wondering how to add appointment booking to your Beaver Builder site? For any business that relies on appointments, such as…
Join the community
We're here for you
There's a thriving community of builders and we'd love for you to join us. Come by and show off a project, network, or ask a question.