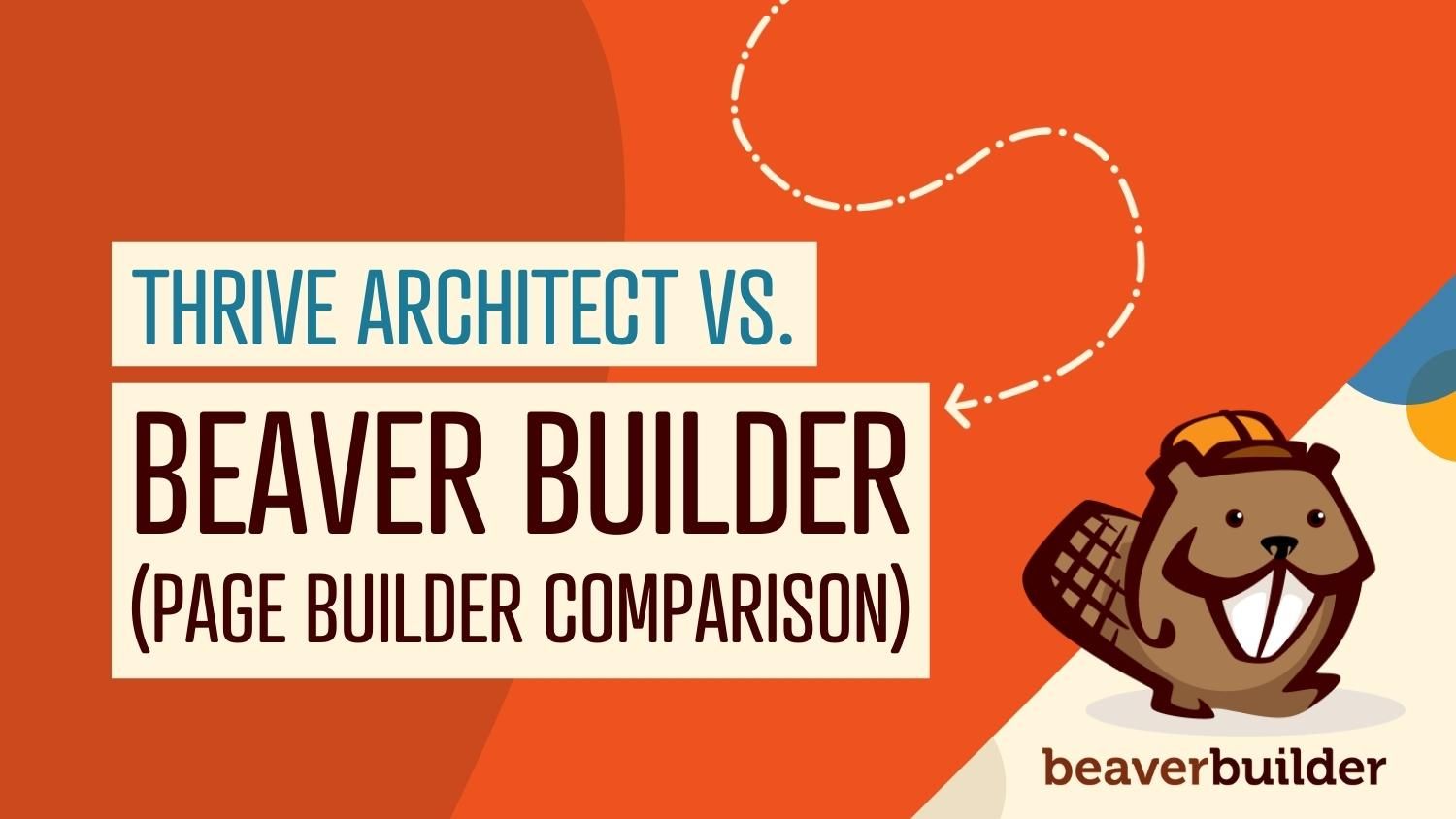 Beaver Builder vs Thrive Architect: A Page Builder Comparison
Creating multiple websites can be time-consuming. To expedite the process, you might be looking for a flexible page builder tool. Two popular options we will compare are Beaver Builder vs Thrive Architect (previously known as Thrive Content Builder).
In this Beaver Builder vs Thrive Architect comparison, we'll take an in-depth look at each solution's features, strengths, and weaknesses. By the end, you should be able to decide which plugin is right for your needs. Let's get started!
Beaver Builder: An Introduction
First up, Beaver Builder is our own WordPress page builder plugin. It enables you to create custom pages and posts via a drag-and-drop interface. It's also a true WYSIWYG (What You See Is What You Get) editor. This means that what you see while building your page is precisely what visitors will see once it's published.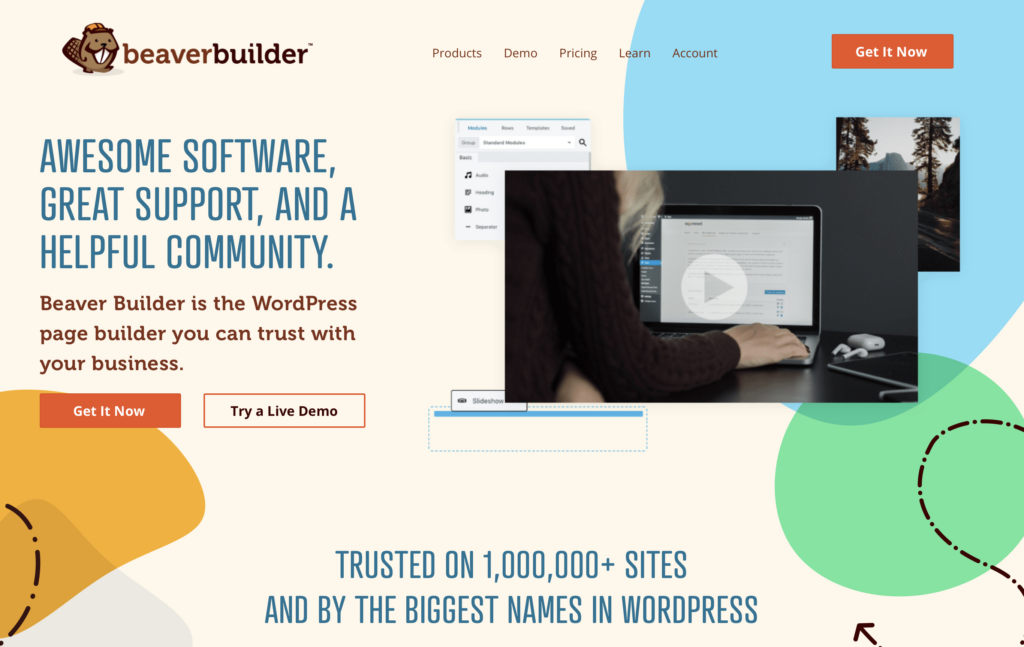 Our plugin includes a wide range of pre-designed page templates and modules that you can use to create your content. These templates and modules are entirely customizable, so you can change anything you want to create a unique page that reflects your client's brand.
Beaver Builder is also a responsive page builder. This means your pages will look great on all devices, from desktop computers to tablets and smartphones.
Best of all, this plugin is a handy tool for beginners and advanced users alike. The easy-to-use interface makes it an excellent choice for those just starting out with WordPress. At the same time, its advanced features make it a perfect pick for more experienced users such as developers, designers, and web agencies.
Thrive Architect: An Introduction
Thrive Architect is another WordPress plugin that allows you to create custom pages and posts. It's easy to use, and just as with Beaver Builder, you get access to a completely new drag-and-drop interface.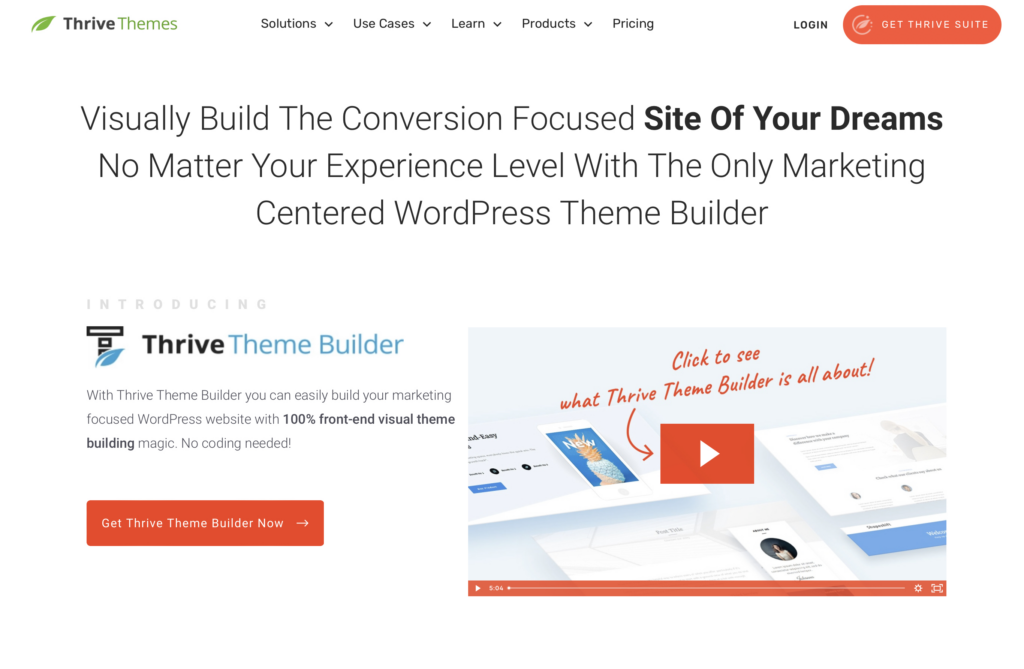 Unlike most page builders, which are more multipurpose in nature, Thrive Architect is designed specifically to help users increase conversions. For example, this plugin makes it simple to add opt-in forms, Call To Action (CTA) buttons, and social sharing buttons to your pages.
Like Beaver Builder, Thrive Architect also includes some pre-designed landing page templates that you can use to create high-converting content. However, these templates and modules are not as customizable as what you'll get with Beaver Builder. This means you may not be able to create a unique page that reflects your brand as fully.
Beaver Builder vs Thrive Architect: 3 Key Areas Compared
Now that we've introduced Beaver Builder and Thrive Architect, let's compare them in three essential areas. We'll look at their features, functionality, ease of use, and pricing, so you can decide which tool is the best fit for your business.
1. Features
First and foremost, it's vital that the page builder you choose provides the features you need. With that in mind, let's review what each plugin has to offer.
Beaver Builder
Beaver Builder has many features that make creating custom pages and posts easy. These include:
Beaver Builder also offers integrations with a range of other useful tools, such as Gravity Forms, ActiveCampaign, WooCommerce, and LifterLMS.
Thrive Architect
As we mentioned earlier, Thrive Architect's focus is conversion optimization. Many of the features it offers are designed to help with that goal. These include:
A library of elements. As with any page builder, you'll create your content using pre-designed modules. These include CTA buttons, testimonials, countdown timers, and more.
Pre-designed page templates. You'll get access to plenty of starter templates, including many options for landing pages.
Lots of hover effects and other animations. These small touches can be a great way to grab visitors' attention.
Easy email marketing integration. Thrive Architect integrates with a wide range of email marketing tools, and provides a built-in lead generation element.
Mobile responsive editing. You can preview your pages on various screen sizes, and determine what elements will be visible on specific device types.
A/B testing. Thrive Architect comes with a built-in A/B testing tool, which allows you to test different versions of your pages to see which one performs better.
Other perks include an "Attention Grabber" that allows you to add attention-grabbing elements to your pages, and a "Content Reveal" that lets you create content 'teasers' that visitors can reveal by clicking on a button.
In summary
Both plugins have plenty of features to offer. Thrive Architect's feature set is more constrained, however, as it has a specific focus. If you're a business owner looking to create basic but functional landing pages that drive conversions, it might be sufficient.
On the other hand, Beaver Builder's feature set is more versatile. It's adaptable to a wide range of websites and other projects. It also offers more for developers and other advanced users, thanks to its global settings, white labeling capabilities, and so on.
2. Functionality and Ease of Use
At a base level, both Beaver Builder and Thrive Architect offer similar functionality. Each plugin allows you to create custom pages and posts through a drag-and-drop interface, and enables you to choose from pre-designed templates or build from scratch using a library of customizable modules.
Beaver Builder's editor is designed to be user-friendly and easy to pick up. The learning curve may be slightly higher due to the larger range of options available. However, those options – such as detailed row and column settings – provide far more customization potential: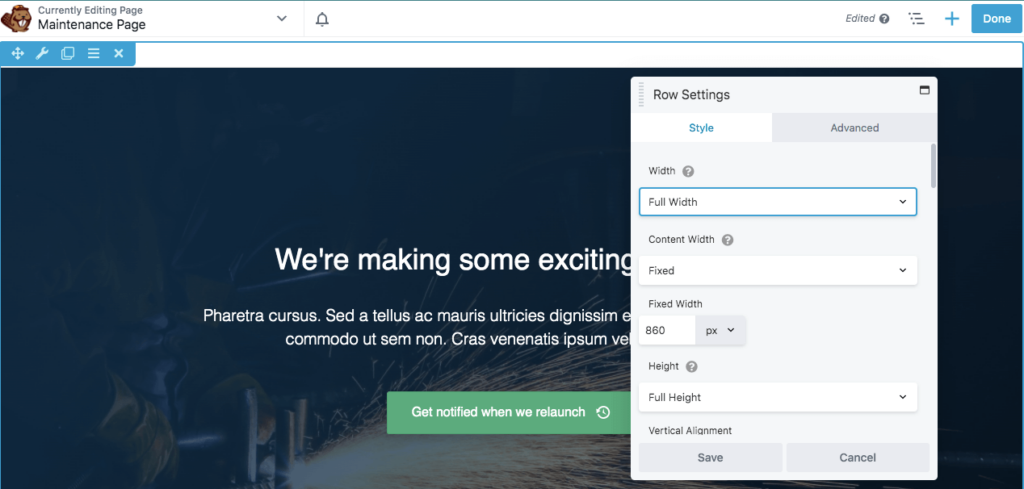 Thrive Architect is designed to be as beginner-friendly and easy-to-use as possible. It offers a simple editing interface, where you design layouts by moving and resizing columns via the drag-and-drop feature: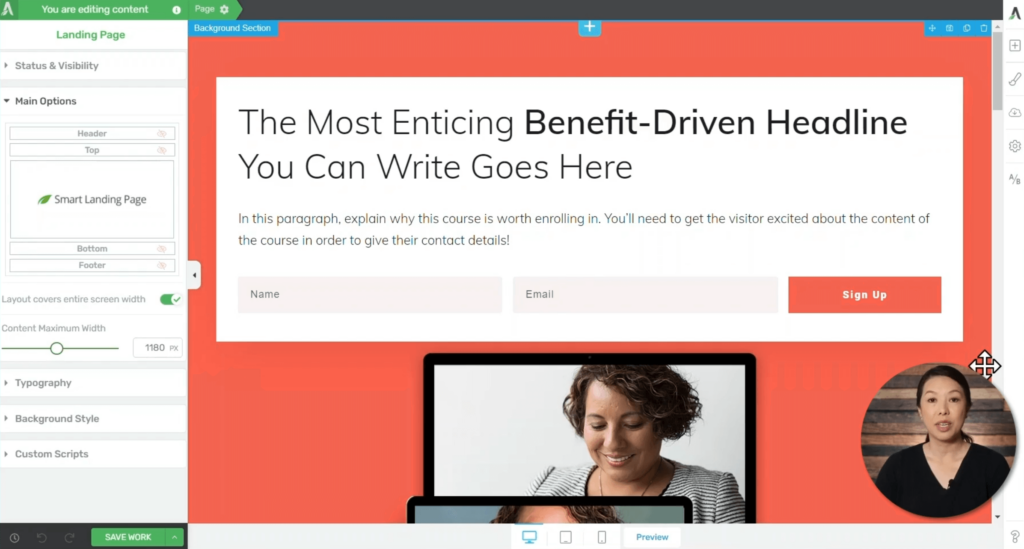 This is great news if you want to build functional and visually-appealing landing pages quickly. On the other hand, this does make the editor less versatile and more restrictive. It's very accessible, but not particularly scalable.
This means that with Beaver Builder, it's easier to create fully-custom pages that look completely unique. You get total control over each element's look and functionality, without sacrificing the user experience.
3. Pricing
Finally, budget will certainly play a role in the page builder you choose. At Beaver Builder, we offer several pricing options to suit your needs. A standard license starts at $99 for use on unlimited sites: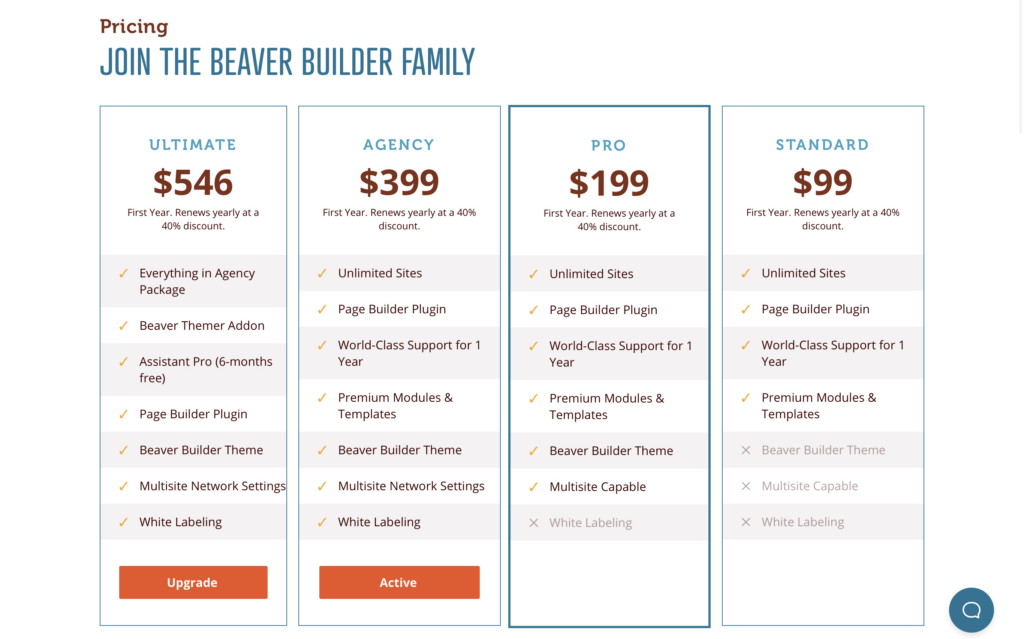 If you're planning to use Beaver Builder on multiple websites, you might want to check out the Agency plan as well. For $399 (for the first year), you get the basics plus our Beaver Builder Theme, multisite network settings, and white labeling options. Finally, the Ultimate package throws in a few more perks, such as our Beaver Themer Addon, which lets you use Beaver Builder on other areas of your site (such as headers and footers).
Thrive Architect's pricing options are more limited. You can get a single-site copy of the plugin for $97 per year. Alternatively, you can pick up the full Thrive Suite package: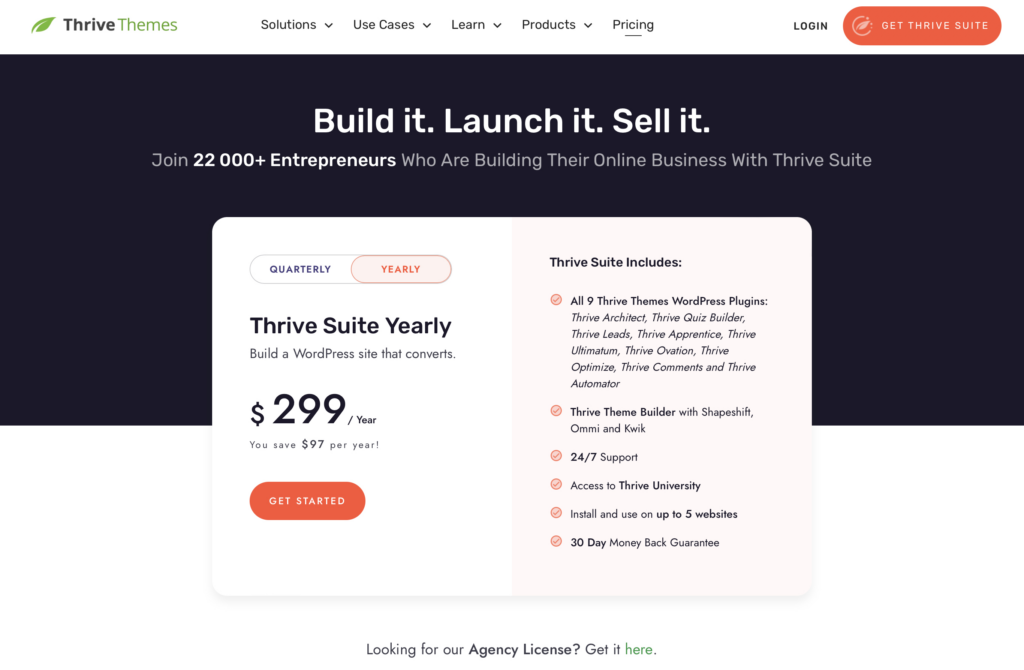 Licenses start at $299 for use on up to five websites, and include access to the developer's full suite of plugins. There's also an Agency license available for $588 per year, which lets you use the suite of plugins on up to 50 sites.
At the starter level, you get more features for the same price with Beaver Builder than with Thrive Architect. In addition, Beaver Builder's agency license is a significantly better deal – both more affordable and available for use on unlimited sites. Thrive Architect is really only worth the cost if you're prioritizing conversion-related features, or you're interested in the developer's entire collection of plugins.
Beaver Builder vs. Thrive Architect: Which Should You Choose?
As we've seen, the main benefit of Thrive Architect is the focus on conversion optimization, including the opt-in forms, wide variety of landing page templates, and built-in A/B testing. On the other hand, it comes with a less customizable page editing experience, few options for advanced users, and a higher price point.
This doesn't mean Thrive Architect isn't worth considering. It's a great option for a small business that wants a quick-and-easy way to build landing pages with lots of conversion-generating features. It's easy to use, requires no coding knowledge, and lets you test your pages to see which ones are most effective.
Most other users will likely find this page builder lacking. In that case, Beaver Builder may be the better option. It's still easy to use, but offers a vast array of customization options and complete control over every element on the page.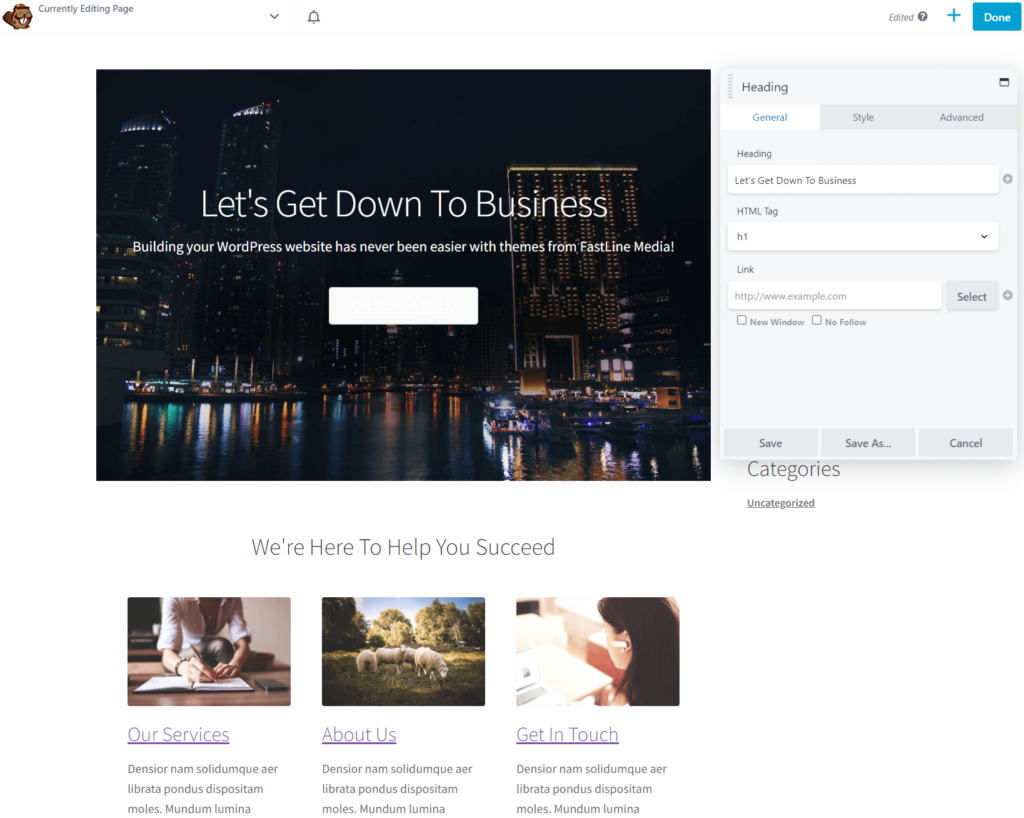 Our page builder is also flexible enough to use for many different types of websites. There are plenty of modules and templates to get beginners started quickly. For developers and other advanced users, there are additional options such as reusable content and custom post types, shortcodes, and widgets.
Plus, Beaver Builder is a more affordable option, particularly if you want to use it on multiple sites. And if you combine it with the Beaver Builder Theme and the Beaver Themer add-on, it becomes a full-package solution for designing unique WordPress websites.
Conclusion
Beaver Builder and Thrive Architect both allow you to create custom pages and posts with a drag-and-drop interface. However, there are significant differences between these two page builders. Thrive Architect is a simple and more niche tool that's best suited for users who want to build a lot of landing pages quickly.
In contrast, Beaver Builder provides a more comprehensive set of features. It is easy to use for beginners and professionals alike, and flexible enough for a wide range of use cases. It's also great value for money, with the price point of the Agency and Ultimate packages representing one of the most significant advantages over Thrive Architect. These factors make Beaver Builder an ideal page builder option for nearly any type of user!
Related Questions
What Is Beaver Builder Used For?
Beaver Builder is a WordPress page builder plugin that allows you to create custom pages and posts using a drag-and-drop interface. It is a popular choice for developers, designers, and web agencies who want to build highly-unique and customized websites for multiple clients.
Is Beaver Builder Worth It?
Beaver Builder offers a variety of licenses that provide great value for money. Every type of license can be used on unlimited websites, which is hard to find in competing page builders. All-in-all, Beaver Builder is a considerably cheaper option than alternatives such as Thrive Architect.
Join the community
We're here for you
There's a thriving community of builders and we'd love for you to join us. Come by and show off a project, network, or ask a question.