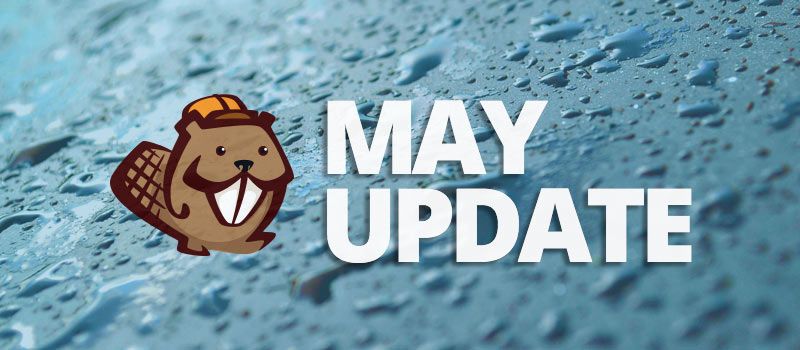 It's May here in good 'ole California (and everywhere else, ha), and you might think that we're sitting here basking in the sunshine and enjoying the glorious California weather. Well, that's not the case. It's cold and rainy today. And while we desperately need the rain (see California's drought), there's hardly been more than a few drops. Just enough to rust up the grill I forgot to cover and add a few water marks to my car. Oh well.
I'm not really as disgruntled with the weather as I sound. I think after a long winter of buckling down working on Beaver Builder, we're all ready for some summer activities: mountain biking, barbecuing, drinking on the beach (like we're planning to do at CaboPress), etc. That's okay, next month I'll probably be complaining about the heat. 🙂
You know what they say about weather, "Don't knock the weather. If it didn't change once in a while, nine out of ten people couldn't start a conversation." (Kin Hubbard).
Anyways, I am a few days late with this May update (doesn't that roll off the tongue nicely). We've all been swamped with Beaver Builder and client work, and we all launched a few really cool new websites built with Beaver Builder…
Justin has been working on a website for HireSafe, a company that provides tools for employment background screening.
I've been working on a site that encourages young entrepreneurs to create businesses for the aging demographic.
Last, but certainly not least, Billy just polished off an eCommerce website for Madison Valley Candles. Our buddy Sean makes all of his candles by hand, and he was nice enough to give us a few scented candles to burn around the office.
I'll tell you, you've never seen three grown men so giddy about scented candles (and you probably never will). They smell AMAZING! Our running favorite is Pumpkin Pie, but we've barely scratched the surface of the different scents available.
About Beaver Builder
Enough about us, let's talk Beaver Builder! April was a great month for us as we hosted our first design contest, celebrated our first birthday, hired our first Beaver Builder employee, and got our first renewal order!
The design contest is over now, but you can still checkout the top 10 designs. Thanks to everyone who participated in the contest,and congrats to the winner, Diede Tap! Admittedly, we we're a little disappointed at first. Lots of people signed up for the contest, but not too many people submitted designs. I guess designers procrastinate because on the last day there were a TON of submissions! Woot!
Also last month, our friend Mat was gracious enough to invite us on his podcast, The Web Agency Podcast. He's a real pro, and we had a blast chatting with him about Beaver Builder and managing our plugin business alongside our agency business. Have a listen, and be sure to throw him a good rating in iTunes if you have a second.
Another friend of ours, Dave Toomey, created a Facebook user group for Beaver Builder enthusiasts. Come on by and say hello!
Beaver Builder Updates – Here's what's new..
You might think, with everything else going on, that we didn't have any time to launch new features. Well, think again…
Subscribe Module
Our biggest update last month was launching the much-requested subscription module! Beaver Builder now integrates with several email list management services (MailChimp, Mad Mini, Constant Contact, etc) allowing you to create newsletter signups, landing pages, and marketing/squeeze pages with ease!
Templates Update
One of the most requested features on our user voice page has been to enable users to modify the core page builder templates. Well, ask and you shall receive. We just launched a major overhaul to our template system. You can now categorize templates, access and restore revisions, and agency users can override the core layout templates with their own! There's more too, have a look at our feature launch blog post for all of the details.
Plus…
A few more highly requested features were implemented last month.. We added SVG support to the photo module, added an offset setting to the posts module, and we've spent a bunch of time adding more detailed/thorough documentation to our code! As always, take a peek at our change logs to see all the juicy details.
Well, that about covers it. If you enjoy reading our updates, you might want to consider signing up for our newsletter. It's pretty much the same information delivered straight to your inbox! It's not the least bit spammy or annoying; we promise!
What's the weather like where you're from? Leave us a comment and let's chat about it…
Photo Credit: canniballistic0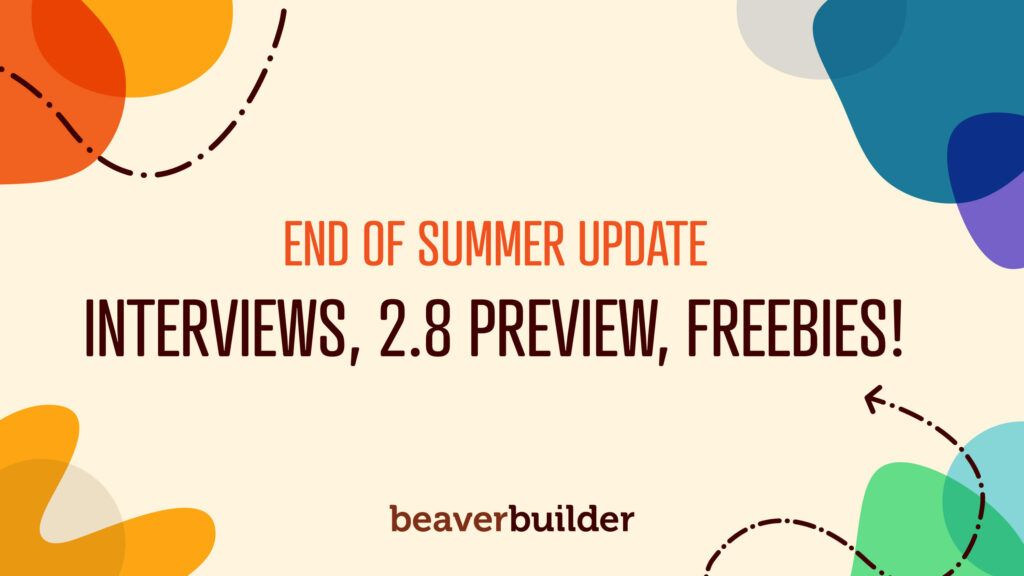 Hello, Beaver Builder community! Summer is almost over we're ready to welcome some cooler weather. 😅 We have some exciting…
Join the community
We're here for you
There's a thriving community of builders and we'd love for you to join us. Come by and show off a project, network, or ask a question.