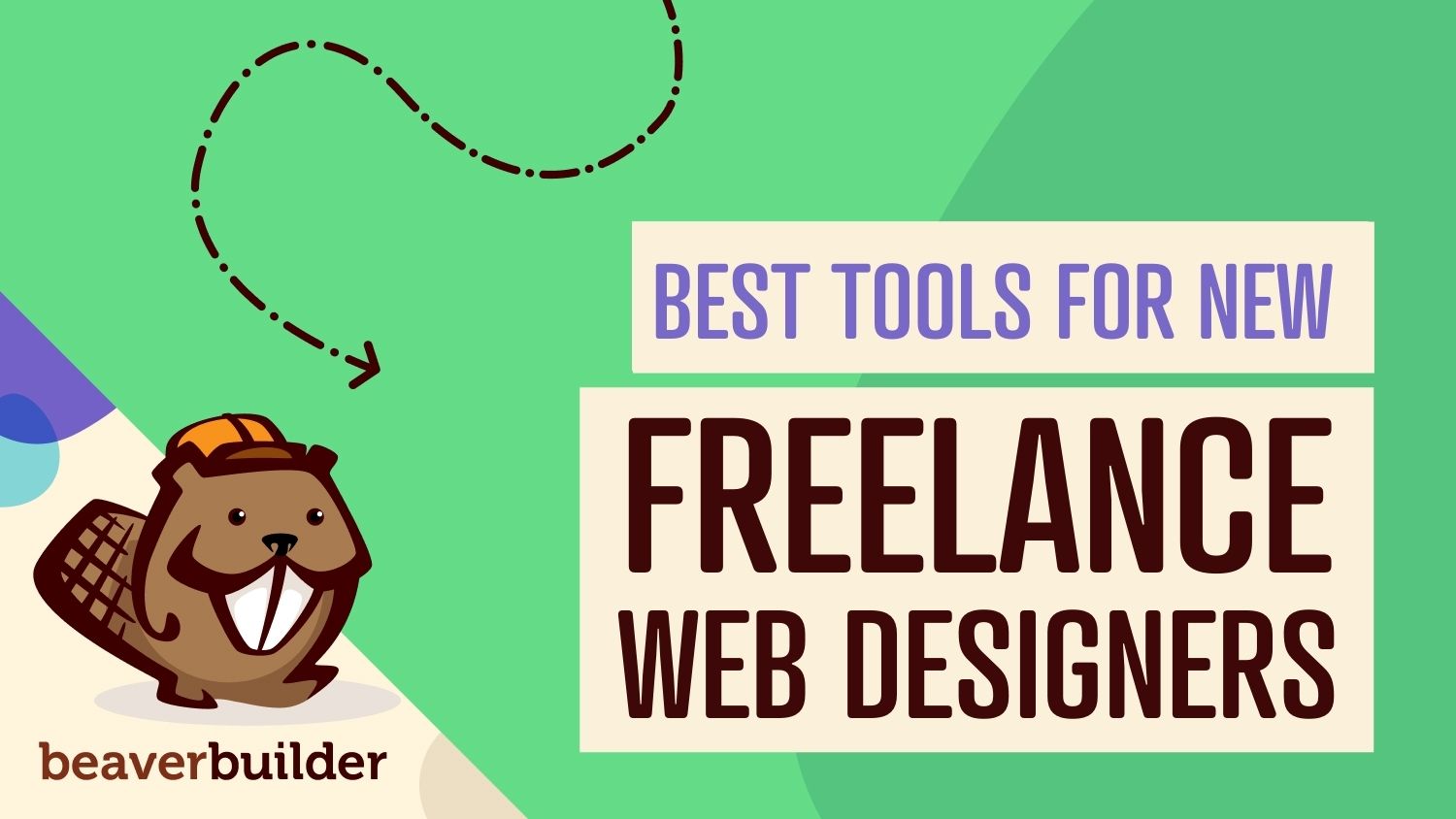 Breaking into the freelance world as a web designer can be a little challenging. While there's plenty of work to go around, there's also a lot of competition. Moreover, being a successful freelancer requires you to juggle a lot of responsibilities. Fortunately, having the right tools will make your job a lot easier.
In this article, we'll introduce you to some of the best tools for freelance web designers. Our goal is to cover different types of services that can reduce time spent micromanaging parts of your work, so that you can focus on actual web design. Let's get to it!
We just launched 6 FREE
Beaver Builder courses
. Learn how to easily build WordPress websites with step-by-step video tutorials. Get started today.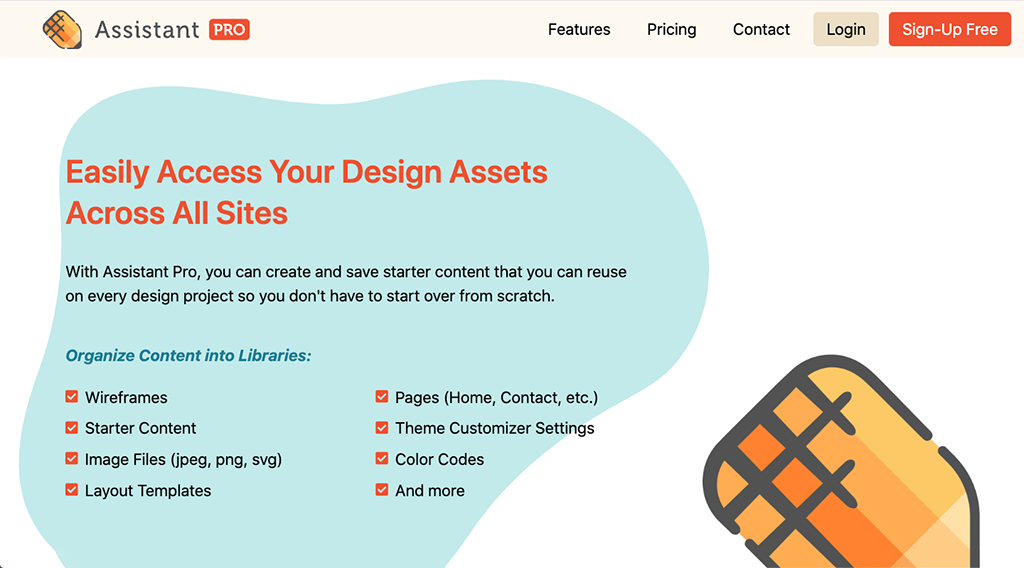 Being organized and establishing systematic workflows is a crucial part of running any business. Assistant.Pro is like a filing cabinet for WordPress assets. You can use it to store and organize media, WooCommerce products, page content, color libraries, code snippets and prebuilt assets from a variety of different popular page builders like Beaver Builder, Elementor, and Divi. The cloud storage interface connects easily with any WordPress site using a plugin.
Price: The free plan is an awesome solution for most sole proprietor WordPress developers. Upgrade to a Personal or Team account to gain access to private libraries, team accounts and team libraries.
2. Harvest (For Time Tracking)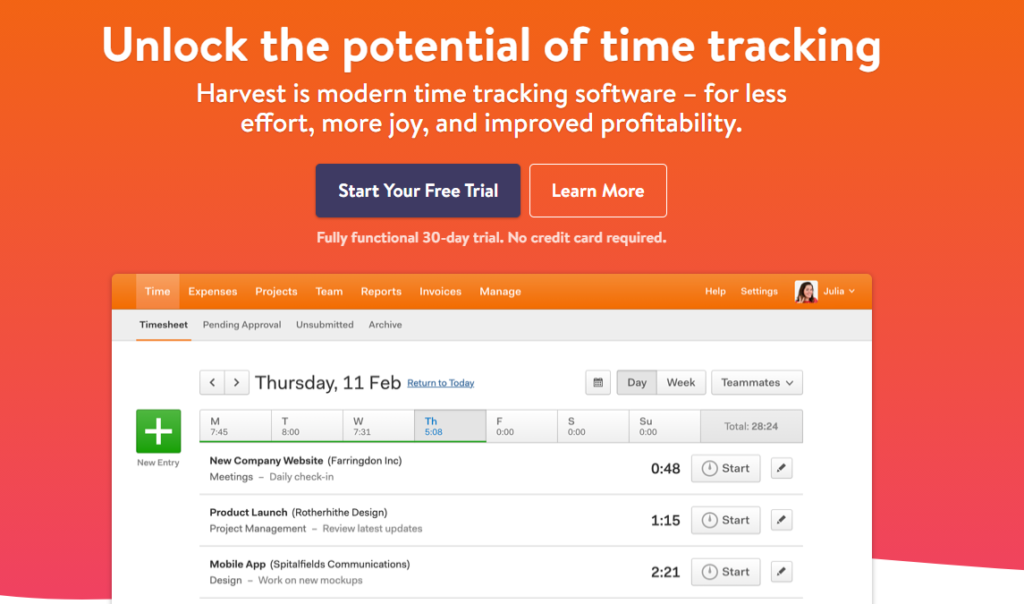 As a freelance web designer, you'll likely get paid by the hour for a lot of your projects. This means that you'll need to track how much time you spend working on each task. However, you may not always remember to do this.
This is where Harvest comes in. This time-tracking app enables you to set up different tasks and track the time you spend working on each one. You can track time across days or weeks, and the app will even send you reminders if it notices that you're not using it.
What makes Harvest one of the best tools for freelance web designers is its seamless integration with a lot of other programs. For instance, you can invoice hours worked directly via PayPal or Stripe. Moreover, the app integrates with invoicing software such as QuickBooks Online, and Xero.
Price: You can get started with Harvest for free, or upgrade to the Pro version for $12 per month.

One of the most challenging aspects of being a freelancer is that you're in charge of your own finances. For instance, you'll need to keep track of which client owes you for what project. You'll also need to send invoices and ensure that you complete your tax returns accurately. If you work on a lot of projects at once, managing your finances can eat up a lot of your time.
QuickBooks offers a suite of tools that enable you to easily generate invoices and keep track of pending payments. It will also help you simplify your tax records. The software can even sync with your bank (depending on your location). Thus, it can also help you track expenses if you need a bit more help with your finances.
As your roster of freelance clients grows, keeping financial records by hand can become too cumbersome. If you're just starting out, getting into the habit of using accounting software such as QuickBooks will pay off in spades over the long term.
Price: QuickBooks plans start at $8 per month.
4. Trello (For Project Management)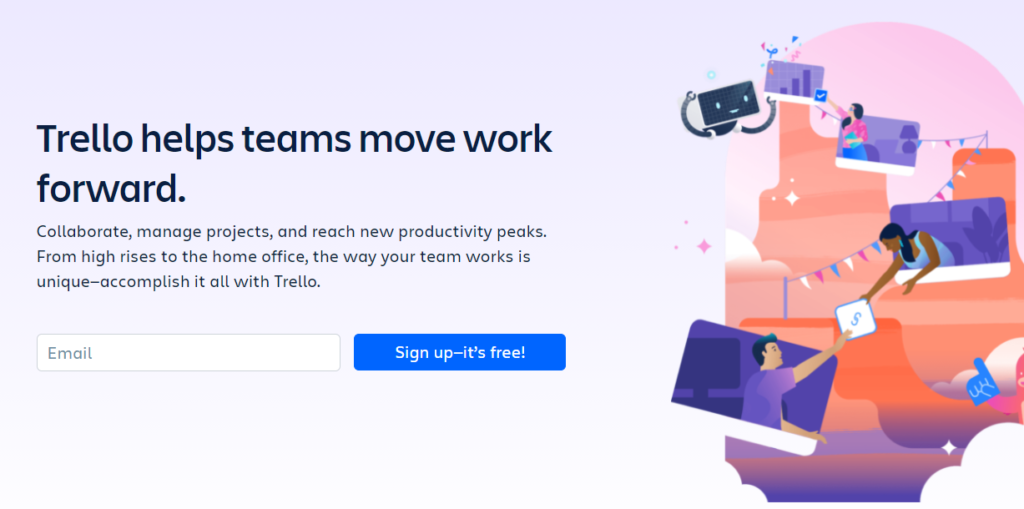 There are a lot of project management tools that you can use. However, Trello is our favorite service if you're working as a freelance web designer. The main reason why is that Trello enables you to create multiple workspaces and share access with whomever you want.
You can use that functionality to set up unique workspaces for projects or clients. For example, you can create Trello boards to track your progress, see what tasks you have left to do, and keep clients abreast of how projects are moving along.
Trello is also one of our favorite picks due to its ease of use. As a freelancer, you shouldn't have to spend hours learning how to use complex project management software when you could be working on your next web design. Trello's interface and its board system are so intuitive that it should only take you a few minutes to start organizing your projects.
Price: Trello offers a free plan as well as premium options, which start at $10 per month.
5. Cushion (For Project Planning and Forecasting)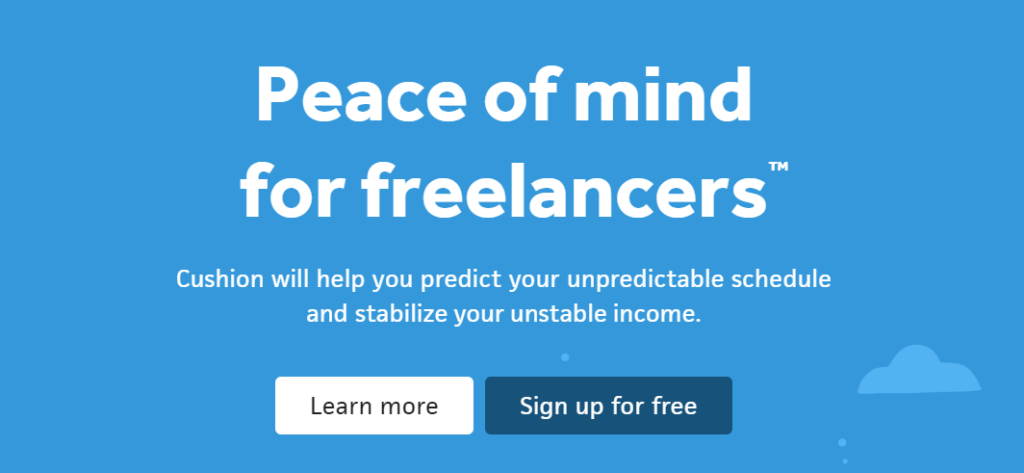 As a freelancer, you may find yourself dealing with a very unpredictable schedule. For instance, you might be swimming in work one month, only to face a drought the next one. On top of that, payments will vary depending on the type of project. This means that typically your income will vary from month to month.
Cushion helps you manage your workload more efficiently. It does this by enabling you to see upcoming and current projects from a bird's eye view. That way, you can see if you're able to take on more work. You can also determine whether you'll need to hustle to find more clients, especially if you can see that your schedule will open up soon.
Moreover, Cushion lets you "forecast" how much money you might earn over time by assigning values to projects. You can also use this service to generate invoices and accept credit card and ACH payments (via Stripe). The app even lets you keep track of client's behavior (such as how long they take to pay), so you can take that into account in future forecasts.
Price: Cushion starts at $10 per month.
6. Bonsai (For Contract Management)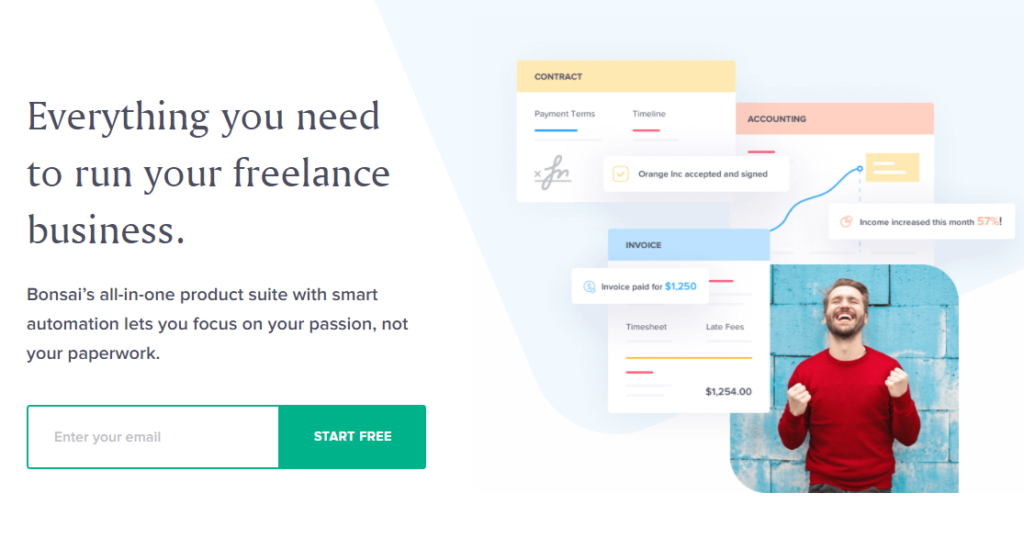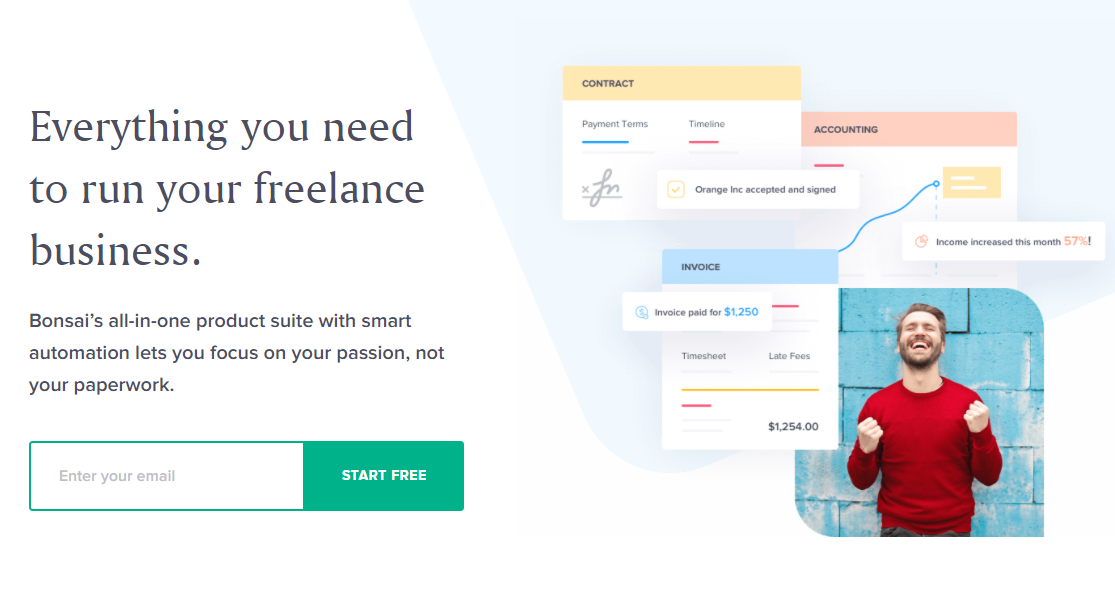 As a freelance web designer, contracts will become your best friends. Contracts are your cover when it comes to defining the scope of a project, your rates, payment terms, what you're expected to deliver and when, and pretty much everything else.
If you're new to freelancing, you might want to wing it and skip contracts altogether. However, take our word for it – these legal documents are necessary. Setting up contracts doesn't mean you need to hire a lawyer, though. That's where Bonsai comes in. This service enables you to generate contracts and proposals using comprehensive and easily customizable templates.
Bonsai asks for details about your project and the work that you do, and then helps you create a contract that you can send to your client. On top of that, you can use Bonsai to store information about clients and send invoices. Thus, this is a powerful all-in-one platform for freelance web designers.
Price: Bonsai plans start at $19 per month.
7. Zeplin (For Collaboration With Web Developers)

Depending on what project you're working on, you may end up collaborating with different web developers at the same time. It's often hard to adapt your vision to what web developers want or for them to understand your designs. Being able to collaborate with fellow professionals efficiently is an important skill.
Zeplin is one of the best tools for freelance web designers, as it takes your designs and shares them with developers on your team. It also provides information such as what colors you use, what text styles you're working with, and individual specs for each element.
In a nutshell, Zeplin can take your finished designs and tell developers: "Hey, here's what you need to translate that design into code". By doing so, you can eliminate a lot of back-and-forth with developers and spend more time working on your projects. Zeplin also integrates with your favorite design software, including Photoshop, Sketch, Adobe XD, and Figma.
Price: Zeplin offers a free plan and premium options, which start at $6 per month.
8. Beaver Builder (For WordPress Web Design)

WordPress is everywhere. In fact, this popular Content Management System (CMS) powers 40% of the web. As a web designer, that means that statistically speaking, you're going to end up working on a lot of WordPress projects.
One of the best things about using WordPress is that you get access to powerful page-building plugins such as Beaver Builder. Page builders basically enable you to combine the design and development processes into one task. You can design a full website using pre-built modules that you can easily customize and move around within pages as you wish, without needing to write a single line of code.
If you plan on focusing on WordPress sites, knowing how to use page-building plugins such as Beaver Builder will enable you to level up your services. On top of offering web design services, you may actually be able to build entire websites from the ground up, which can make you a highly sought-after freelancer.
Price: Beaver Builder licenses start at $99 per year.
Conclusion
When you think about tools for web designers, your brain might instantly go to Photoshop or Sketch. In our experience, every web designer has their favorite graphic design tool. As a freelancer, what really matters is that you have access to tools that will enable you to tackle all of the aspects of the work, beyond web design.
In practice, that means knowing how to use accounting software such as QuickBooks or time-tracking apps like Harvest. You might also want to use a project management tool such as Trello. Moreover, you could learn how to use page builder plugins like Beaver Builder. If you're just starting out, we recommend that you check out all of the tools mentioned in this post in order to find the ones that you think can benefit you the most.
Do you have any questions about the best tools for freelance web designers? Let us know in the comments section below!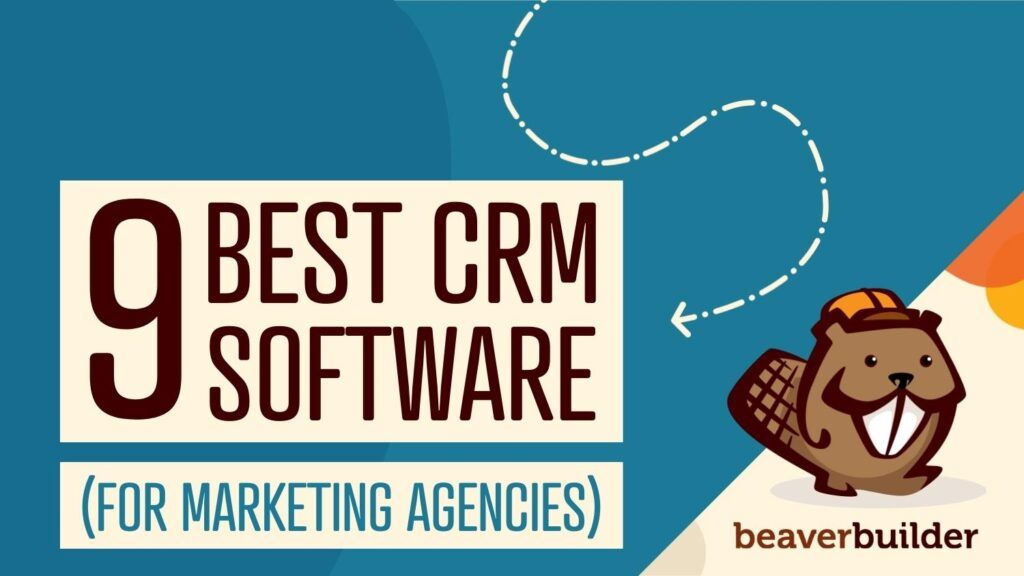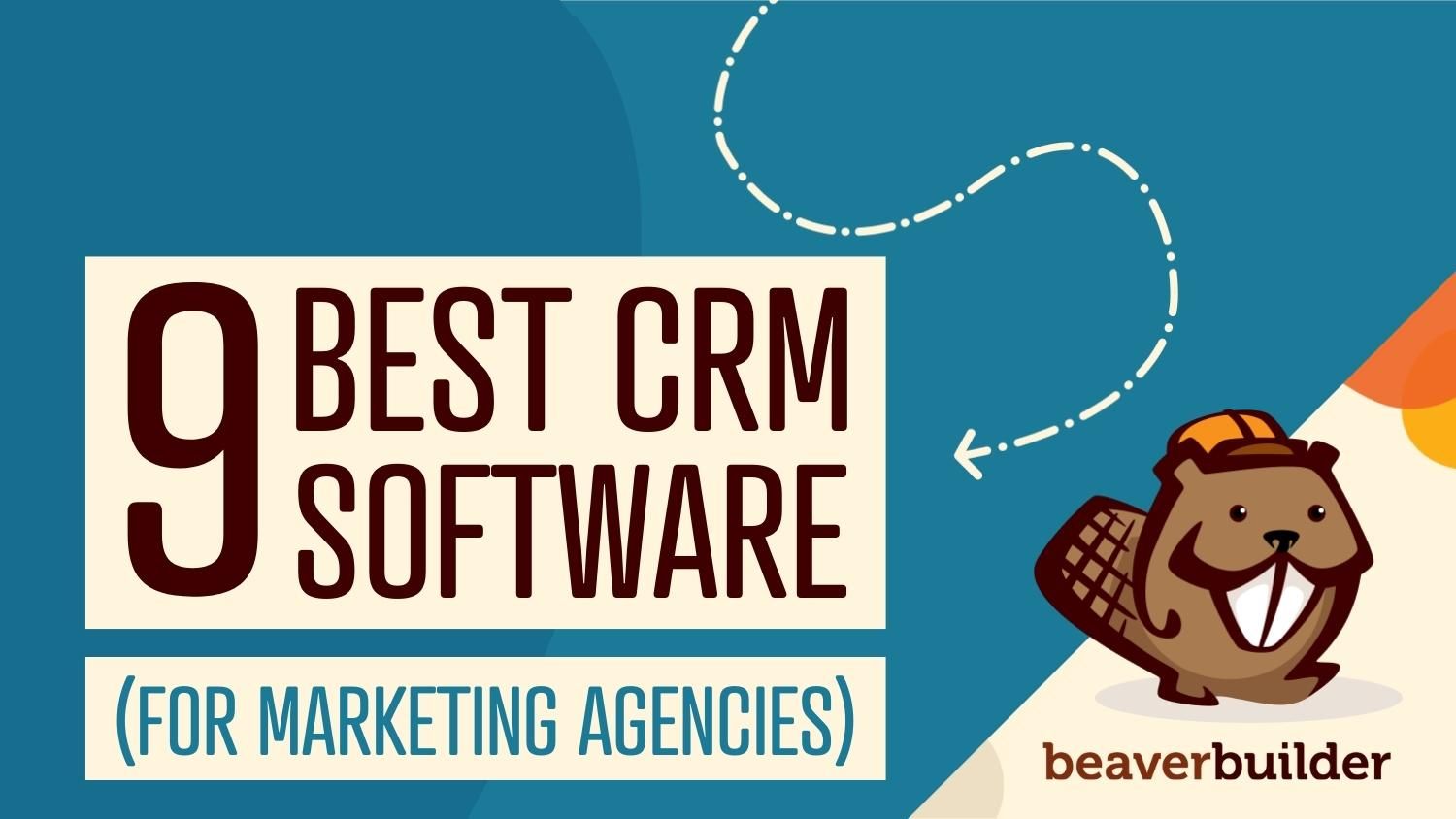 Two important objectives for marketing agencies are to improve customer experience and boost sales. To help reach their goals and…
Join the community
We're here for you
There's a thriving community of builders and we'd love for you to join us. Come by and show off a project, network, or ask a question.