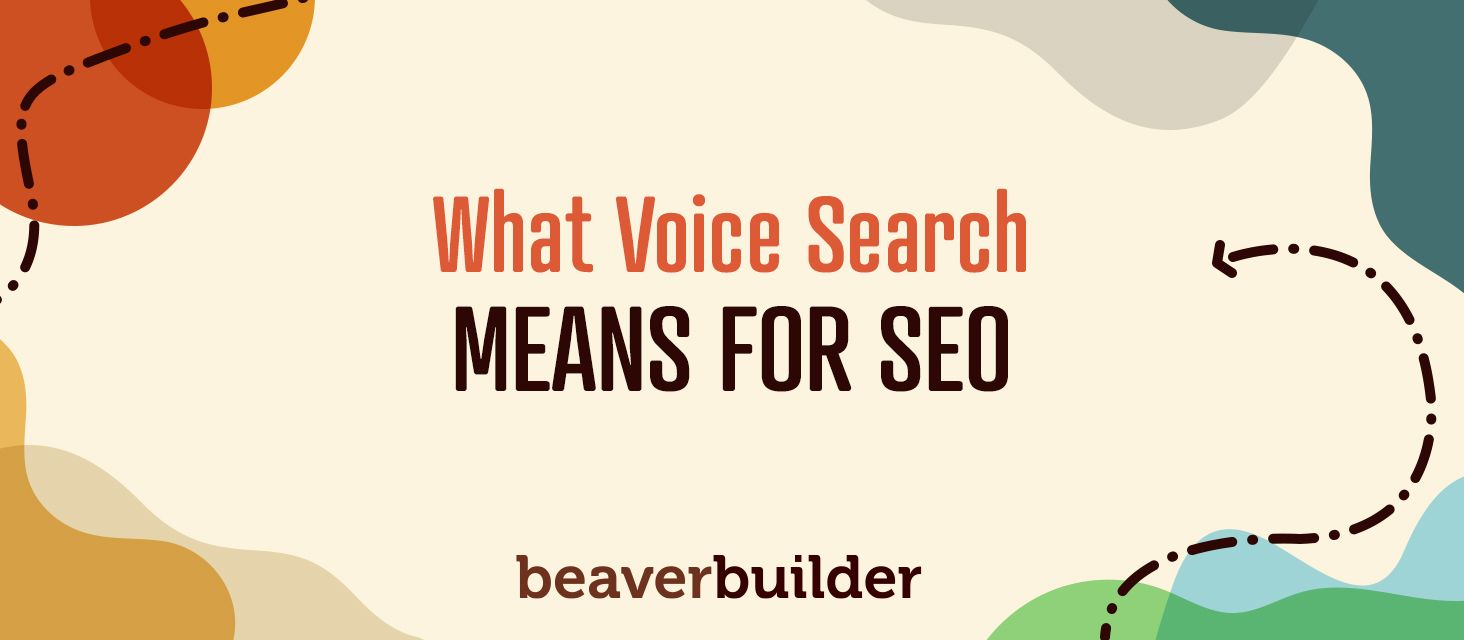 The technology landscape is constantly changing, and Search Engine Optimization (SEO) with it. As mobile internet usage continues its steady takeover, voice search is becoming more popular.
Thus, many websites and business owners may be wondering how they can optimize their content to take advantage of it.
Fortunately, optimizing for voice is very similar to 'regular' SEO in a lot of ways.
In this article, we'll explore the nuances of voice search and its implications for WordPress users.
Then we'll look at some of the best practices for refining your site to rank highly for this type of search. Let's dig in!
An Introduction to Voice Search in 2021
There was a time when using our voices to communicate with devices seemed silly and impractical. However, these days, 55 percent of people use voice to search on their phones.
We expect this trend to continue as digital assistants such as Google Assistant and Siri become more refined and voice usage becomes more normalized.
Part of this rise is tied to increasing mobile usage. When you're out and about, voice is often quicker and more convenient than typing out your search query.
Users can ask for local restaurant suggestions while walking downtown, rather than having to stop, open an app, and focus their attention on their phone.
Additionally, the popularity of smart speakers such as Amazon Echo and Google Home means more people than ever are searching by voice since there's typically no other way to interact with these devices.
Users of smart speakers most often ask for the music to be played, but online searches make up 47 percent of smart-speaker use.
The bottom line is that optimizing for voice isn't just a luxury anymore – it's quickly becoming a necessity. This means that you may need to rethink your SEO strategy.
At its core, voice search essentially consists of a conversation between the user and their digital assistant, as opposed to the simpler queries of traditional search. Voice search queries tend to be more specific and nuanced.
For example, a typed search might use the query "voice search WordPress SEO," whereas a voice search is more likely to use the specific phrase, "what does voice search mean for WordPress SEO?" Optimizing for the latter could make your content more visible to voice search users.
Another key factor of voice search is user intent. People searching by voice usually want quick answers – they likely won't even click through search results to your web page.
Featured snippets and rich results receive the majority of attention. For that reason, your Search Engine Results Page (SERP) entries need to be more detailed and clear than ever.
How to Optimize Your Website for Voice Search (6 Key Tips)
Now that you know what voice search users are looking for, you can optimize your content by focusing on specific areas of your site.
The best part is that the six tips below won't just help with voice search. They're also excellent general SEO best practices, so implementing them should help your rankings even with traditional desktop and mobile search.
1. Target Long-tail Keywords
As mentioned above, voice search queries tend to be longer and more conversational than text-based searches. This means there may be more opportunities to capture specific long-tail keywords that might normally have lower search volumes.
Long-tail keywords are more specific and usually less common search terms. Normally, these keywords receive less overall search volume than shorter, more generic terms. However, they tend to offer higher conversion value.
In other words, people searching for more specific terms are likely closer to taking an action than someone searching for a more vague term.
The natural language and phrases used in voice search mesh perfectly with long-tail keywords. Best of all, the nature of voice queries means that the "lower volume problem" is likely to become less of an issue as voice search usage increases.
The bottom line is, voice search makes long-tail keywords a win-win proposition.
If you're not sure where to start, Ahrefs keyword research tool can give you some ideas: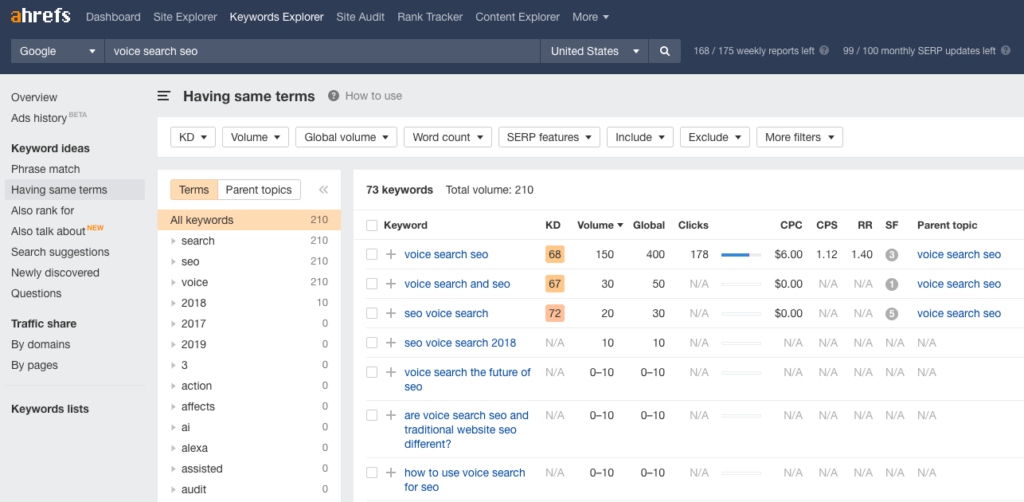 Type in a search term and it'll show a variety of related long-tail keywords, along with their typical search volumes.
2. Aim for Featured Snippets
According to Backlinko, featured snippets are "short snippets of text that appear at the top of Google's search results in order to quickly answer a searcher's query," such as this example: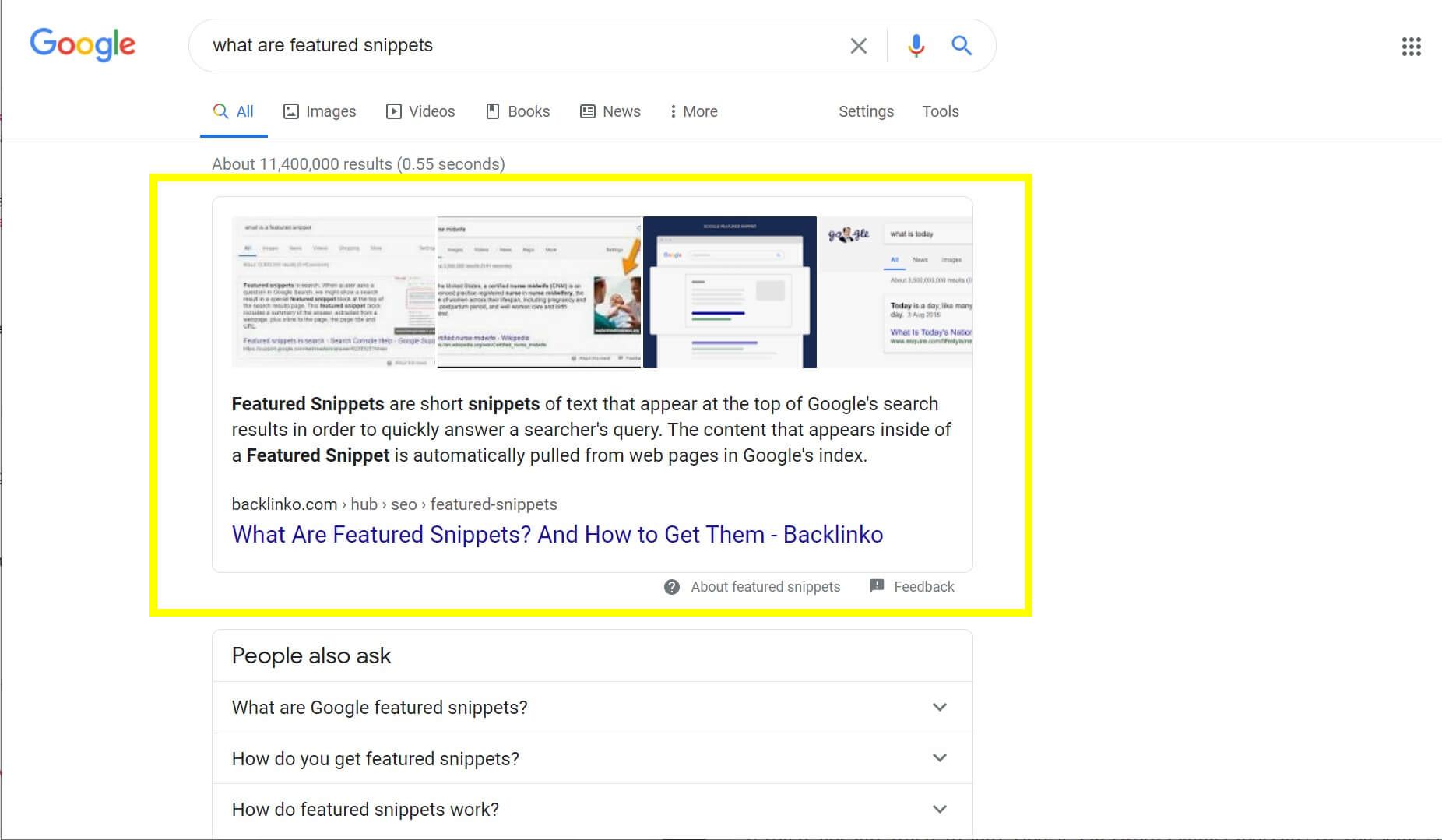 Just like the example above, they aim to provide a quick, instant answer, which is exactly what the majority of voice searchers are looking for.
For that reason, featured snippets present a huge opportunity for voice search optimization success.
Although a snippet may not earn you a click (since it answers the question right on the SERP), users may take notice of the source of the information, earning mindshare for future searches.
Unfortunately, there's no real way to guarantee a snippet. However, there are some things you can do to increase the odds of your content showing up in this coveted spot, such as:
Provide a complete, detailed answer to a common question within your content.

Target "How," "What," and "Why" questions. These may be more likely to earn featured snippets.

Make sure your page ranks highly even

without

capturing the snippet. A higher-ranked page may have a better chance of being featured.

Include lists or step-by-step instructions for relevant content. Information that is easily summarized makes for quality featured snippets.
However, in general, probably the best way of getting featured is to just create outstanding content.
3. Focus on FAQs
Similar to the previous tip, focusing on Frequently Asked Questions (FAQs) is a solid way to capture the attention of users looking for quick answers.
Create an FAQ page on your site that breaks down the most common questions you receive.
When deciding what questions to feature, consider your brand from your users' perspective. What are they most likely to have questions about? You can also comb through your support channels for inquiries that pop up frequently.
In addition, FAQ pages are a good place to build in long-tail keywords. Find the keywords you want to capture using the Google Keyword Planner mentioned above. Then turn them into questions for your FAQ page.
Lastly, check out your competitor's FAQ pages for ideas.
Don't forget about Reddit and Quora threads related to your brand or industry, too. There's no need to reinvent the wheel – you'll likely find plenty of recurring questions from these sources.
4. Implement Local SEO best practices
Local, or 'near me' queries make up the bulk of voice search, so your site should provide as much relevant detail as possible in order to capture those queries.
Start by including your physical address and phone number somewhere on your site (typically in a custom footer).
You should also leverage Google My Business: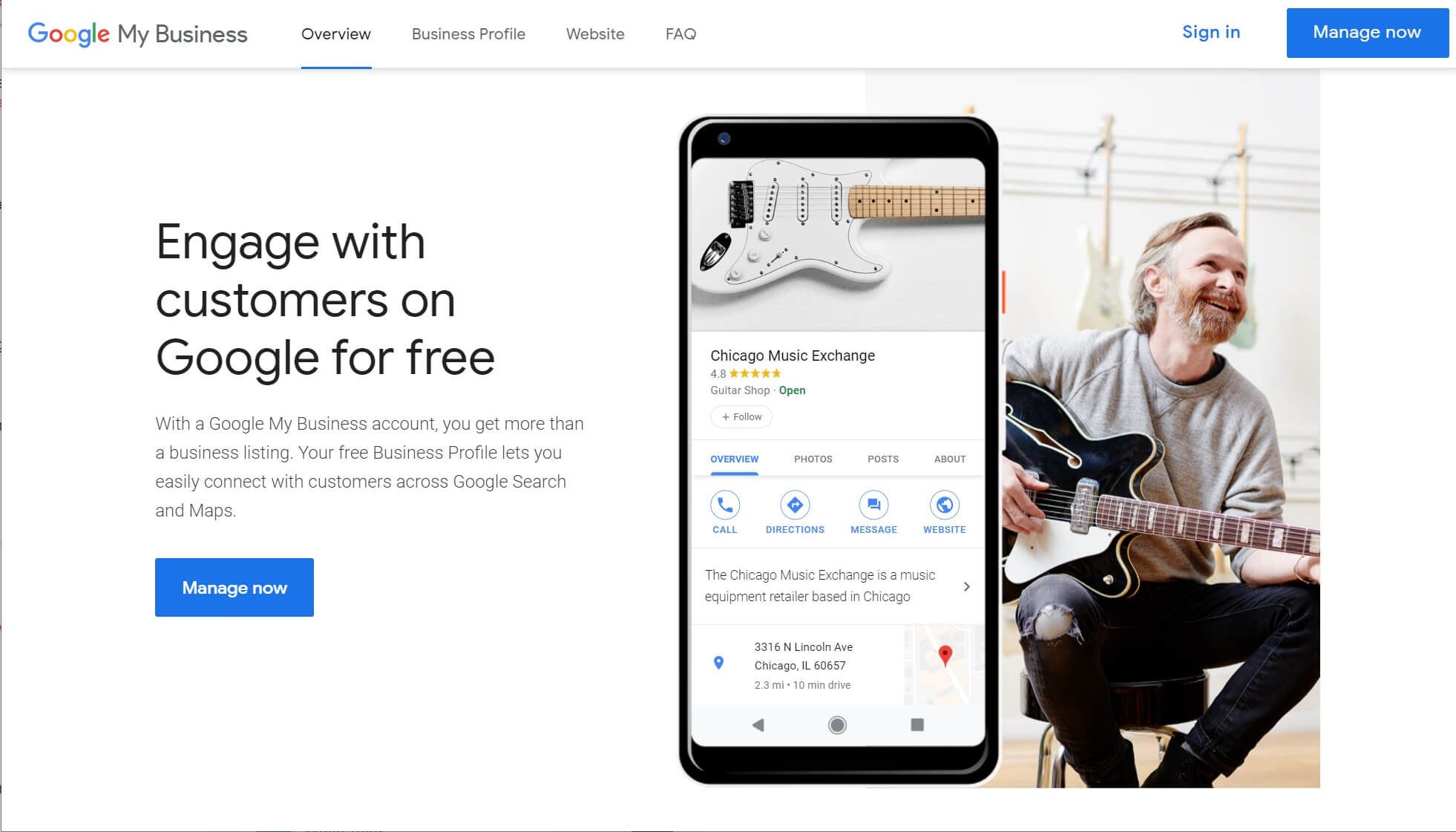 With this service from Google, you can build a profile for your business that then shows up in Google Maps and search results.
This is the source of the quick call, website, and navigation links seen in SERPs, as well as ratings and reviews.
Either create a new My Business page or claim the existing page for your business and fill it out as completely as you can, including images and your product or service details.
Speaking of reviews, these are also important for local search rankings, so encourage customers to leave feedback for your business.
You can send automated purchase and support request follow-up emails or even incentivize reviews by offering coupons to participating users.
5. Make Sure Your Pages Load as Quickly as Possible
Page speed isn't just important for User Experience (UX). It's also a key factor in Google's search rankings. For voice search, it's particularly important because of the time-sensitive nature of the queries.
In other words, users aren't going to wait around for your site to load when they're on the go. With all that said, you don't really need to do anything special.
Just follow the usual best practices for performance optimization:
Use a fast and reliable web host.

Enable GZIP compression on your site.

Utilize a caching plugin.

Optimize your media files with a tool such as

TinyPNG

.
These simple tips can go a long way towards making your site as efficient as possible.
6. Optimize for Mobile First
Finally, since most voice search comes from mobile devices, it makes sense to focus on improving your site's mobile browsing experience.
Again, to adhere to Google's algorithm, you're probably already running a fairly mobile-friendly site – it just needs to be a bit more focused if voice search is a priority.
For starters, use a responsive theme and a mobile-friendly layout. Major site elements should be within thumb's reach when browsing on a phone.
It's also worthwhile to enable Accelerated Mobile Pages (AMP) on your site. This format is mobile-friendly, fast, and tends to get a bump in search rankings, as well.
To check for mobile-friendliness, you can use Google's Mobile-Friendly Test tool: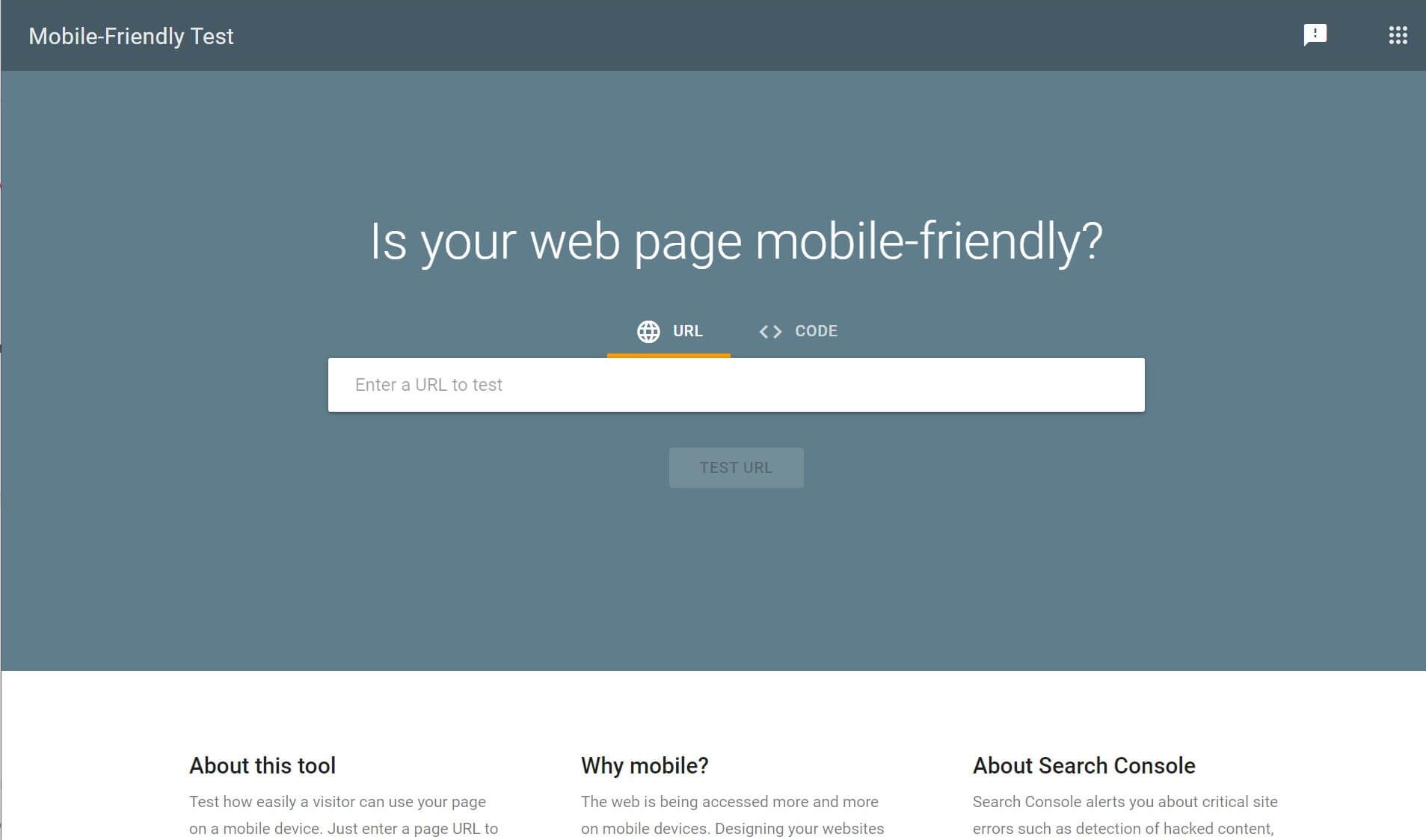 Just input your site's URL and you'll receive a score and advice on how to improve your site.
Conclusion
The steady rise of mobile search and voice search presents unique challenges for website optimization.
Site owners and marketers need to refine their posts and pages for the quick results demanded by mobile users without sacrificing the quality content that desktop users want to read.
Luckily, optimizing your site for voice search is similar to optimizing for "regular" mobile search – just with a sharper focus on long-tail keywords, page speed, and local SEO. Make sure to target featured snippets as much as possible and you'll be well on your way.
Do you have any questions about optimizing your WordPress site for voice search? Let us know in the comments section below!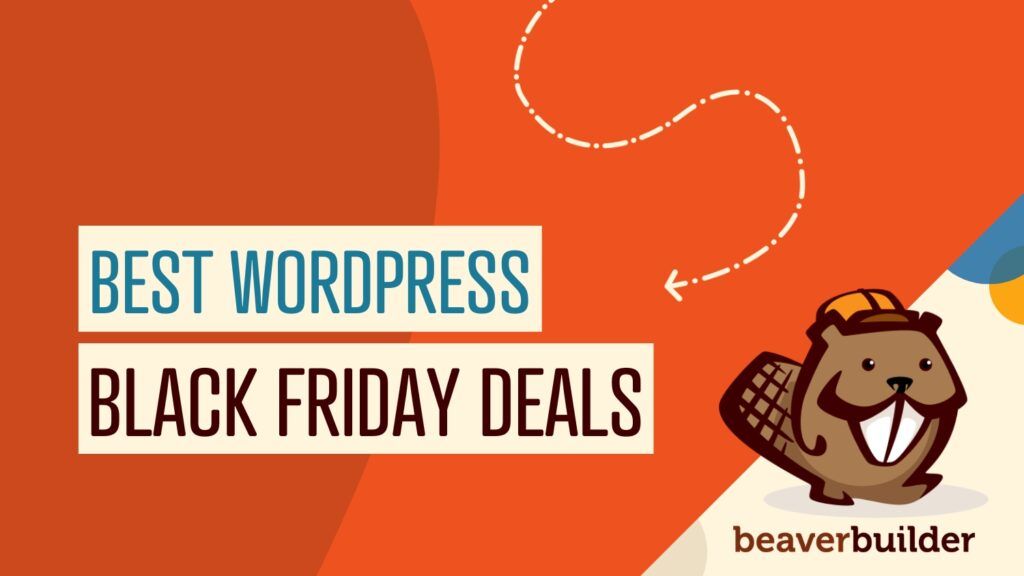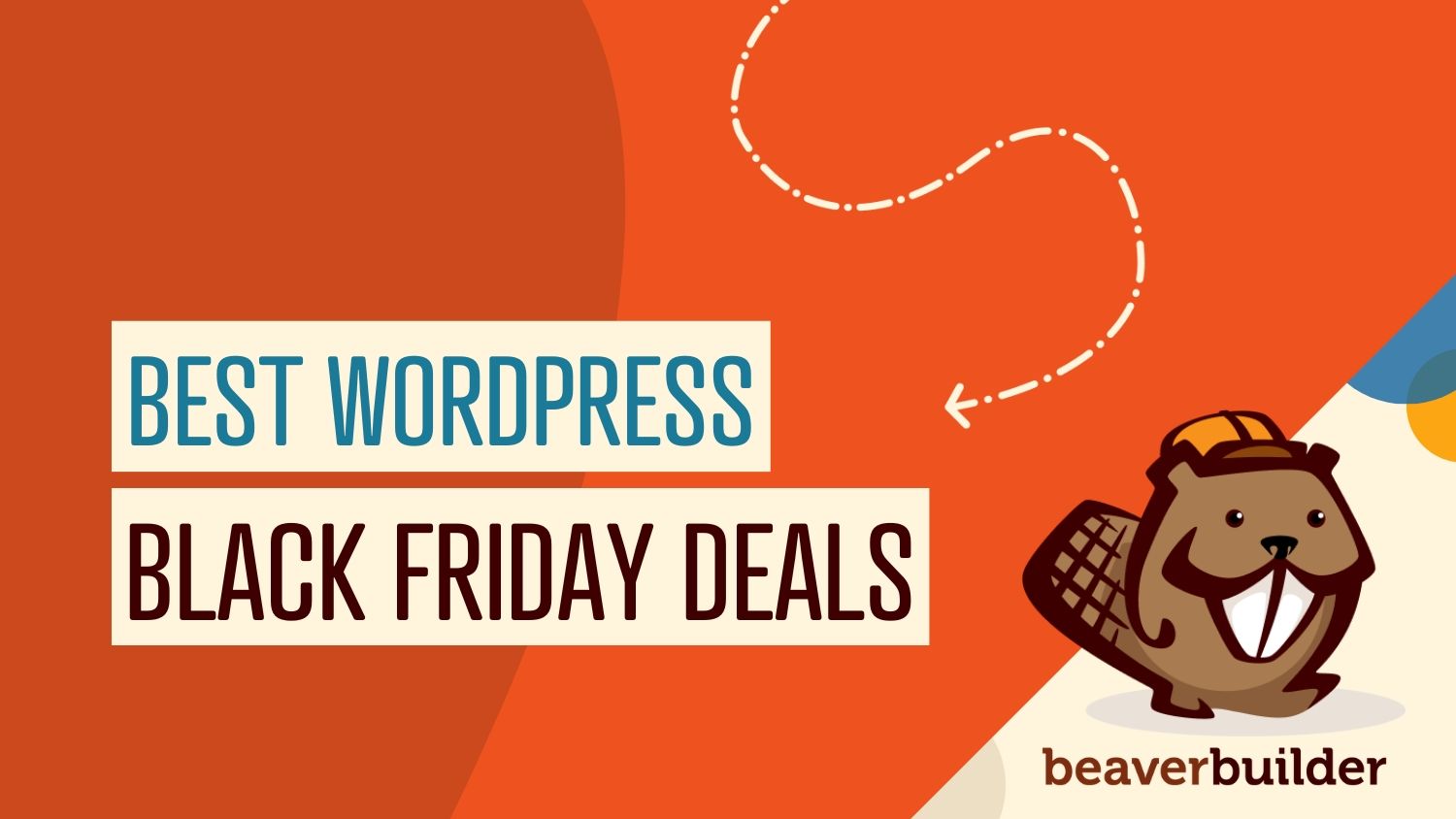 Hey Beaver Builders! Are you looking for the best WordPress deals for this holiday season and Black Friday? We reached…
Join the community
We're here for you
There's a thriving community of builders and we'd love for you to join us. Come by and show off a project, network, or ask a question.
Build Your Website in Minutes, Not Months
Join Over 1 Million+ Websites Powered By Beaver Builder.