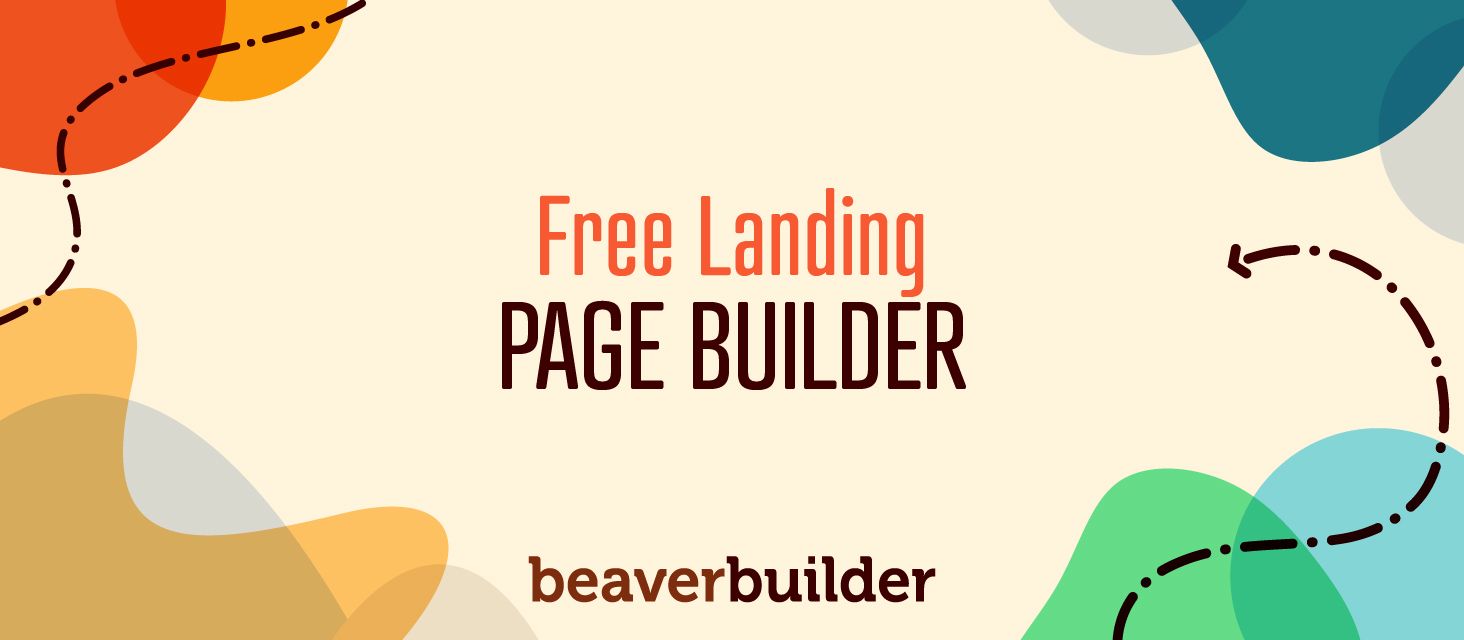 If you regularly build landing pages for clients, you know how much work can go into getting the layout just right. A free WordPress landing page builder can help streamline that process while also helping keep your costs down to maximize your profits.
There are some excellent solutions on the market that can lend a hand.
In this article, we'll explain the benefits of a free WordPress landing page builder.
Then we'll walk you through what features you should look for in such a tool and show how the free Beaver Builder Lite plugin meets all the requirements for building your landing page and more.
Let's dive on in!
Why You Should Use a Free WordPress Landing Page Builder
Creating a landing page from scratch can be a tough job. Although the WordPress default editor is becoming more robust and easier to use, it isn't as flexible or developer-friendly as it could be.
A landing page builder can help make the job simpler through the use of templates and prebuilt elements.
As far as the "free" factor goes, choosing a landing page builder that doesn't require a license or subscription can be a beneficial option for newer WordPress professionals who are still establishing themselves in the industry.
It's also a viable solution for designers or developers who are going through a slow patch and need to cut costs, or for those who are wondering if a page builder can really cut development costs.
And individuals working on their own sites are usually looking for ways to reduce the cost of building and maintaining their site.
In the past, you'd probably download several plugins to help with layout, content, style, and so on. If you're a developer, chances are you'd repurpose code for features you built for previous projects.
The drag-and-drop interface of a good page builder means you can easily arrange landing page elements on the page, style the content, and even add features like animation and cut your tasks to minutes, not hours.
Many page builders include templates to further streamline development. And the page builders have built-in responsiveness so your layouts look good on all devices.
The end result is a much simpler and faster development process that enables you to build and launch more landing pages in less time while staying within your budget.
This, in turn, means happier clients and the ability to take on more work – or just work less, which can be nice, too.
What to Look For In a Free WordPress Landing Page Builder
As we mentioned, there are a number of excellent free WordPress landing page builders available. Picking one can be tough as you sift through all their modules, templates, and other options.
To help you narrow your choices down, keep an eye out for the following key features.
1. Customizable Page Elements
Prebuilt page elements and styles are wonderful, but they're not much use if they don't fit the needs of the product or service you're promoting or match your client's style.
The landing page builder you choose should let you customize its elements to suit the needs of any project.
For example, nearly all Beaver Builder's elements – rows, columns, content modules, and templates – are fully customizable. From simple text modules to buttons and images, you can tweak nearly every aspect of your page to make it meet your needs.
You can even create your own custom modules. This is especially important when you work with multiple customers since each brand has its own style and preferences. 
Additionally, Beaver Builder and some other page builders have vibrant ecosystems of add-ons and third-party modules.
You can use these to extend functionality even further and truly tailor your landing pages to meet any client's needs.
2. Flexibility to Build Other Types of Pages
Some landing page builders are dedicated to building only landing pages.
This makes sense – landing pages are extremely important for many companies, and nailing them can have a big impact on sales.
However, once you've tasted how easy it is to build a page using a drag-and-drop editor, there's a fair chance you'll want that functionality for all your pages.
Fortunately, there are a number of excellent page builders that can create not only landing pages but also any other type of content for your client websites.
This can drastically reduce the time it takes to build and launch a project, enabling agencies and freelancers to streamline their processes and take on more gigs.
Their clients, in turn, receive their finished pages in a fraction of the time it would take otherwise. Everybody wins.
3. Templates to Help Kick Start Development
Starting any project from a blank canvas is difficult. This is especially true of landing pages because there are so many possible layouts and designs that could work.
Having templates available to use as a starting point or inspiration for a design helps you jumpstart your brainstorming process and make sure you don't forget to include important sections. 
Some page builders also let you create and save your own templates. This is handy if your clients have unique requirements that aren't available in prebuilt templates.
It's just another way a strong page builder can make development easier.
An Introduction to Beaver Builder Lite as a Free WordPress Landing Page Builder
It's probably not surprising that our own Beaver Builder plugin covers all three of the essential features of a landing page builder.
However, Beaver Builder is a premium plugin, and you're here to learn about free WordPress landing page builders.
Enter Beaver Builder Lite.
Beaver Builder Lite is available in the WordPress Plugin Directory, meaning you can install it directly from your dashboard by navigating to Plugins > Add New and searching for it.
It offers the same Beaver Builder experience as our premium version, albeit with a limited set of modules and features.
Best of all, it's always free – this isn't one of those time-limited trials.
Let's take a quick look at some of the features you'll have access to if you choose Beaver Builder Lite as your free WordPress landing page builder.
Modules
Beaver Builder uses modules as the building blocks for pages.
There are modules for basic elements such as text blocks and images, as well as more advanced features such as maps, pricing tables, and testimonials.
The free version includes a number of essential modules to help you create landing pages:
Audio

HTML

Photo

Text Editor

Sidebar

Video

Button

Heading

Icon
These modules provide all the building blocks you need to quickly create a custom landing page.
The last three modules in the list became available in Beaver Builder Lite Version 2.4  which brings even greater flexibility.
To build a page, head to your WordPress dashboard and navigate to Pages > Add New. Then, click the blue Launch Beaver Builder button to open the editor: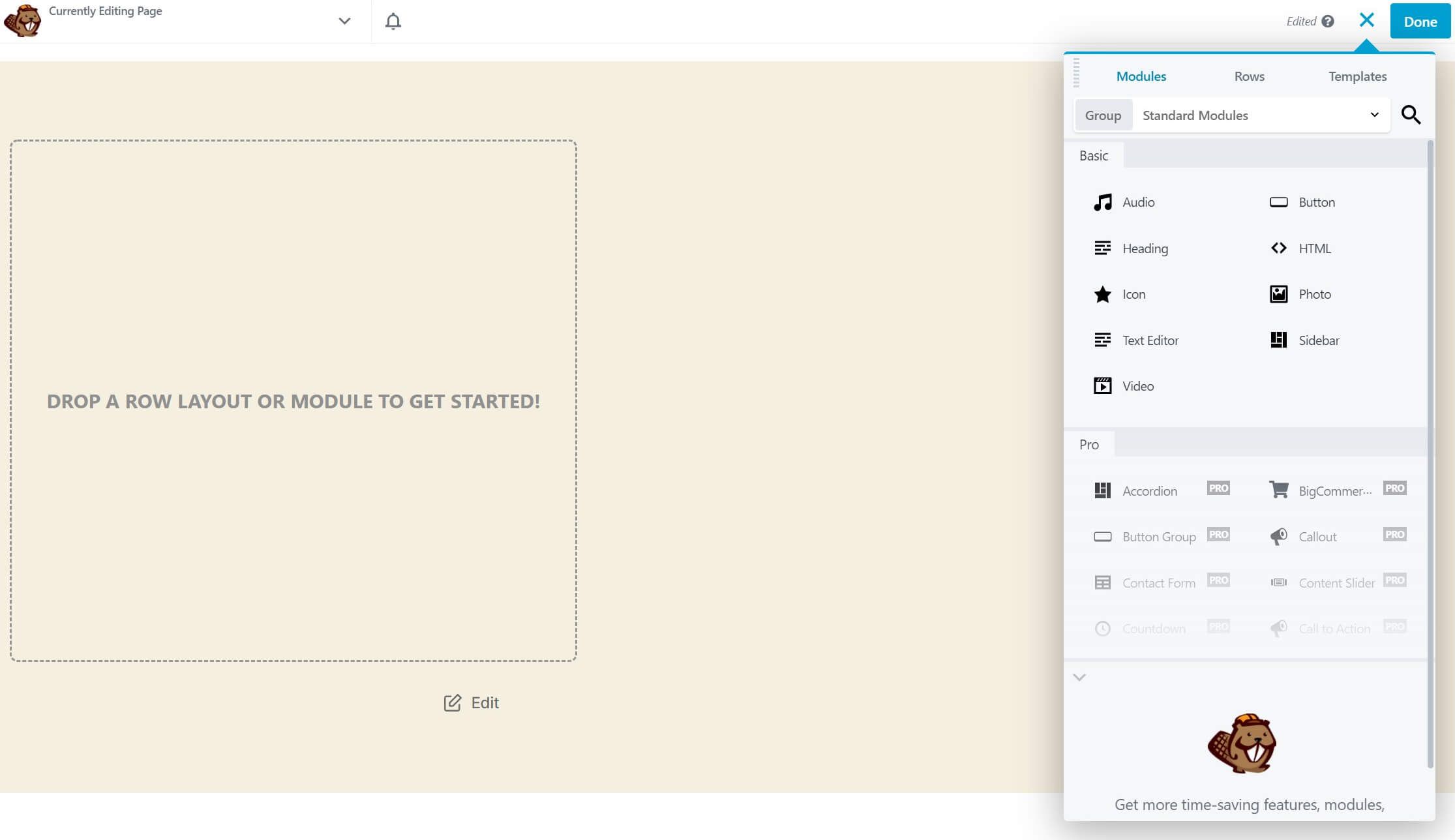 You'll see a blank canvas inviting you to add a module, as well as a list of available elements to the right.
You can access it at any time by clicking the plus (+) icon to the upper right corner.
To add a module, simply drag it over to the page and drop it where you want it to appear.
After you place the module, its Settings panel will open, enabling you to customize it.
Here's an example of a Heading module's settings: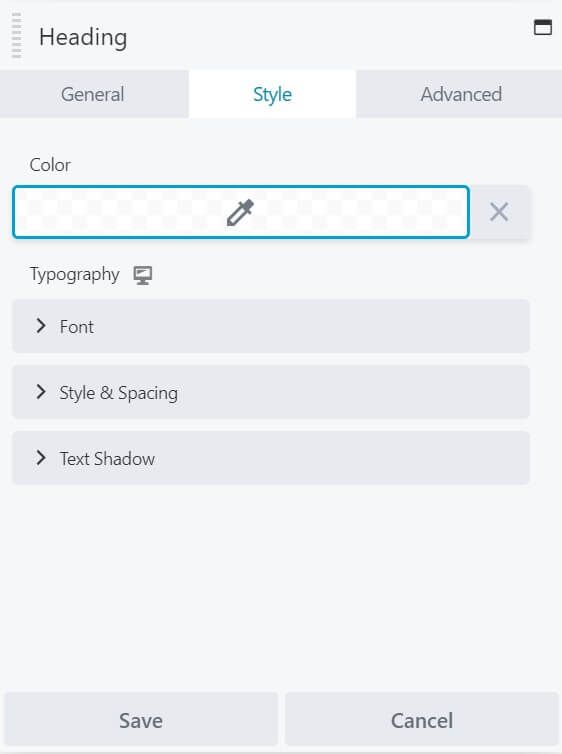 On the General tab in the settings, you can add the text for the heading, then style the text on the Style tab.
You'll see a live preview of your changes right on the page. When you're finished, click Save.
If you need to access that module's settings again, hover over the element and click the wrench icon:

This reopens the Settings panel. The other icons in the toolbar let you move the module, duplicate the module, change the settings for the column, or delete the module.
Layouts
If you prefer to design your layout framework before you start adding content, Beaver Builder Lite lets you easily insert empty columns into row layouts using the same interface.
To access row layouts, click the plus (+) sign in the top right corner and select Rows: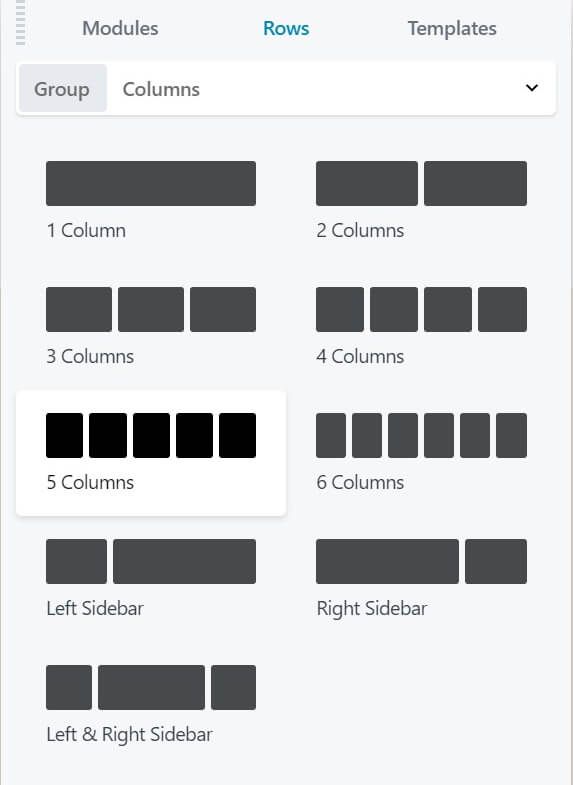 Just drag each column layout you want onto the page and rows are automatically created as you drag.
You can add layers of columns into a single row, or nest columns within a column, or add multiple rows.
Here's an example of a single row with several layers of columns: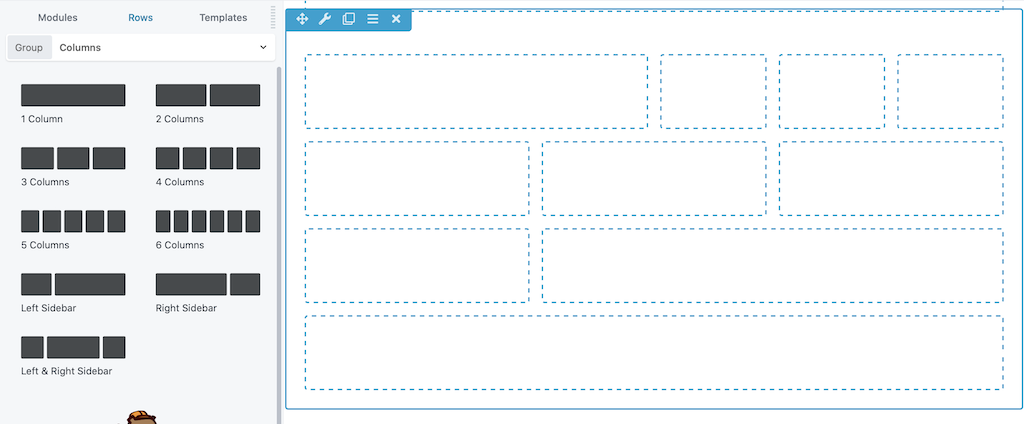 Templates
The free Beaver Builder page builder also includes templates, which you can tweak a little or change a lot.
Access them from the Templates tab of the Content panel: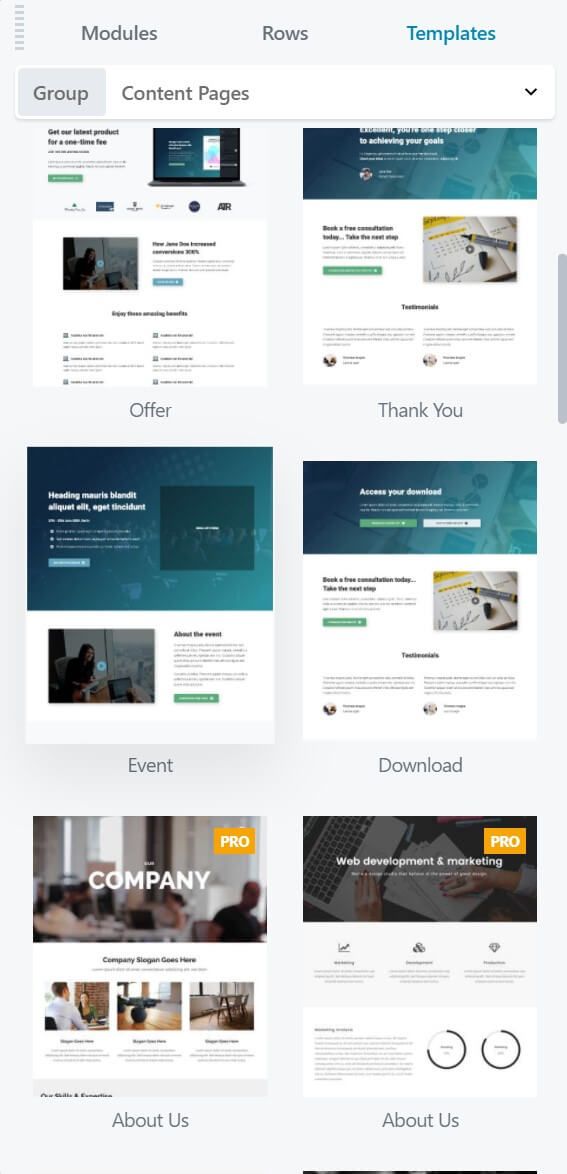 There are two sets of templates available, which you can access from the Group dropdown at the top of the menu.
The first is content pages, which include About pages, Contact pages, case studies, and more.
The other is a dedicated section for landing pages: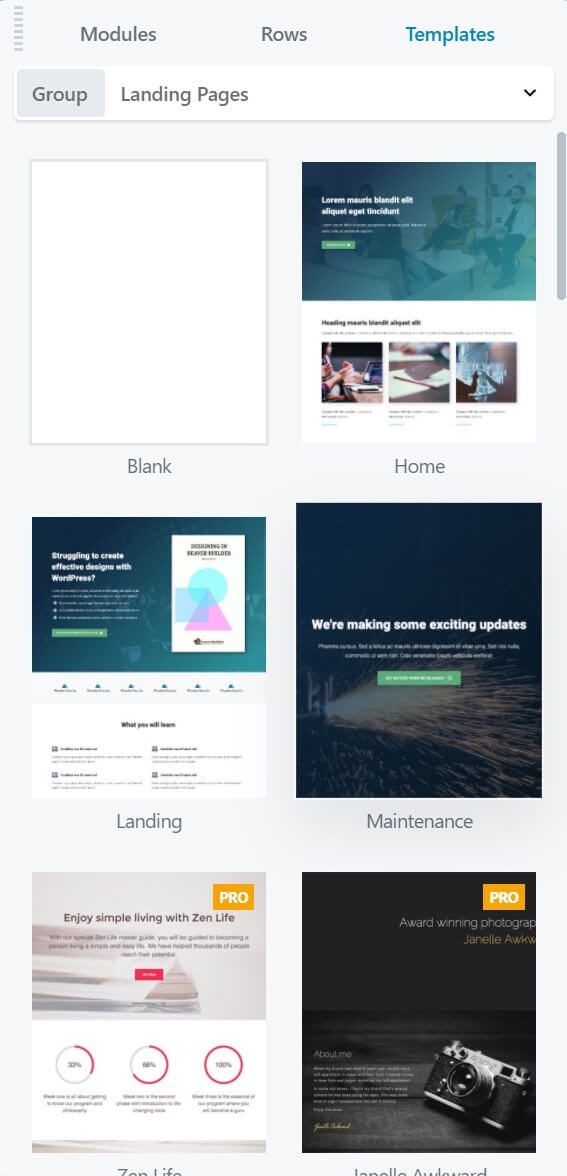 These options include a Home page, a Maintenance page, and a generic landing page. To use a template, click the one you want.
You'll have the option to replace your existing page layout or append the template to the current page.
Note that these templates are designed to work with both the premium and free versions of Beaver Builder.
Beaver Builder Lite doesn't include every module from the premium version, so the templates may have placeholders with suggestions to replicate any missing functionality.
When It's Time To Go Premium
A good reason to choose your free page builder carefully is that if you ever want more features, you can upgrade to the premium page builder version without needing to redo any of the work you've done.
In Beaver Builder Lite you can see the full set of templates, prebuilt rows, and modules included with all premium versions of Beaver Builder.
The Beaver Themer add-on for premium versions of Beaver Builder even lets you override your WordPress theme to customize the header and footer of specific pages, which is especially handy for landing pages, on which you often want to remove menus to minimize exit points.
Conclusion
Landing pages are one of the most important parts of a client's sales funnel.
A page builder can help you get the layout just right, while also making your own development process easier and more efficient.
When choosing a free WordPress landing page builder, remember to look out for the following features:
Customizable page elements so you can build your landing pages to your clients' specifications.

The flexibility to create other types of pages, so you can increase efficiency throughout your entire development process with a single tool.

A variety of templates so you can get started easily and quickly.
Do you have any questions about landing page builders? Let us know in the comments section below!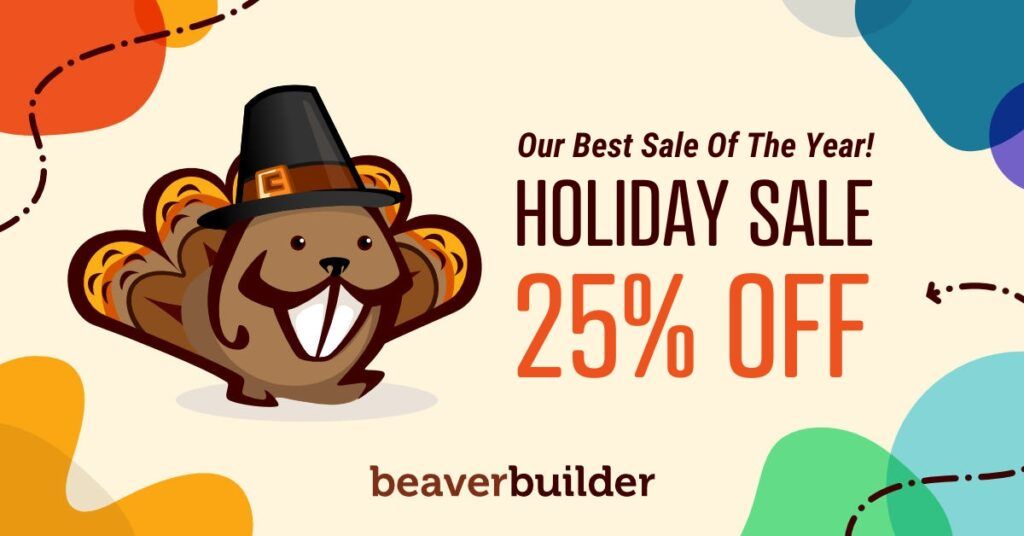 Hello, we're excited to announce our Black Friday Month Sale for 2023! Take advantage of the biggest discount we offer…
Join the community
We're here for you
There's a thriving community of builders and we'd love for you to join us. Come by and show off a project, network, or ask a question.
Build Your Website in Minutes, Not Months
Join Over 1 Million+ Websites Powered By Beaver Builder.