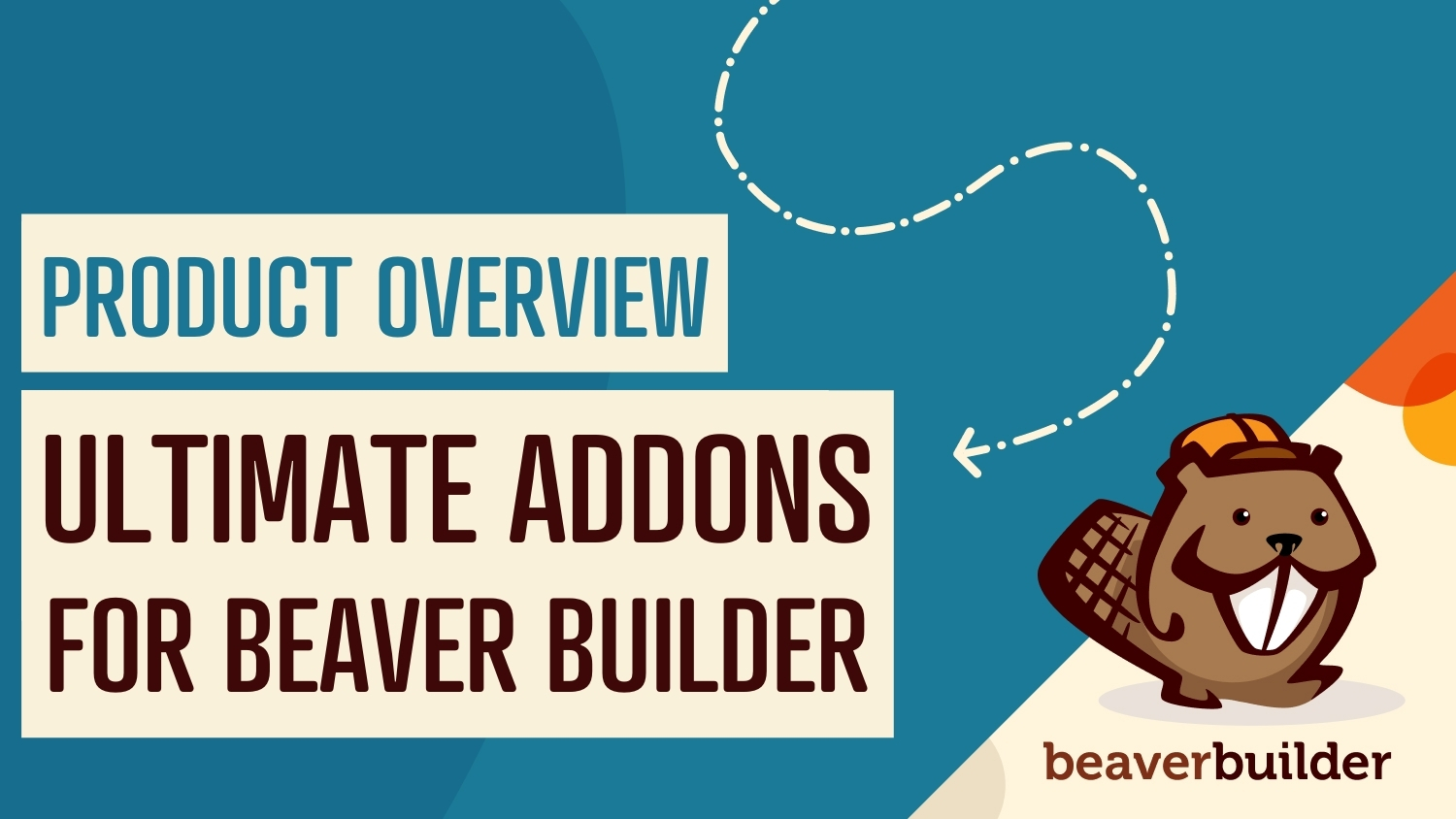 It's no secret that Beaver Builder is one of the most powerful page-creating tools out there but you may be wondering if there's a way to do even more with it. Fortunately, taking a client site to the next level can be as simple as using the third-party Ultimate Addons for Beaver Builder plugin.
In this article, we introduce you to Ultimate Addons for Beaver Builder, popularly known as UABB. We also discuss why you might want to consider using it. Then we take you through four easy steps to get started. Let's jump right in!
We just launched 6 FREE
Beaver Builder courses
. Learn how to easily build WordPress websites with step-by-step video tutorials. Create an account today.
An Introduction to Ultimate Addons for Beaver Builder
Ultimate Addons for Beaver Builder is a third-party extension for our Beaver Builder plugin. It comes fully loaded with practical features to boost your page building experience:

This software includes over 65 unique custom modules to help you do more with your site. You also gain access to hundreds of page and row templates to jump-start your designs. There's plenty of training and support available to help you when you need it.
Pricing for this plugin starts at $55 per year for unlimited sites. There are also bundle options, which include even more themes and plugins.
Ultimate Addons is a powerful way to get even more functionality out of Beaver Builder. It builds on the strengths of the base plugin and helps you create beautiful and functional pages for your clients' sites.
Why Invest in Ultimate Addons for Beaver Builder?
This third-party product is powerful because it gives you more options without the need to learn a new system. The addon simply expands on the crucial features that are already there. If you're already comfortable with Beaver Builder, there's no learning curve. 
Ultimate Addons does all of this without weighing your site down. You have the option to activate only the features you need. This means you can reduce the plugin's server load and keep your site speedy.
This applies to any and all websites you work on. One license enables you to use this software on an unlimited number of sites. Investing in this plugin is perfect if you have a large number of clients with different needs.
Let's say you want a way to fully customize a WooCommerce store. Ultimate Addons lets you add products and various functions with ease. If another client wants to generate more leads, you can consider using the Marketing Button module. Most sites benefit from the striking styles you can make with the included design modules.
If you want to learn more about this plugin before you dive in, check out the developer's live demo sites. These can give you a better understanding of this tool's potential in an effective hands-on way.
How to Get Started With Ultimate Addons for Beaver Builder (In 4 Easy Steps)
If you're ready to begin working with this flexible tool, follow these four steps to get a new page up and running in no time.
Step 1: Choose and Install Your Product
Begin by purchasing your preferred plan. As we discussed earlier, pricing options start at $55 for the Ultimate Addons plan. With this tier, you can access a growing library of modules and templates.
You might also want to consider the $169 Mini Agency Bundle, which adds increased support and premium theming. Finally, there's a $249 Agency Bundle that provides access to all of the previous features, as well as future plugins and other professional tools.
Once you've purchased your preferred plan, download the plugin and make a note of the license key. Head over to your WordPress dashboard, and navigate to Plugins > Add New > Upload Plugin:

Click Choose File, then select your downloaded zip file and click Install Now. After the plugin is fully uploaded, activate it and then navigate to Settings > UABB > License. Enter your license key and click Activate License. This ensures that you get critical updates.
Step 2: Add a Template to Your Page
Now you can begin the page-building process. There are multiple ways to get started, but in our example, we'll add a template to a page. Templates give you an excellent starting point, while still being fully customized.
When working with Ultimate Addons, you can use the Template Cloud. This is a resource where you can download different template options from an expansive database. To access it, navigate to Settings > UABB > Template Cloud: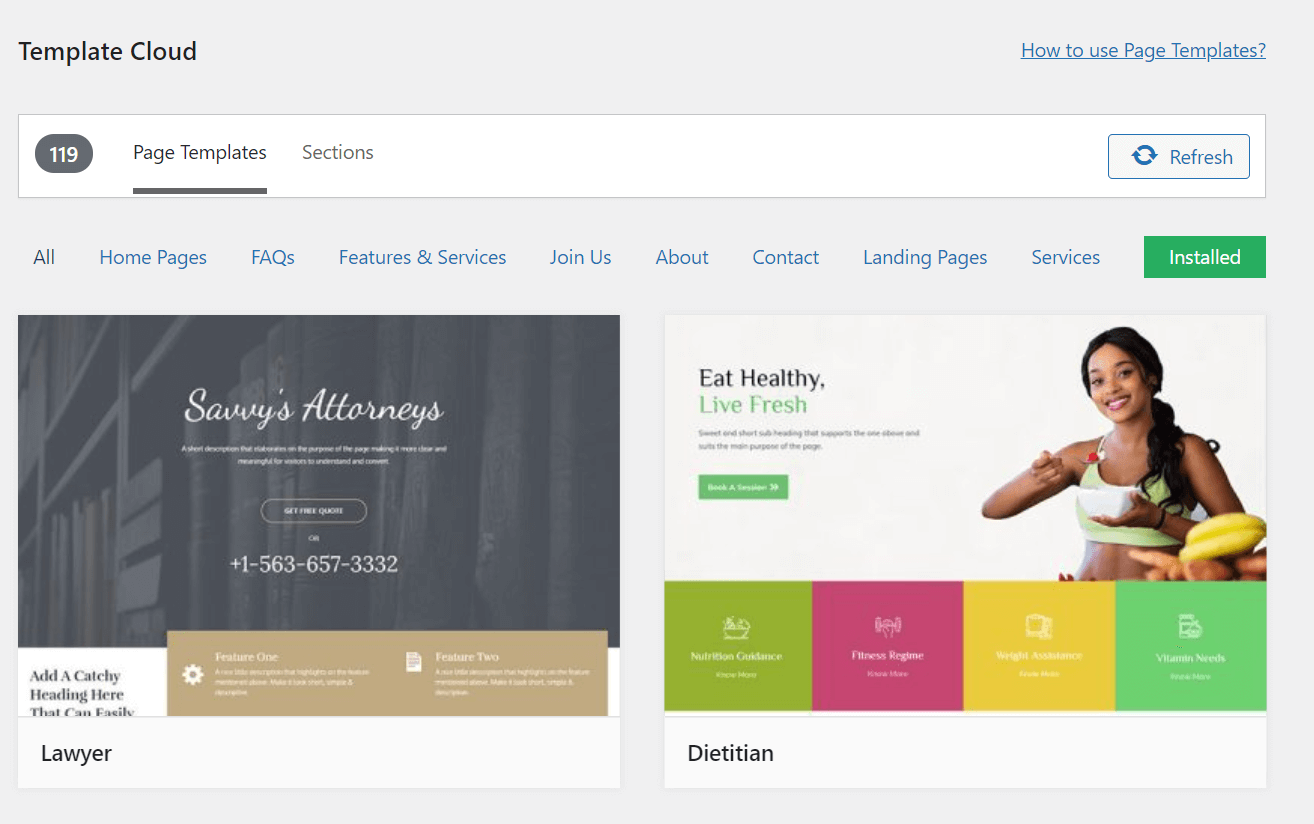 This plugin gives you over 100 templates to choose from. Take your time to browse and find one that fits your needs. If you can locate a template that's already close to what you'd like to build, it can save you a lot of time throughout your project.
If you want to preview a certain template, hover over it and select Preview. After you've found a template you'd like to use, choose Install. That process should only take a few seconds.
Next, navigate to the page you want to add the template to. Open it with Beaver Builder, and click the Plus icon in the upper right-hand corner to access the Content panel. Once there, click the Templates tab.
In the Group dropdown, choose Template Cloud. This brings up the templates that you've saved from the Cloud: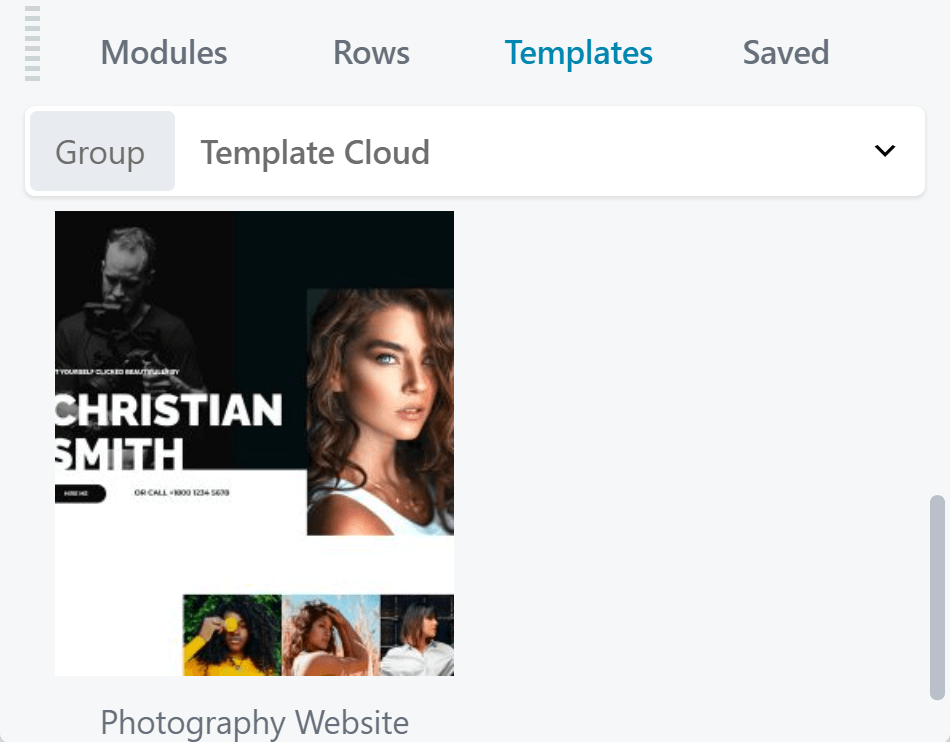 Next, click the template you want to use. Choose whether to Replace Existing Layout or Append New Layout.
Step 3: Start Adding Modules
Start adding modules from the plugin. You have plenty of options to choose from. Let's take a look at one of them: the Fancy Text module.
In the Content panel, click the Modules tab. In the Group dropdown, choose UABB Modules to open your options for this plugin:
Drag and drop any module onto the page. That action opens a settings panel unique to the module, located on the right side of the screen, where you can customize the settings of that individual module. The exact options vary based on your choice: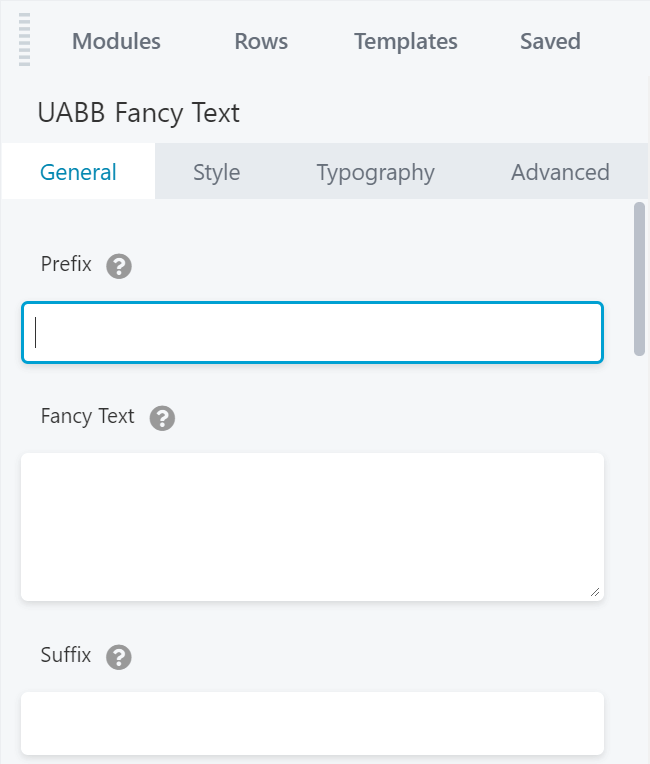 There are a lot of modules to explore within Ultimate Addons for Beaver Builder. We recommend that you spend some time exploring the modules and their settings.
When you're done adding modules, click Done in the upper-right hand corner of the page. You can then decide whether to save, publish, or discard your draft.
Step 4: Complete Your Site With More Features
The previous three steps covered the basics of creating and customizing a page. Next up, we look at a few settings that you can tweak to further tailor your editing experience.
First, let's look at how to disable modules. Having a lot of choices is powerful, but it can also slow down your site and complicate the design process. To simplify, you can optionally deactivate whatever features you don't intend to use.
This process is both simple and easily reversible. To disable modules, go to Settings > UABB > Modules. This open a list of all the currently enabled modules:
To disable one, uncheck the box. If you want to apply changes to all possible modules, select the box labeled All.
Ultimate Addons gives you some options for personalizing the plugin's branding. To access this section, head to Settings > UABB > Branding: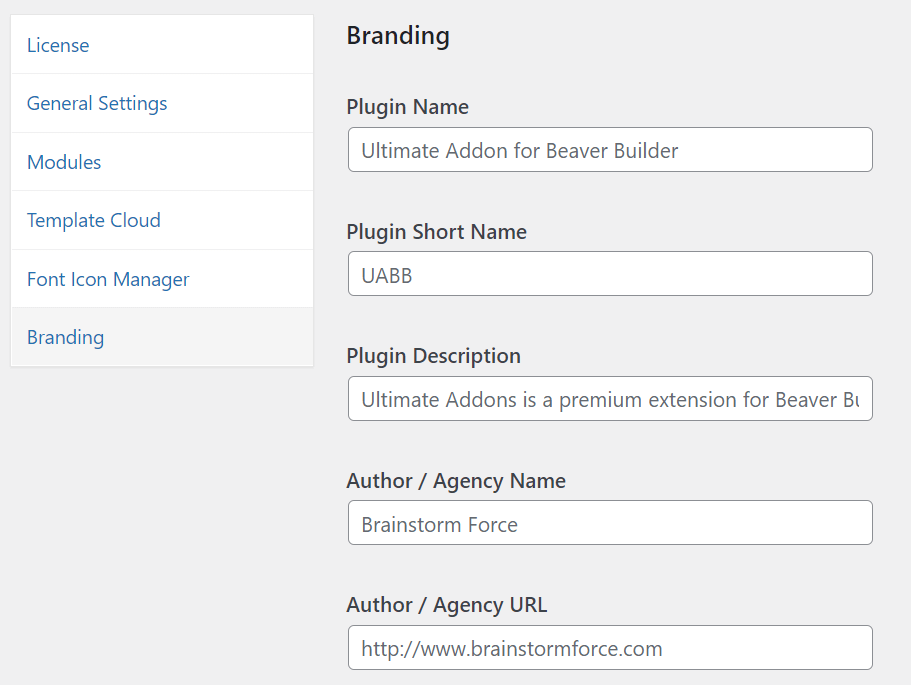 In this menu, you can tailor the branding specifically to you or your agency. In the Contact Support URL field, you can add your agency's resources for clients to access.
There are plenty of other settings to consider here as well. For example, you can uncheck Enable Template Cloud if you're not interested in that resource. You can also provide a specialized knowledge base for your clients.
It's a good idea to familiarize yourself with the branding options available here because branding can help you create a custom experience for both you and your clients. If you have any questions, the developers offer comprehensive documentation that you can refer to as needed.
Conclusion
Beaver Builder is already a full-featured solution for designing unique websites, but by adding Ultimate Addons for Beaver Builder to your toolbox, you can leverage its power to maximum effect.
In this article, we covered four easy steps to get you started with this game-changing plugin:
Choose a pricing plan and install the plugin.

Browse the Template Cloud and select your starting point.

Add more functionality by dragging in individual modules.

Adjust the general settings to customize the page-creating experience.
What's your favorite feature from Ultimate Addons for Beaver Builder? Let us know in the comments section below!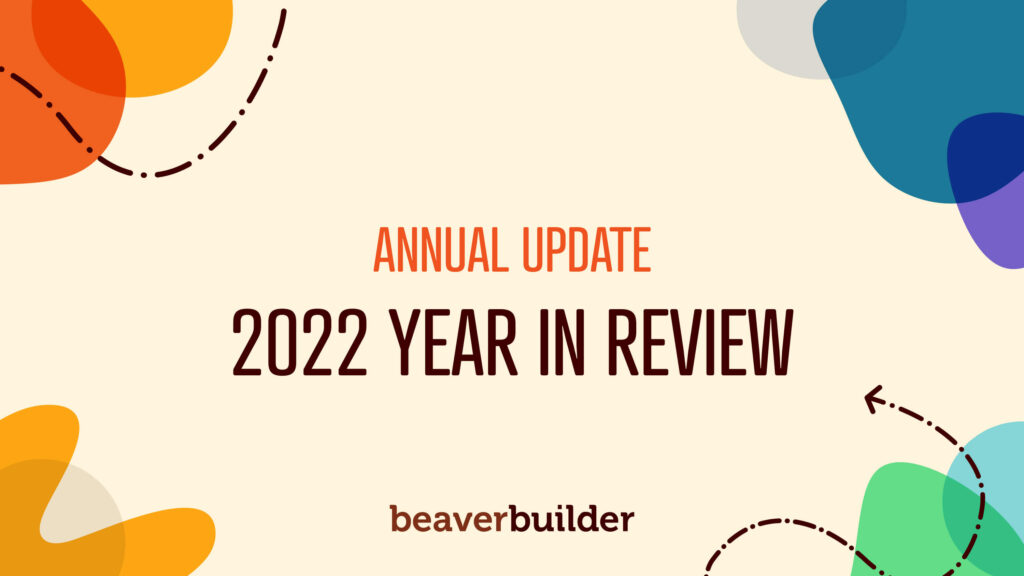 Wow! I can't believe another year has passed. It feels like yesterday when I wrote about 2021 year in review….
Join the community
We're here for you
There's a thriving community of builders and we'd love for you to join us. Come by and show off a project, network, or ask a question.