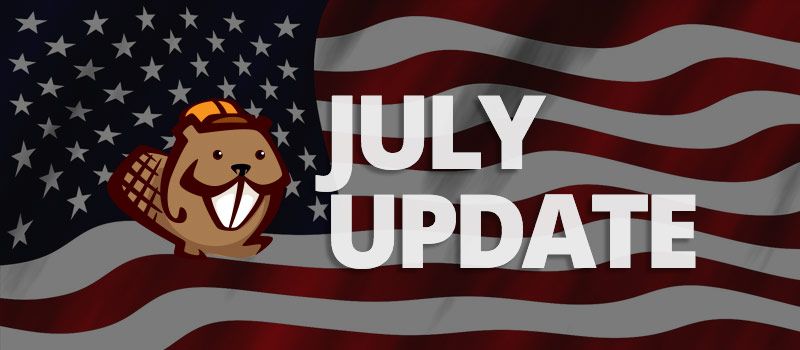 If you've been paying close attention, you might have noticed that we missed our update post last month. Well, I take full responsibility and I apologize for the radio silence. I am a pretty devout live music fanatic, and last month was a jam-packed (no pun intended) month for music. Admittedly, I was galavanting all over the state of California last month listening to music when I should have been writing blog posts. Sorry, not sorry! 😉
One of the highlights from last month was the Santa Clara, Fare Thee Well concerts by the Grateful Dead. I wasn't alive during the Grateful Dead's heyday, but my friend and guitar teacher turned me on to them when I was a teenager. Ever since then, I've been going to Dead and jam band shows. It's one of my favorite things to do.
While the music was incredible, one of coolest things about going to shows is the community. Attending a "jam band" show is a lot like attending a WordCamp. Everyone is excited to be there and excited to meet other people that share a common interest.
As you go to more and more shows, you start to recognize the familiar faces. You'll see the guy you sat next to last time, or the couple that you met while waiting in the food line. Seemingly insignificant, "small talk" conversations can blossom into life-long friendships. The music is great, but what keeps us all coming back is each other, the community.
You might see where I am going with this: WordPress is great, but it's just a bunch of code. The reason we use/love/evangelize/contribute to WordPress is because of the community around it. A huge group of smart, open-minded people is rare to find. We're fortunate to have just that in the WordPress community. If you haven't already, I highly recommend putting yourself out there and joining in. There are lots of ways to do it! You can attend a WordCamp, or (much easier) start following some of the popular WordPress blogs like WP Tavern, WPKube, Chris Lema's blog, or Tom McFarlin's blog. You could join the WordPress IRC chat, or maybe the WordPress subreddit. There's a virtual room full of smiling faces waiting to meet you! 🙂
Okay, enough waxing on! Let's get to some updates…
Beaver Builder Updates
We've got some big plans for Beaver Builder and we're hard at work developing some really cool new features. One of the biggies is the ability to save and reuse a row or module. Also, the ability to have a global rows and modules that can be used in many places, but only need to be edited in one place. We're extremely excited to announce that this feature is currently being developed, and it will be ready to go soon!
We have a lot more updates in the works. Lucky for me, Justin just wrote up a very thorough roadmap post that discusses some of the upcoming updates.
Our good buddy Dave created a Facebook group for Beaver Builder users. In the short time the group has been up, we already have over 100 members! If you're a Beaver Builder fan, and you'd like to meet others like you, come by and say hello!
In other news, we're in the process of creating a list of "Recommended Customizers." We regularly get contacted by people who want us to help build their website, but our schedules have been jam packed. Our hope is to have a list of people that we can refer work to. Don't be daunted by the term "expert," if you're in the business of building Beaver Builder  websites for clients, and you'd be interested in taking on some more work, please fill out our Recommended Customizers application.
It's official. We're going to CaboPress! We bought our plane tickets last month, so it's going to happen. We even started flirting with the idea of going to WordCamp Las Vegas the weekend before CaboPress! We don't want to set a precedent here, but if you build your event's website with Beaver Builder let us know. We'll be a lot more likely to attend. 🙂 Roll call, who's going to Vegas? We need some motivation to pull the trigger..
We rolled out some pretty sweet features and updates since our last news post. Here are a few of the notable ones:
We completely overhauled our template system. This was a highly requested feature on our User Voice page. You can categorize templates and override the core templates (including screen shots) with your own! You can read more about the template system changes here.
We made the Beaver Builder Theme way more customizable! We added 25 new customizer settings and several new actions/filters. You can read more about the theme changes here.
Added link, hover and heading color settings to rows and columns.
Added the ability to link to accordion and tab items.
Added the ability to add/remove theme presets.
Fixed a multitude bugs.
And much more! As always, you can check out all of the changes, bug fixes, and new features on our Change Logs page.
Well, that about sums it up. Thanks as always for tuning in! What other communities are you a part of? Are there any that remind you of the WordPress community?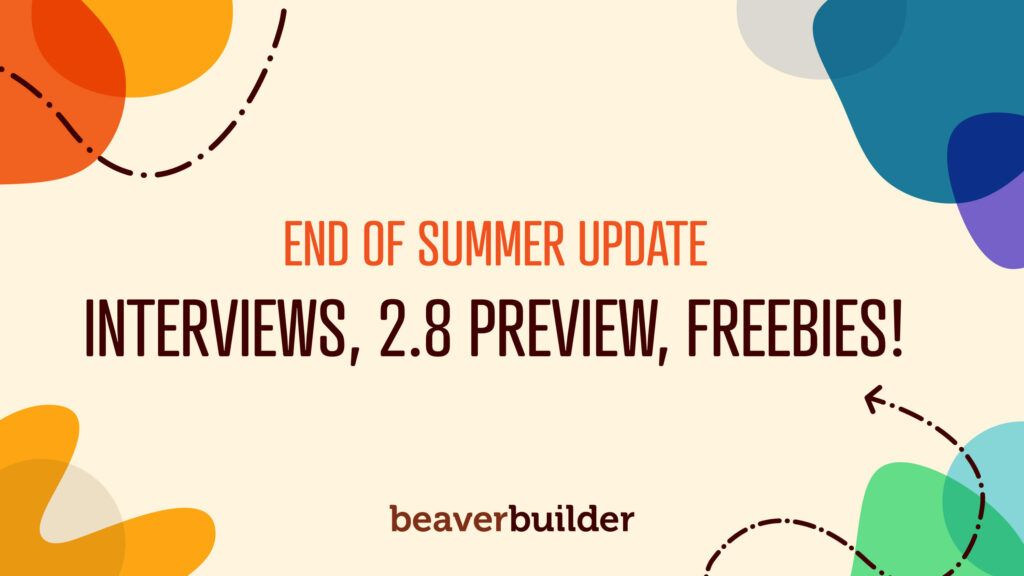 Hello, Beaver Builder community! Summer is almost over we're ready to welcome some cooler weather. 😅 We have some exciting…
Join the community
We're here for you
There's a thriving community of builders and we'd love for you to join us. Come by and show off a project, network, or ask a question.