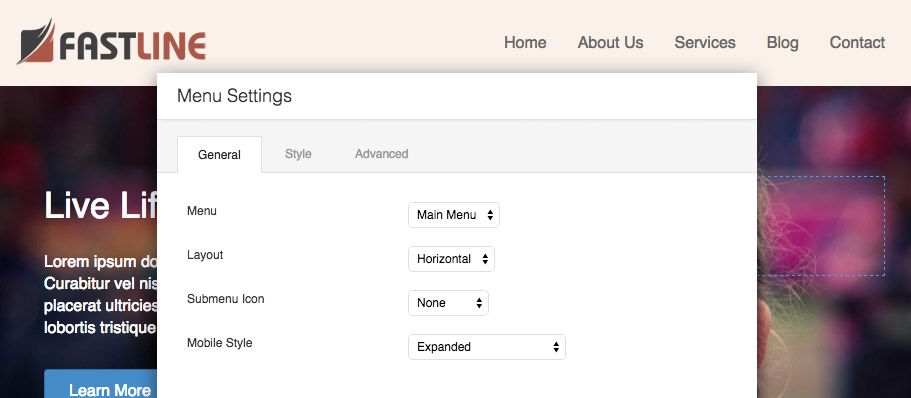 Update: The Menu module is now available as of version 1.6.2.
Today we officially released the new post modules that have been in beta for the last two weeks as well as a beta of the new Menu module. If you haven't already, head on over to your account to download the latest beta and take the Menu module for a spin!
Supercharged Custom Menus
Like the built-in Custom Menu widget, the Menu module allows you to select one of your menus that was created under Appearance > Menus to insert into your layouts. That's where the similarities stop as the Menu module allows you to do so much more with options for the layout, style, and responsive display of your menus.
Multiple Menu Layouts
The Menu module comes packed with four different layout options for your menus. Those options include…
Horizontal – A standard horizontal layout that's similar to what's found in most themes. This layout also supports dropdown submenus.
Vertical – A vertical layout that has support for submenus that flyout to either the left or right of the menu.
Accordion – A vertical accordion layout that displays submenus inline when the toggle icon is clicked.
Expanded – A layout that is similar to the Custom Menu widget in that top level menu items and submenu items are displayed in an unordered list style format.
Style Everything
The Menu module also comes packed with a handful of style options that allow you to create a number of different unique menu designs. Those options include styling for things like text colors, font sizes, background colors, and overall menu alignment. Make sure to check out the Style tab in the Menu module settings to see all of the available options.
Works Great On Mobile
In addition to allowing you to create a supercharged custom menu, the Menu module also looks great at smaller screen sizes such as those found on mobile devices. Under the general tab you will find an option titled Mobile Style that allows you to customize how your menu will look at smaller screen sizes. Those options include…
Expanded – The menu will not collapse and all of the menu items will show in an unordered list style format.
Hamburger Icon – The menu will collapse and a hamburger icon toggle button will be shown.
Hamburger Icon + Label – The menu will collapse and a hamburger icon toggle button will be shown along with a menu label.
Menu Button – Similar to how the Beaver Builder theme works, this option will display a full-width menu button.
When Does This Go Live?
As mentioned in my previous post, beta periods will last approximately two weeks as long as we don't run into any big issues. If everything goes according to plan, the Menu module should be officially released the week of August 17th.
What's Next?
I'm happy to announce that standard and global row/module templates are now being tested by the team internally! If all goes well with that, we're hoping to release a private beta next week and a public beta the week after that. In addition to row/module templates, we've also begun work on implementing a new color picker that has the ability to save color presets as well as looking at solutions for adding Genesis support to Beaver Builder.
Let Us Know What You Think!
As always, I leave the floor to you. Don't hesitate to let us know in the comments below what you think about the new Menu module, if you have any feedback as to how we could improve it or if you run into any issues.
Until next time, happy building!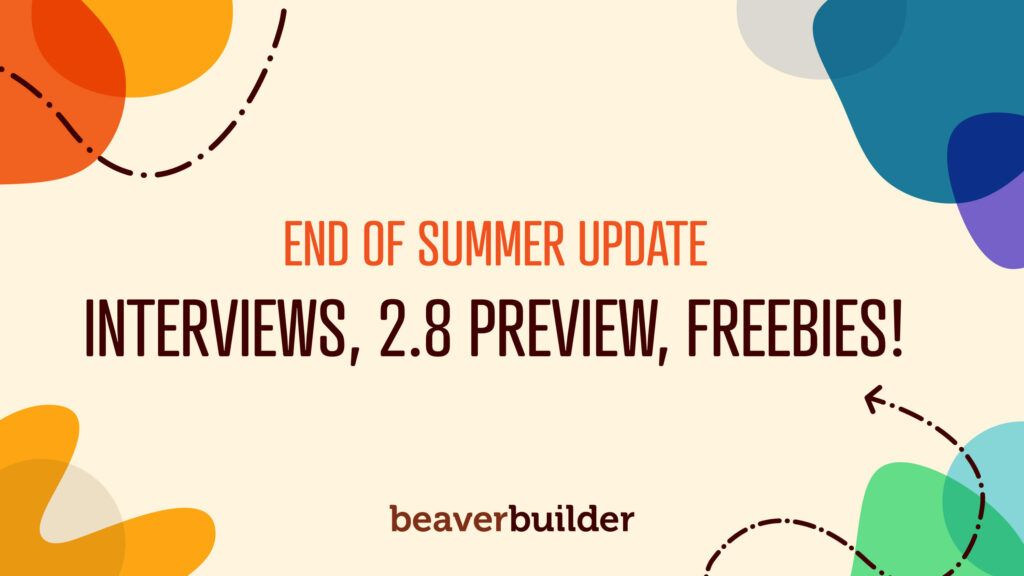 Hello, Beaver Builder community! Summer is almost over we're ready to welcome some cooler weather. 😅 We have some exciting…
Join the community
We're here for you
There's a thriving community of builders and we'd love for you to join us. Come by and show off a project, network, or ask a question.