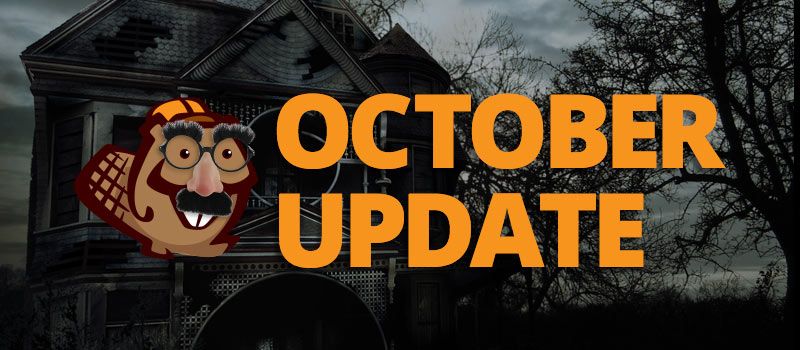 What's scarier than a Visual Composer security breach—It's our October/Halloween Update! Boo!
If you've been following along, you may have noticed that I missed my update post last month. I am sorry! I was slaving away in Cabo. It's tough work, but someone's got to do it, right? If you missed it, find out what happens when 10 WordPress geeks hit the streets of Downtown Cabo in our CaboPress recap.
Today is exciting. We've got a software update and news update on the same day. Before we get into the update and business news, though, I have some personal news to share…
We're Moving
I am both excited and saddened to announce that FastLine Media and Beaver Builder are moving! For the last several years, all three of the core team (Billy, Justin, and myself) have been sharing an office here in lovely Campbell, CA. Well, with growing families, the decision has been made to leave the overly-saturated Bay Area for greener pastures.
Luckily, we already have some WordPress friends in our new home. We were lucky enough to get to know Brian and Jennifer Bourn from Bourn Creative at CaboPress.
They're quite active in the Northern California WordPress scene. As a matter of fact, they're organizers of the first-ever WordCamp Sacramento which I will be attending. Will you be there? If so, be sure to come by and say hello!
Beaver Builder 1.6.4
With hindsight, it might have been appropriate to call this update version 2.0. We're packing in so many new features, that it almost demands a new major version. Almost..
Justin wrote up a really thorough overview of the new features on this blog post, so I won't spend too much time on them. Quickly, though, here are a few of my favorites:
New Column Editing UI
This has been a much requested feature and we're thrilled to announce it's here. You now have the ability to insert columns into an existing row with our band new column UI.

Draggable Resizable Columns
This one speaks for itself…
New Module
We have a new module coming out today too: the animated number module! There's all sorts of use cases for this module, and the animation effects are really cool.


Full Height Rows
What's a full height row? It's a row that fills the entire browser window regardless of the screen size. This is a very powerful technique that's used all the time on landing pages. As of now, this technique is easily doable with Beaver Builder!
You can see a full-height row in action on our buddy Jonathan's site, SureFire Designs.
Heading Fonts in The Builder
Up until now, you couldn't change fonts from the page builder. Fonts could only be set by your site's theme. We decided that the one module that could use a custom font selector would be the heading module—so we added it!
You can now select Google or System fonts straight from the heading module!

Again, there's a lot more described in Justin's post. Go check it out.
Do You Build Beaver Builder Sites for Hire?
Are you a freelancer or an agency that uses Beaver Builder to build websites? If yes, we'd love to hear from you—and we might be able to refer you some work!
If you're interested, please take a second and fill out our Recommended Builders Application.

Beaver Builder Slack
We're really big on community. One of the most rewarding things about starting Beaver Builder has been getting to know all of you. On that note, we have a fairly active Facebook group page called Beaver Builders.
Today, we're announcing a new hangout: the Beaver Builders Slack Channel! The Slack channel and Facebook group both share the same premise: a place to meet other Beaver Builder users, ask questions, network, and just chat!
If you've never used Slack before, it's a really nifty chat program. It's being adopted like wildfire—particularly in the WordPress industry—and if for no other reason, it's worth signing up just to toy around with Slack.
It's more fun when you're part of a group! Come on by and say hello on Facebook or on Slack!

Beaver Builder Jobs Page
Looking for a WordPress job? Beaver Builder is hiring. https://www.wpbeaverbuilder.com/jobs/
Click To Tweet
It's official. We're hiring. Check out our new Jobs page for more details!
Specifically, we're looking for developers, visual designers, and support reps on a contract basis. We're a young company, and we can offer an opportunity to have a major influence on Beaver Builder. This is a ground-floor opportunity at a fun and rapidly growing company! If you, or anyone you know, might be a good fit please have them get in touch.
Until Next Time
I may be shooting myself in the foot here. After all, I have been struggling to consistently write up one monthly update =O.
Well maybe public accountability might help. So here it is, I'm making the claim that we will start pushing out two update posts a month! Whoa!
If that catches your interest, you may want to sign up for our newsletter. We'll send you an occasional email with news, tips, and updates!
Normally, at the end of a post, we ask you to do a little homework. Generally, it's to leave a comment. Today's home work is a bit different. There's 2 items:
Join Us on the Beaver Builders Facebook Group
Join us in the Beaver Builder Slack Channel
Until next time. Thanks! 🙂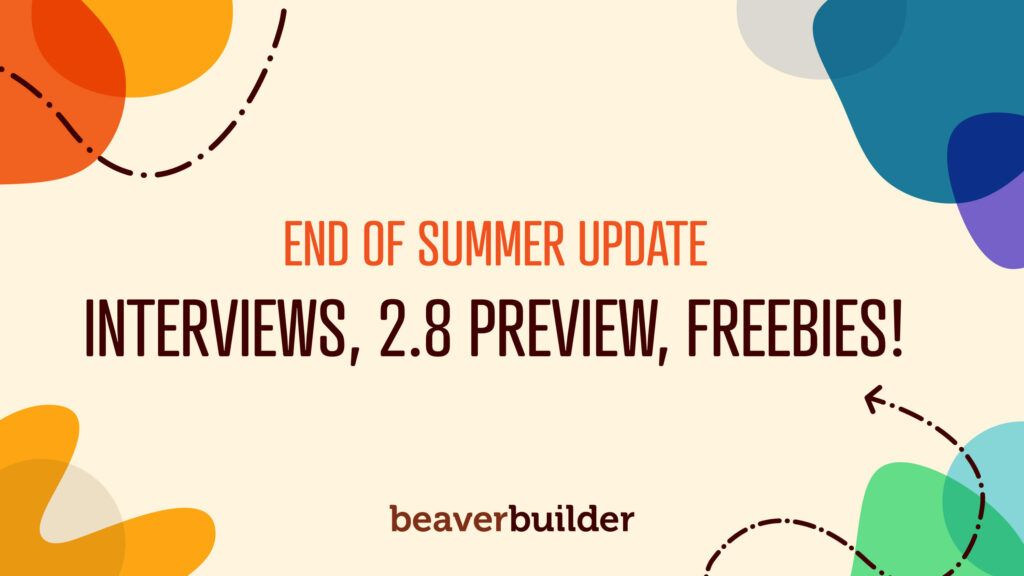 Hello, Beaver Builder community! Summer is almost over we're ready to welcome some cooler weather. 😅 We have some exciting…
Join the community
We're here for you
There's a thriving community of builders and we'd love for you to join us. Come by and show off a project, network, or ask a question.