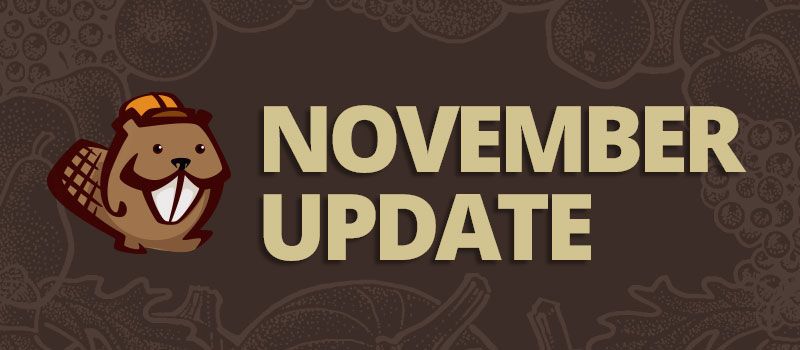 Hello there! It's update-post time!
Well, I had grand plans for this blog post that ended up going awry.
A couple weeks ago, I was all geared up to go to WordCamp Sacramento! I had a box full of swag, a hotel room, a bunch of people that I planned to connect with. I was hoping to write all about the event.
But, I caught a really nasty head cold at the last minute and I had to call off the trip. =(
I was worried that I wouldn't have anything to write about, but then I remembered I have plenty because it's the season for giving thanks (plus, as it turns out, we have a lot of news)!
So on that note, I want to thank everyone that helped make WordCamp Sacramento happen! Word on the street is that the event was a smashing success!
On Client Work

Here's an announcement I don't believe we've made publicly yet:
As of just a few weeks ago, FastLine Media is no longer doing any client work.
That's right. We're closing down our agency business to focus 100% of our time on Beaver Builder!
This is a bit bittersweet as we have longstanding relationships with most of our clients. Finding new "homes" for everyone has been a bit emotional. On the other hand, we're thrilled that we have this opportunity to focus on Beaver Builder!
Thanks to our past clients for their understanding. And thanks to our customers, supporters, and affiliates for making this possible!
On Managed WordPress Hosting

I have another announcement, but this one requires a bit of a preface.
Through our agency work and Beaver Builder, we've had the opportunity to work with many different hosting companies—particularly in the Managed WordPress space.
After some unexpected downtime recently, we decided it was time to upgrade and switch hosts. Now, I really don't want to play favorites. Everyone's situation is different and—all things considered—we chose a host that was a perfect fit for our unique needs.
That said, we're extremely proud to announce that we've moved over to Pagely!
We experienced an immediate decrease in page load speeds, including in the admin/forum areas where we do a lot of our work. Not only is our website more efficient, the switch makes us much more efficient, too!
Thanks, Pagely!
On WordPress
I usually don't dwell too much on WordPress news. There's awesome sites like WP Mayor, WP Kube, WP Beginner, and WP Tavern that do a much better job than I ever could. But WordPress reached a very notable milestone recently:
WordPress now powers 25% of the internet! That means 1 in 4 websites is running WordPress. Amazing!
Thanks, "the internet," for choosing WordPress! 🙂
Another, "incase you missed it." Matt Mullenweg is looking for cool examples of the WordPress API for his upcoming State of the Word. If you're using the API, you might want to check this one out. For the record, I am really excited to see these too!
Cool Uses of WP-API https://t.co/IqWqirVTNo

— Matt Mullenweg (@photomatt) November 18, 2015
Thanks, @Matt! Looking forward to the Word!
On Beaver Builder
Well, as I mentioned above, we've had to shift some time to focus on our infrastructure a bit. Along with the server move, we had a major plugin update and some general "good housekeeping" to tend to. To use a Beaver analogy, our website is like our dam. A lot of things depend on it working, so we've been dedicating some time to make it stronger.
We're still chugging along with some really cool new features, but I don't have any to announce quite yet.
That's okay, though, because I thought it might be nice to highlight an existing feature that you might not know about!
Have you met our buddy Chris Lema yet!?
For that, I will direct you over to our good friend, Chris Lema's, article about sharing and reusing landing pages with Beaver Builder. Chris recently highlighted an apparently little-known feature, the ability to import and export templates!
If you haven't spent much time on Chris' blog, I highly recommend you do. He's always writing spectacular content. Just recently, he's written some really interesting articles on WordPress and the enterprise, high performers, and going broke (or not!).
Thanks, Chris!
On a related note, we use the WordPress Importer for template import/export and the project is getting some much-needed love!
Thanks, @Ryan McCue! Seriously, thanks!
Black Friday
We're doing a 2015 WordPress Black Friday deal this year! We did one last year and it worked out pretty well. Plus, it was really fun. So, from Friday 11/27 – Monday 11/30 anyone can get 25% off Beaver Builder.
I should mention, we had a long debate on whether we wanted to offer a Black Friday promo. The reason we didn't want to is because someone on either end of that window is going to feel gypped. We really hate that, but we do believe that everyone in the Beaver Builder community benefits from more people.
So, if you've got a friend or colleague that's holding off on purchasing, now would be the time! We never do discounts like this outside of Black Friday.
Before you email us, we will ONLY be offering this discount within the time period mentioned. Sorry, but there's no exceptions on this one.

Thanks @OfficeHours and @WPBlab Podcasts
Last week, I had the utmost pleasure to join Carrie Dils on the OfficeHours.fm podcast. Carrie and I had a blast getting to know each other at CaboPress, so I was really excited to chat with her again. We had a great Q&A session about Beaver Builder's past, present, and future!
Thanks, Carrie!
I also made a brief appearance on the WPblab Podcast with Jason Tucker and Bridget Willard . I got to tell the story about how one of my first web projects almost got me sued by the Music Publishers Association of America (MPAA). Very fun!
On The Beaver Builder Theme
To finish up here, we have one last bit of news. Beaver Builder's page builder has really matured over the last year, and we want to put some focus on our theme.
Justin started up a conversation about the Beaver Builder theme in the Beaver Builder Facebook Group. We'd love for you to join the discussion and give us some feedback!
If you're the type that enjoys discussions, you might want to check out the Beaver Builders community on Slack!
Thanks, Justin! And thanks, everyone, for your help!
Usually, we end our blog posts asking you to do something for us (leave a comment, or tweet at or something), but instead, go out and give some thanks to people who deserve it (a bunch are mentioned above)!
Lastly, our greatest and most sincere thanks to you for everything you do! 🙂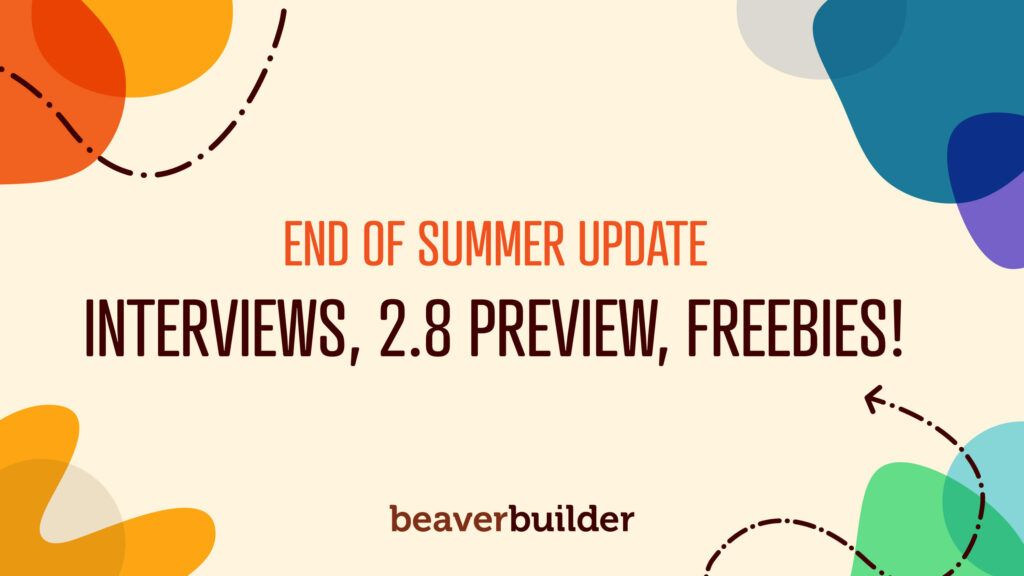 Hello, Beaver Builder community! Summer is almost over we're ready to welcome some cooler weather. 😅 We have some exciting…
Join the community
We're here for you
There's a thriving community of builders and we'd love for you to join us. Come by and show off a project, network, or ask a question.