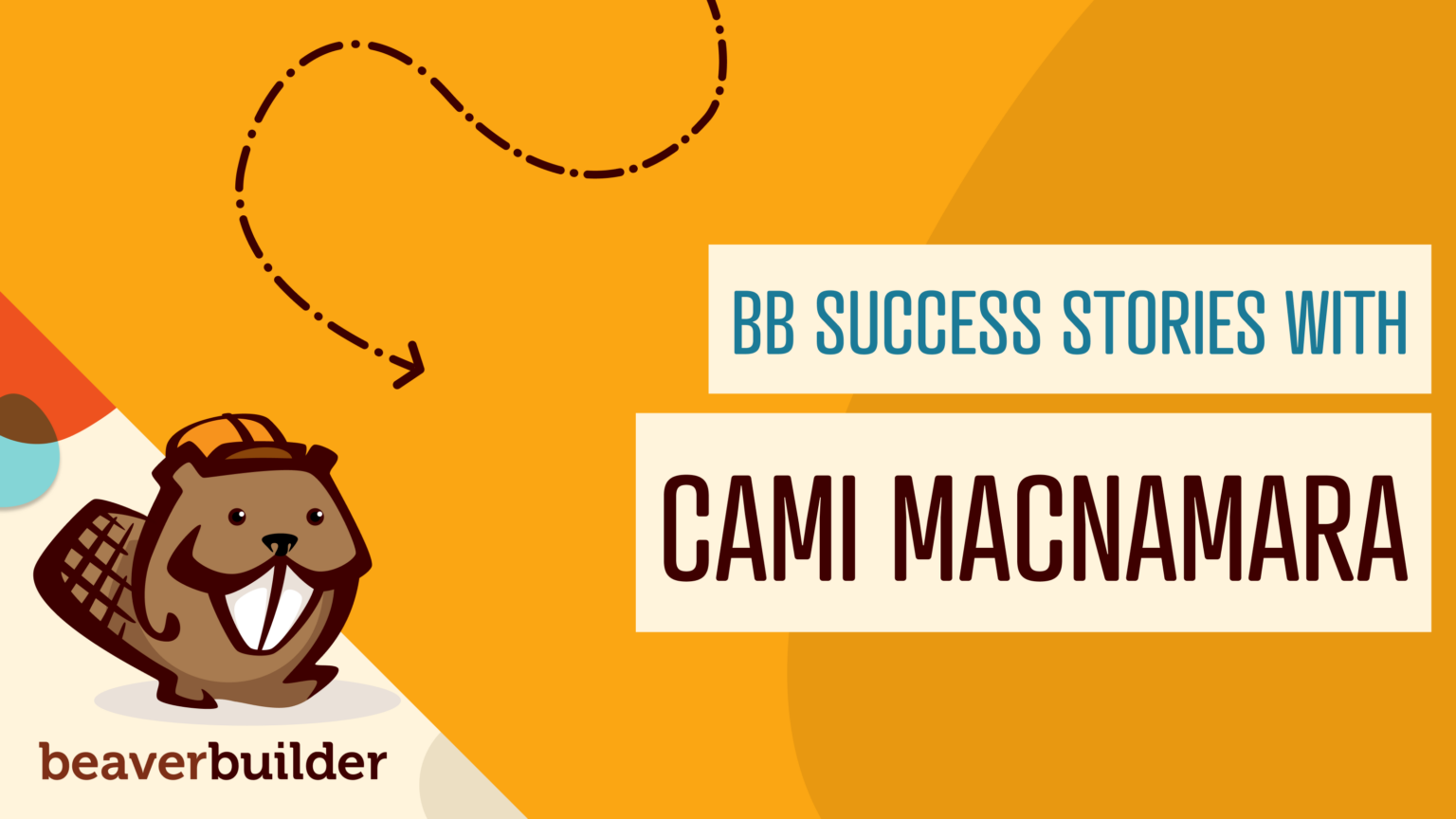 We are excited to introduce our good friend and a long-time Beaver Builder power user, Cami MacNamara. In this post, we're going to look at a successful marketing site Cami built for a realtor using Beaver Builder with Pods. The site, Move with Bianchi, had some unique requirements and challenges around creating a system for her client to create and manage real estate listings.
Since 2002, Cami has run a one-person web agency called WebCami where she's built over 600 websites. Cami knows Beaver Builder like the back of her hand, and she's been kind enough to share some of her tips and best practices.
Meet Cami MacNamara
We actually had the opportunity to pick Cami's brain twice recently! Along with this interview, when we were together in Pheonix for a WordCamp, we put together a quick video interview with several Beaver Builder users (including Cami), as well as a few folks from the Beaver Builder team.
What are your go-to plugins for web projects? Obviously Beaver Builder, but do you have a standard plugin "stack" that you use each time?
I have a prototype installation that serves as the foundation for all my new website designs. In terms of plugins, I have a preferred stack that I consistently rely on. Apart from my trusted Beaver Builder family of plugins, one tool I heavily depend on is ManageWP Worker from GoDaddy. This plugin is not only essential for my care plan services but also facilitates seamless cloning from production to client hosting for all my projects. In addition, I utilize other notable plugins such as WP-Rocket, Smush Pro, Pods, and WP101, just to mention a few.
In my experience, the ideal number of plugins for a website varies depending on the specific requirements of each client. I prioritize needs over quantity and typically have an active plugin count ranging from 15 to 20.
Can you tell us about this site and the project? I.e., How long did the build take? Was it a refresh of an existing site or a brand-new build?
The project I shared with you spanned approximately seven months to complete. Most builds take about 90-120 days. This extended timeline was primarily due to the passing of my father during the redesign process. Fortunately, the client involved in this project happens to be a close friend, and she displayed remarkable understanding throughout the entire ordeal. Given that this was a redesign, her existing website remained online throughout the duration of the project. I always strive to collaborate with kind-hearted business owners, and this client certainly fits the bill.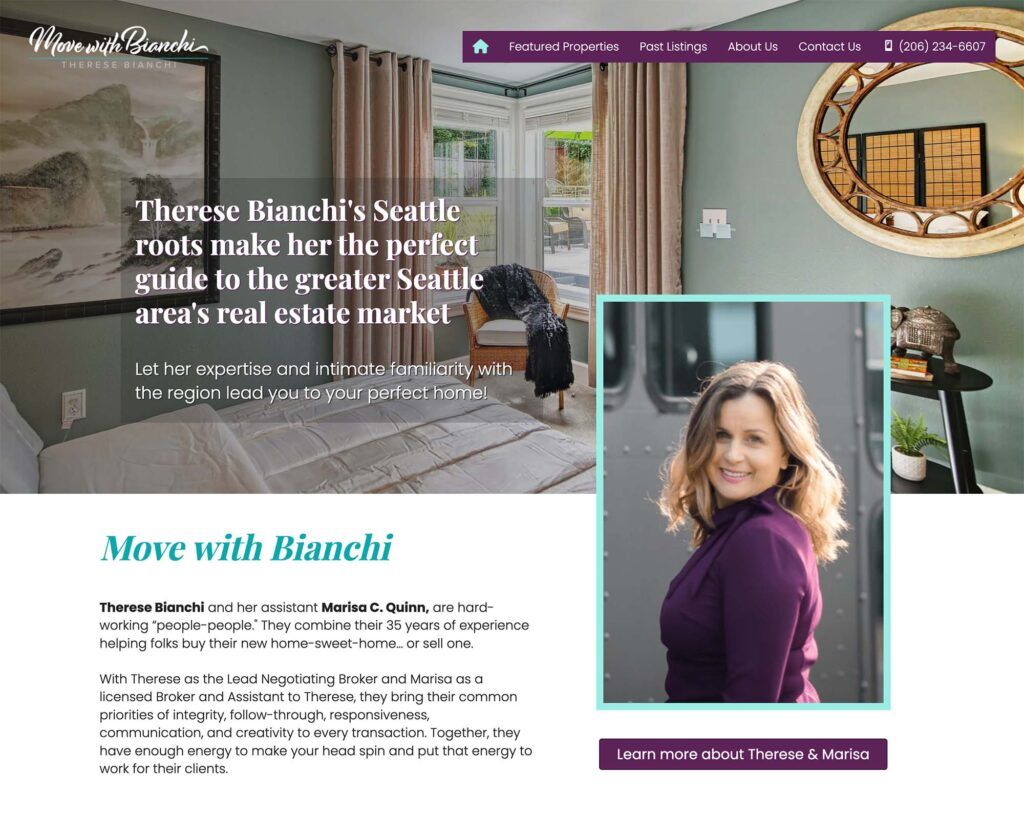 Therese, the client, had a specific requirement for her assistant to easily manage listing information. To address this, I employed the Pods plugin to create a custom post type dedicated to properties. In addition, I utilized Pods to establish custom fields, allowing her assistant to effortlessly input property data. Leveraging the capabilities of Beaver Themer, I further crafted a visually appealing template for presenting these properties. As a result, Therese's assistant quickly adapted to the new system.
Did you consider any other platforms? Why did you choose WordPress + Beaver Builder?
Back in 2002, when I first ventured into website design, I relied on manual coding using Notepad, Frontpage and Dreamweaver. I was first introduced to the Blogger CMS (Content Management System). Fast forward to 2007, a client requested that I link their WordPress blog, and I recall feeling concerned that it might be the end of my career. Anyone could build a website! This is similar to the current concerns some have about AI's potential impact on web design.
For many years, I utilized Genesis in combination with WordPress. A dear friend who is also a fellow designer recommended I explore Beaver Builder in 2016. Based on her suggestion, I went all in, and I haven't looked back since. Presently, the only system I utilize outside of WordPress with Beaver Builder is Carrd.co, which I exclusively use for quickly creating landing pages. Having a streamlined approach allows me to focus on delivering efficient and tailored website solutions to my clients.
What are some unique challenges that come with building real estate websites?
First and foremost, it is crucial for a real estate broker's website to offer ease of updating for their staff. As a solopreneur, I do not possess the capability to promptly update all their listings in real-time. Additionally, real estate companies often operate during weekends, which is not in line with my work hours.
Another point worth noting is that I no longer consider an IDX feed as vital for real estate agents to have on their individual websites. Convincing them of this can sometimes prove challenging. Instead, I advocate leveraging their website as a platform to share their own unique stories and foster trust among potential buyers and sellers. Rather than attempting to compete directly with platforms like Redfin solely for listings, it is more effective to utilize the website as a means to establish a genuine connection and build credibility with clients.
By focusing on personal narratives and cultivating trust, real estate agents can set themselves apart in a more meaningful way.
How did WordPress and Beaver Builder help you solve these challenges?
Beaver Builder addresses two key challenges that greatly benefit my workflow. First of all, it helps me save time. As a one-person agency managing over 200 websites in my care plan and serving numerous clients, efficiency is critical. By leveraging Beaver Builder, I can swiftly create visually stunning websites without the need to outsource any design work. The ability to save and reuse templates enables me to build a personal library of designs, streamlining future projects. This is particularly satisfying as I had long desired the capability to create my own themes, which Beaver Builder now allows me to accomplish.
Secondly, Beaver Builder empowers my clients to perform minor updates to their websites independently. Beaver Builder has a clean and intuitive workspace for my clients, who genuinely appreciate its user-friendliness. To enhance their understanding, I have incorporated the WP101 Plugin for general Beaver Builder training videos, while also creating my own tutorial library using Loom specifically tailored to each client. This approach has yielded remarkable results, as clients tend to grasp the intricacies of Beaver Builder far more readily than they do with WordPress as a whole. Simplifying the process for them not only ensures their satisfaction but also facilitates my management of a larger client base.
Do you have any other Beaver Builder hacks or best practices that you can share?
Maximize efficiency and avoid reinventing the wheel with each new website by utilizing the power of templates. Assistant Pro proves to be an invaluable tool in this regard. When you have meticulously designed a page layout, a row, or a module that works perfectly on one website, the ability to seamlessly copy it to the next build ensures consistent quality and saves time.
Thoroughly check your settings in the responsive editor. Demonstrating your commitment to delivering a dependable user experience on all screens enhances client satisfaction. Paying close attention to details such as column breaks and font sizes guarantees that your clients' websites will look great across various devices.
Lastly, make the most of the visibility setting to hide elements that you anticipate reusing in the future. For instance, if a client requests the removal of a team member, it is wise to hide the corresponding module rather than deleting it entirely. Chances are high that you will soon need to add a replacement team member, and this approach saves you from recreating the module from scratch.
Thanks for doing this, Cami! How can people find more of your work or hire you for their projects?
You can find me as WebCami on most social media platforms. WebCami.com serves as the main business website. I also maintain a blog where I share valuable tips and insights with fellow freelancers at WebCamiCafe.com. It's a space dedicated to fostering growth and knowledge within the freelance community and it also has a Facebook group. I'd love to connect with you online!
I've recently launched my very own podcast titled, what else, "The WebCami Podcast" — a platform where I read blog posts about WordPress, web design, and running a freelance web design business. You can find it on Spotify and Apple Podcasts.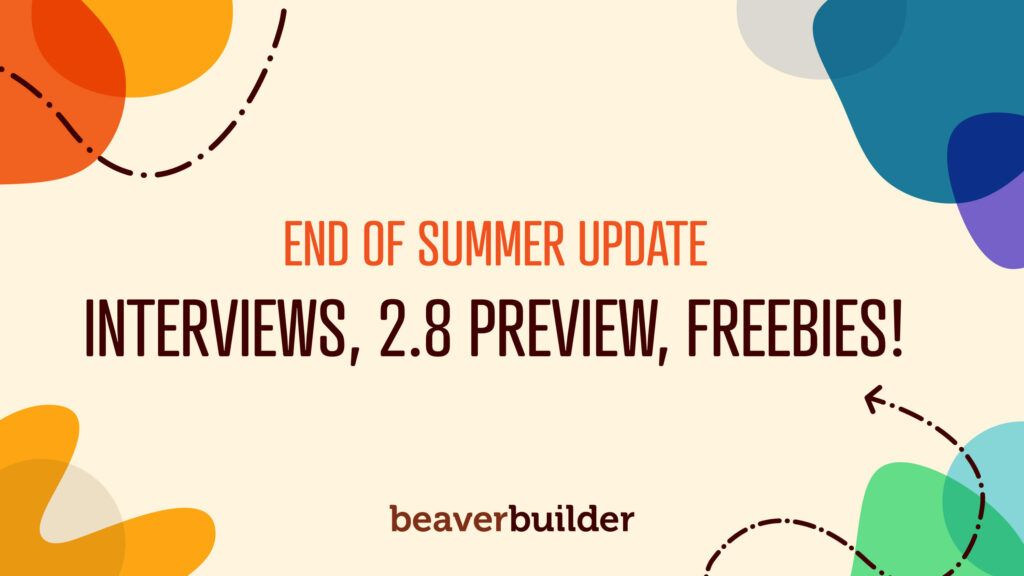 Hello, Beaver Builder community! Summer is almost over we're ready to welcome some cooler weather. 😅 We have some exciting…
Join the community
We're here for you
There's a thriving community of builders and we'd love for you to join us. Come by and show off a project, network, or ask a question.