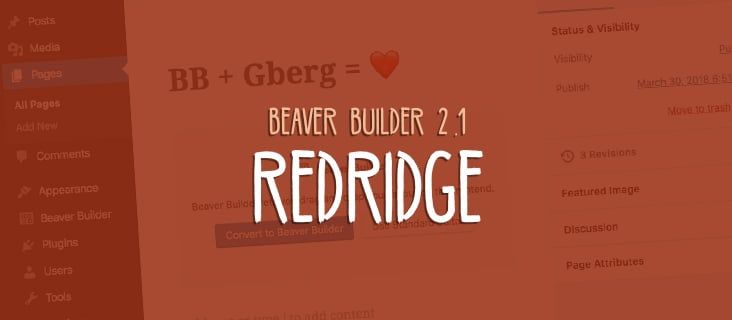 Beaver Builder 2.1 "Redridge" is live! You can download a test copy from your
account page
 and start using it on your sites today.
At the end of 2017, we released Beaver Builder 2.0 which featured a visual refresh and an extensive overhaul of Page Builder's user experience. One of our original mission statements and philosophies for Beaver Builder is, "simple but powerful."
When we started building Beaver Builder four years ago, we were a web design agency. We wanted a tool that had the power, flexibility, and code quality we were looking for as professional web developers but was also easy and intuitive enough so we could hand off sites to our clients.
In Beaver Builder 2.1 "Redridge"—named after the strong and dependable Redridge Steel Dam—we're continuing with the mission to add features and improvements for power users while keeping things simple and intuitive for new users.
See Your Text Changes on the Page with Inline Editing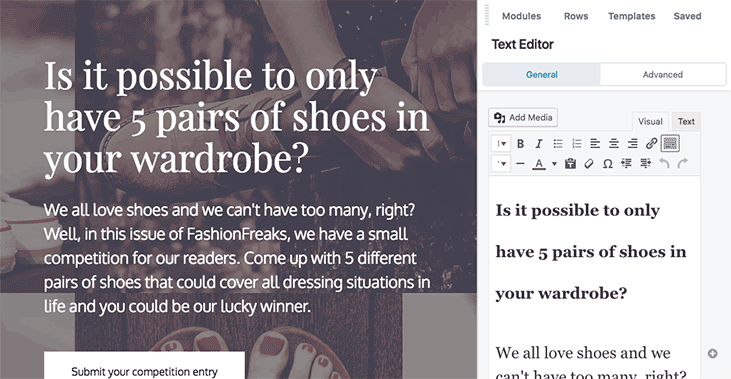 One of the more significant feature enhancements in Redridge is inline editing. You can now click on text fields to enter an inline editing mode and make edits and formatting changes directly on the page. This is one of those features that really shines once you start using it. Admittedly, I was a bit of a skeptic about the benefits of editing inline but, now that I've spent a bit of time using it, I never want to go back!
Keep up with News & Updates in the Notification Center
Beaver Builder has a thriving community that hangs out on Facebook, Slack, and that tunes into our newsletter (you can sign up in the footer), but there are lots of Beaver Builder users that aren't active in the community yet. Redridge brings a new notification center to Page Builder's UI where we can post messages and share content.
This gives us an opportunity to reach out to folks that are using Beaver Builder but aren't tuned into what we're up to. We're planning to share some of our blog content and announce updates, promotions, and new features.
Did you find this blog post through the notification center!?
If so, please leave us a comment below and let us know! We're all really curious to know if it's working. 😉
Gutenberg, We're Ready for Ya
One of our clients from the agency days ran a CrossFit website. One of our favorite jokes about CrossFit was, "how do you know someone does CrossFit…? Don't worry, they'll tell you." 😂
For some reason, that joke reminds me of Gutenberg. It seems to be the only thing anyone wants to talk about these days. We've published a couple posts talking about what the future of the web might be like with Gutenberg and where we see page builders in that future.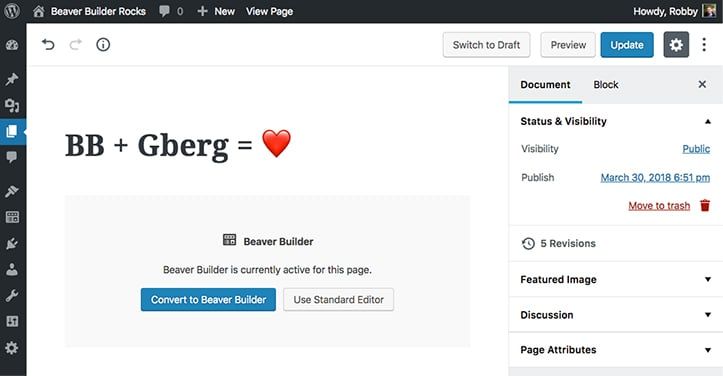 In Redridge, we're adding full support for Gutenberg into Beaver Builder. Since "everything will be a block," we actually created a block to switch between the Beaver Builder and Gutenberg editors. We have some ideas on how we can further embrace and build on Gutenberg but, for now, this release focuses on ensuring a painless transition to the new editor.
Data Collection and Other Goodies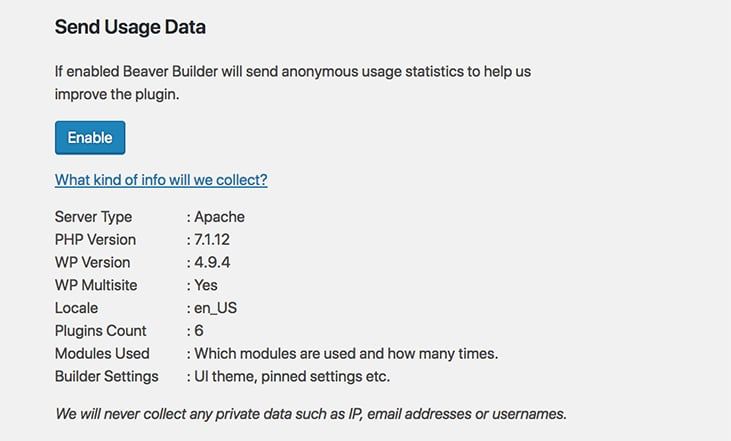 I admit, our timing on this one isn't spectacular. For what it's worth, we started working on this feature long before the current debacle around data privacy and the GDPR. Here's the deal, in Redridge we're adding an option for you to send us anonymous usage data. We pinky-promise this is a good thing for everyone.
We're not collecting any personal data.
We're not collecting email addresses.
We're not doing anything malicious or skeevy with this data.
All we want is to gather information on how folks are using Beaver Builder. For example, which modules are being used? Or which themes are most popular. With this data, we can make better and more informed decisions around which features to implement and improve on.
For example, if we find out that 95% of Beaver Builder pages are using the slider module, we can give that module a bit of love. Or if a large percentage of our users are using a certain theme, we can dig a bit deeper and work to improve the experience with that theme.
You can see exactly what data we're collecting by clicking the link in the notification prompt and in the settings. We really appreciate your help on this one!
Saved / Global Columns
In Redridge, you can now save columns the same way you can save rows and modules. Woot. This was a much-requested feature. If you set any of your saved pieces as Global, this means any changes will affect every instance of that saved element.
Prevent Builder Access by User Role
Circling back to the beginning of this post where we talked a bit about client workflows, we're adding the ability to prevent builder access for certain user roles. This enables you to completely prevent certain user roles from accessing the builder.
Code Validation for Your Sanity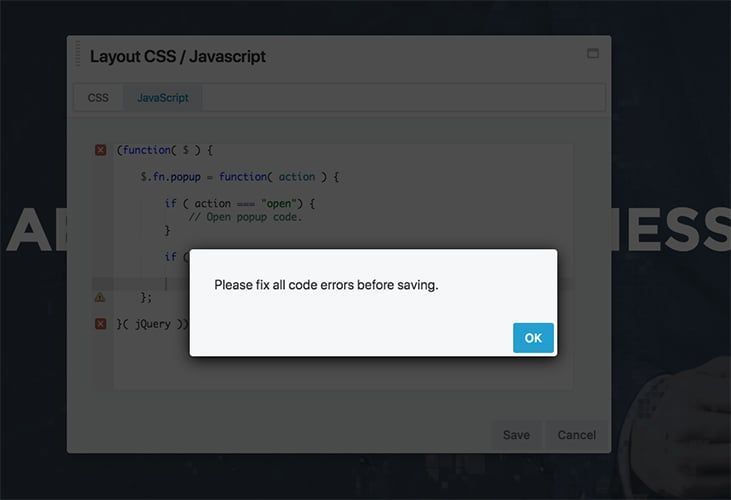 We're adding code validation to the CSS and Javascript fields in Page Builder. If you've ever spent an afternoon debugging your page only to realize the issue stemmed from one of those pesky missing quotes or semi-colons, we hope this feature will prevent that happening ever again.
Font Awesome 5 Support
FontAwesome 5.0 is out and it's been completely re-written and re-designed from scratch. In Redridge, we're adding support for FA5! If a page is already using the older FA4 icons, it's still going to work just fine. For new installs, we're enabling FA5 by default and, for existing installs, there's an option to enable FA5.
Bug Fixes
Yup. Not to worry, Redridge will include dozens of minor fixes and enhancements. Those aren't nearly as much fun to write about, but you can see all the little changes and fixes we're making here on our changelogs page.
How do I get it!?
Currently, Redridge is in beta. For our customers, a download link is available on your account page. We're planning to release Redridge at the end of April. At that point, you'll be able to access the download or, if you're running the beta, you'll be able to automatically update to the stable version.
As always, we genuinely appreciate your ongoing support and your help with release testing. As a product team, solving new problems and building new features is what we live for. Thank you and enjoy!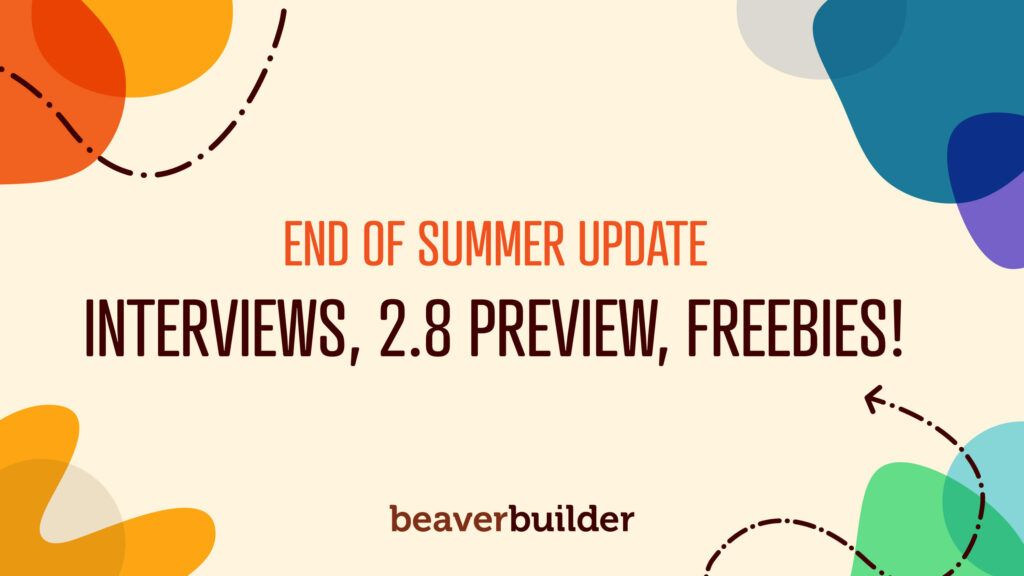 Hello, Beaver Builder community! Summer is almost over we're ready to welcome some cooler weather. 😅 We have some exciting…
Join the community
We're here for you
There's a thriving community of builders and we'd love for you to join us. Come by and show off a project, network, or ask a question.