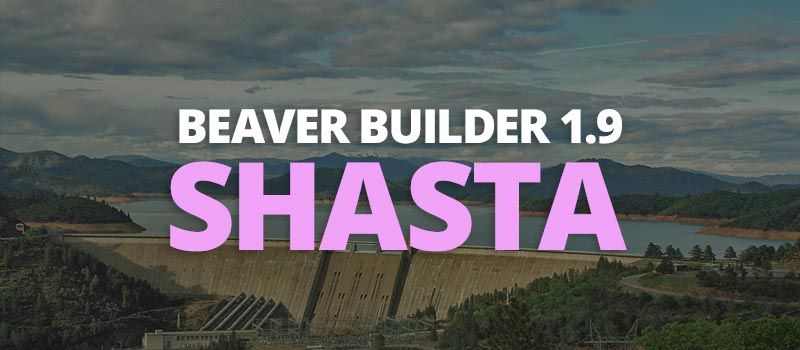 Beaver Builder 1.9 Shasta – Columns in columns, improved responsive settings, and more!
Beaver Builder 1.9 is live! This post covers the high-level changes. For all the gritty details, be sure to see the
Beaver Builder Change Logs
We're thrilled to announce Beaver Builder 1.9, Shasta, coined from the gorgeous Shasta Dam in our home state of California. Shasta brings the #1, most-requested feature to Beaver Builder: columns in columns (CinC). Along with CinC, we're introducing a revamped editor with more accurate dragging and dropping, the ability to drag and rearrange columns, responsive settings for margins and paddings, new templates, and a whole lot more!
1.9 Shasta Preview Video
First things first, a lot of the updates this time around are much easier to show than to tell. Justin put together a nice little screencast highlighting many of the changes. It's worth a watch.
If videos are your thing, be sure to check out this Shasta preview video by Matt Mederios (you know, the guy who does the Matt Report Podcast). Matt is super bright and has a long history in the builder space from his product, Conductor. He has a unique perspective backed with tons of experience.
Introducing Parent and Child Columns
If you're wondering what "columns in columns" actually means, don't worry. It's a bit difficult to wrap one's head around without a visual example.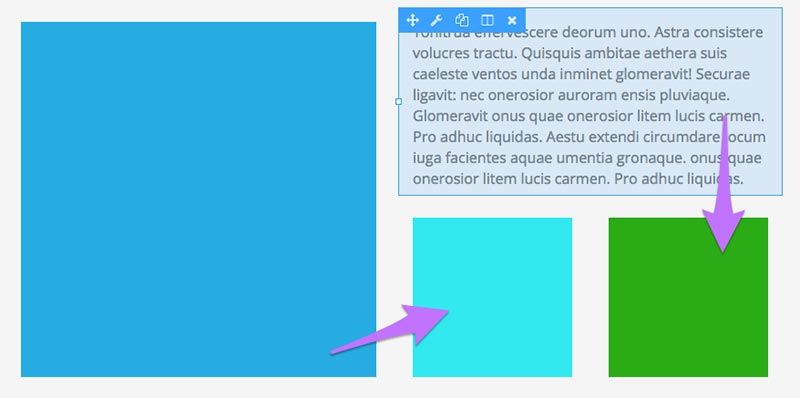 It's always been possible to have, for example, an image in one column and text in another, but notice the teal and green squares underneath the text blurb—this layout has never been possible without some CSS trickery.
As mentioned, CinC has been one of the most-requested features since we first launched. We genuinely do our best to listen to your feedback and implement your ideas. It took a long time to implement CinC because we couldn't quite figure out an elegant way to pull it off. As you can see in the video, we finally worked out the kinks with a "parent" and "child" column dynamic that we're extremely proud of.
Draggable Columns
Another big request has been the ability to duplicate and drag columns, similar to how it's possible with individual modules. We're thrilled to announce draggable columns are coming too.
In order to pull off draggable and parent/child columns, we're introducing a slick new UI feature. In Shasta, you'll be able to drag a column (and when available, a parent column) right from the column settings menu.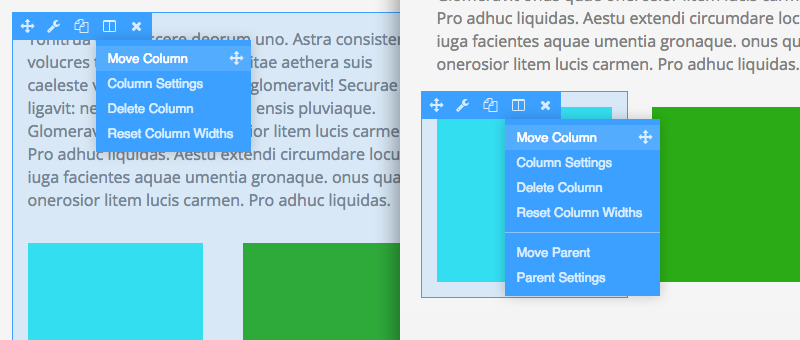 On the left is a standard column menu and on the right is a child column menu. On the example to the right, notice that you can edit settings or move both the child and the parent by clicking and dragging right from the menu.
This is an innovation we've never seen before and, along with some major improvements to the drag and drop accuracy, it makes for a very fluid building experience. Of course, you shouldn't just take our word for it. Give it a shot. We hope you feel a lot like this beta tester did…
After you work with @BeaverBuilder 1.9 for a while, going back to the 1.8 behavior is such a downer
Click To Tweet
It's hard to put into words how nicely the new UI "feels." You'll have to give it a shot and let us know if you agree.
New Content Page Templates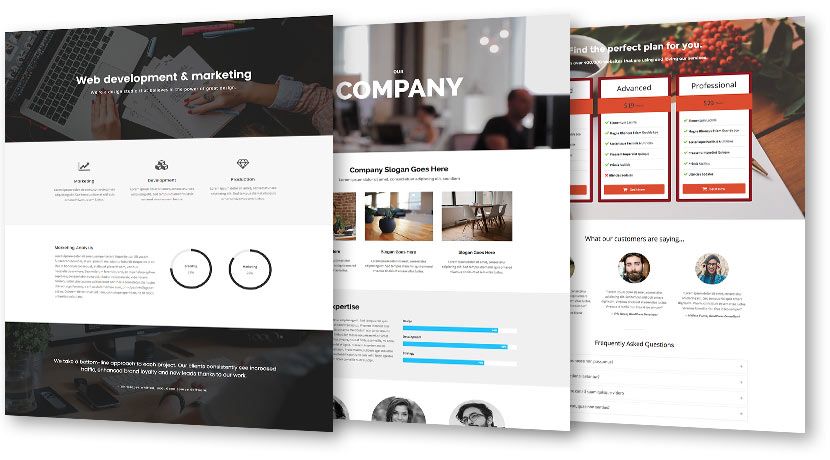 In Gordon (v1.8), we introduced several new landing page templates. In Shasta, we're giving some love to our content page templates. Landing pages are, presumably, the first page a visitor sees when they get to your site (think homepages). Content pages are the inner pages of a site, like an about, contact, or pricing page.
There are 12 new content page templates available in 1.9 each with a fresh, minimalist design. Our hope with all our templates is that they're either a starting place to kickstart your creativity or a ready-to-go design that just needs some minor tweaks before going live.
Responsive Margins, Paddings, and Borders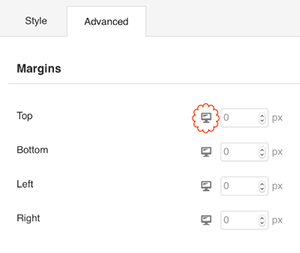 From day one, Beaver Builder layouts have always been responsive and we're introducing a feature to make it much easier to build for smaller screens.
In Shasta, you can now adjust margins, padding, and border sizes depending on the size of the device. Originally, we added 4 extra text boxes to the settings panel. While this was functional, it wasn't very pretty. In another UI epiphany, the team created a button to toggle between the different views.
A lot of the code for this feature was submitted by outside sources. Thanks so much to Jessie and Oliver for their help! We're always thrilled to receive pull requests for Beaver Builder's codebase. If you're interested in contributing, please shoot us an email.
Open a Lightbox from a Button
Last but not least, we're adding the ability to generate a lightbox pop-up from a button. There's a new Click Action setting in the button module that adds a lightbox option along with the option to open a URL. You'll be able to add a custom text, HTML (include shortcodes), or a video and that content will automatically display in a lightbox when the button is clicked. Pretty sweet!
You can read more about the lightbox feature, and all the new features in Shasta, in our Knowledge Base post. To check out bug fixes and minor enhancements, check out the Changelogs.
Alright! I think that's about it.
We'd love to know what you think about this upcoming release, and or, if you have any trouble with the beta, please send us an email or leave us a comment below. This update is evidence that we're listening and take your feedback very seriously. Please don't hesitate to let us know your thoughts. Enjoy.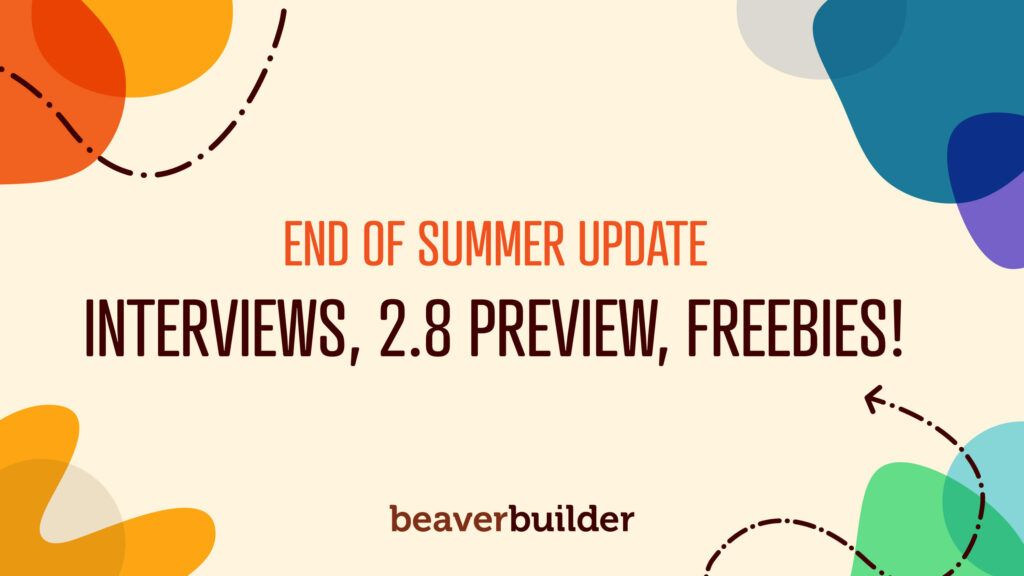 Hello, Beaver Builder community! Summer is almost over we're ready to welcome some cooler weather. 😅 We have some exciting…
Join the community
We're here for you
There's a thriving community of builders and we'd love for you to join us. Come by and show off a project, network, or ask a question.