6 Beaver Builder Tutorial Videos from our Awesome Community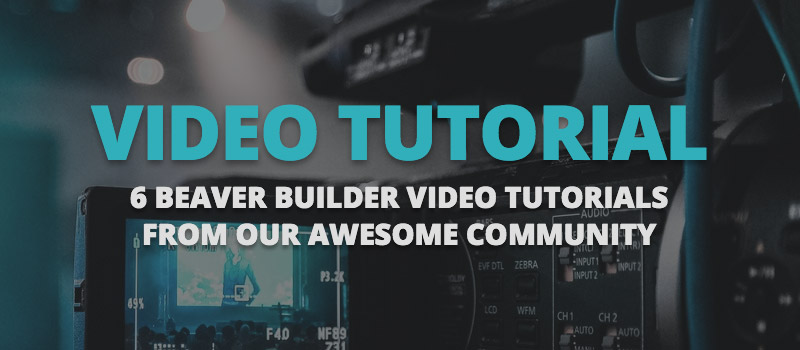 Howdy!
Hope you're doing well! I just got back from an extended stay in the New Orleans so, despite have no association with the south, a "howdy" seems appropriate today.
There has been some really great video content coming out of the Beaver Builder community recently (have you seen our Facebook Group and Slack Channel), and we thought it would be fun to put together a blog post to share some of it.
Hopefully, these videos will introduce some new ideas and concepts, and or, inspire some inspiration on creative ways to use Beaver Builder. A few of these are rather long, so grab a bowl of popcorn or be sure to bookmark this page and come back when you have some time to kill…
Zero to Website with Beaver Builder
Kicking off the list is a video from our friend Joe at WP in One Month. We had the opportunity to sponsor a webinar with WP in One Month and Joe did an awesome job of it!
In this tutorial, Joe walks through the basic steps of going from nothing to a complete website with Beaver Builder. This is an excellent resource if you're new to Beaver Builder, and or, a great one to share with clients to get them ramped up on the software. Thanks, Joe!
New Landing Page Templates Walkthrough
This video comes from our buddy, Adam, from WPCrafter. Adam makes great screencast/walkthrough videos, and he made a video showing off all our new templates! If you missed it, we just announced the new templates coming out in our next update, 1.8 Gordon.
These templates are still in beta (you can download the beta release from your My Account page), but they'll be out in the wild very soon. Thanks, Adam!
Working with Beaver Builder's Responsive Layout Options
I'm tapping into all my synonyms for friends today…
David Waumsley is a very close acquaintance of ours, and he's been creating some spectacular tutorial videos as of late. In this video, he reviews some of our responsive settings options and explains a few tricks and techniques to optimize a Beaver Builder site for mobile devices.
Be sure to check out David's YouTube Channel for more great videos. Thanks, David.
Using the Chrome Inspector to Look Up Class Names
If you're familiar with our community, this next name needs no introduction! Jon Mather is the main-man behind Beaver Lodge, which is an extensions store for Beaver Builder.
In this video, Jon explores the subject of using the Chrome Web Inspector to look up CSS class names. This lesson is not specific to Beaver Builder, but if you're building websites, the Chrome Dev Tools panel is an invaluable resource. Thanks, Jon!
Using the Genesis Framework with Beaver Builder
Next up is a true Beaver Builder OG. Jon Perez of SureFire Web Services and Beaver Builder Videos was kind enough to invite me on to his podcast way back when and it was the first podcast I ever recorded.
Jon is long-time Genesis user/evangelist, and in this video, he discusses some techniques for using Beaver Builder with the Genesis Framework. Thanks, Jon!
How to Export Beaver Builder Templates To Another Site
Last, but certainly not least, I've been dancing around all the different terms for "friend" that I can think of, but this video was created by, arguably, the patriarch of the Beaver Builder family. Colin, from Dynamik Beaver, has been a long-time evangelist and mentor to the company. He has an honorary place in our internal Slack, and many of the features and strategies we've implemented in Beaver Builder came from his insight.
You may recognize Colin's voice as he recorded all of the videos featured in our Knowledge Base. In this video, Colin shows how to import/export Beaver Builder templates using the WordPress Importer plugin. In 1.8, this feature is actually getting a big overhaul. You'll soon be able to select individual templates to export. Woot! Thanks, Colin.
And that's a wrap! Thanks again to everyone out there creating content and taking the time to put these tutorials together. I know I missed a few good ones, so maybe we'll make this a regular series.
If you've made or know of a great Beaver Builder or general web design tutorial video, feel free to leave it in the comments. Let us know if you have any questions. Until next time. 🙂