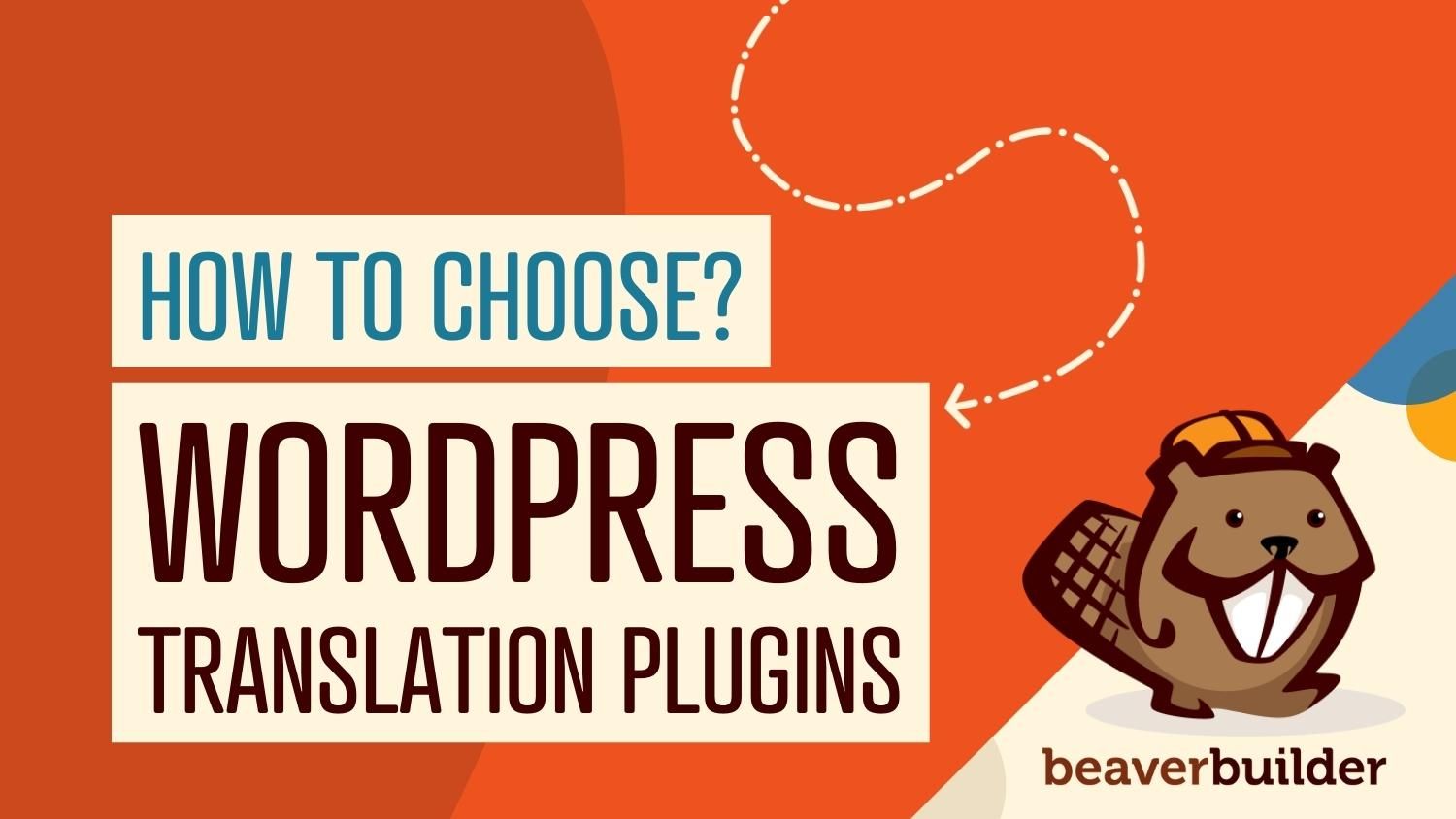 How to Choose the Right WordPress Translation Plugin for Beaver Builder
Do you want to make your websites accessible to users all over the globe? WordPress translation plugins enable you to create multilingual websites with ease. However, it can be difficult to choose the right one. You'll need to know what to look for, whether that's premium-quality translations or budget-friendly pricing.
In this post, we'll take a closer look at what translation plugins are. Then, we'll discuss how to choose the best option for your needs, and introduce you to three top picks that work with Beaver Builder. Let's get started!
An Introduction to WordPress Translation Plugins
By default, WordPress doesn't come with the capability to create multilingual sites. If you want to offer your online content in various languages, you have a few options. For example, you can hire human translators. However, this can be expensive and time-consuming.
Fortunately, you can also find plenty of WordPress translation plugins to handle this task for you. Some tools are fully automated, making use of online translation services. These offer fast results at low prices, but you can end up compromising on accuracy.
This is why we recommend using plugins that enable you to use a hybrid method. To start, the plugin can automatically convert your website using machine translation. Then, you (or a hired translator) can manually edit the result to remove any errors, or add nuances to make the content sound more human.
There are many other benefits of using translation plugins, including:
Consistency. You can maintain the overarching layout and design of your site by conducting the translations within your WordPress dashboard.
Speed. You'll spend less time going back and forth between developers/designers and translators. Instead, work can be done directly on the page.
Searchability. Your content is translated without affecting your site's Search Engine Optimization (SEO). Some multilingual plugins can even help you boost the performance of your alternate-language pages in search engines.
Of course, given WordPress' popularity, there are many options to choose from. Not every translation plugin will be the right fit for your needs, so it's vital to know what you're looking for.
How to Choose the Right WordPress Translation Plugin (5 Factors to Consider)
No single WordPress translation plugin is right for every user. However, if you explore your options with the following five criteria in mind, the choice should become much simpler.
1. Content Type
There are many different types of content you can translate. For example, you can convert documents, landing pages, forums, blog posts, and more. Not every plugin can handle all of these tasks, so it's important to pay close attention to each tool's capabilities.
While the ability to translate posts and pages might be sufficient for some users, developers and other advanced users will likely need a more specialized tool. For instance, you might want a solution that can translate metadata, dynamic strings, shortcodes, and custom posts.
Some plugins can even provide a full-sweep sitewide translation automatically. However, this might be more than you need if you want to convert just a handful of web pages.
2. Ease of Use
Typically, the easier a plugin is to use, the more effective your results will be. To understand how accessible a particular tool is, you can take a look at what kind of support is available, and check to see how often the plugin is updated.
It can also be very useful to check out customer reviews: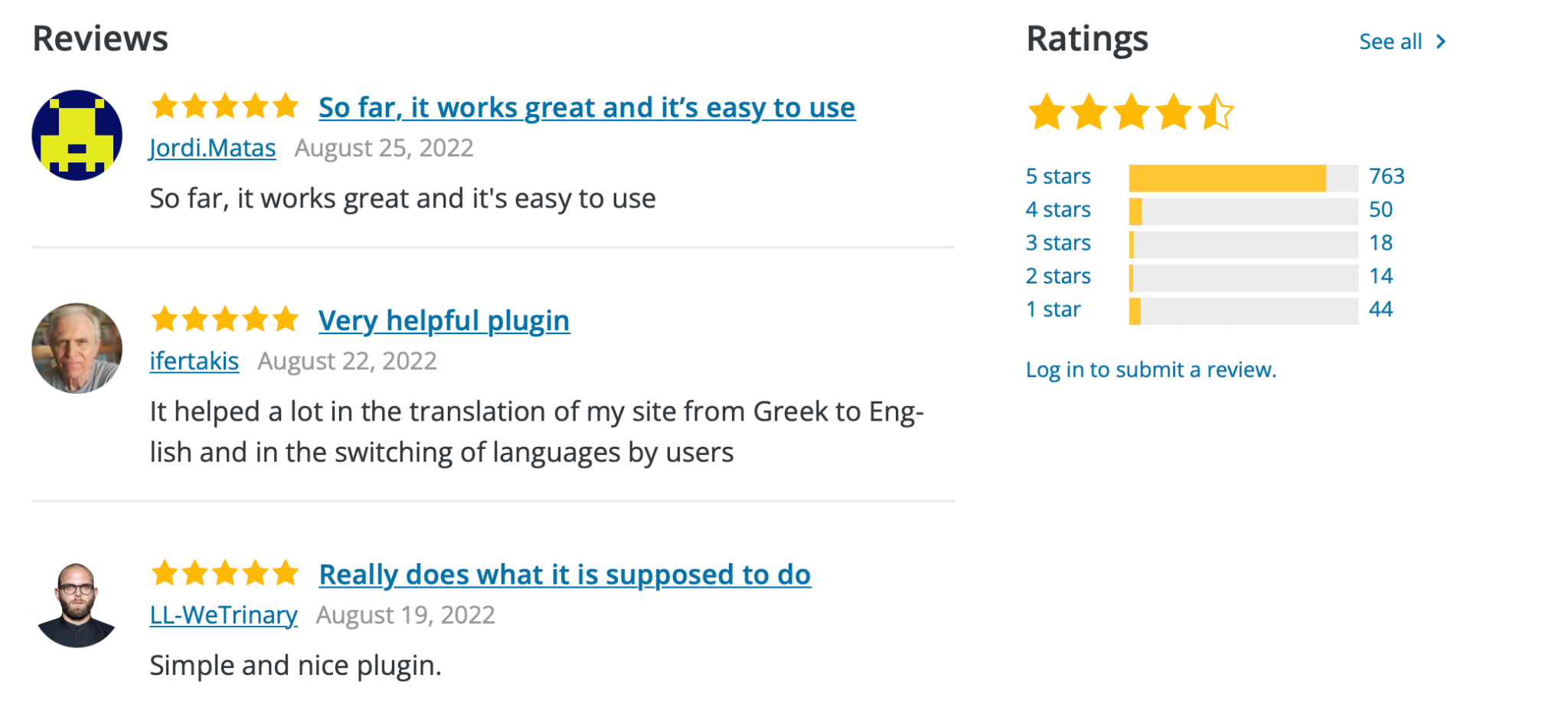 It's also important to note that not all tools are compatible with other themes and plugins. Therefore, it's important to make sure your translation plugin can integrate with the other software you're using on a given website.
Another crucial consideration is the level of effort required to edit and review the translations, as this task can slow down your workflow considerably. Some plugins make switching languages easy with 'set and forget' rules. However, other tools may require more work on your part.
3. Search Engine Optimization (SEO)
If you opt for a plugin that enables you to convert metadata into other languages, you can target a broader range of keywords. As a result, you can boost your chances of ranking highly on popular search engines like Baidu (used in China) and Yandex (used in Russia):

It's useful to ensure that the plugin you choose follows SEO best practices, and translates meta titles and descriptions. Also, some tools will enable you to add hreflang variables to your pages. This ensures that the most appropriate versions of your content will appear in search results.
4. Level of Support
Generally, free plugins don't offer a lot of support, although you can check out FAQ pages or forums to get help from other users. If you're opting for a paid plugin, you'll want to make sure that support is easily accessible.
Consider taking a quick look at the tool's setup guides and documentation to see what's available:

Finally, don't be afraid to ask questions before settling on a WordPress translation plugin. Most quality developers won't mind you seeking clarification. This can even indicate the quality of support you can expect if you decide to pay for the service.
5. Value for Money
Sometimes, a free solution can be the appropriate choice, especially for small business sites and blogs. However, these options can be limited, especially if you intend to translate multiple websites.
With a premium tool, you often gain additional functionality and more power. This isn't guaranteed, though, so pay close attention to the features included with your plan to make sure you can achieve the results you desire.
It's also vital to factor in the cost of human translations if you decide to touch up top-level pages using a professional. If you plan to go this route, you might prefer a plugin that's slightly less expensive to make room for the additional cost.
3 Top WordPress Translation Plugins to Use with Beaver Builder
If you're a Beaver Builder user, you'll want to make sure your WordPress translation plugin pairs well with our page builder. With that in mind, here are our top three recommendations.
First up, WPML is a stable, reliable, and very popular tool that includes 65 languages: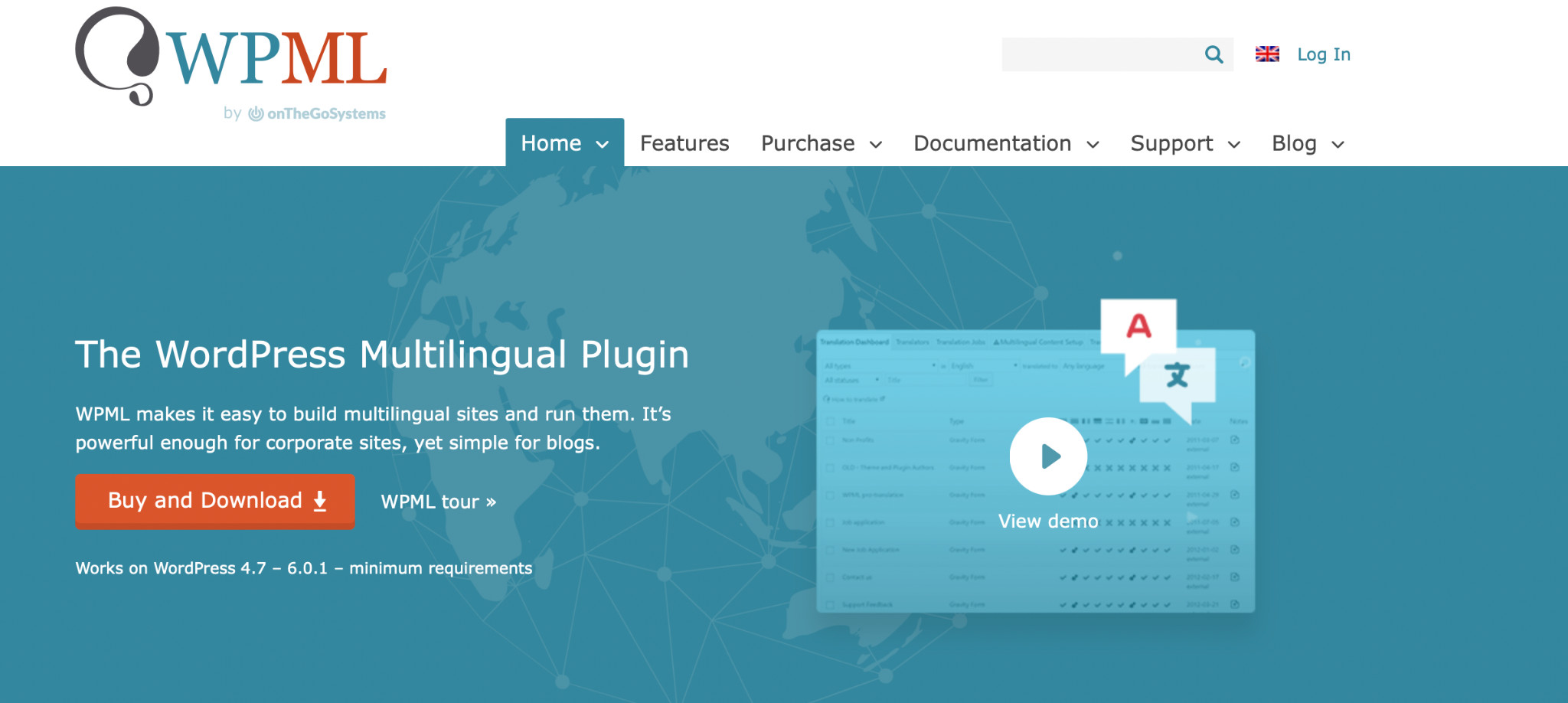 You can specify which posts, pages, and menus you want to convert, or translate entire websites automatically as you add and edit content. It integrates with plenty of third-party services, and boasts a quality editor (including translation memory).
If you want more complete control over your translations, TranslatePress is an excellent choice. It's a self-hosted platform that enables you to keep your translations forever: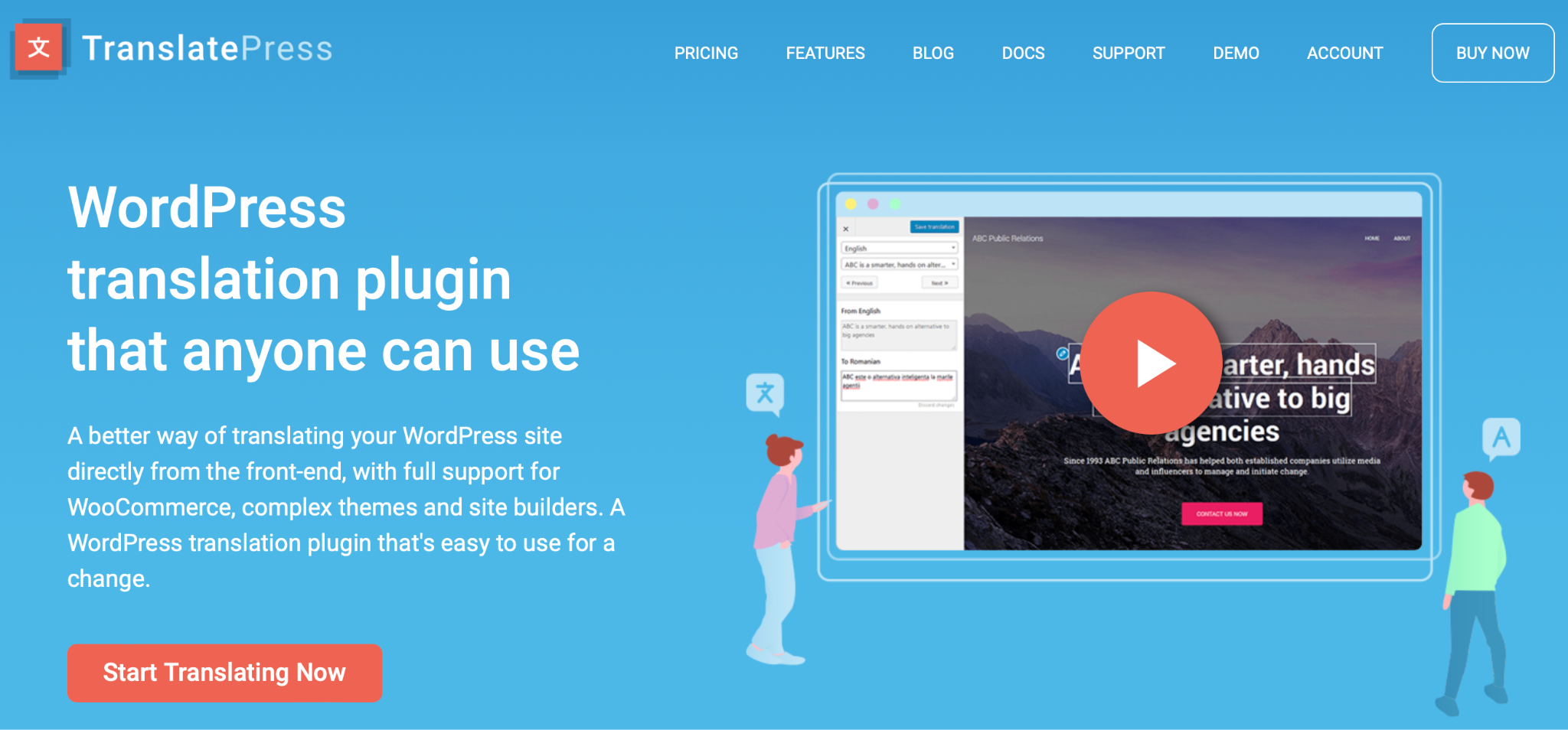 A particular highlight of this tool is that you can translate your websites visually on the front end. This creates a simple, intuitive editing experience. Plus, you can change languages while working, and the live preview will instantly adjust.
Finally, Weglot has one of the quickest setup processes, and offers 110 languages. With powerful management tools, it's an excellent choice for collaborating with other professionals: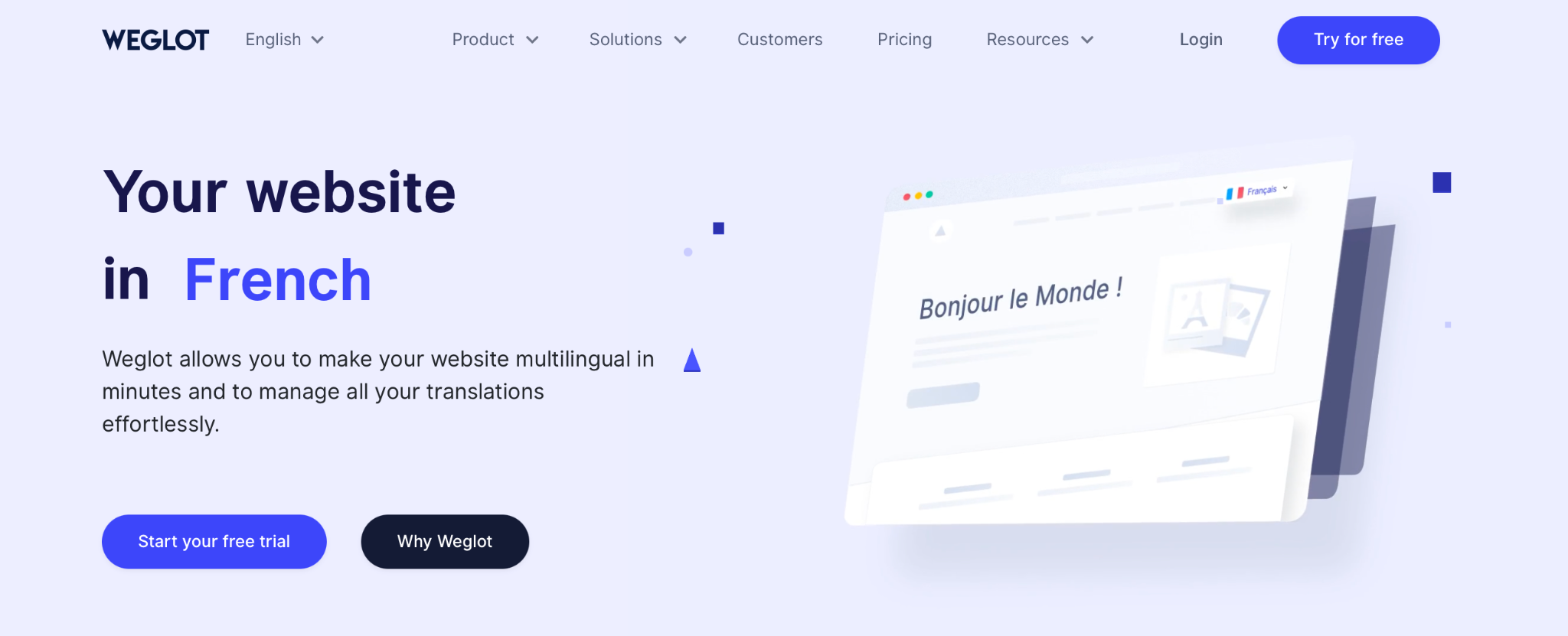 Weglot prioritizes SEO best practices for multilingual sites. Additionally, all key conversion steps can be translated, from landing pages to emails. You can even add different images and videos on your multilingual pages, depending on the language and region of your users.
Conclusion
Translating your WordPress website is an excellent way to reach new audiences and drive more traffic to your site. If you don't have the time, expertise, or budget for full manual translations, a plugin can bridge the gap and enable you to create a fully-multilingual website.
To choose the right translation plugin, you'll want to consider:
What types of content you need to translate.
The tool's ease of use.
Search engine optimization features.
The level of support on offer.
The plugin's value for money proposition.
Related Questions
Which Is Better, Human or Machine Translation?
As a general rule, manual human translations will give you the most accurate result. However, you'll need to invest a lot of time and money into this process, and you may have no way of vetting the translator's work. That's why a combination of human and machine translation can offer the best results. You can use a WordPress translation plugin to automatically translate your site, then hire an expert to go through the results and make corrections.
Can I Create a Multilingual Website With Beaver Builder?
Beaver Builder integrates with many popular translation plugins making it a great choice when creating a multilingual website – and it gives you fine-tuned control over your site's look and functionality. With Beaver Builder and a plugin like TranslatePress, you can create multilingual sites that display in whatever languages you choose.
Join the community
We're here for you
There's a thriving community of builders and we'd love for you to join us. Come by and show off a project, network, or ask a question.