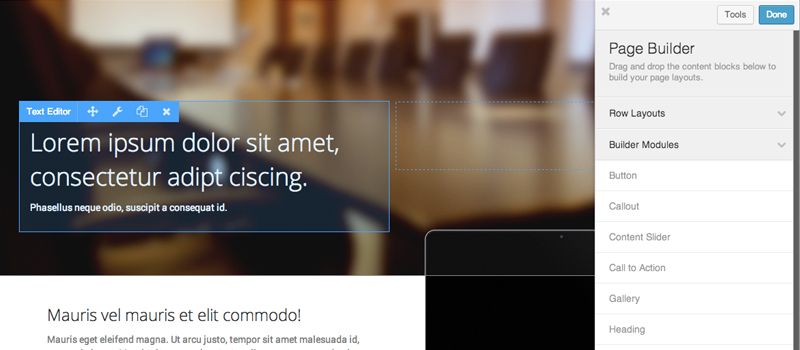 Update: Oof. What a trip down memory lane this post is! It's been over two years since we published this and we couldn't have possibly imagined the growth we've experienced since. Beaver Builder was formerly called the FastLine Page builder, and you can see the old foundation/name in the URL here. I've updated this posts and the links with our new branding, Beaver Builder. =)
We're excited to officially announce the release of the Beaver Builder Page Builder plugin for WordPress. We've enjoyed how easy it was to build our new site using the Page Builder and hope you will enjoy it as well! There is a lot to say about the Page Builder, so read on for all of the juicy details.
What Does It Do?
The Page Builder is a drag and drop layout system that works on the front-end of WordPress and allows you to create beautiful layouts without having to write any code. If you haven't already, take a look at the demo to see it in action!
How Can I Try It?
For those with an active WordPress site, a free version of the Page Builder is available to download and install from our pricing page. Also, there is a page builder demo site available where anyone can jump right in and play with the builder.
Who Is The Page Builder For?
Anyone that can learn WordPress can learn to use the Page Builder. Developers that need a little more can build custom widgets using the WordPress plugin system to get the job done. Those interested in that should head on over to our developer documentation to learn more.

Works With Your Theme
Yep, that's right! The Page Builder was designed to work with almost any WordPress theme on the market. We say "almost" because it's impossible for us to test every theme that exists. Don't hesitate to let us know if you run into a compatibility issue with your theme so we can look into it and release a fix if possible.
Pre-Built Layouts
The Page Builder comes packaged with a handful of pre-built layouts that you can setup as a starting point with the click of your mouse and then edit at your leisure. It also comes packed with powerful features that allows you to duplicate, reuse and export custom layouts you have created.
Modules And Widgets
We've loaded the Page Builder up with a comprehensive set of content modules to aid you in building stunning layouts within an intuitive drag and drop system with more to come. In addition to content modules, the Page Builder also supports core and third party WordPress widgets, making the number of things you can drop into a layout almost endless.

Optimized For Mobile
Every piece of a Page Builder layout is fully responsive and looks gorgeous on any screen size. Easily drop any number of columns onto the page that will adjust automagically as the screen gets smaller. Don't worry, if responsive sites aren't your thing, that functionality can be turned off at any time in the main settings.
Optimized For Performance
We've designed the Page Builder to create layouts that load quickly. Many themes and plugins load in an ungodly number of scripts and stylesheets to every page on your site. Not the builder! It only loads the assets needed for a given page, instead of slowing your site down by loading everything.
Remote Updates
We're not done with the Page Builder, not by a long shot. In the coming months we will be releasing new features, modules and pre-built layouts that can be accessed by premium members through our remote updates system. The remote updates system allows you to update to the latest version of the Page Builder in the same way you currently update your wordpress.org plugins. The free version will always have access to remote updates for bug fixes and core UI enhancements.
Three Versions To Choose From
The Page Builder plugin comes in three flavors for you to choose from:
Free (limited modules, no pre-built layouts)
Standard (all modules and pre-built layouts)
Developer (multisite support)
Be sure to check out our homepage for more information on this WordPress Page Builder plugin and theme.
More To Come!
We're excited for what the Page Builder can do now and the potential it holds to do even bigger things in the future. In the coming months, we'll be hard at work listening to your feedback in the support forums and implementing features as quickly as we can churn them out. It's going to be a fun year and everyone here at FastLine Themes is looking forward to sharing it with you!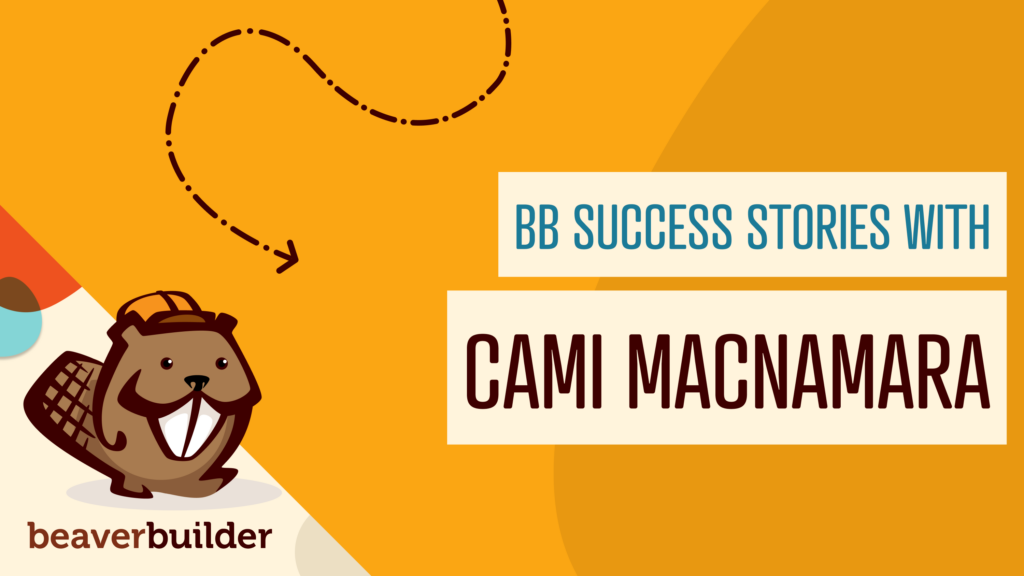 We are excited to introduce our good friend and a long-time Beaver Builder power user, Cami MacNamara. In this post,…
Join the community
We're here for you
There's a thriving community of builders and we'd love for you to join us. Come by and show off a project, network, or ask a question.