Coming Soon: The Beaver Builder Design Contest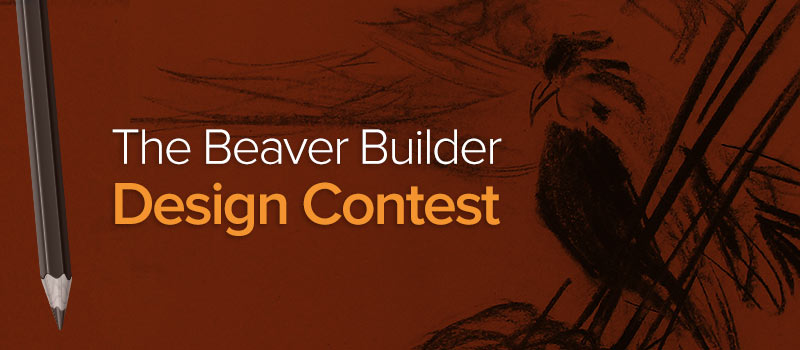 One of the coolest experiences since releasing Beaver Builder has been seeing all of the amazing designs that you have created! We've consistently been overwhelmed with the unique and creative ways the community has used our tool to create amazing webpages.
We wanted to find a way to encourage more people to try their hand at designing with Beaver Builder, and to give back a bit to the community of talented folks that are already using Beaver Builder. So, we're going to hold a design contest! Here are some of the details:
The contest is open to anyone, you don't need to be a Beaver Builder customer to join.
It runs from April, 2nd-31st
You can submit as many (or as few) designs as you'd like!
You can create designs using the Beaver Builder Theme and Page Builder plugin
When can I start?
The contest will begin on April, 2nd. Until then, sign up for a notification on our design announcement page, or follow us on Facebook or Twitter to stay up to date on the contest.
What can I win?
3rd Place: A $100 gift card of your choice and a copy Beaver Builder (standard).
2nd Place: A $250 gift card of your choice and a copy of Beaver Builder (pro).
1st Place: A $500 gift card of your choice, a copy of Beaver Builder (agency), AND a premium WordPress prize pack that includes a license to the following awesome plugins, themes, and services:
Not too shabby, eh?
How does it work?
We created a contest site (similar to our live demo) where anyone can sign up and have access to a site running the Beaver Builder Page Builder Plugin and Theme. You'll be able to sign up and work on your designs during the entire month of April. There is no entry fee and you don't need to be a Beaver Builder customer to participate!
What kind of design assets can I use?
Since we're hosting the contest sites, we ask that you do not use copyrighted assets (fonts, images, icons, etc). But, feel free to use anything else! This could be Dribbble freebies, Creative Commons Imagery, or assets that you own the copyright for.
How will the winners be determined?
We're planning to choose our 10 favorite designs, then leave it up to the community to vote on the top 3.
Have Questions?
Feel free to contact us or  leave a comment below!
We're pretty excited to see what you come up with, and we can't wait to award one lucky designer with an awesome prize pack!