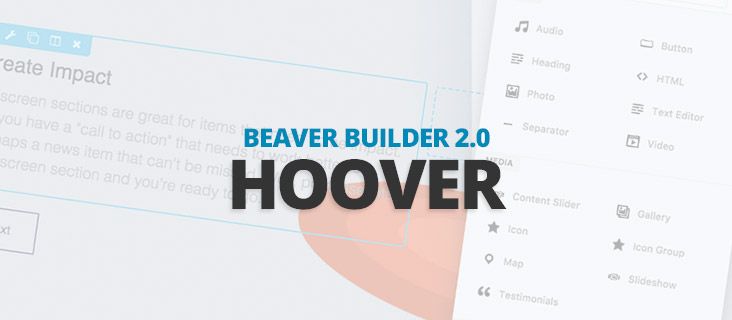 Beaver Builder 2.0 is live! You can download it from
your account page
 and start using it on your sites today.
After months of work, thousands of hours of testing, and countless iterations we're thrilled to announce Beaver Builder 2.0, Hoover. Named after the monumental Hoover Dam, this release represents a monumental step forward with improvements across the entire software stack. Beaver Builder 2.0 looks better, feels better, it's faster, and we're introducing a slew of customization options that enable you to tweak the software to fit your needs.
Get ready to fall in love with Beaver Builder all over again…
A Status Update
After just about 4 years, Beaver Builder has come a long way and 2.0 is a culmination of all of our shared experience. Beaver Builder now runs on over 500,000 websites. Beaver Builder is being used by huge companies like GoDaddy, WP Engine, Liquid Web, and trusted by world-class WordPress agencies like Crowd Favorite, Pixel Jar, and WebDevStudios.
Beaver Builder is available in dozens of languages and features code from dozens of contributors. Our support team is consistently praised and our first response time has hovered around an impressive 3 hours!
We have a vibrant community of users and a thriving ecosystem of both free and premium 3rd party extensions and add-ons. It's through the support of this community that we've had the opportunity to put our heads down and build something that we think, is really really awesome.
It's Beautiful, It's Beaver Builder!
Feast your eyes on Beaver Builder 2.0. The most immediately noticeable change is the visual refresh. We didn't just add a new coat of paint, the visual changes were intended to ease out real pain points and workflow hang-ups.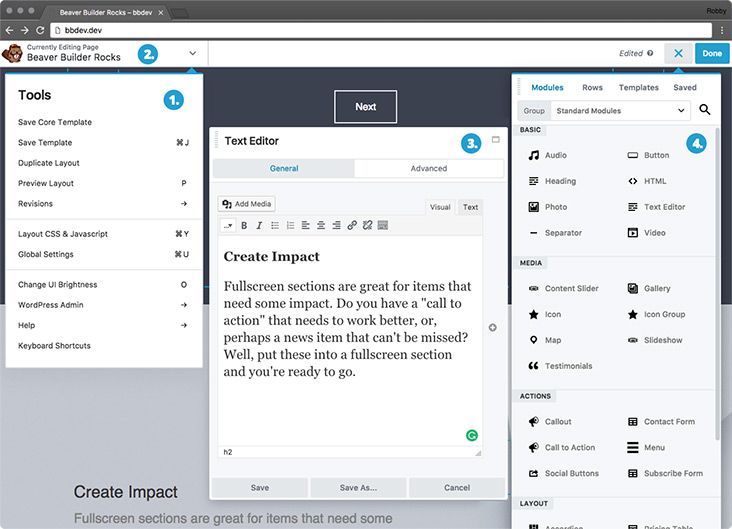 1. Tools Menu – We brought all of Beaver Builder's various settings panels and tools into a new centralized Tools menu.
2. Title Bar – We added a title area to the toolbar that displays what you're editing (Page, CPT, Beaver Themer Template, Etc.).
3. Flexible Settings Panels – We made settings panels WAY more flexible and customizable. They are resizable and dockable! Your personal preferences and tweaks will persist throughout the entire site.
4. Refined Content Panel – We reorganized the content panel, added icons, condensed the information. and, and we gave 3rd party add-ons like PowerPack and UABB the ability to do the same.
Along with various other improvements and goodies, we added a new Dark skin that, not only looks really cool, is helpful in dark environments or to create contrast with very bright layouts.
Let's Talk About Performance Workflow
In 2.0, we vastly improved performance from two different angles. First, if I can get a bit technical, Justin and the dev team ported our settings panel logic from PHP to Javascript. This means all of the saving and loading of settings panels can happen behind the scenes. No more waiting on loading bars! From a raw performance standpoint, everything in Beaver Builder is faster, snappier, and a joy to work with.
From the workflow standpoint, we added a suite of keyboard shortcuts, refined the publishing and drafting functionality, and added countless tweaks and improvements aimed at making your building experience more fluid.
Settings  Panels
Settings panels now save your changes as you work and instantly load as you move throughout a page. You can watch a video of the new settings panels in action below.
Keyboard Shortcuts
New keyboard shortcuts are available in 2.0. You'll now be able to navigate through the software using your keyboard and access the new Content Search feature.
Layout State Awareness
A small, but super functional feature, Beaver Builder now displays a status when there are changes yet to be published and during the save process. This allows for a quick exit when there are no changes requiring a publish action.
Preview Mode
Beaver Builder now features a preview mode that allows you to easily preview a page and it's animations and view pages in various screen sizes.
Beaver Builder 2.0 Resources
If you'd like to learn more about 2.0, we have a few resources to share.
Your Beaver Builder 2.0 Video, Review, or Story…
How do I get Beaver Builder 2.0?
We're doing a few things a bit differently with this release. Beaver Builder 2.0 is a free update. You can download it and start using it today.
If you were helping us by testing out the alpha or beta versions of 2.0, good news! You can now update to the stable version without having to redownload and reinstall the page builder zip!
To ensure a smooth and stable release, we are going to wait a bit longer to automatically update versions 1.10 and below. Expect an automatic update to be available for all Beaver Builder sites in the next few weeks.
The changes in 2.0 follow a similar theme of increasing productivity without adding additional complexity. Beaver Builder 2.0 is vastly more powerful in the hands of experienced users but still faster and intuitive for new users and clients. As a product team, it's a very special moment when we get to finally share all of our hard work with you! We hope you have as much fun using Beaver Builder 2.0 as we did building it!
Thanks and enjoy.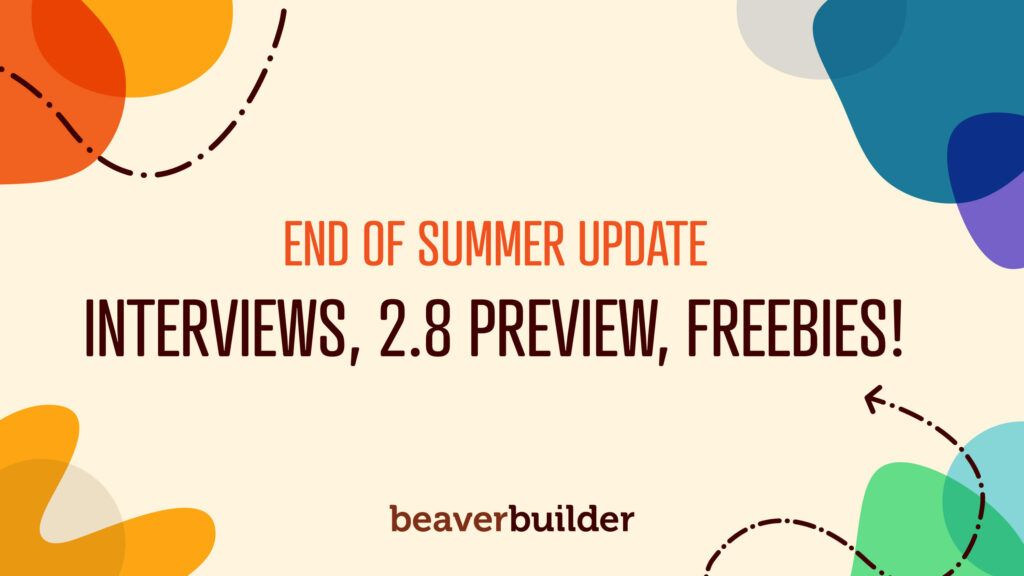 Hello, Beaver Builder community! Summer is almost over we're ready to welcome some cooler weather. 😅 We have some exciting…
Join the community
We're here for you
There's a thriving community of builders and we'd love for you to join us. Come by and show off a project, network, or ask a question.