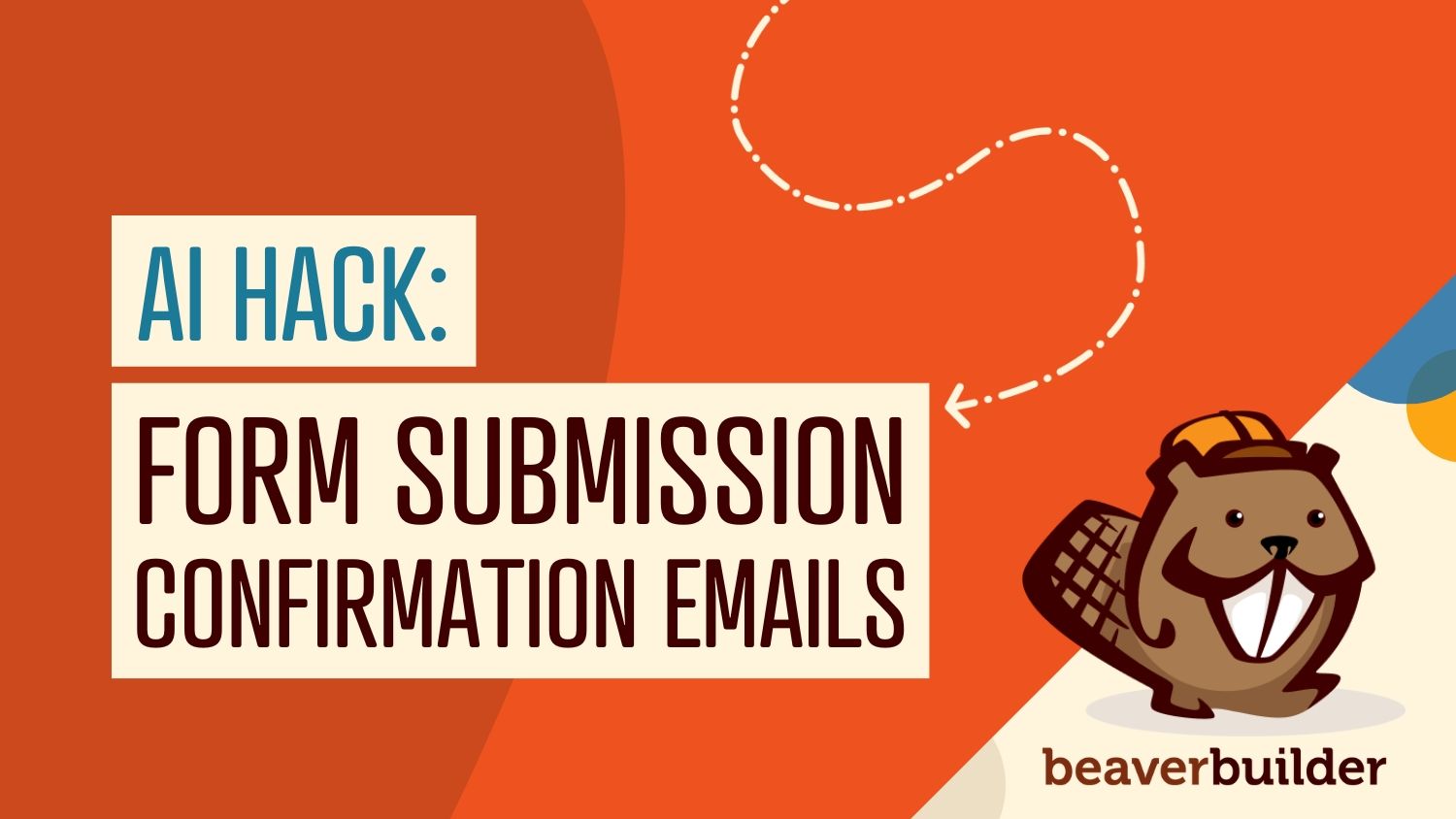 AI Hacks: Improve Customer Experience with AI-Powered Form Submission Confirmation Emails
Every online business has a website. And most websites have a contact form that allows visitors to get in touch with the business owner or administrator.
Contact forms are a great way to provide support to your customers and prospects. They're easy to create and affordable, and they can help you improve your customer service.
However, manually replying to every form submission can be a time-consuming task. That's where automation comes in.
Automating your contact form responses can save you a lot of time and effort. It can also help you improve your customer service by ensuring that all inquiries are responded to promptly and accurately.
In this blog post, we'll introduce an AI hack for WordPress to help automate your contact form responses as well as how to get started.
What's the Problem with Manually Managing Contact Forms?
So you may be thinking, "What's the big deal with manually managing contact form submissions? It is simply replying to questions over email."
But it's not as simple as it looks.
Let's dive into the problems it can cause and why it's essential to find a smarter solution.
Tedious and Time-Consuming
Manually replying to each and every form submission can quickly turn into a never-ending task.
It requires you or your team to sift through countless emails, run the information, and draft individual responses.
I get it. Your time is precious, and spending it on repetitive work can steal the time that you can invest in strategic and business-growth activities.
Delayed Response Time
Imagine your customer sending an important inquiry through a contact form, eagerly waiting for a response, only to hear crickets for days.
Not the best experience, right?
Manual management often leads to delays in responding to form submissions, leaving your users in the dark and potentially damaging their trust in your business.
In today's fast-paced world, customers expect prompt and efficient communication, and failing to meet those expectations can cost you valuable opportunities.
Generic and Impersonal Messages
Have you ever received an automated response that felt like it was written by a robot? It's not the most pleasant experience.
When manually managing form submissions, it's easy to fall into the trap of sending generic, one-size-fits-all acknowledgment messages.
But let's face it, people want to feel seen and appreciated.
A generic response can make your users feel like just another faceless number in the crowd, diminishing their connection with your brand.
What's the Most Effective Solution?
Now that we've uncovered the problems associated with manual form submission management, it's time to find the most effective solution.
The answer lies in the power of AI and Automation!
With the help of AI and Automation, you can set up a process that will save you from manual work and provide a better experience for your customers.
This process involves two steps:
🔗Part 1: Automate Personalized Submission Acknowledgment Emails
You can use automation/integration tools to connect your form application with your email-sending applications.
This will help you automatically send an email when someone fills out your contact form: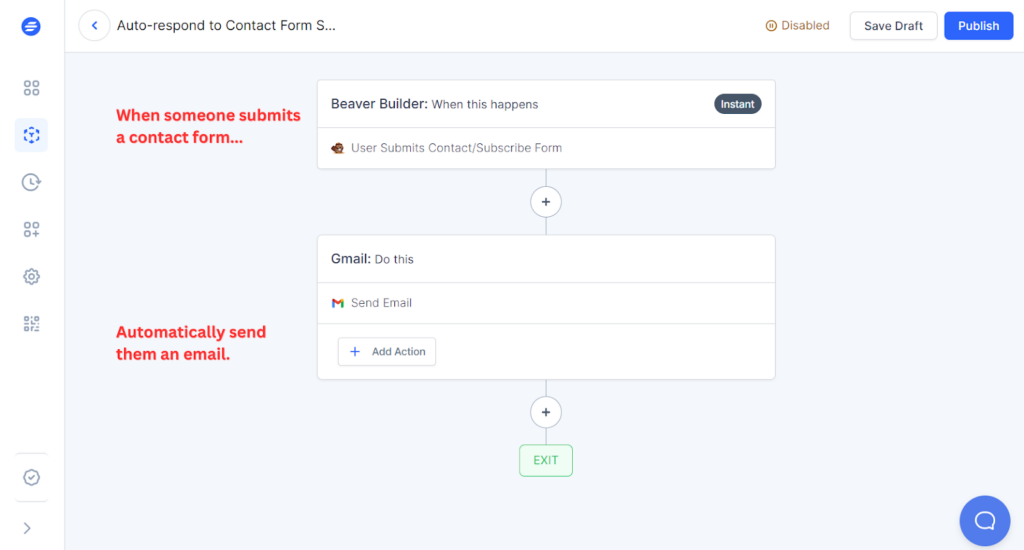 The screenshot above shows a workflow created with SureTriggers, an automation tool.
As per the workflow, you can instantly send emails when someone fills out a contact form made with Beaver Builder.
With this workflow, you can send emails with the same content, but you have the option to add data from the form entries and replace information for every email like name.
And to take it a step further and make your email content dynamic and personalized, you can leverage the power of AI.
OpenAI, in particular, offers language generation capabilities that allow you to customize each acknowledgment message to the individual, making them feel valued and appreciated: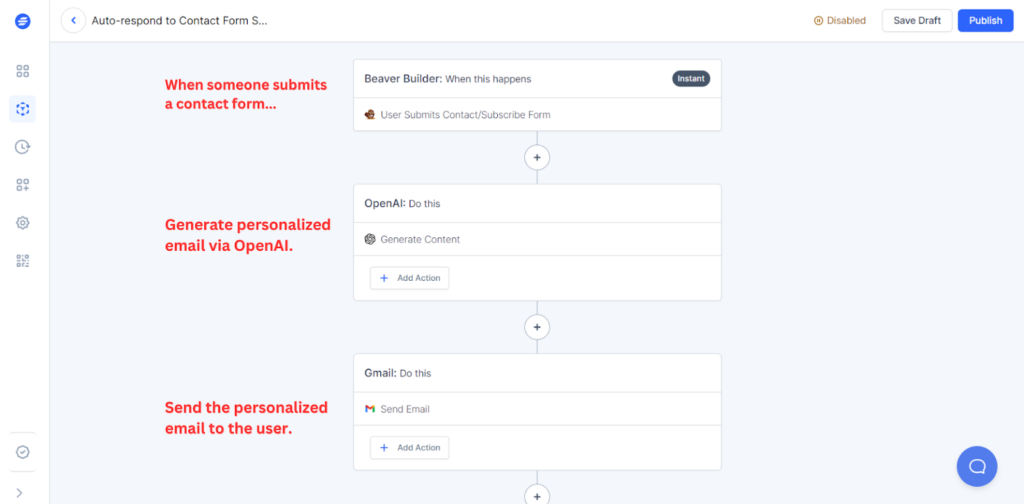 You can incorporate their name, refer to their specific inquiry, and provide them insights about the next steps.
The outcome? A truly personalized experience that leaves a lasting impression on your users.

🔗Part 2: Instantly Notify Your Team Members on New Form Submissions
Now that your customers are satisfied that their query has been heard, they should also expect a response as soon as possible.
So again, we have automation at the rescue!
Automation doesn't stop at sending acknowledgment emails.
It takes collaboration to the next level by allowing you to notify your team members whenever a new form entry is received.
If you use Slack to communicate with your team, you can instantly send a channel message so the appropriate people from your team can respond to the customer's query: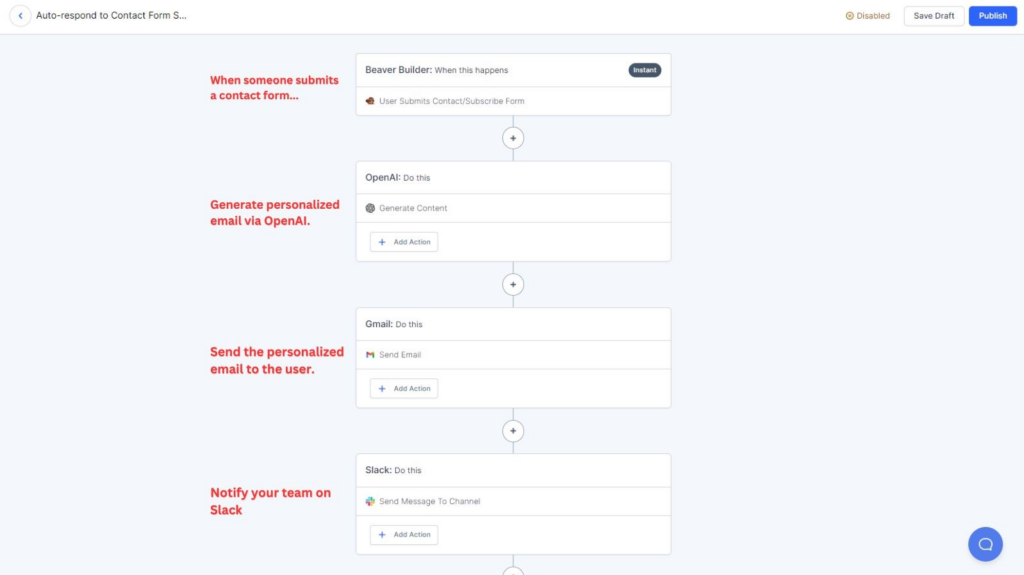 By implementing these notification systems, your team can promptly follow up with leads, answer inquiries, or allocate tasks.
All without the need to manually check for new form submissions.
How Do Automation Tools Work?
Automation tools work on the concept of triggers and actions.
Triggers are events that initiate a workflow like a form being filled out or someone making a purchase from your e-commerce store.
While Actions are tasks that are performed when any trigger event happens. For example – creating a card in Trello, or sending a WhatsApp message.
One complete set of trigger and actions is called a Workflow. An example is sending a WhatsApp message when someone makes a purchase from your WooCommerce Store: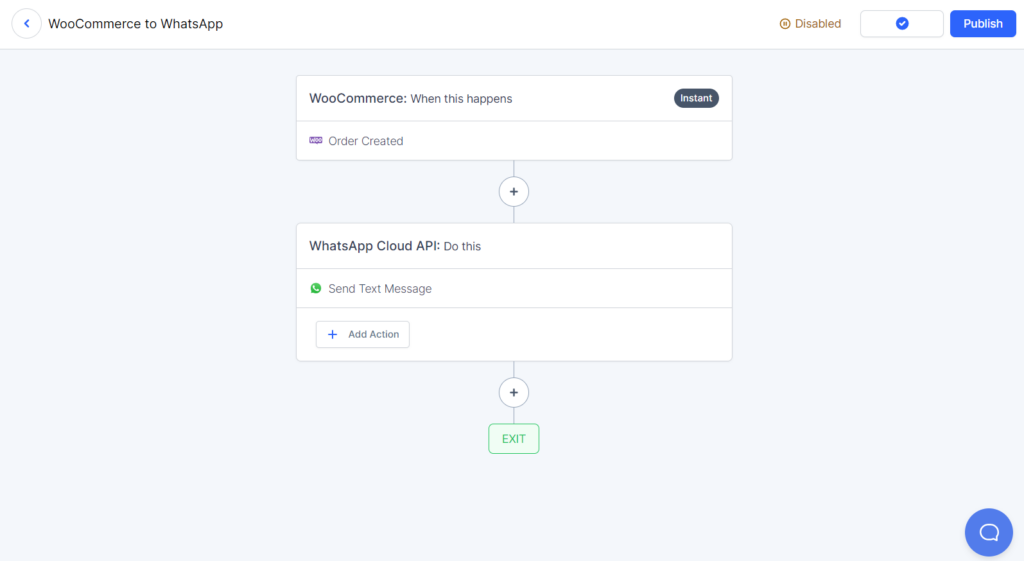 The terminology for Workflow can vary from platform to platform but the concept is the same.
Things to Consider While Picking Up an Automation Tool
Once you understand the advantages of using automation tools, the next question arises: "Which automation tool should I use?"
So to help you in selecting the most suitable automation tool for your requirements, here are some important factors to consider:
Know what you need
Make a list of the tasks you want to automate, like contact form replies or automatically add/update email list, add contacts to CRM tools, etc.
Think about every repetitive task that you have in your business and see if they can be automated by connecting different apps.
Easy to use
Look for a tool that is user-friendly and doesn't require advanced technical skills.
It should have a simple interface and easy-to-understand workflows. In particular, it should not require you to have coding skills so anyone from your team can use it.
Available integrations
Check if the tool can connect with the apps and systems you already use, like your form builders, email marketing tools, e-commerce platforms, CRMs, etc.
You should also check if they have added new applications to their integration list.
Available triggers & actions
If the automation platform can connect with the apps you already use, it's important to check what triggers and actions are available for those apps.
For example, if you want to add subscribers to your Mailchimp list, make sure the automation tool has a specific "Add Subscriber" action for Mailchimp.
Integrations with AI tools
Using AI in your automated workflows can enhance the process to a great extent. Hence, you should check if the integration platform offers integrations with tools like OpenAI.
Workflow customization features
Make sure the integration tool offers advanced features so that you can customize automated workflows to fit your specific needs like – delays, formatters, schedules, routers, etc.
Scalability
Consider if the tool can handle your growing business needs.
The tool that you select should be able to execute a large number of tasks effectively and you should be able to create multiple workflows without any blockers.
Reviews and Recommendations
Read reviews and recommendations from other users to learn about their experiences with different automation tools.
Support
Check if the tool has a good customer support and helpful documentation. You may want assistance if you have any questions or issues.
Pricing
Lastly, consider the cost of the tool and what you get for your money. Look for value in terms of features, support, and how it benefits your business.
Additionally, you can check if the platform offers a free trial so you can test it as per your needs and then make a decision.
How to Create a Workflow to Send Personalized Emails When Someone Fills Your Contact Forms
Imagine that you have selected your automation tool and now you want to automatically send personalized emails whenever someone fills out a contact form on your website.
To illustrate this process, let's take a look at the following set of tools as an example:
Beaver Builder: Considered one of the top page builders for WordPress, Beaver Builder includes a convenient form block that we'll use to create our contact form.
SureTriggers: This automation tool seamlessly integrates with WordPress, WordPress plugins, and web apps, allowing you to create automated workflows.
OpenAI: You might be familiar with OpenAI, the organization behind products like ChatGPT and Dall-E 2. We'll use OpenAI to generate personalized emails.
Gmail: While you can use any email service or SMTP (Simple Mail Transfer Protocol) to send emails through SureTriggers, for simplicity, we'll use Gmail to send emails when a form is submitted.
Slack: We imagine you and your team might use Slack for internal communications and we'll be sending a message on Slack when new form submissions are received.
Now, let's delve in and understand how automation tools function and then explore the process of connecting SureTriggers with Beaver Builder, OpenAI, and Gmail to create our desired workflow!
Before You Begin Creating Your Workflow
Before we begin setting up the automated workflow, make sure you have the following:
SureTriggers account: You can sign up for a SureTriggers account for free, or log in if you already have one.
Website designed using Beaver Builder: Ensure that your WordPress website has Beaver Builder installed and activated, as this will be the form creation tool we'll be working with.
OpenAI account: Register for an account on the OpenAI platform as we will use its API keys to connect it to SureTriggers.
Gmail account: You probably already have one. If you wish to use that account to send emails, you can certainly do so. Alternatively, you can set up a new Gmail account exclusively for connecting and sending emails with SureTriggers.
Once you have these accounts ready, you can log in to your SureTriggers account and connect all the apps to SureTriggers.
How to Connect Beaver Builder with SureTriggers
To connect SureTriggers with Beaver Builder, all you need to do is install the SureTriggers plugin on your WordPress site where you're using Beaver Builder.
Here's a video that will help you understand the installation process.
After successfully installing and activating SureTriggers on your WordPress site, your SureTriggers account will be linked to this WordPress site along with the plugins installed on it.
Next, you can use Beaver Builder's contact form module to add any kind of form to your website and save it as a new module: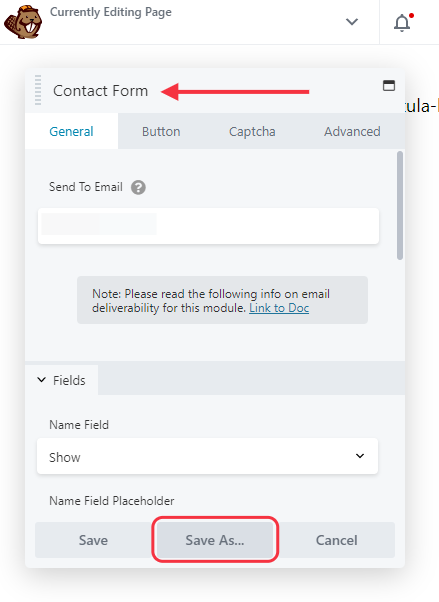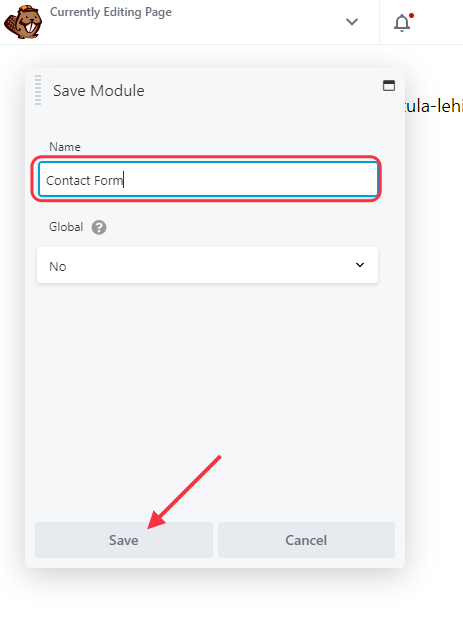 By saving the forms as modules, you will be able to select the form while setting up the Beaver Builder trigger: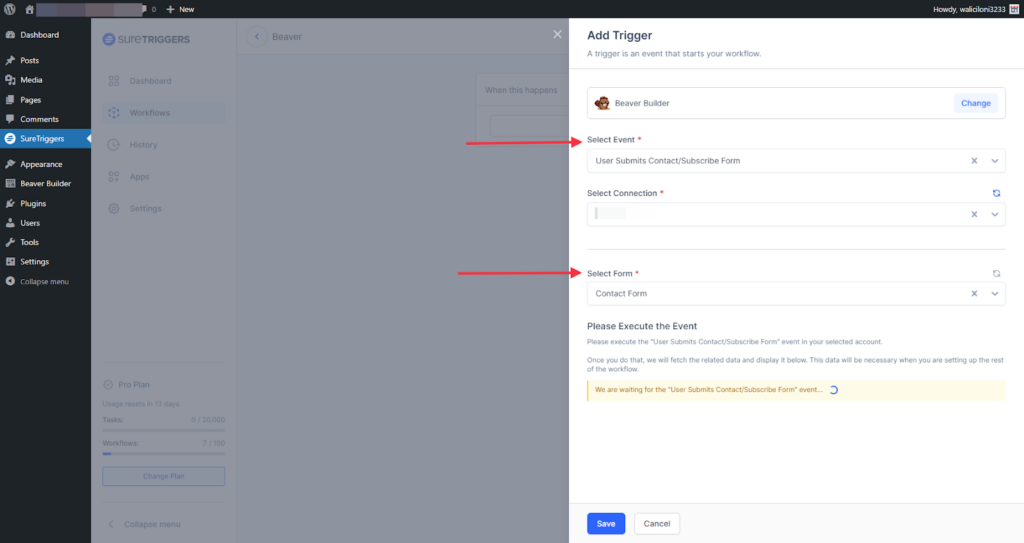 If you're thinking about how to set up the triggers, it is explained further in this article.
How to connect OpenAI, Slack & Gmail with SureTriggers
The process to connect web apps with SureTriggers is pretty straightforward. You can simply follow the steps described below:
Log in to your SureTriggers account and go to the Apps screen: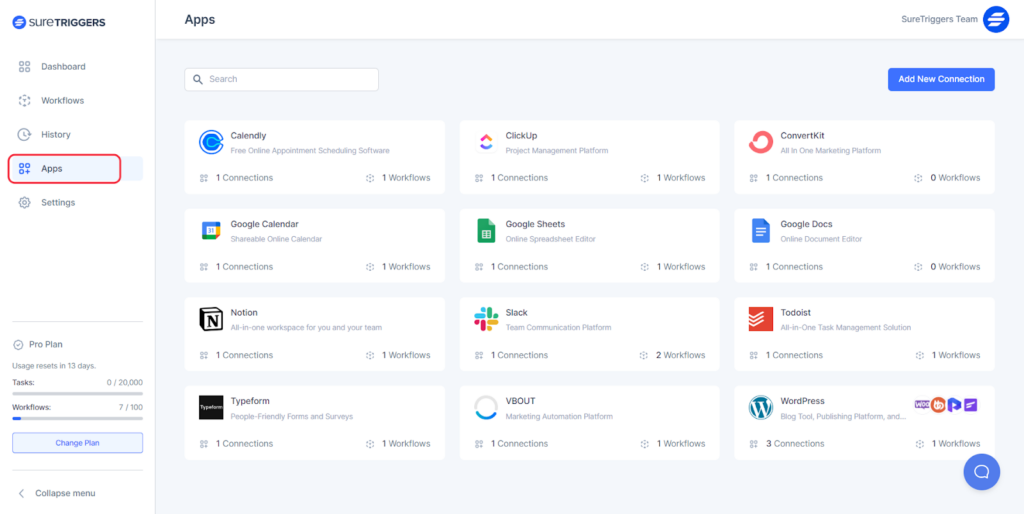 Click on the Add New Connection button: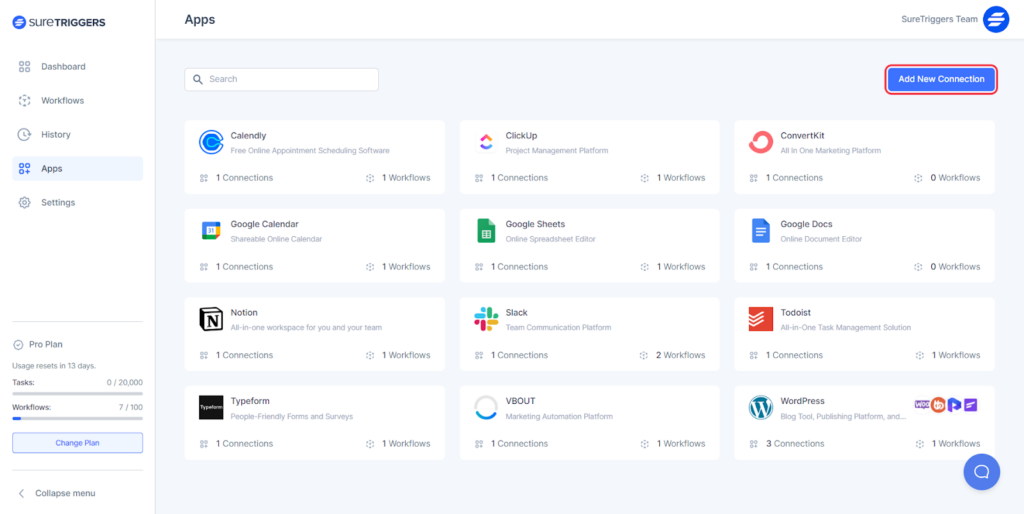 Search for OpenAI and click on its icon from the results: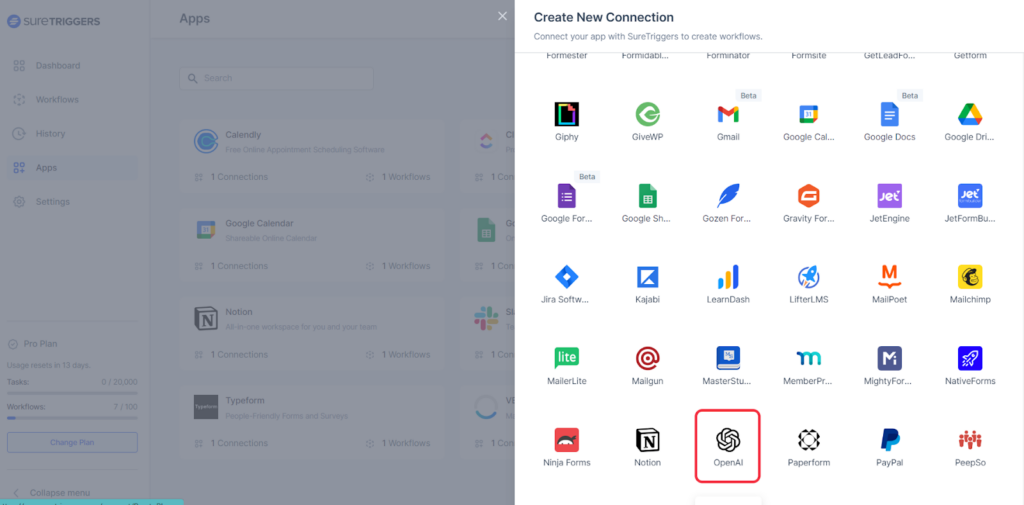 Follow the steps on the screen that will help you create a connection between SureTriggers and OpenAI: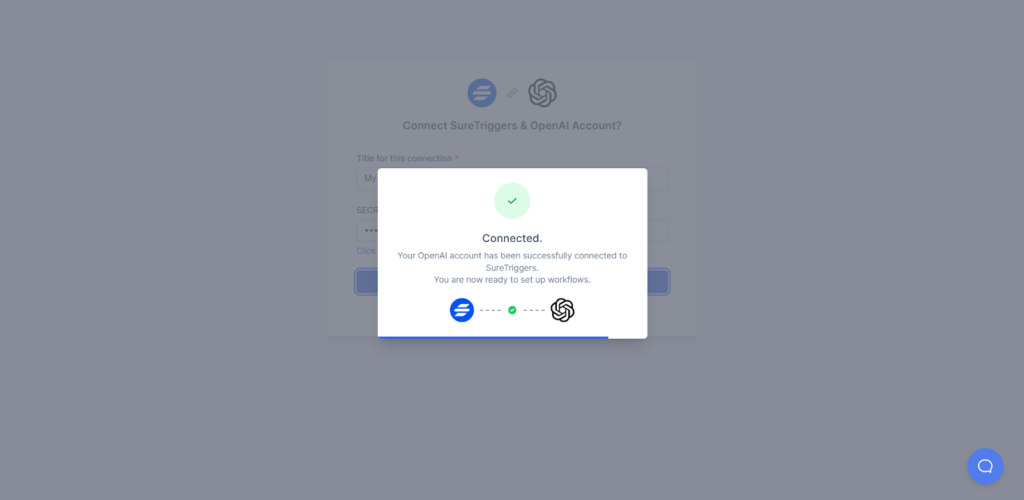 After you've connected to OpenAI, you can follow the same steps to add a new connection for Gmail and Slack: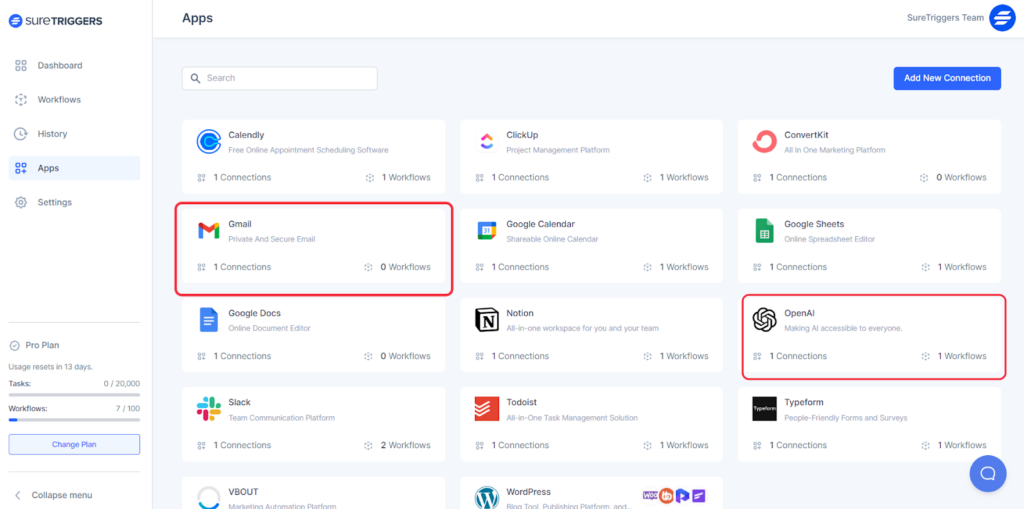 Once OpenAI, Gmail, Slack, and Beaver Builder are connected to your SureTriggers account, you can start creating your workflow.
Creating the Workflow
Here's how to create this workflow:
Start by setting up a trigger that activates when someone submits a form using Beaver Builder.
Configure an action that uses OpenAI's capabilities to generate personalized emails.
Set up another action to send an email through Gmail to the person who submitted the form.
Finally, create an action to send a notification message to your team on Slack whenever a new form submission is received.
By following these steps, you can automate the process of sending a reply to form submitters and keep your team informed about new form submissions.
If you need a detailed guide on how to create this workflow in SureTriggers and access a ready-made workflow template, check out this article.
Conclusion
In conclusion, incorporating AI and automation into your business operations can have a transformative impact.
Automation has revolutionized the way businesses operate and with AI in the picture, the game has completely changed.
Harnessing the power of AI and automation can make a significant difference for your business. It has the potential to revolutionize the way you operate and achieve your goals.
By embracing these technologies, you can streamline processes, boost productivity, and unlock new opportunities for growth and success.
So don't hesitate to explore the possibilities and reap the benefits of AI and automation in your business endeavors.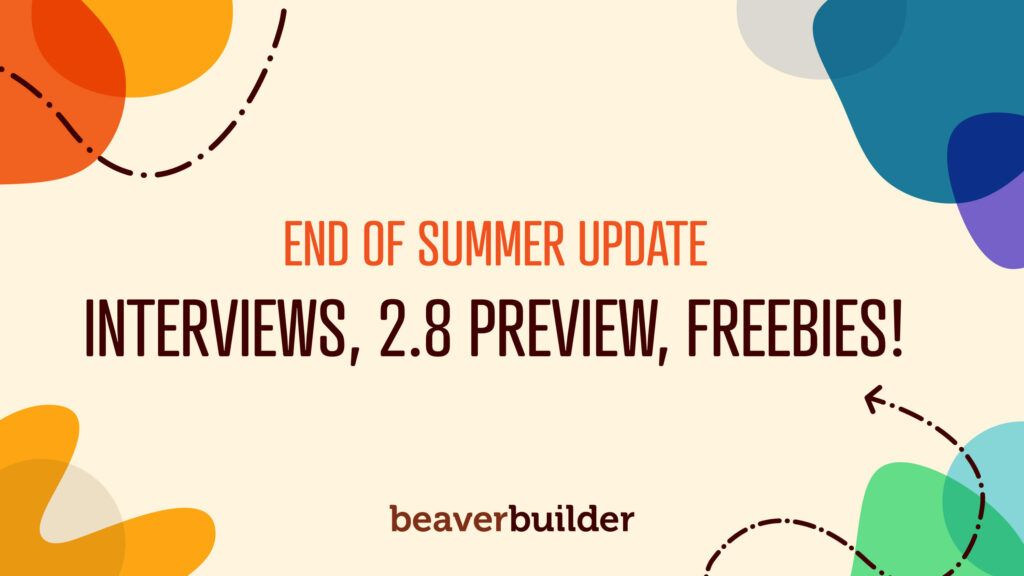 Hello, Beaver Builder community! Summer is almost over we're ready to welcome some cooler weather. 😅 We have some exciting…
Join the community
We're here for you
There's a thriving community of builders and we'd love for you to join us. Come by and show off a project, network, or ask a question.