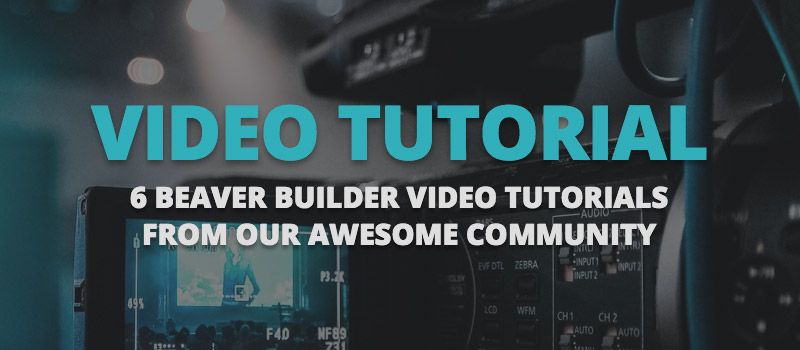 Beaver Builder is designed as an easy-to-use solution, approachable for WordPress newbies and advanced users alike. At the same time, it's a powerful tool with lots of options, and it can be hard to know where to start when you first pick it up without help from a tutorial or two. Even after some time using our page builder plugin, you may be missing out on key features and settings.
We just launched 6 FREE
Beaver Builder courses
. Learn how to use all our products with our easy-to-follow step-by-step video tutorials. Create a free account today!
We offer lots of resources to help you learn how to use Beaver Builder. However, you don't have to rely only on us. There's an entire WordPress community out there creating excellent content you can access for free. So without further ado, here are ten top Beaver Builder tutorial videos!
1. Beaver Builder – How to Build WordPress Pages with Beaver Builder
Channel: Web Monkey
Approx. Time: 21 minutes
Knowledge Level: Beginner
Web Monkey is a WordPress-focused channel with a range of content. This includes reviews and tutorials on specific tools, as well as more general advice and techniques for building a better, more secure WordPress website.
This particular video serves as an introduction for those brand new to Beaver Builder. It covers:
Installing and setting up the plugin

Creating a page and using templates

Building a layout with columns, rows, and modules

Customizing the page's content and settings
We found this video clear and well-paced, presented in a low-key style that's very approachable. It walks you through how to start building your first Beaver Builder page in an easy-to-follow way, pointing out key features and options but not overwhelming you with too much information right out of the gate.
In other words, this Beaver Builder tutorial serves as a solid foundation to introduce you to the basics, and get you experimenting on your own with everything our page builder has to offer.
2. Go Zero to Website with Beaver Builder
Channel: Joe Casabona
Approx. Time: 57 minutes
Knowledge Level: Beginner
Joe Casabona has an active YouTube channel with lots of content covering all aspects of building and running a successful website. There's advice on offer about everything from creating pop-up forms to starting a podcast.
We had the opportunity to sponsor a webinar for Joe's WP in One Month course, which is the video we're focusing on here. It's not unlike the first video on our list, but longer and more comprehensive, covering:
What Beaver Builder is and how it differs from the standard WordPress editor

How to install and set up the plugin

Using Beaver Builder to start building a website

Customizing your pages and posts via various settings and features
If you're new to Beaver Builder, this video makes for a very thorough introduction. It will give you all the knowledge and tools you need to get up and running with the plugin. Additionally, it's presented in a clear, down-to-earth way and its structure is easy to follow.
3. Learning Beaver Builder – All Things Columns
Channel: Tickyboom Design
Approx. Time: 40 minutes (full playlist)
Knowledge Level: Beginner
As the name suggests, the Tickyboom Design channel is all about web design. This includes quite a few Beaver Builder tutorials and walkthroughs that explain how our plugin can be used to build unique and creative pages.
While there's quite a bit worth checking out on this channel, we've singled out the All Things Columns playlist. This includes five videos:
Intro:

Covers the basics of how columns work, explains how to move, delete, and add them, shows you where to find the column settings, and walks through what each of them does.

Responsive Options:

Discusses how to find and use Beaver Builder's various options for

creating responsive pages

, along with how to enter and use the responsive editing mode.

Let's Design:

The longest video, which shows how to use the various settings and options in combination to build a simple multi-column layout (as well as how to perform some basic troubleshooting).

Restacking Columns:

Shows how to set up columns so they're arranged differently on mobile devices.

Saved Columns:

Explains how to save and reuse columns.
Together, these videos provide a comprehensive overview of Beaver Builder's column-building functionality. They cover the basics as well as how you can create complex and interesting layouts with just a little practice.
4. Beaver Themer Header | Transparent Sticky Header Tutorial
Channel: Web Assist
Approx. Time: 11 minutes
Knowledge Level: Intermediate
Web Assist is a small channel that's focused mainly on creating e-commerce websites. It offers a handful of tutorials on WooCommerce, including one on how to create a WooCommerce shop page with Beaver Builder.
In the tutorial we're featuring here, viewers learn how to accomplish a very specific task in Beaver Builder – creating a transparent header. This video:
Recommends themes that work well with this kind of header

Walks through the process step by step

Explains the available options and what they do

Shows how to create a transparent header with custom text and images

Discusses how to modify your header's colors, make it 'sticky', and more
It's important to note that this video assumes that you already have some familiarity with Beaver Builder, and know how to use it at a basic level. However, it's not too hard to follow even if you're fairly new to the plugin.
All-in-all, this is a handy tutorial that shows you not just what to do, but why to do it, as well as the effects of various tweaks and changes. If you like it, there's a similar video on creating custom footers.
5. Beaver Themer Tutorial – Create Custom WordPress Headers & Theme Parts
Channel: WPCrafter.com WordPress For Non-Techies
Approx. Time: 32 minutes
Knowledge Level: Intermediate
Next up, this tutorial is brought to you by WPCrafter.com WordPress For Non-Techies. It's a WordPress channel with lots of videos covering a wide variety of topics, such as e-commerce and web design.
There are several Beaver Builder-focused videos on this channel. However, we'd like to highlight the tutorial for creating custom WordPress headers. In it, you'll:
Find out

what Beaver Themer is

and what it can do

Get some recommendations for themes to use alongside Beaver Themer

Walkthrough how to use this tool to create a header and customize it

Learn about Parts

and how you can use them
The video has a friendly and candid style, showing the various options that are available and also making some useful recommendations. It addresses topics such as responsiveness, and whether to use a transparent and/or sticky header.
This tutorial assumes that you already understand the basics of using Beaver Builder. If that's the case, this is a useful demonstration of how you can achieve the design you want by making small adjustments until the result looks just right.
6. Beaver Builder Mega Menu Without Plugin WordPress Tutorial
Channel: Press Avenue
Approx. Time: 6 minutes
Knowledge Level: Intermediate
On the Press Avenue channel, you'll find lots of quick and simple WordPress tutorials. They cover many topics that are useful to beginner-level and intermediate users of the platform alike.
Press Avenue has a number of Beaver Builder videos to offer, including a full introductory tutorial. We're putting the spotlight on a more specific piece of content, however – this channel's video on building a 'mega menu'.
In this quick tutorial, you'll learn how to:
Turn on CSS classes

Use CSS to enable mega menus

Organize and customize your menu

Tweak the menu's appearance on the front end
This is a simple and concise tutorial that gets right to the point and is easy to follow. Mega menus are an excellent design tool, so it's well worth learning how to set up and customize them. Once you're done with this video, there's plenty of other Press Avenue content to check out.
7. How to Export Beaver Builder Templates to Another Site
Channel: Cols Notes
Approx. Time: 5 minutes
Knowledge Level: Intermediate
Cols Notes is a channel that hasn't been too active lately but is worth visiting for its existing content. There's a selection of videos on offer, most of which focus on how to accomplish various tasks in Beaver Builder (both with and without CSS).
This includes a number of useful tips for intermediate-level Beaver Builder users. In this example video, you'll learn:
Why you might want to export Beaver Builder templates

How to export templates and import them to another website
This is a key Beaver Builder feature, but one that newcomers may not immediately recognize. The video itself is a concise and clear step-by-step walkthrough, guiding you toward the final result with minimal fuss. By the end, you'll have a handy time-saving technique you can use if you're building multiple websites.
8. Using the Genesis Framework With Beaver Builder
Channel: Sure Fire Web Services
Approx. Time: 12 minutes
Knowledge Level: Advanced
The Sure Fire Web Services channel has historically posted content for WordPress web developers. That has included plenty of development diaries and tutorials. In the past year, the channel has pivoted more towards speaking to small business owners, offering advice on marketing and lead generation via your website.
The video we're looking at today is an older one but still both relevant and useful. In it, you'll learn:
What the

Genesis Framework

is and its advantages

Why it synergizes perfectly with Beaver Builder

Tips for using Genesis Framework and Beaver Builder in combination to create websites
This is less a step-by-step tutorial, and more an informational resource on two high-quality WordPress tools. It serves as an excellent introduction to the powerful Genesis Framework and makes a strong case for why it's a top theme to use with Beaver Builder.
Additionally, the video is full of handy tips and tricks for getting started with this particular duo. It's a valuable resource both for web developers and experienced Beaver Builder users looking to build a new and highly-customized website.
9. Layout Cheats With Beaver Builder's Rectangle Row Shape
Channel: David Waumsley
Approx. Time: 6 minutes
Knowledge Level: Advanced
David Waumsley's YouTube channel serves as an excellent resource for Beaver Builder users. Almost all of its videos feature our page builder plugin, providing tips and tricks for both intermediate and advanced users.
While David has many videos worth checking out, we'll call out one of his more recent offerings. His video on rectangular row shapes teaches you how to:
Make it appear as though your content is spanning multiple rows without

using negative margins

Easily create a 'split-screen' effect
This video is aimed squarely at more advanced Beaver Builder users, who are well-practiced using the plugin and looking for tips on creating complex and unique layouts. In fact, it (and many of David's videos) should be of particular interest to developers.
Conclusion
One of the best things about using WordPress to build your website is the vast and thriving community you're joining. No matter what you need to do, you're sure to find a blog post, video, online course, or documentation article that can help.
The ten videos we've listed above are hardly all the community has to offer for Beaver Builder users, but they represent an excellent starting point. Whether you're brand new to the page builder and trying to get your feet under you, or an advanced user looking to expand your marketable skills, there's a tutorial that can help.
Do you have a favorite Beaver Builder tutorial video or YouTube channel? Share it with us in the comments section below!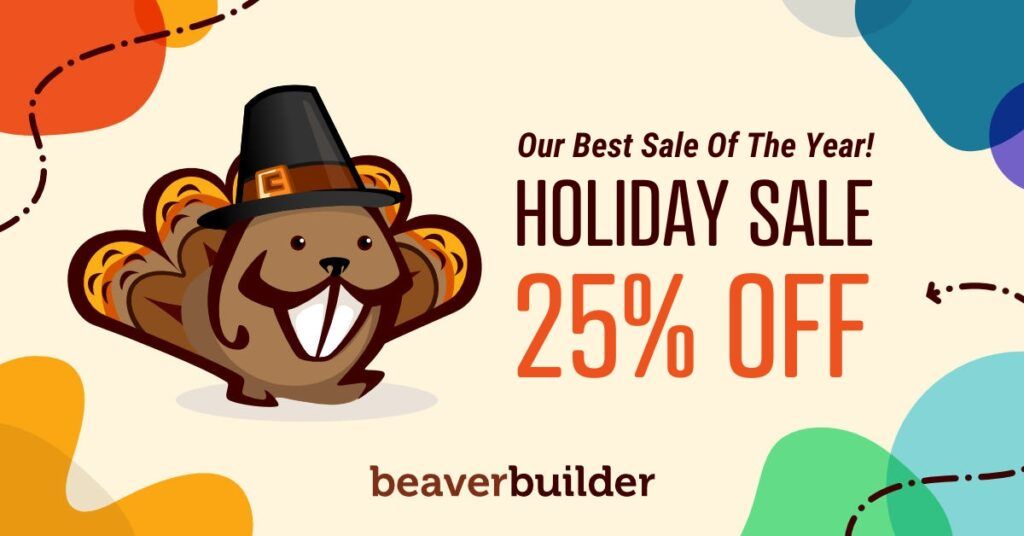 Hello, we're excited to announce our Black Friday Month Sale for 2023! Take advantage of the biggest discount we offer…
Join the community
We're here for you
There's a thriving community of builders and we'd love for you to join us. Come by and show off a project, network, or ask a question.
Build Your Website in Minutes, Not Months
Join Over 1 Million+ Websites Powered By Beaver Builder.