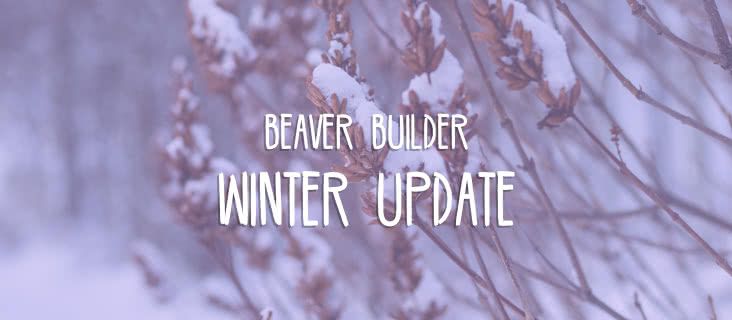 Hi there! From everyone here at Beaver Builder, we hope that you've had a great start to the New Year. Lots of things have been happening around here and around WordPress since our last update post. If I am totally honest, I'm getting a bit bored of talking about Gutenberg. However, Gutenberg is still the talk of the town and we have some news and ideas to share on that front.
We also have some future plans to share for Beaver Builder and some fun projects we're working on here. Our plugs and footnotes section is well stocked this time around. We've been jumping on a ton of podcasts recently talking about everything from the future of Beaver Builder to digital nomadism! Let's get into it…
Gutenberg and Beaver Builder
So, let's get this out of the way first so we can move on to the fun stuff. Gutenberg is live! It happened. The web didn't break. Beaver Builder sites didn't break. Now we can all take a deep sigh of relief…
I've been using Gutenberg a lot recently, and I really like it! At first, the idea of each new paragraph being a block felt awkward, but the experience has significantly improved.
Can I use blocks in Beaver Builder?
When we first heard about the "everything will be a block" paradigm, we became pretty excited. I think blunt honesty might be a recurring theme in this post. If I am honest, widgets and shortcodes are pretty clunky. They're not a great experience, so the idea that they'll be replaced with blocks is pretty exciting.
Sadly, when Justin and the dev team dug into bringing blocks into Beaver Builder, things got hairy. Really hairy. To work with blocks, the entire Gutenberg editor and its dependency stack need to be loaded. As it's written, blocks just can't exist outside of Gutenberg.
Our team has been chatting and contributing many ideas to the discussion around Gutenberg phase two (more on that later). When we read into this Github issue, we got excited… See the line that says, "Reusable BlockEditor component that can be embedded in several screens." That's it! That's essentially what we need to bring blocks into Beaver Builder. It looks like the core team is working on this, so working with blocks in Beaver Builder might be a possibility.
So, what's next for Beaver Builder?
We have some exciting plans cooking for Beaver Builder and Beaver Themer! First, we met the team from BigCommerce at WordCamp US and we're pretty blown away with the work they're doing. BC is a headless eCommerce CMS. They've been around for a long time, but they're just getting into the WordPress space and doing so with a splash.
We use WooCommerce. We're pretty happy with it, but it's definitely caused some headaches as our store scales. When people ask whether to use WooCommerce or Shopify for a physical goods shop, we have a hard time not recommending Shopify.
We anticipate BigCommerce quickly becoming a major player in the WordPress eCommerce space. Beaver Themer has tight integrations with WooCommerce and Easy Digital Downloads and we're woking on an integration with BigCommerce now too!
Module Overhaul
After we overhauled Beaver Builder's UI in version 2.0, we've been putting our focus towards improving what can be built with Beaver Builder. We're hoping to continue this push with a module overhaul.
We're still working out the details, but we're planning to reexamine our module offerings and the settings available within those modules. We'd also like to explore some new module ideas too like social sharing or a search module.
If you'd like to help, we put together a quick survey to get some feedback from you all. Thanks in advance for taking a few minutes to fill it out.
Footnotes and Plugs
WordCamp Europe and Bangkok
We've been planning our WordCamps for 2019. Justin and I are going to hit WordCamp Europe this year in Berlin. Also, in just a few short weeks, I will be attending WordCamp Bangkok in Thailand.
Which Page Builder should I choose!?
When it comes to picking a page builder for WordPress, there are many options out there. Admittedly, we're slightly biased so we figured that it'd be best to refer to more neutral sources. WP Buffs recently published a comprehensive review of several page builders and WP Beginner recently updated their page builder breakdown for 2019.
On a similar note, our friend Oliver from WebMastros posted a theme performance audit: What's the Fastest WordPress Theme for Your Page Builder?
Interviews and Podcasts
I kicked off the New Year with several podcast appearances and interviews. Matt Mederios and I had a great chat on his podcast, The Matt Report. I wandered into my first contributor day at WordCamp US and met Sarah Gooding from the WP Tavern. I did a video interview with her about our strategy in response to Gutenberg. Also, on the WPMRR Podcast, I chatted with my buddy Joe about a big life change I'm embarking on this year.
Envato Elements templates for Beaver Builder
Our friends over at Envato recently released a new tool for Beaver Builder users called Envato Elements. It's a free library of over 1000 templates that can be used in your page builds. Thanks, Envato!
Theme Customization Brainstorms
Last, but certainly not least, our lead designer, Brent, has been creating fantastic conceptual brainstorms for what theming and customization could look like as Gutenberg moves into phase two.
As always, thanks a ton for all the support and a BIG thanks for filling out our module survey. Ciao!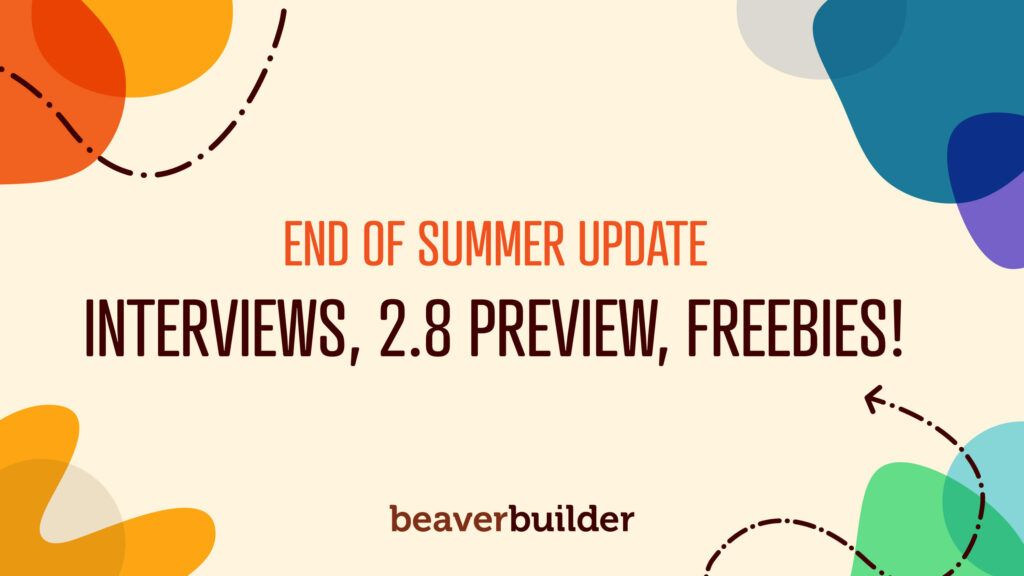 Hello, Beaver Builder community! Summer is almost over we're ready to welcome some cooler weather. 😅 We have some exciting…
Join the community
We're here for you
There's a thriving community of builders and we'd love for you to join us. Come by and show off a project, network, or ask a question.