Awesome Software, Great Support, and a Helpful Community.
Beaver Builder is the page builder you can trust with your business. Take control and join over 500,000 WordPress websites built with Beaver Builder.
Awesome Software, Great Support, and a Helpful Community.
Beaver Builder is the page builder you can trust with your business. Take control and join over 500,000 WordPress websites built with Beaver Builder.

"Every person that buys Beaver Builder becomes part of the family."
Chris Lema - WordPress Expert & Daily Blogger
Free Up Your Time and Unleash Your Creativity
Beaver Builder is a complete design system that includes a page builder plugin and a framework theme.
If you're a WordPress user, finally get complete control of your website.
Our page builder plugin works with your existing website. Building beautiful, professional pages and is as easy as dragging and dropping.
If you're a web professional, build responsive sites faster than ever.
A page builder and framework theme can revolutionize your workflow. Save valuable time and empower clients to handle their own edits.
Why Beaver Builder is Your Best Choice
Other than offering unlimited site licenses and world-class support,
here are a few more reasons to leave it to Beaver Builder:
Kick-start your creativity with dozens of gorgeous page templates.
Templates make designing easy and save you time. Choose a template, replace the images and text with yours, then hit publish. You can even save your own designs as templates and reuse them all over your site, or export them to use on a different site.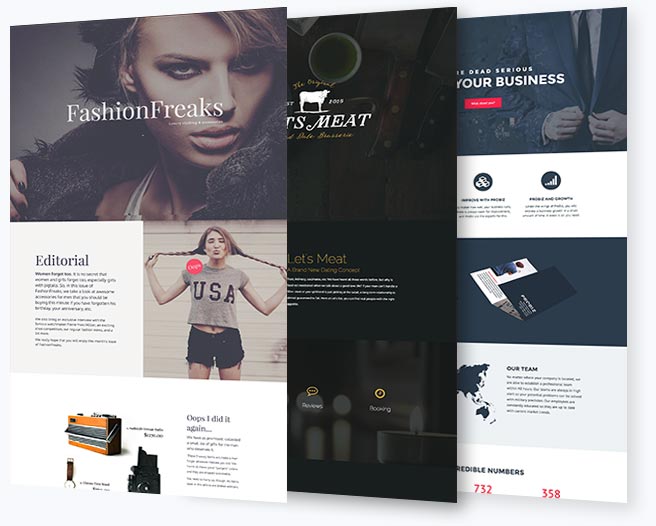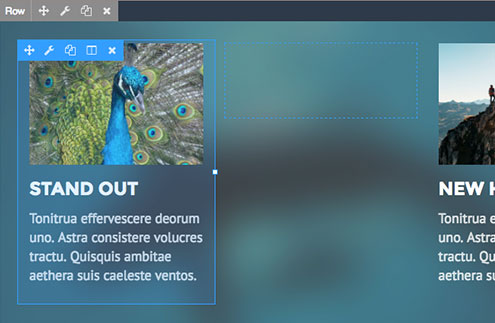 You can position images and text with precision, and build column based layouts in minutes.
Positioning text and images with the WordPress editor is a pain! Beaver Builder's front end drag and drop interface gives you total control over the layout of your pages.
Join over 50,000 websites using the flexible and powerful Beaver Builder Theme.
Child themes should be used for your customizations. Choose from a variety of styles using our settings presets, then modify them with the native WordPress Customizer. The Beaver Builder Theme is the last one you'll ever need.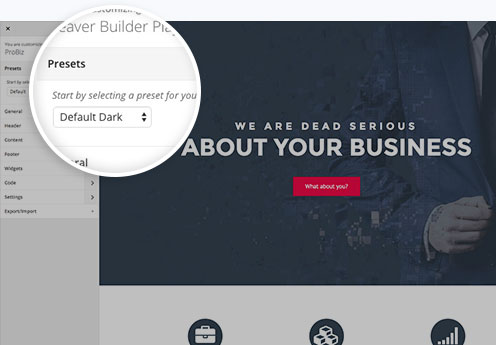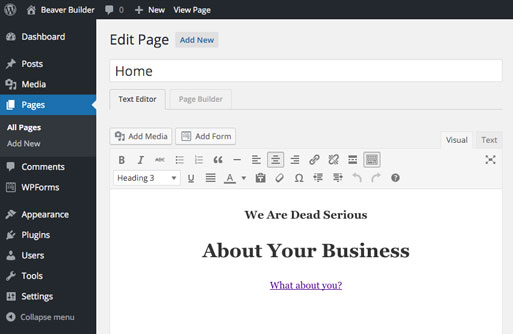 Separate your page builder from your theme and get complete control of your content.
Beaver Builder's page builder plugin can be used with any theme and you can switch themes without losing your content. Even if you decide to stop using Beaver Builder, your content gets ported right back into the WordPress editor.
Build your website in minutes, not months
People REALLY LOVE Beaver Builder
Beaver Builder in the Wild
Real people make really cool websites with Beaver Builder!
The Nitty-Gritty Details
What would you like to learn more about?
Page Builder Plugin
* All packages
Live, Front End Editing
What you see is what you get! Beaver Builder's intuitive page builder works in real time on the front end of your page. No more guesswork.
Mobile Friendly / Responsive
As long as you're using a responsive theme, any page built with Beaver Builder will be totally responsive.
Translation Ready
Support for the popular WPML translation plugin has been baked into Beaver Builder's core for international users.
WooCommerce Support
Beaver Builder plays great with WooCommerce. It's never been easier to design a storefront.
Works With Almost Any Theme
Need a page builder for Genesis, Divi, Woothemes, or Ultimatum? The Page Builder plugin works with almost any theme.
Multisite Capable
Our Pro & Agency packages both support multisite installs. Our Agency package features a network-wide control panel so you can make changes across your network.
Save and Reuse Rows & Modules
Configure a row/module once, then use it all over your site. Set a saved row/module as a global and your changes will affect all instances of the module/row.
Shortcode and Widget Support
Beaver Builder supports shortcodes and widgets so you can use your other favorite plugins. Want to use Ninja Forms or an Easy Pricing Table? We've got you covered!
Developer Friendly
Developers can extend and customize Beaver Builder through widgets or by using our powerful (and well-documented) custom module boilerplate.
Supports Posts, Pages, and Custom Post Types
Just because it's called a page builder doesn't mean you're limited to WordPress pages.
Hand Off Sites to Clients with Editor Mode
Limit your client's abilities with Editor Mode, and prevent them from accidentally breaking their pages.
Tuned & Optimized for SEO
Standards such as schema.org markup and code compression ensure your pages are easily found by search engines.
Reusable Templates
Every layout you create can be saved and reused an unlimited number of times to quickly build new pages.
Import/Export
Share your layouts with others, or migrate your site, using WordPress' built in import/export tools.
Beaver Builder Theme
* Pro & Agency packages
Help & Support
* All packages
Included Modules
* All packages
Agency Features
* Agency package only